---
Learn about the advanced configurable options for the Booking Widget, including applying a background colour, specifying an end date, adding a tracking ID, selecting a language, and downloading a helper file.
New to the Booking Widget? Read the first article in this series for an introduction to the Booking Widget.
---
Which plan do I need to use this feature?
✓ Soho | ✓ Pro | ✓ Plus | ✓ Enterprise | ✓ Flex |


Where can I find this feature using the top menu?
Manage > Integrations > Website Integrations > Booking Widget


What more do I need to use this feature?
Ability to copy and paste into your website code or help from a skilled person to do this for you!


Which Checkfront version supports this feature - classic, new or both?
The Booking Widget feature is available to both those using items (Inventory > Items), a key feature of our classic version of

Checkfront, and those using products (Inventory > Products), a key feature of our newest version

of

Checkfront.
New to Checkfront - Products ✨

Products (Inventory > Products) is the successor feature to (Inventory > Items) and is available in our newest version of Checkfront.

Not yet on our newest version and interested in upgrading? Please contact our Technical Support team for more information.

Discover more product-related help articles here: Products (New).
---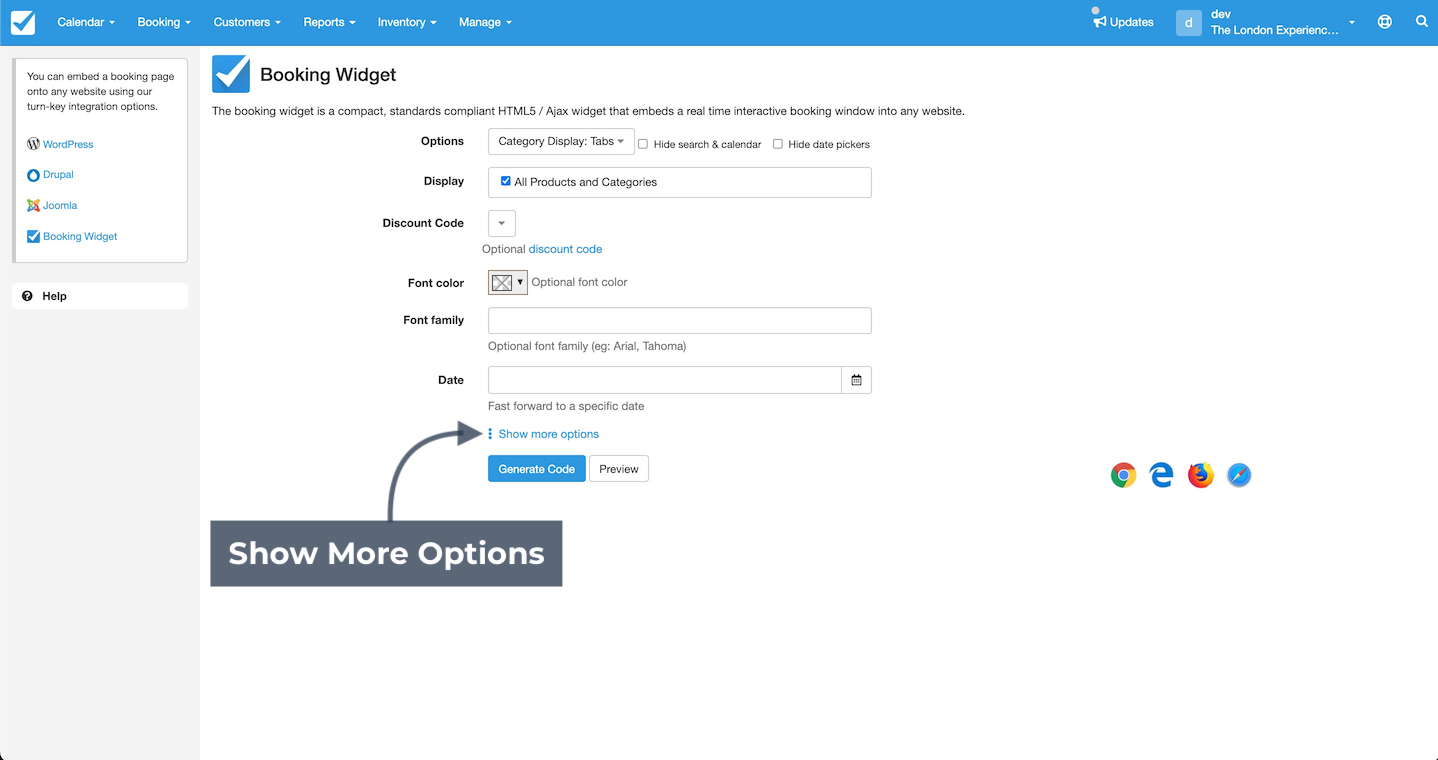 Click Show more options to reveal additional booking widget settings.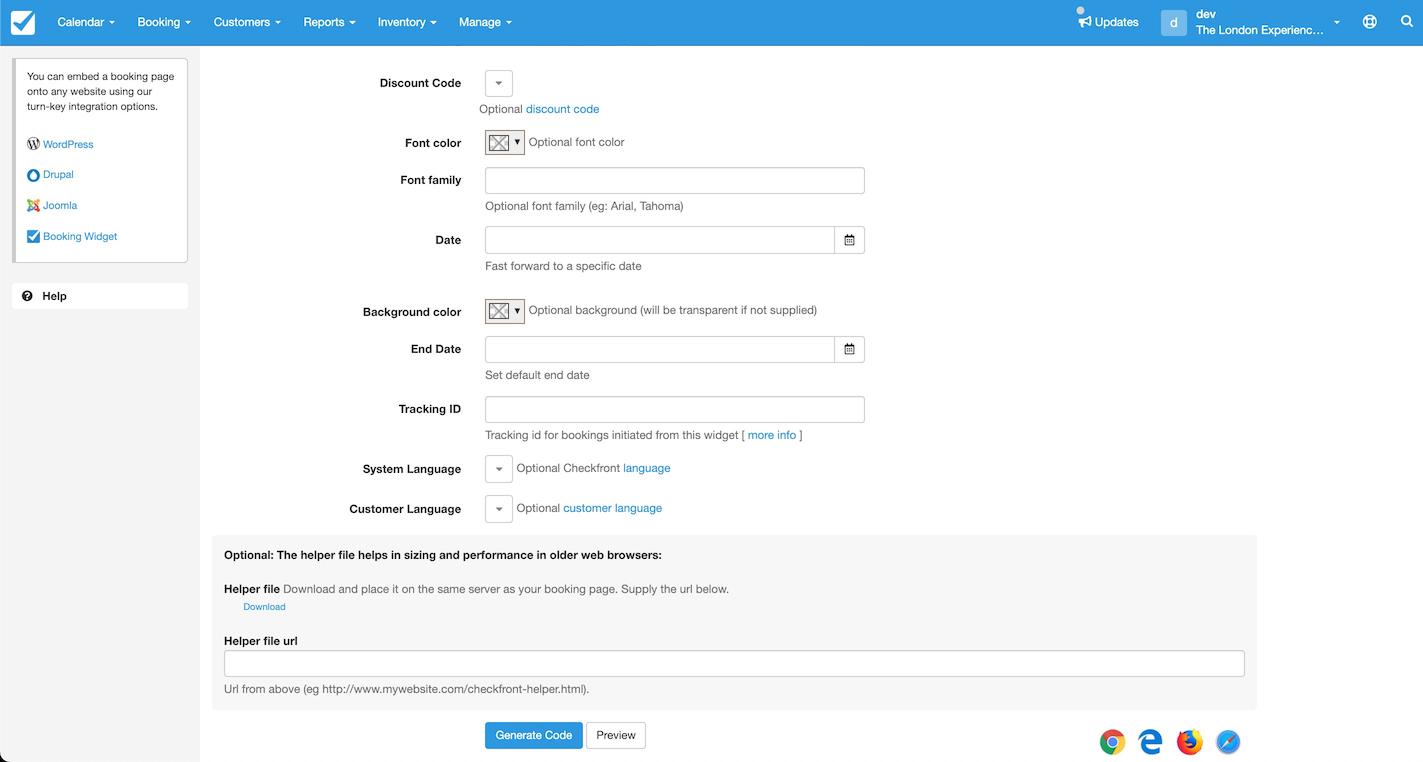 The page expands to display Background color, End Date, Tracking ID, System Language, Customer Language, and Helper file settings.
---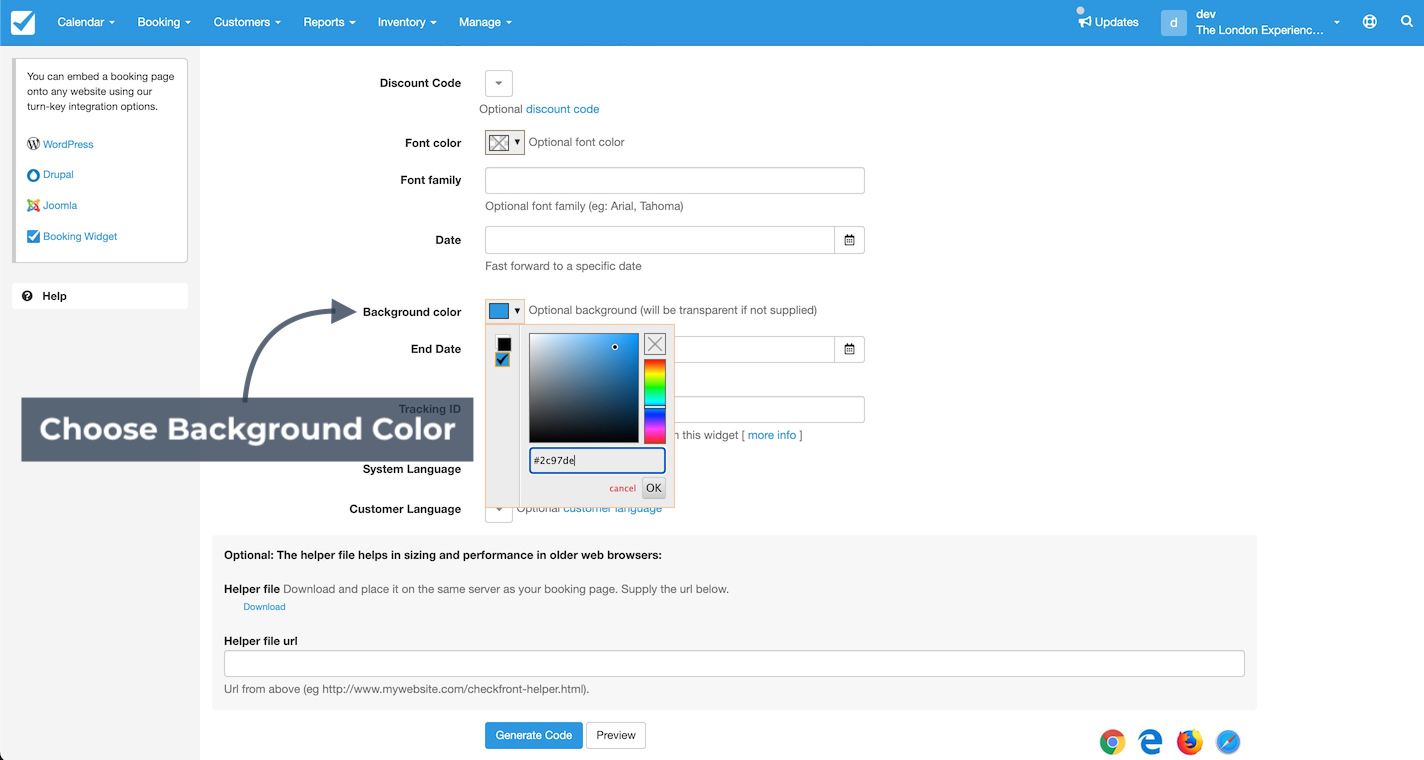 Just like the Font Color above, you can also select a colour for the background of your booking portal. The default colour is white (#ffffff), but if you are feeling adventurous...
---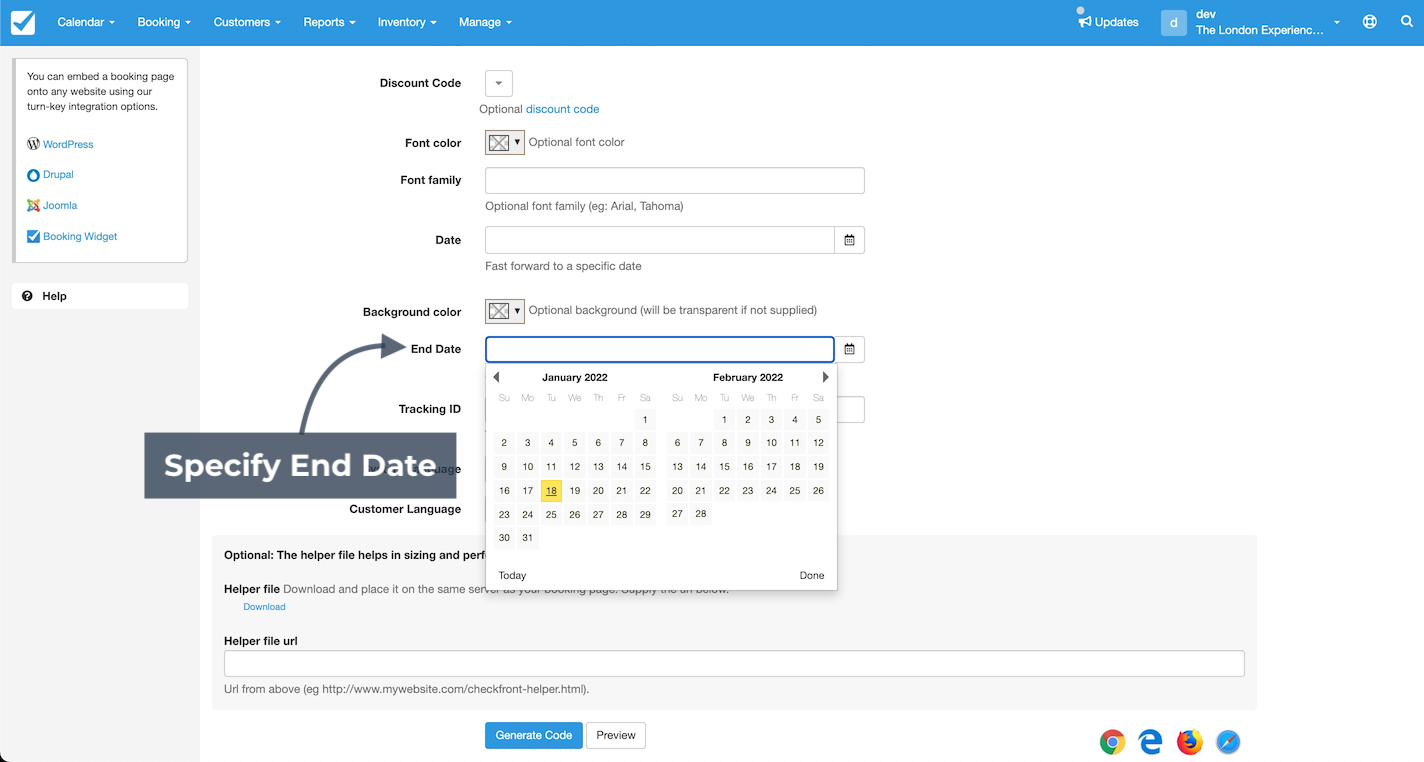 The End Date setting allows you to specify the date selected by default as the end date on the Booking Page. This is most commonly used in combination with the (start) Date, to create a booking span.
For example, if you choose June 1st as the start Date and June 10th as the End Date, then those dates are selected by default within the calendar. This creates a booking span of 10 days. Customers can select a different start or end date, but the system continues to enforce those 10 days.
If you don't specify a start date, then the system uses today as the start date.
This setting does not configure the last day a Customer can book!

In most cases, we do not recommend setting an End Date.

It is best to configure booking date restrictions at the item or product level:
---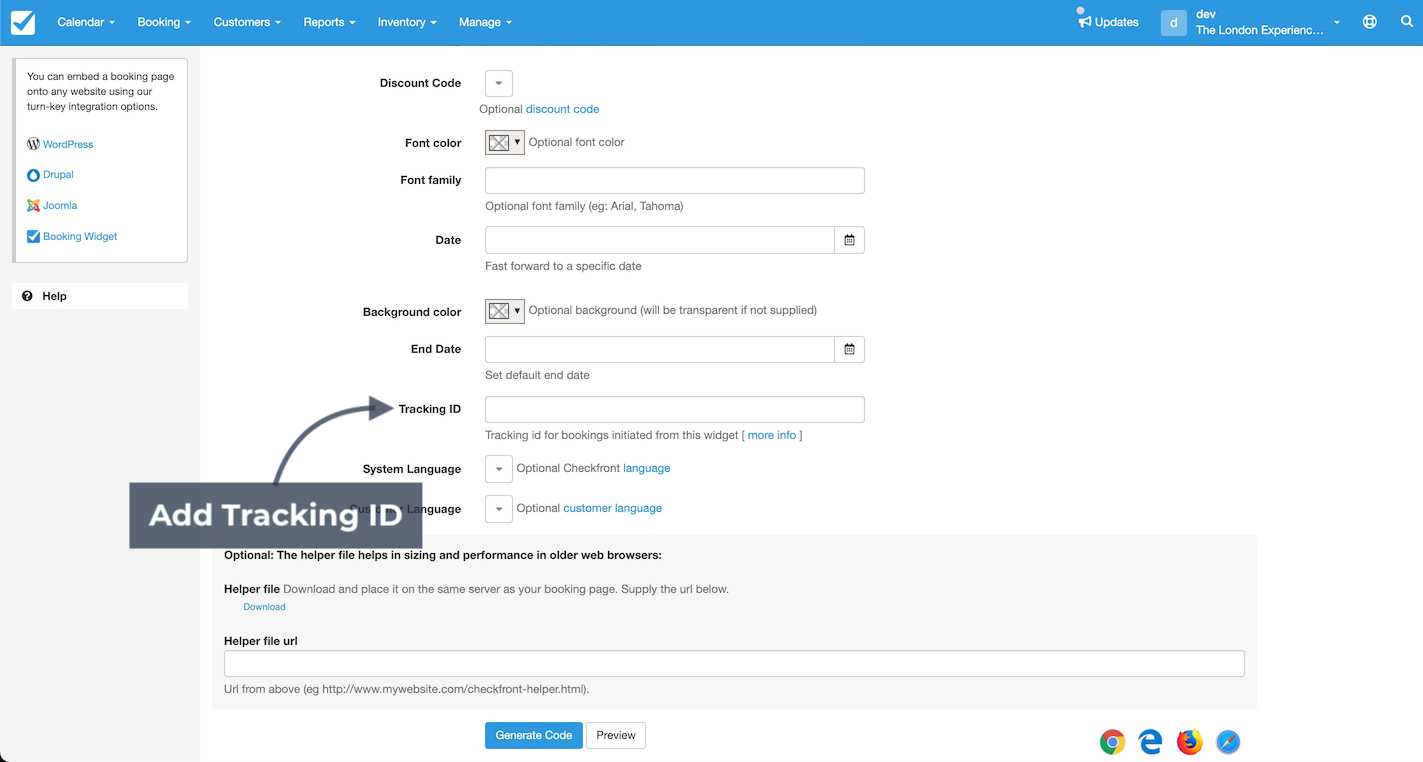 A Tracking ID is simply a code that can be added to the Booking Widget for future reference. The ID code shows on your invoices, so you know where the booking came from specifically. This is great for tracking advertising campaigns and things like that.
---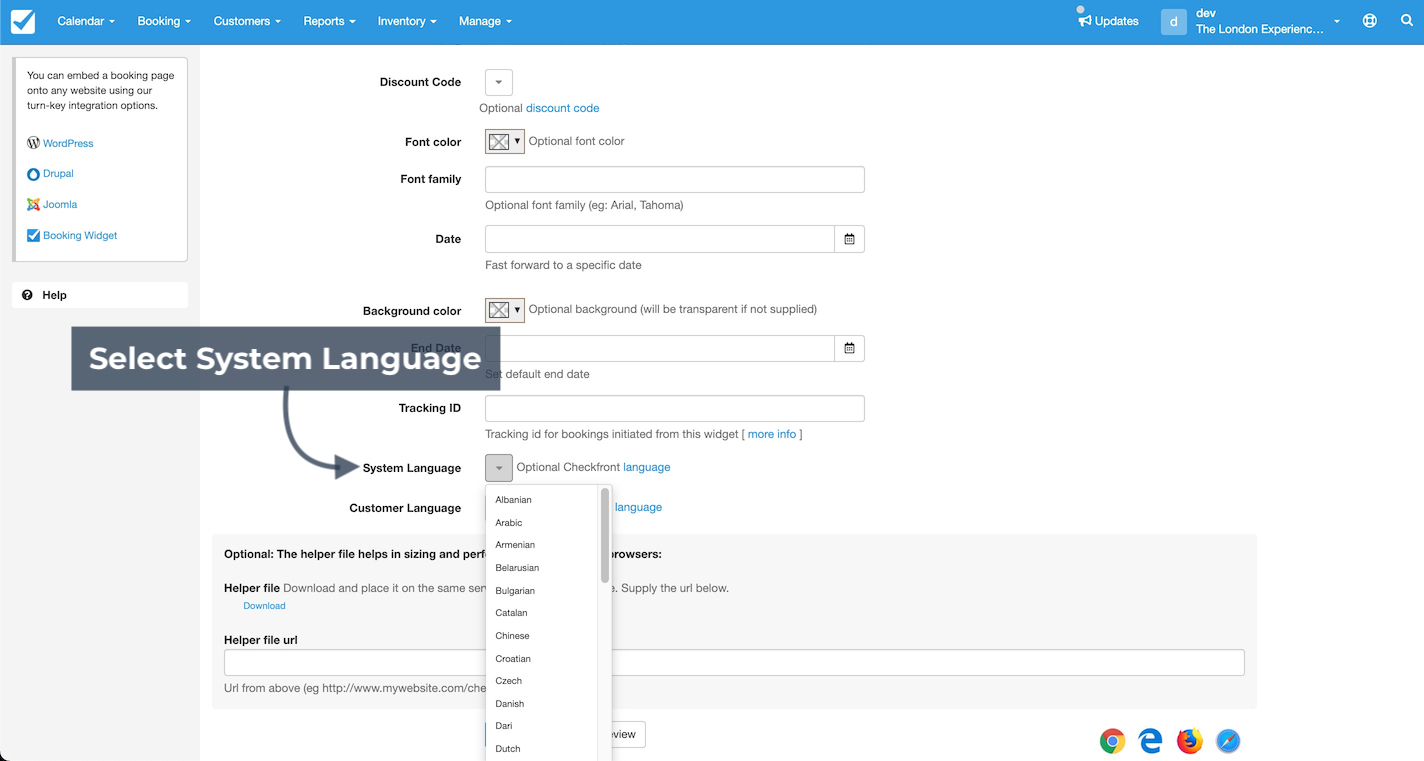 Would you like to display the Booking Widget in a specific language? Simply choose the language from the list of available options within the System Language dropdown menu.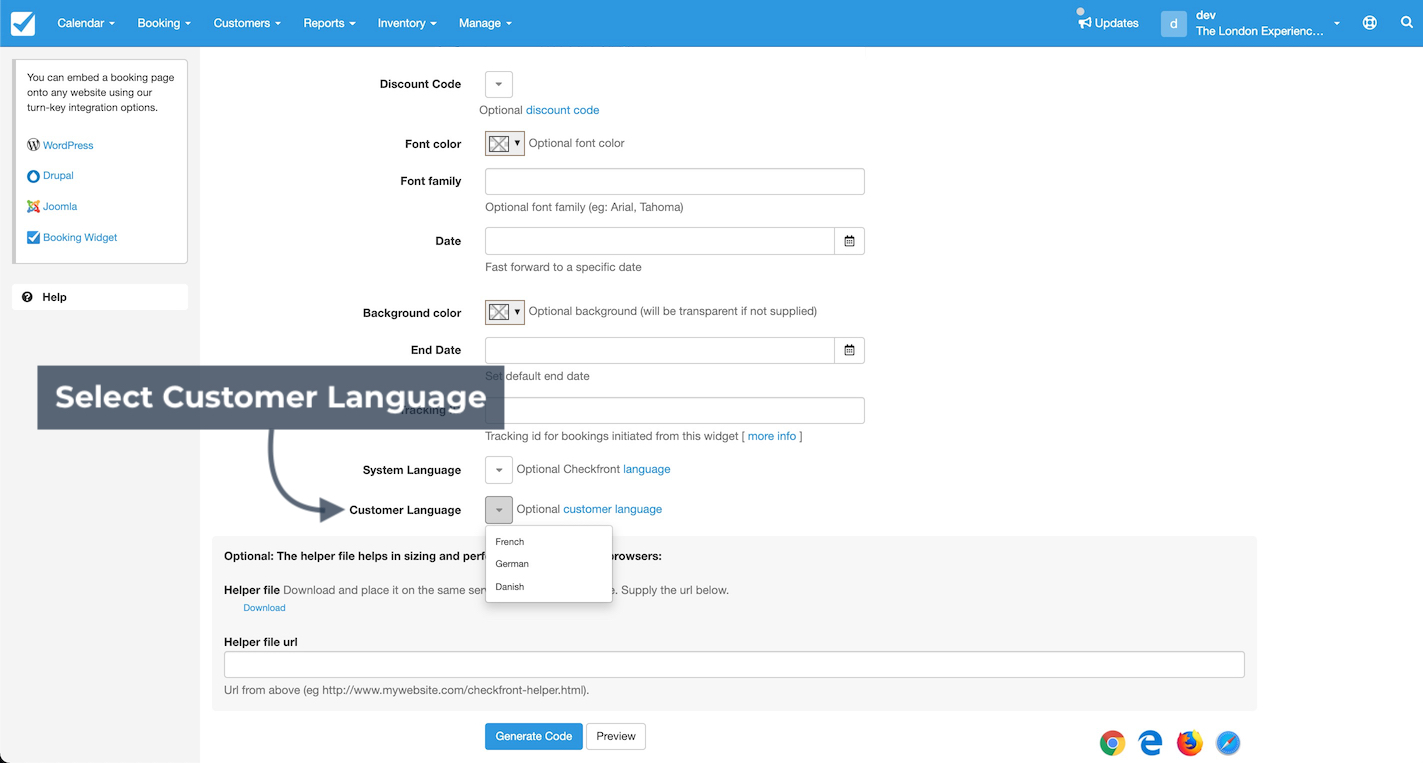 Should you use Customer languages, an additional Customer Language dropdown menu displays. From here, you can choose which of your multiple Customer languages is selected by default on the Booking Page.
| | |
| --- | --- |
| | Learn more about activating the different available language options here: |
---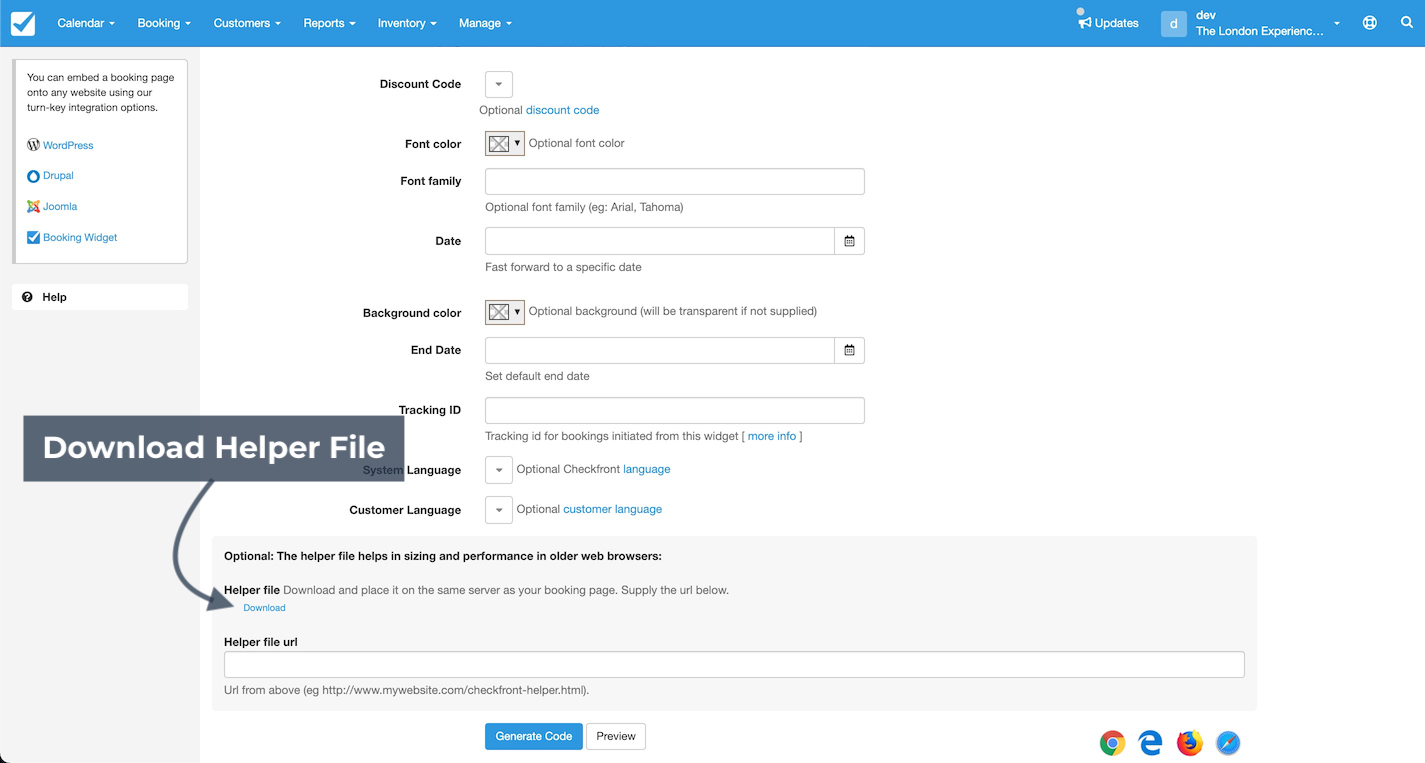 The Booking Widget you are about to embed in your webpage is fully responsive. Some older browsers may experience difficulties when it comes to resizing the window. So, you can Download a Helper file from Checkfront to upload to your Web server. The same Web server that hosts your booking page.
The Helper file helps in sizing and performance in older Web browsers!
Finally, specify the Helper file URL, the address where the file is hosted, so that Checkfront can find the Helper file.
Almost done! Check out Generating the Web Code, the final article in this series.
---
< Booking Widget: Configuration Options | Booking Widget: Generating the Web Code >
---