Learn more about our API and how to access our API Guide.
---
Which plans include this feature?
Legacy:  Legacy plans will be unaffected by new packaging changes and paywalls.
New:  Managed  |  Learn more about our new plans or how to change your plan.
*The Public API is available to everyone. Access to our authenticated API depends on your plan.

Where can I find this feature using the top menu?
Unauthenticated API: Manage > Developer > Public API

Authenticated API: Manage > Developer > + New Application / Console

What prerequisites are there?
---
About the Checkfront API
The Checkfront API (Application Programming Interface) allows developers to expand and build on the Checkfront Booking Platform, making it easy to create web, desktop & mobile applications that directly integrate and interact with your Checkfront account.


Public API and Authenticated API access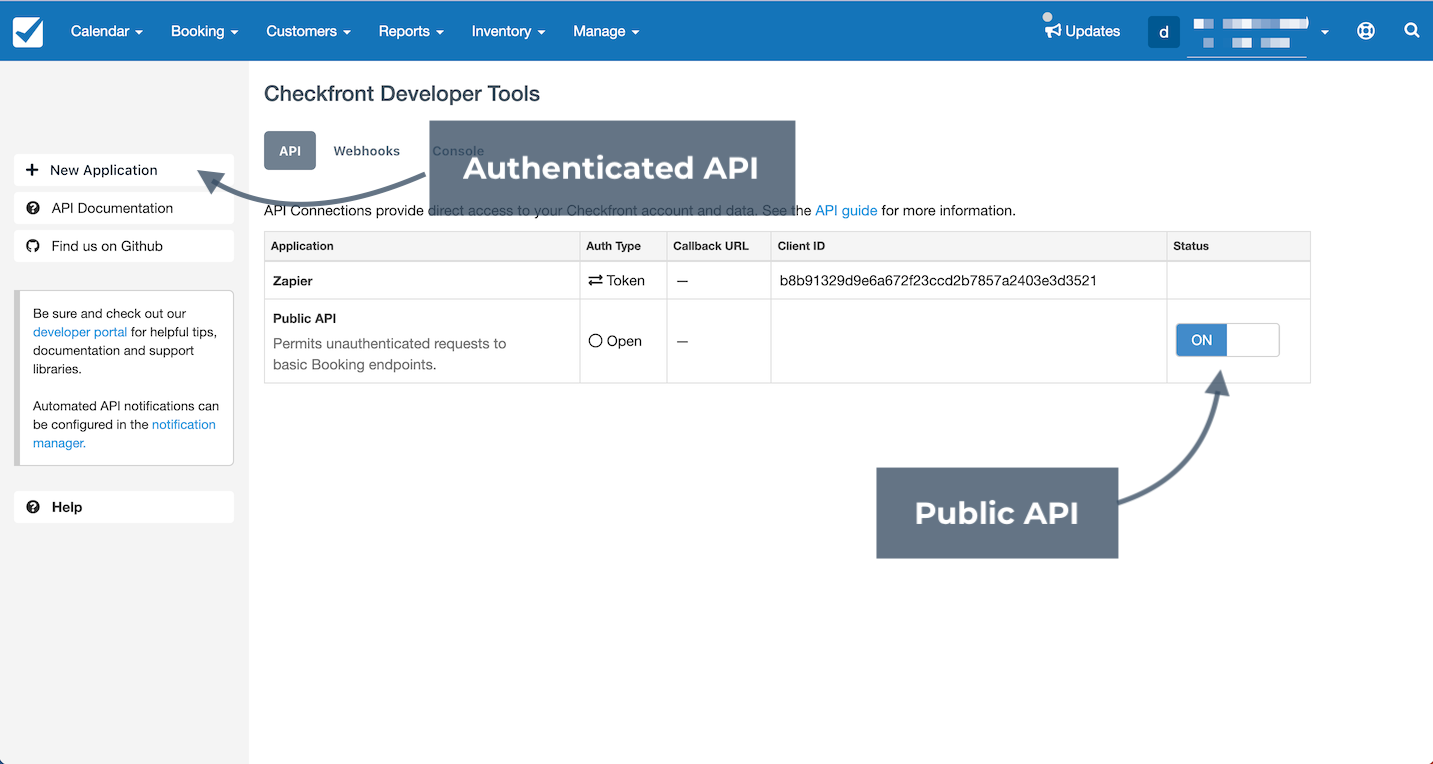 We provide two levels of access to our API - Public API access and authenticated API access.
Access
Description

Public API

Checkfront provides a Public API feature that allows unauthenticated Users to pull information about items/products and availability. This data is an alternate version of what you can obtain using the authenticated API and only provides already public information that could otherwise be accessed from the Customer Booking Page.

This option will be enabled automatically if Site Builder is activated on the account and can not be turned back off until Site Builder is disabled.

Authenticated API

In addition to our Public API, Checkfront provides authenticated access to additional information for verified accounts on the legacy plans and new Managed plans.

This includes use of webhooks: Working with Checkfront Developer tools: Webhooks.
Need authenticated API access? Checkfront has you covered!

For growing businesses at Checkfront, we understand that one size doesn't fit all. Our product advisors can help customize the Growth Plan to suit your business better.

Available only in the Growth Plan. Additional charges vary based on plan type.

✓ Add More Users

✓ Get API Access

✓ Customize your Plan


You can connect with us in-app by following these steps...


Select Billing from your profile menu.
Click Change Plan under the Plan tab.
Click Talk to Us under the Need more Users or API access? section.

Fill out and submit the form to contact our Product Advisors.

Learn more here: Changing your billing plan