---
Learn how to set up the Currency Display feature, which allows your Customers to choose which currency they want to display within Checkfront booking pages.
This is not to be confused with your transaction currency, which is determined by your Base Currency (Manage > Setup > Locale). Currency Display instead helps your Customers view amounts in their preferred currency!
---
Which plan do I need to use this feature?
✓ Soho | ✓ Pro | ✓ Plus | ✓ Enterprise | ✓ Flex |


Where can I find this feature using the top menu?
Manage > Integrations > Sales > Currency Display


What more do I need to use this feature?
Admin permissions to Manage your account and Integrations.


Which Checkfront version supports this feature - classic, new or both?
The Currency Display feature is available to both those using items (Inventory > Items), a key feature of our classic version of

Checkfront, and those using products (Inventory > Products), a key feature of our newest version

of

Checkfront.
New to Checkfront - Products ✨

Products (Inventory > Products) is the successor feature to (Inventory > Items) and is available in our newest version of Checkfront.

Not yet on our newest version and interested in upgrading? Please reach out to our Technical Support team for more information.

Discover more product-related help articles here: Products (New).
| | |
| --- | --- |
| | The exchange rates used for Currency Display are fixed values updated daily on weekdays. |
---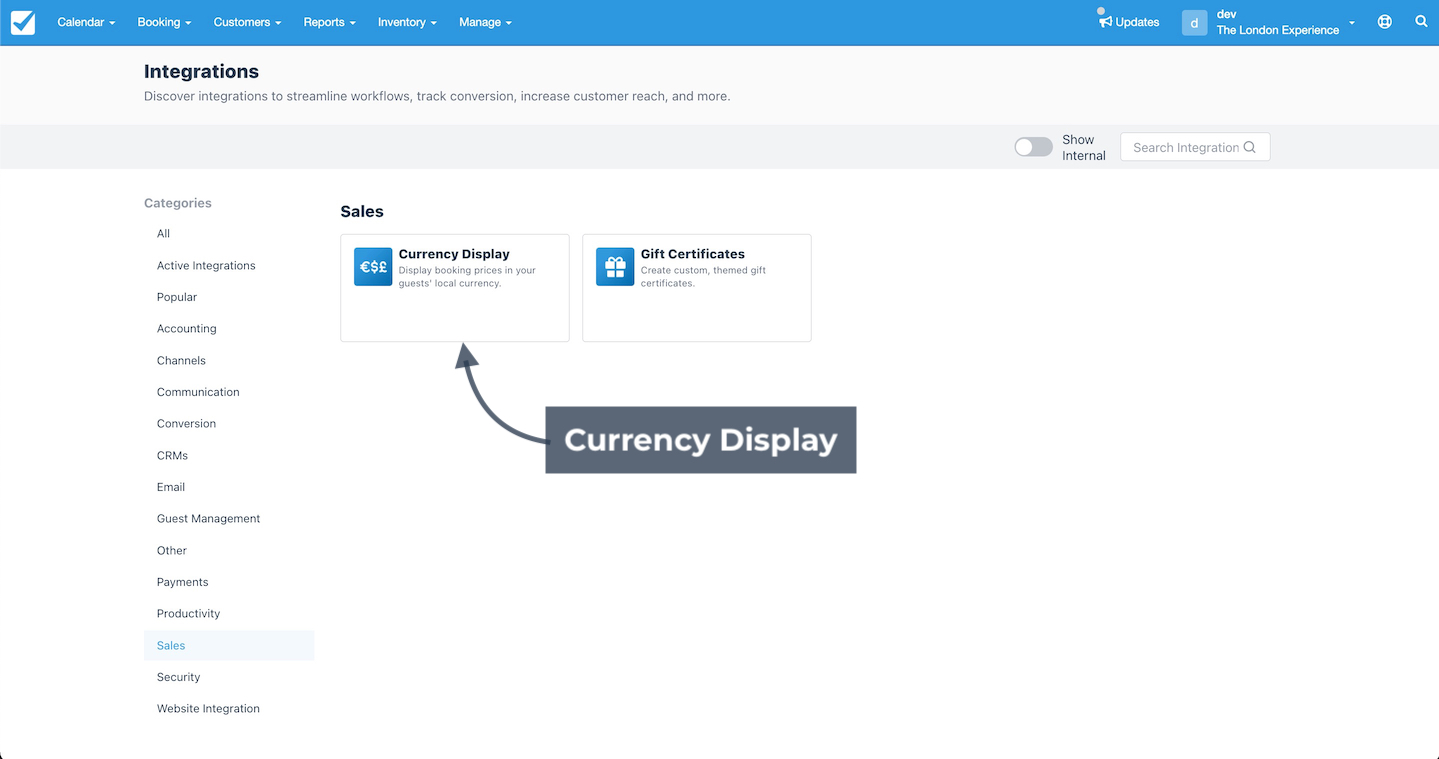 First, go to the Integrations section (Manage > Integrations).
Next, navigate directly to the Sales category under which the integration is listed or do a keyword search for Currency Display.
Then, click on the Currency Display tile to begin setup.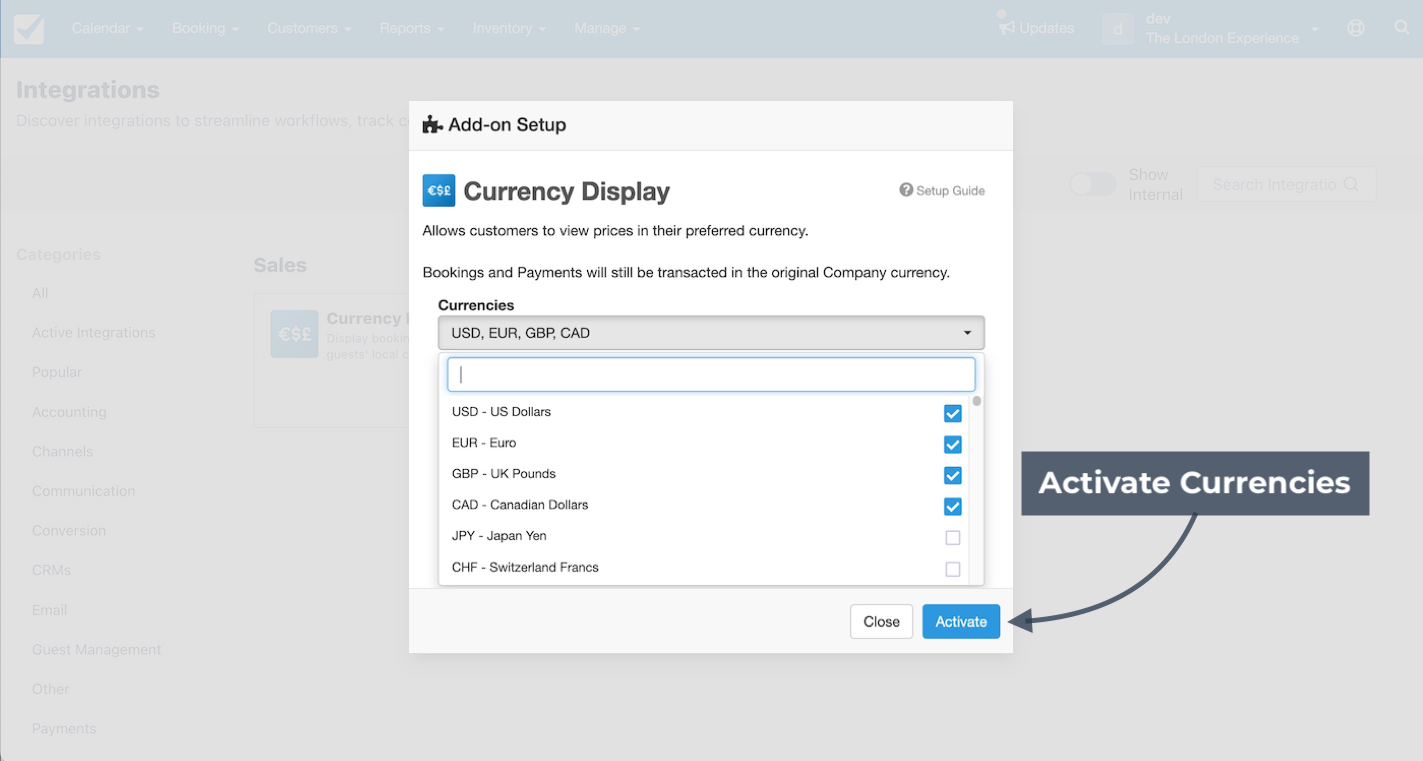 From the Currency Display modal, select one or more currencies to offer to your Customers as display options. Your company's base currency is selected by default and cannot be deselected.
USD - US Dollars, EUR - Euro, GBP - UK Pounds, and CAD - Canadian Dollars are also selected (if not already your base currency) but can be deselected if they don't apply to your Customers.
Once you have chosen the combination of Currency Display options to offer, click Activate to save your selections.
Next, we look at how this feature works for your Customer.
---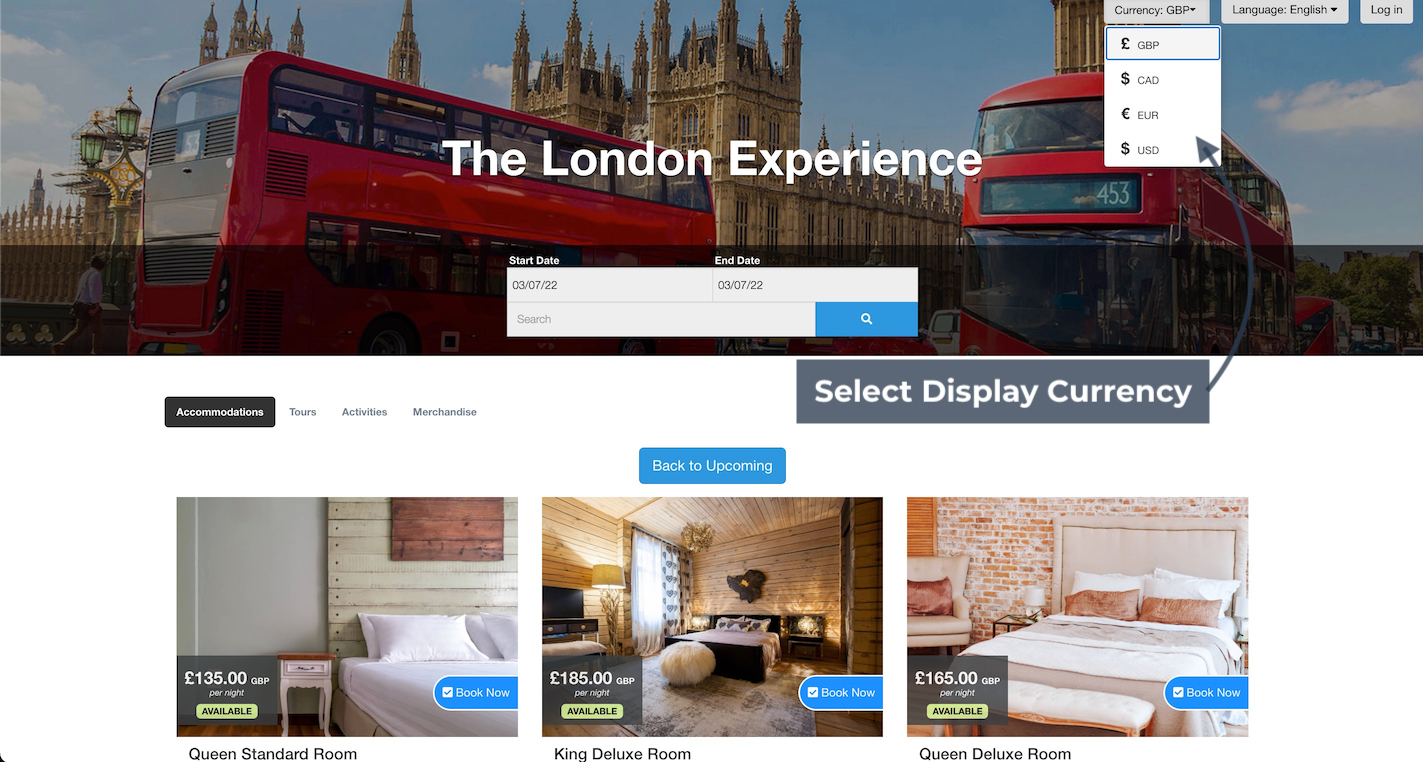 Customers can now choose which currency to display on your booking pages by selecting their preferred currency from the dropdown menu. It is as simple as that!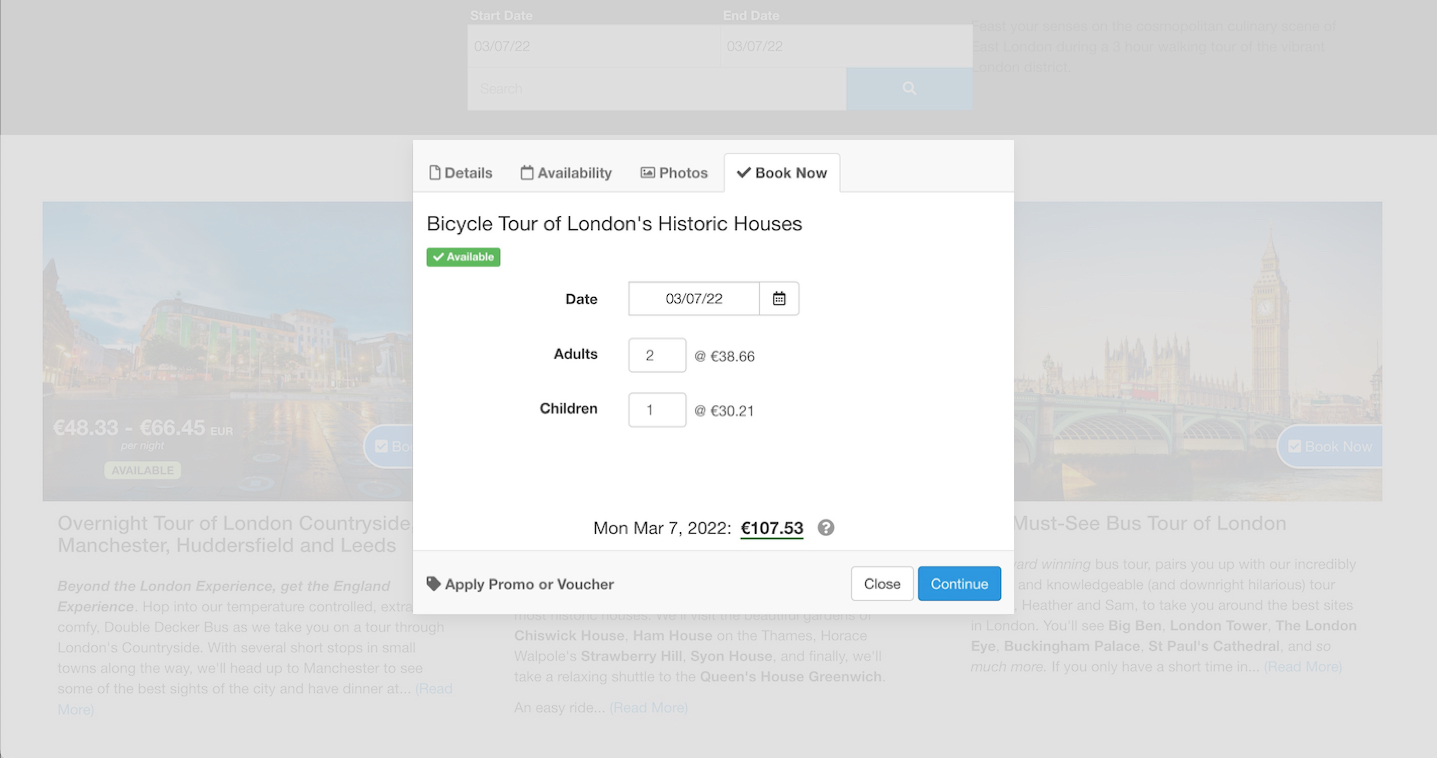 Currencies then display as selected throughout the booking process except for the payment page and booking invoice, as we explain later.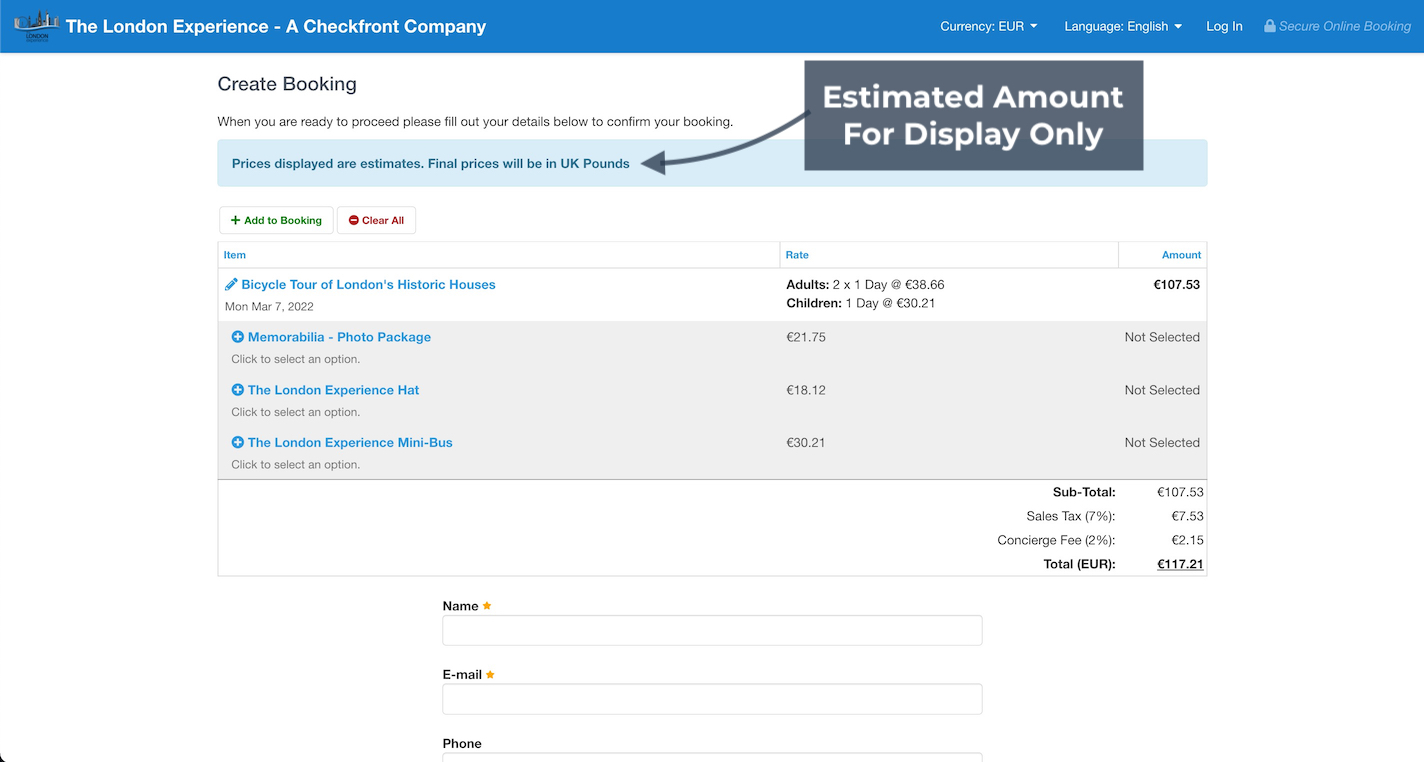 A reminder displays within Create Booking that amounts are estimates only and that final transaction amounts are in the company's base currency instead of the Customer's selected display currency.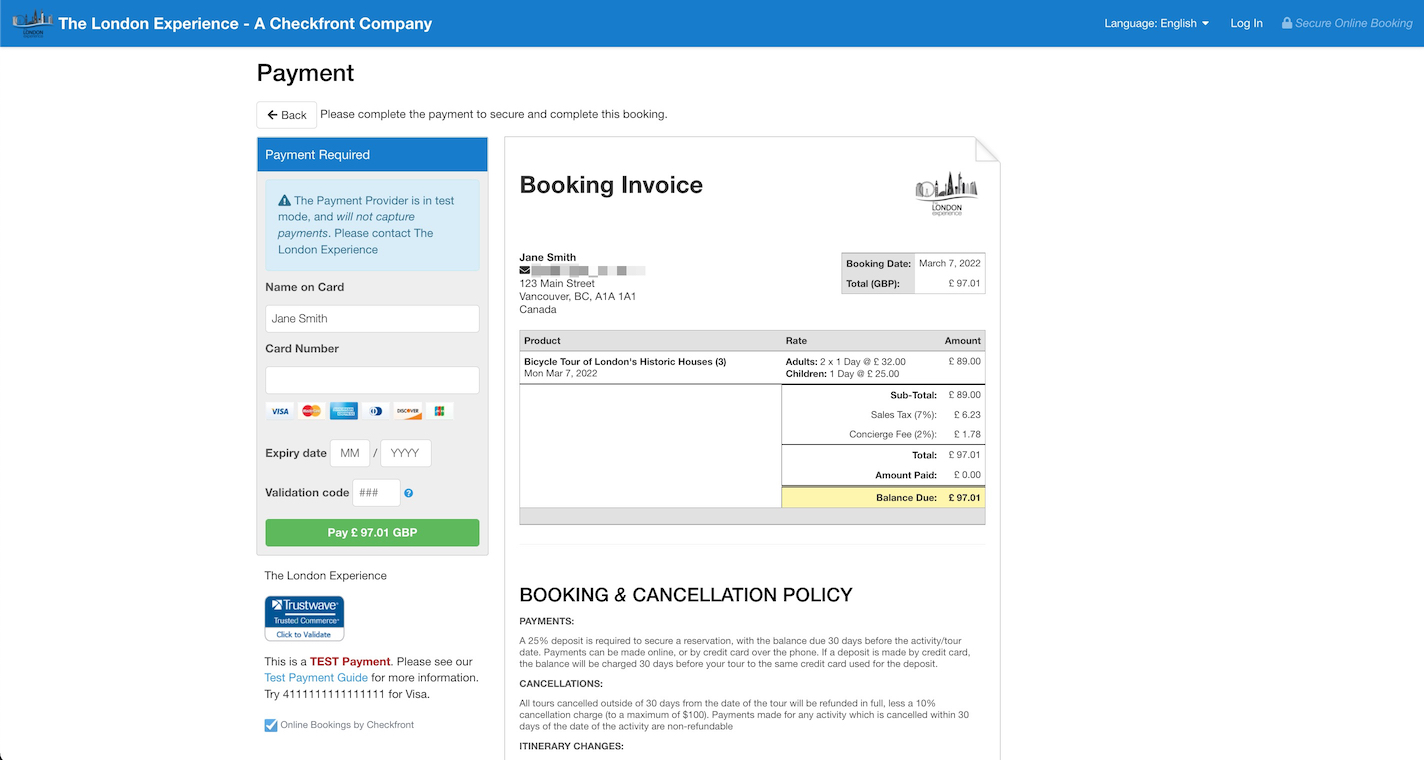 Finally, the booking invoice displays all amounts (Total, Sub-total, Sales Tax, Transaction Fee, Donations...) in your account's base currency so that the Customer understands the currency in which the payment is transacted.
| | |
| --- | --- |
| | Currency Display is not supported within Site Builder at this time. |