---
Plan Availability: ✓ Soho | ✓ Pro | ✓ Plus | ✓ Enterprise | ✓ Flex |
Locate: Inventory > Assets > Assets tab > Actions > Edit > Edit Asset Group
Prerequisites:
Admin

permissions to manage inventory or

restricted permissions

to

View products and assets and Manage products and assets.
Your account is a member of our

Early Access Program. Please reach out to

Checkfront Technical Support

to learn more!
Early Access Program

This feature is currently part of our Early Access Program, which means it is available to select Customers to try out and provide us with feedback.

To learn more about becoming part of our Early Access Program please contact our Technical Support: Getting Support from Checkfront.

Find our complete set of help articles related to the Early Access Program here: Early Access Program.
---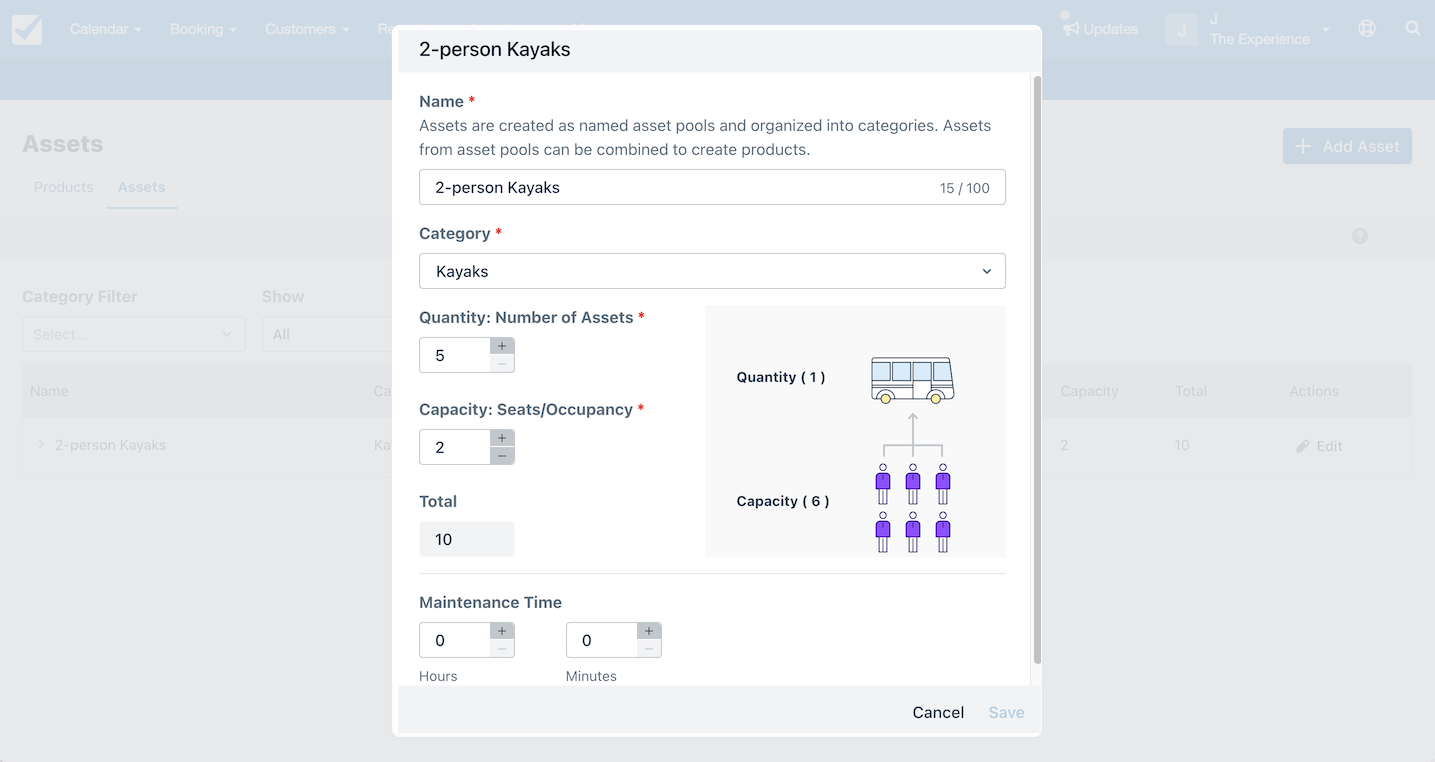 To access the edit asset group modal, simply click on the Edit action next to the asset group you would like to edit.
The edit asset group modal allows you to edit the settings for a group of assets.
| | |
| --- | --- |
| | This modal is opened from your Assets list as described here: |
Edit the name of your asset group, for example, Mountain Bike or 2-Person Kayaks.
Change the asset category associated with the asset group by selecting a new category from the list provided.
Asset categories (e.g. Bikes, Kayaks or Yoga Equipment), allow you to generally classify your asset groups (e.g. Mountain Bikes, 2-person Kayaks or Yoga Mats), which helps to organize your assets and minimize the complexity of applying assets to products.
When editing an asset group, simply open the asset Category drop-down menu. Type directly in the drop-down menu field to create and name your new asset category, then hit enter on your keyboard to save the new asset category.
Edit the number of assets included in this asset group by toggling up (+) the Quantity.
Because quantity is directly linked to the assets listed in your Asset lists, you cannot decrease the quantity of assets here. Please go to the Assets list for this asset group and archive the applicable Asset(s).
Increase (+) or decrease (-) the capacity of an asset in the asset group.
Many assets have the capacity to support more than one Guest, for example, a 2-person Kayaks (2) as opposed to a single rider Mountain Bikes (1).
Total asset availability based on Quantity of assets multiplied by the Capacity of each of those assets within the asset group, for example...
Quantity x
Capacity =
Total

Mountain Bike

10

1

10

2-person Kayak

(2-person)

5

2

10

Shuttle Buses

4

10

40

Yoga Mats

20

1

20
This number is calculated based on Quantity and Capacity fields, so the Total is read-only.
Update how many hours and/or minutes are required at the beginning and end of each booking to allow for maintenance of the asset, for example, if you need to inflate bike tires, rinse out kayaks, service buses or sanitize yoga mats.
---
< Asset Builder: Add Asset Groups and Assets
---