---
Start setting up or editing your advanced product settings, including adding product upsells, managing product upsells, synching with integrations, and configuring notifications and waivers & documents.
New to the Product Builder? Read the first article in this series for an introduction to the Product feature.
---
Which plans include this feature?
Legacy:  Soho, Pro, Plus, Enterprise, Flex
New:  Starter, Growth (Subscription), Growth (Per Booking), Managed
→ Learn more about our new plans or how to change your plan.

Where can I find this feature using the top menu?
Inventory > Products > Products > Add Product/Add New Product/Edit Product > Advanced


What more do I need to use this feature?
Admin permissions to manage inventory or restricted permissions to View products and assets and Manage products and assets.
Admin permissions to view and manage integrations if activating from the Product Builder (QuickBooks Online, Waivers, myallocator...).


Which Checkfront version supports this feature - classic, new or both?
Your account must have access to products (Inventory > Products), a key feature of our new version of Checkfront. This feature is not available for use with items (Inventory > Items) in our classic version. → Learn more about products. 
 
---
Managing advanced settings on products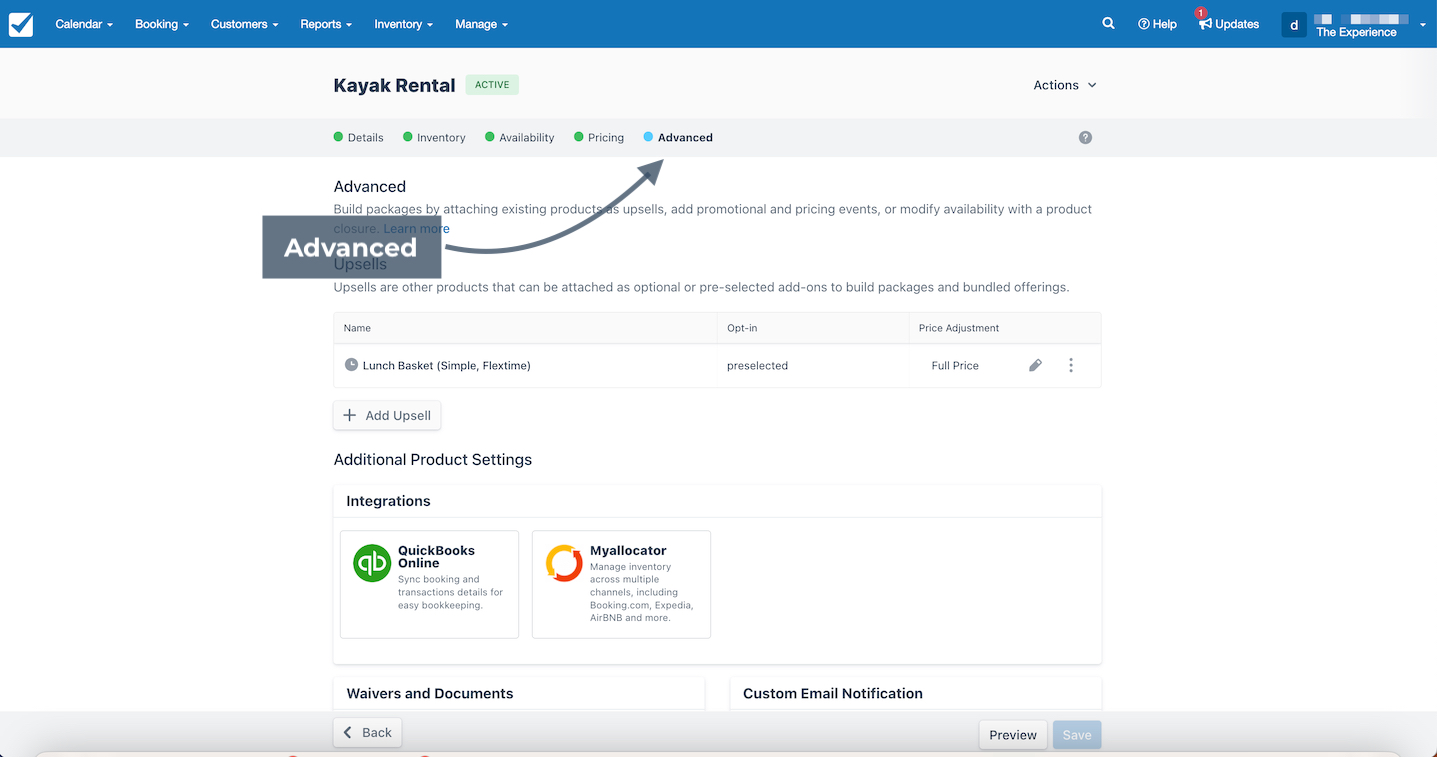 Start configuring or editing your product availability (Product Builder > Advanced) by following these high-level steps. You can find detailed instructions for each step under 'Learn More'.
Steps
Learn More

1

Add products to inventory as upsells. This is optional.

2

Add upsells to your products. This is optional.

3

Once you have added upsells to your product, you can edit and detach them as needed.

4

Sync your product with QuickBooks Online. This is optional.

5

Sync your product with myallocator. This is optional.

6

Add additional product-specific messages to your email notifications. This is recommended!

7

Add waivers and documents to your product. This is recommended! Starter plans have access to one template.
In the next article in this series, we look at managing your products once created from the Products List.
---
< Step 4: Configuring pricing for your product     |    Managing your products from the Products List >
---