---
Read this introduction to our Daily Manifest feature, including how to gain insights into your daily numbers, or add a new booking.


To learn more about the functionality of the Daily Manifest, please read the entire series of articles accessed at the side and bottom of this page.
---
Which plans include this feature?
Legacy:  Soho, Pro, Plus, Enterprise, Flex
New:  Starter, Growth (Subscription), Growth (Per Booking), Managed
→ Learn more about our new plans or how to change your plan.

Where can I find this feature using the top menu?
Booking > Daily Manifest


What more do I need to use this feature?
Admin or restricted permissions to View all Reports (or Daily Manifest) and Export Data.
Admin or restricted permissions to View all Reports (or Revenue) to access the Revenue Report from Insights.
The Guest Form (Manage > Integrations > Guest Management) integration is required to collect and include Guest information within your Daily Manifest.


Which Checkfront version supports this feature - classic, new or both?
This feature is available in both our classic version using items (Inventory > Items) and our newest version using products (Inventory > Products).  → Learn more about products
---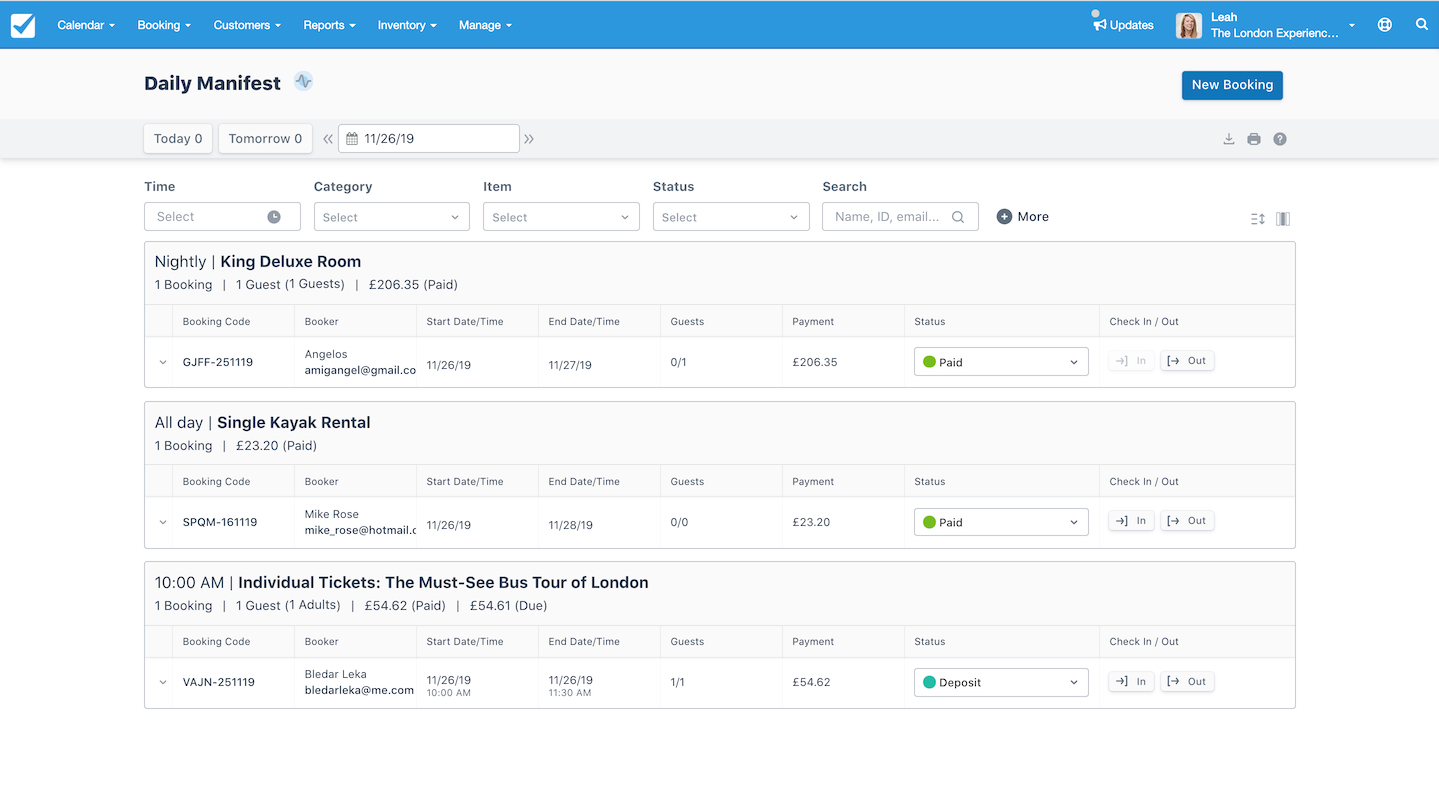 The center of Guest management, the Daily Manifest provides you and your Staff with a view into the day's activities, including details on the Booker or Guests attending, the number of bookings for the item/product, the status of the booking, and details on any waivers or other documents attached to the bookings.
Using our Guest Form (Manage > Integrations > Guest Management) integration? You can quickly see which Guests still need to fill out their booking details.
You can Print or Export the data to be shared with your team, share the Daily Manifest URL with others with account access, or bookmark it for future reference!
Options are provided to Check In or Check Out the individual Guests or the entire booking as needed.
Subscribed to a plan that includes waivers? You can determine who still needs to complete/sign their Waivers or other Documents at a glance. 
---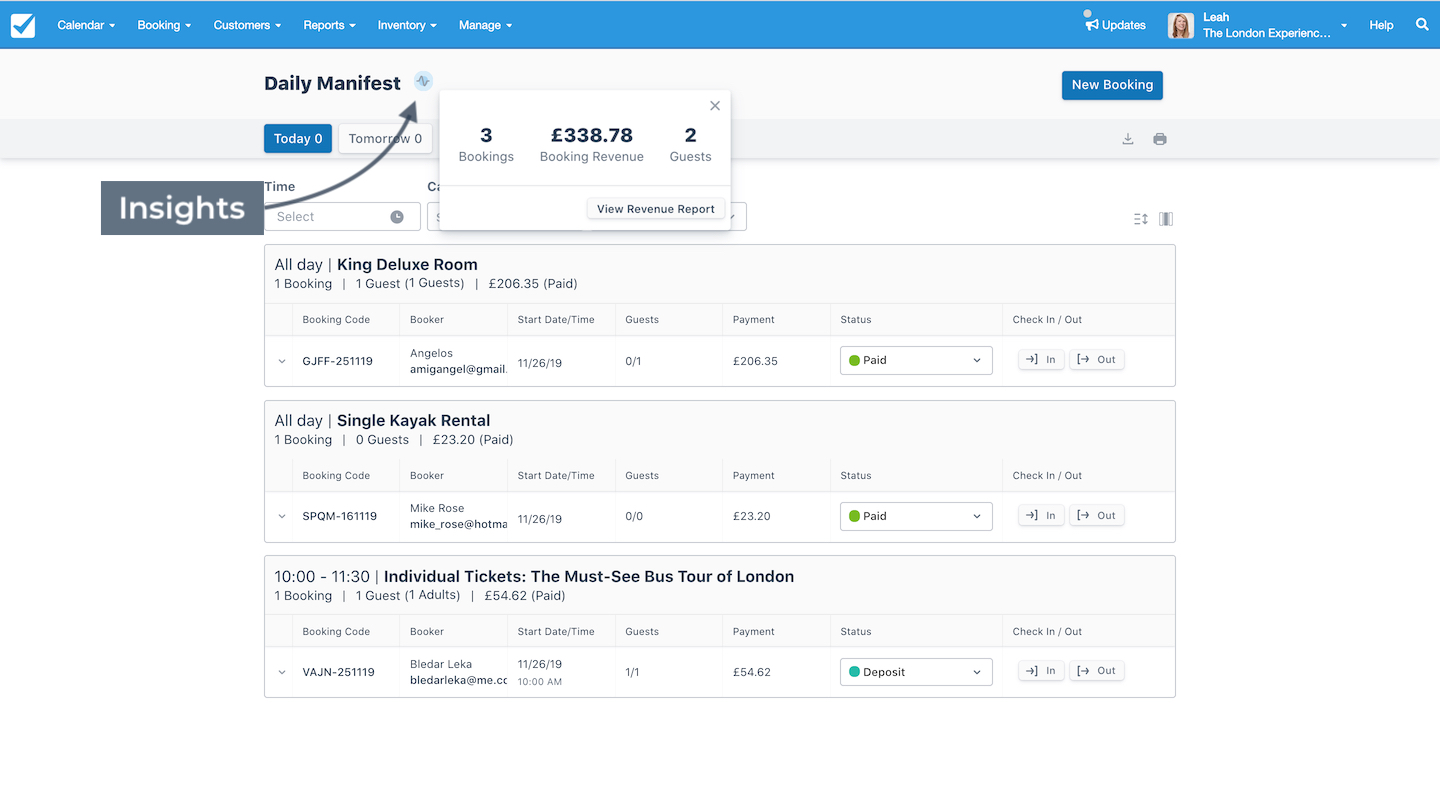 The daily summaries of total Bookings, Booking Revenue, and Guests can now be conveniently and separately viewed by clicking the Insights icon.
Only those with Admin permissions or the View Reports permission can see and access the option to View Revenue Report.
You can learn more about the Revenue Report here.
 
---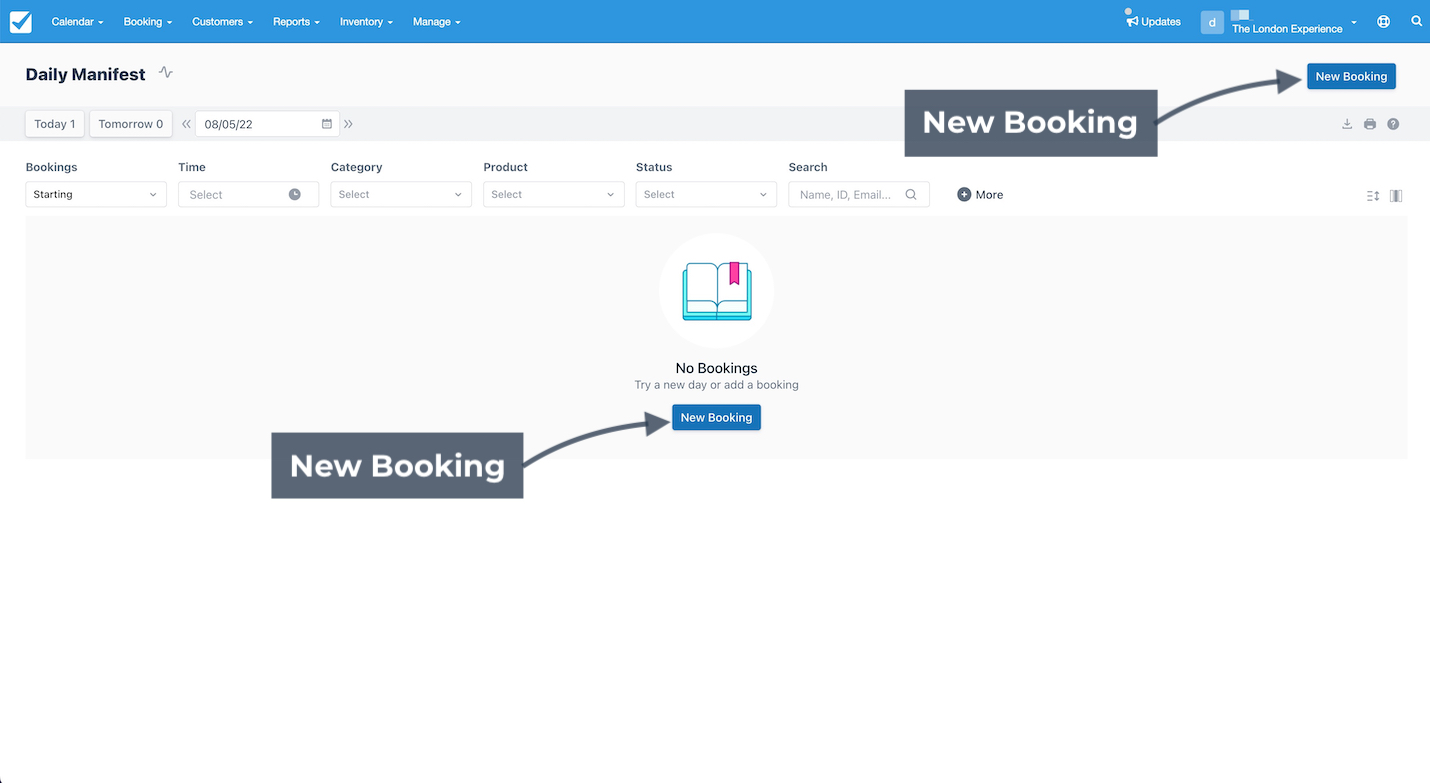 You can start a new Staff-side booking from the Daily Manifest area. Simply click on the New Booking button to begin the process.
| | |
| --- | --- |
| | Learn more about creating a Staff-side booking here: |
| | |
| --- | --- |
| | Learn more about your reporting options here: |
---
Navigating and filtering the Daily Manifest >
---