Read this introduction to the Asset Calendar, including how assets are organized within the calendar and how to add new Staff-side bookings and access the Daily Manifest to manage your assets.
The entire series of articles can be accessed at the side and bottom of this page, where you can learn more about the full management capability of the Asset Calendar.
---
Which plans include this feature?
Legacy:  Soho, Pro, Plus, Enterprise, Flex
New:  Starter, Growth, Managed  |  Learn more about our new plans or how to change your plan.

Where can I find this feature using the top menu?
Calendar > Product > Calendar > Asset > Inventory Calendar > Asset tab


What prerequisites are there?
Admin or restricted permissions to:

View calendars to view the page
View items, products and assets to view the data within the page
Manage events and rules to enable/disable assets and remove maintenance events
Create bookings to create a new Staff-side booking


Products must be configured with an inventory type based on assets.


Which Checkfront version supports this feature - classic, new or both?
Your account must have access to products (Inventory > Products), a key feature of our newest version of Checkfront. 
New to Checkfront - Products ✨

With our newest version of Checkfront, we have added Products (Inventory > Products) as the successor to items (Inventory > Items).

Are you interested in migrating to our newest version? Please reach out to our Technical Support team for more information.
---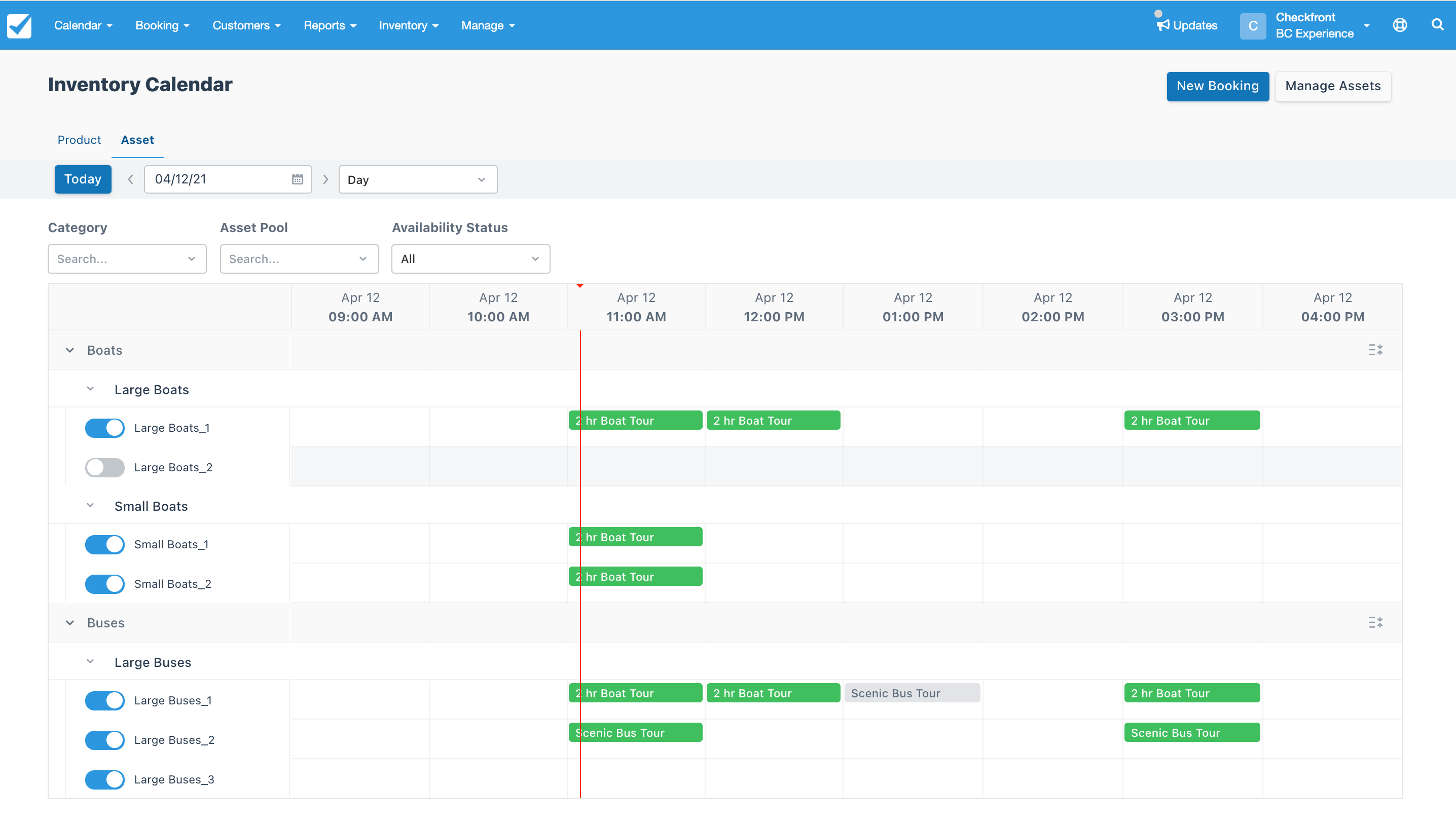 The Asset tab of the Inventory Calendar provides a complete, visual overview of your asset availability, including the functionality to manage asset assignments.
| | |
| --- | --- |
| | Check out our complete overview of the Asset Calendar here: |
| | |
| --- | --- |
| | What are assets? Check out the following series to learn more. |
---
Your inventory is organized and presented as follows.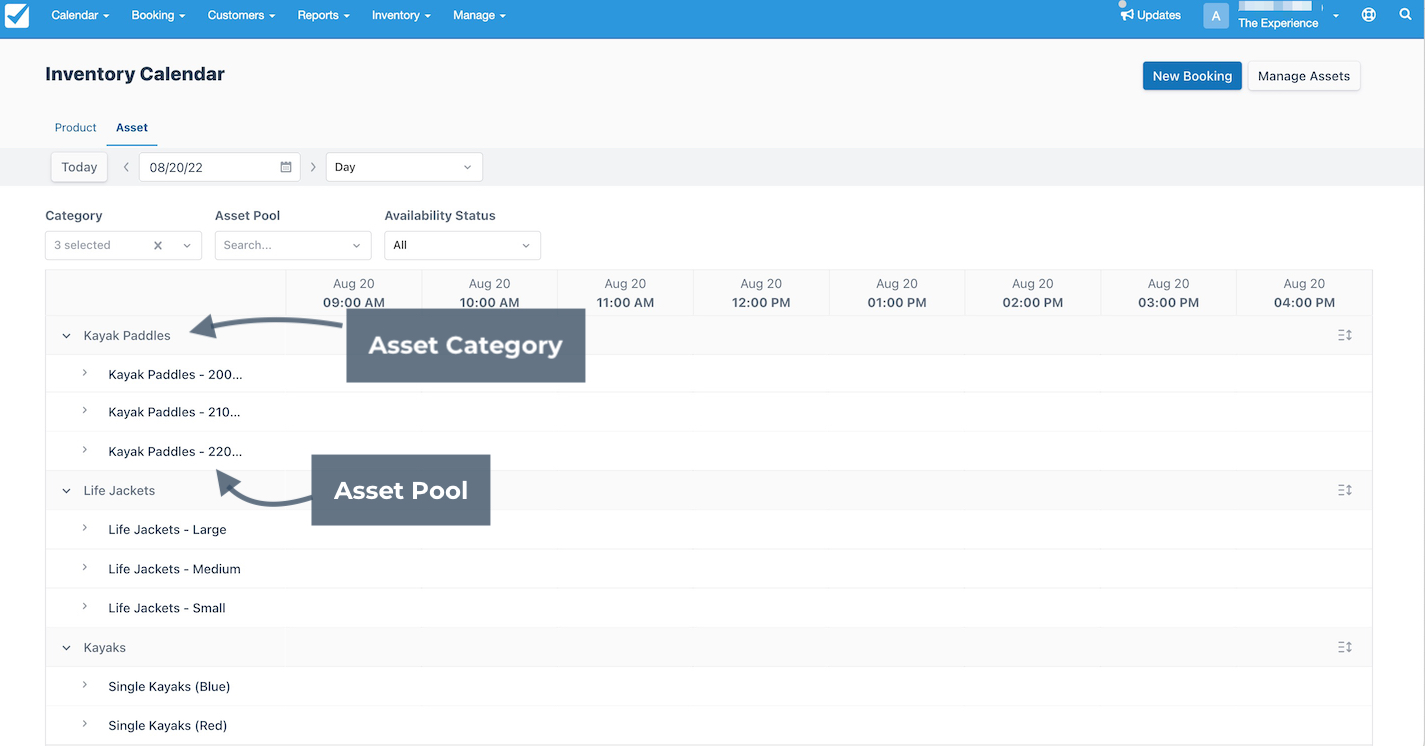 By default, your Asset Calendar displays asset data for the current day with the option to view asset assignments by week.
Asset data is then presented by the hour or day, with asset pools grouped by asset category.
| | |
| --- | --- |
| | Sort order configuration is not available for asset categories or asset pools. |
---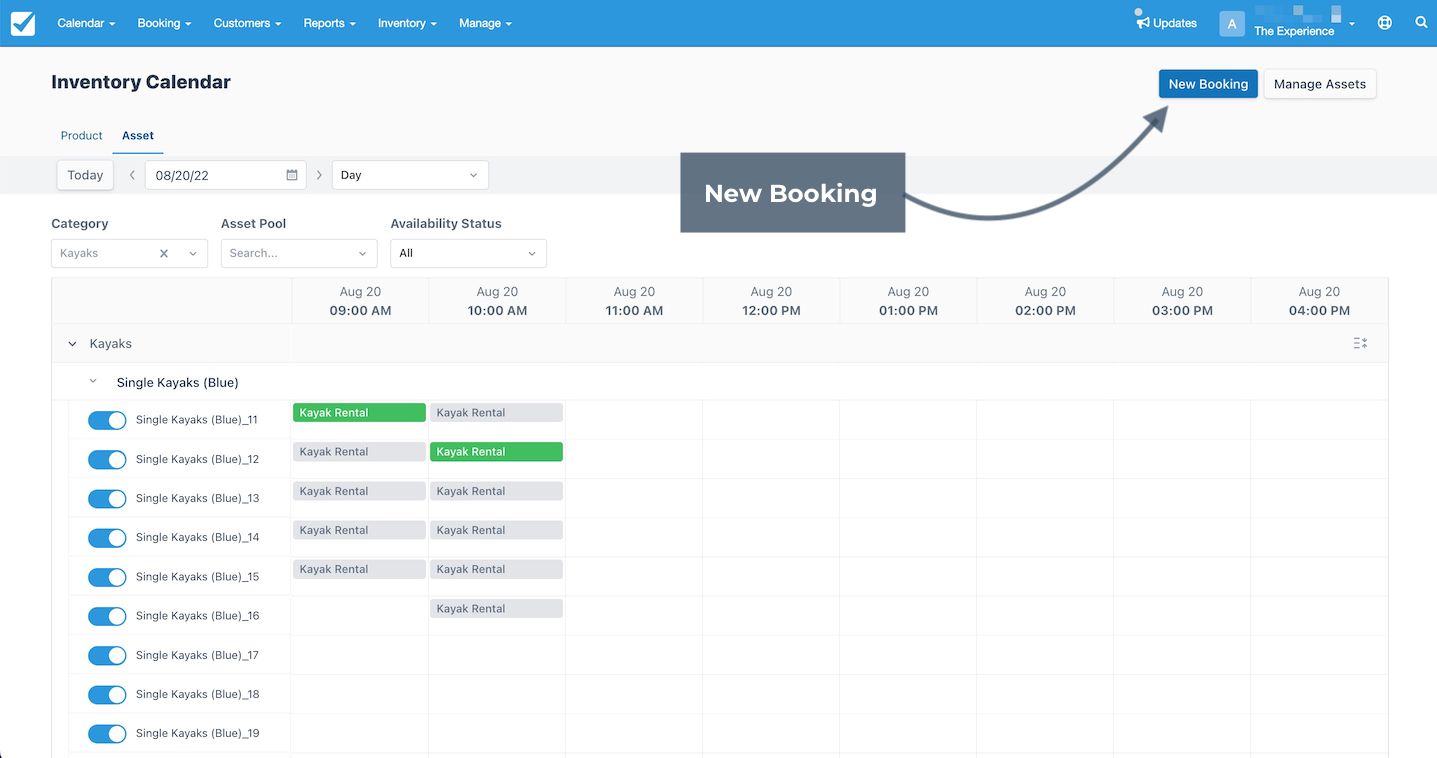 You can start a new Staff-side booking from the Asset Calendar. Simply click on the New Booking button at the top of the page to begin the process.
| | |
| --- | --- |
| | Learn more about adding new Staff-side bookings here: |
---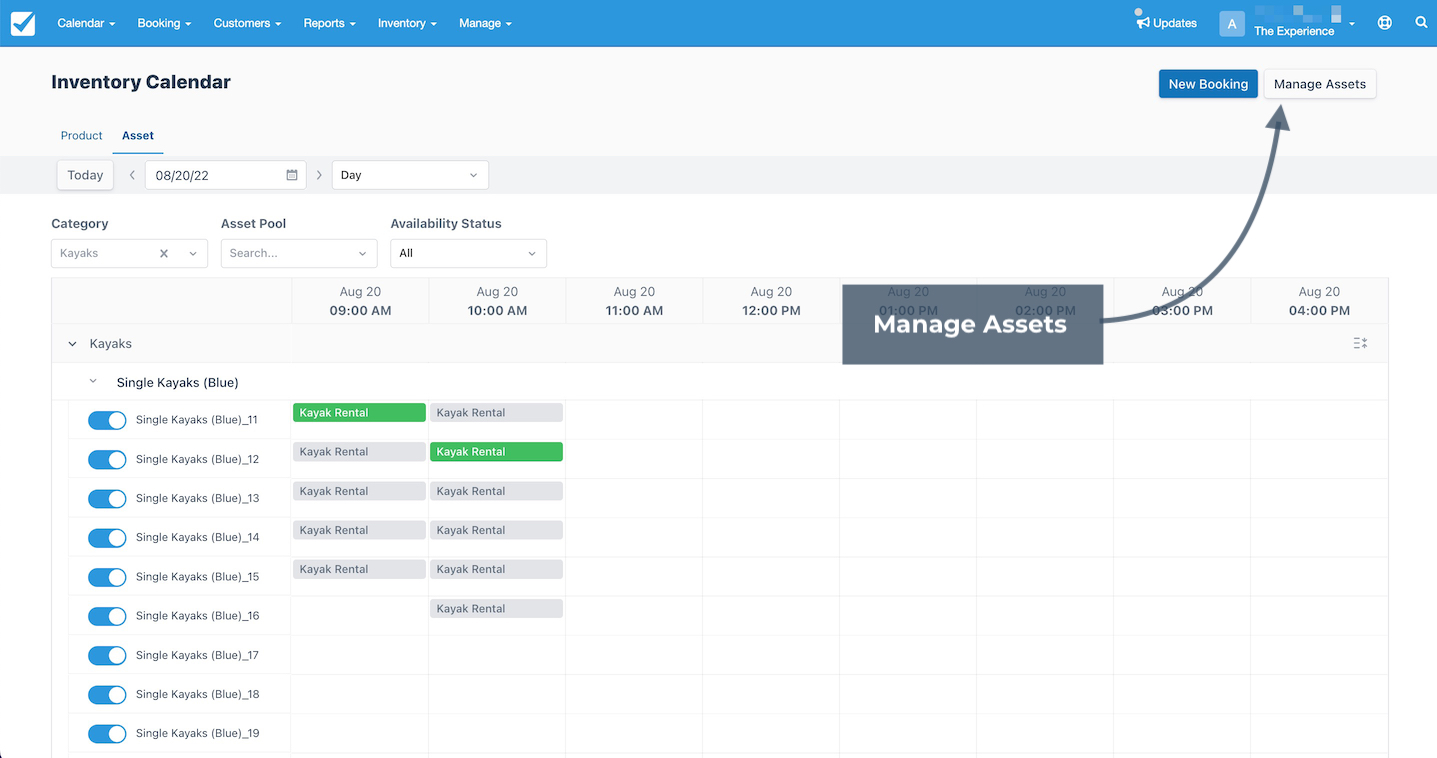 Do you need to manage the assets associated with the assignments, for example, changing the base quantity or capacity? Click the Manage Assets button at the top to open the Assets page in a new tab.
| | |
| --- | --- |
| | Learn more about managing assets here: |
In the following article in this series, we look at navigating and filtering assets within the Asset tab of the Inventory Calendar.
---
< Overview of the asset calendar |   Navigating and filtering the asset Calendar >
---