---
Learn how to use the account menu bar search function, including supported search terms, viewing past results, what Quick Links are, and clearing the search.
---
Which plans include this feature?
Legacy:  Soho, Pro, Plus, Enterprise, Flex
New:  Starter, Growth (Subscription), Growth (Per Booking), Managed
→ Learn more about our new plans or how to change your plan.

Where can I find this feature using the top menu?
From the main menu bar on any page.



---
Searching for a specific booking or Customer information you need is possible with our powerful search function at the top of any page in your account.
---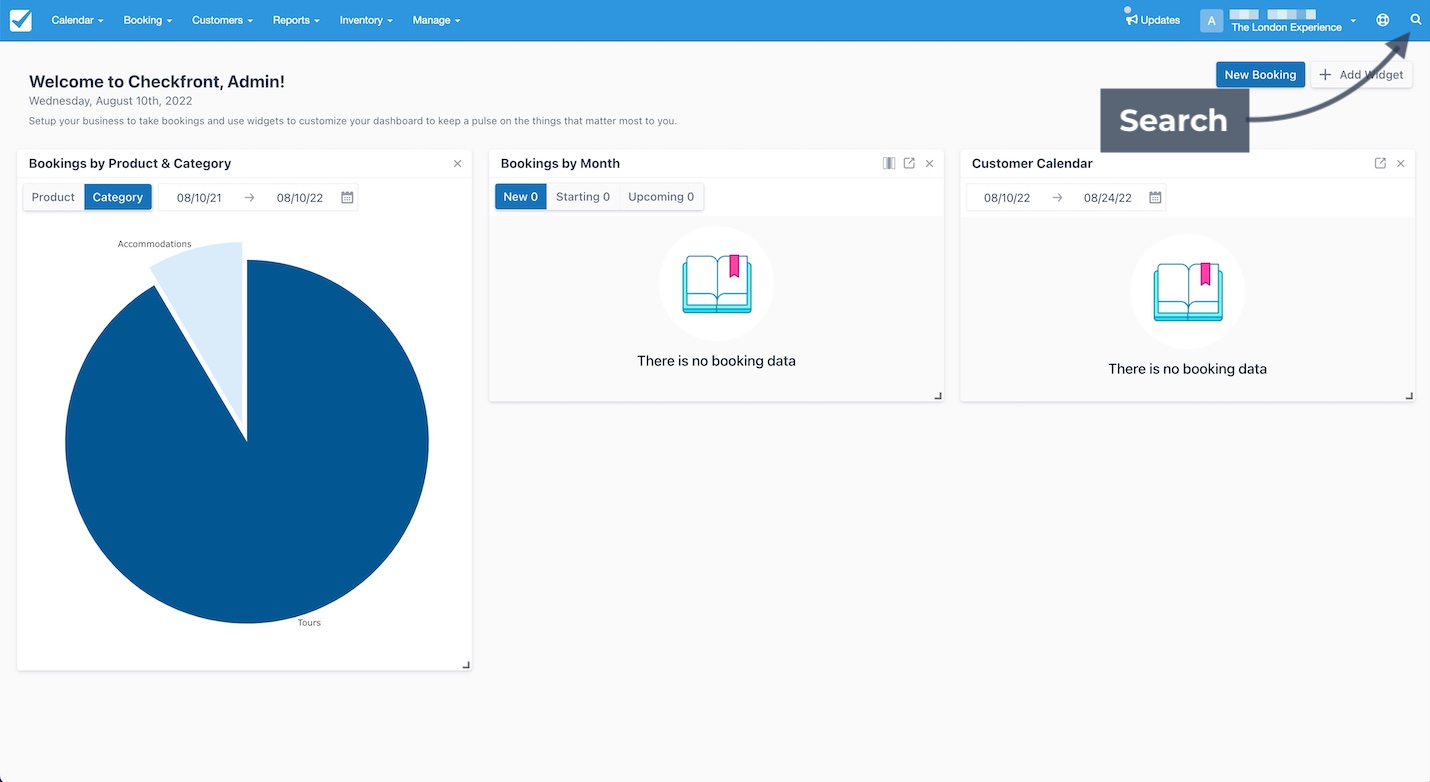 To start searching by term, click the Search icon at the top of any page.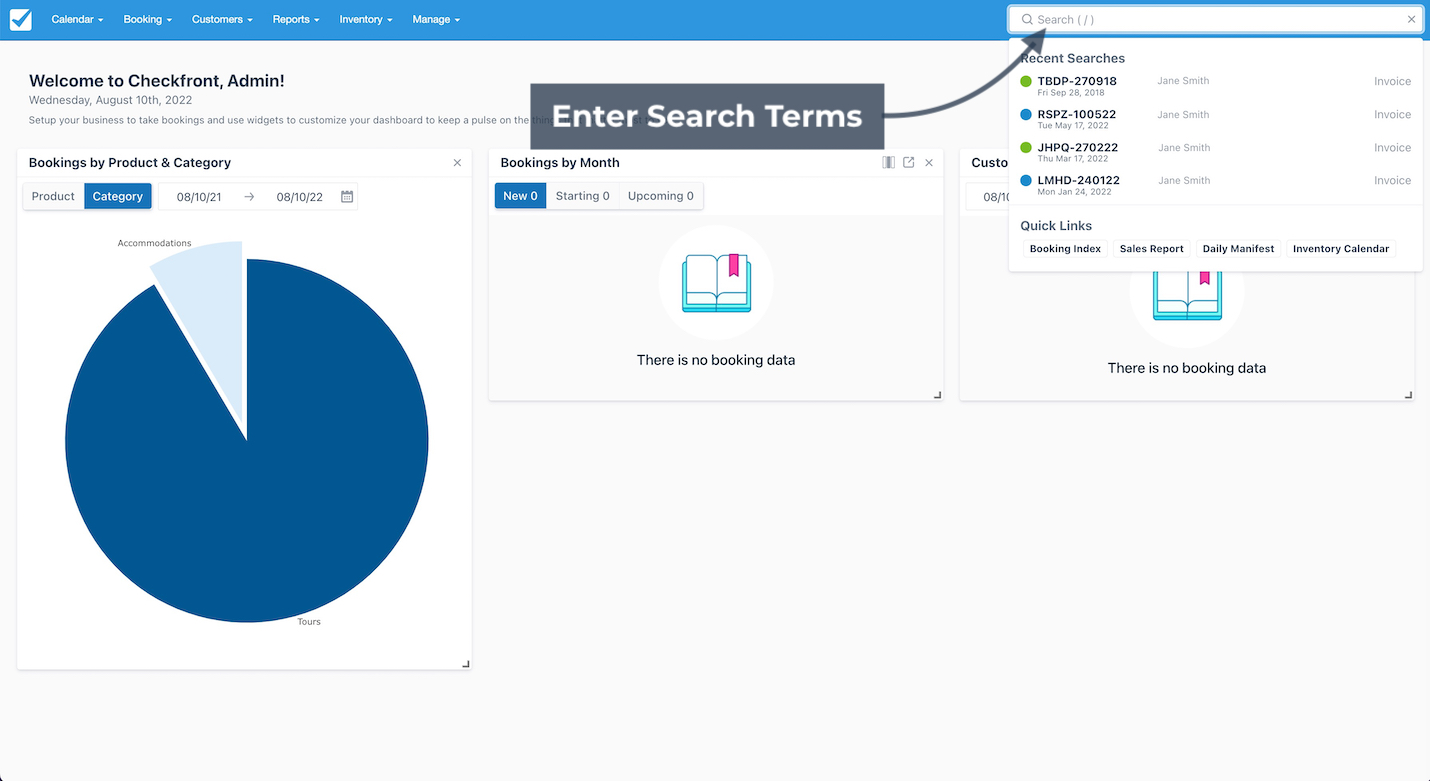 Once selected, a search bar displays where you type your search terms. A dropdown window also shows Recent Searches and helpful Quick Links.
Do you want to search for a term quickly? A shortcut to start searching right from your keyboard is to select the forward slash [/] key and start typing.

Keyboard arrow keys [↑] [↓] can be used to navigate results. Click the [Enter] / [Return] key to confirm your choice.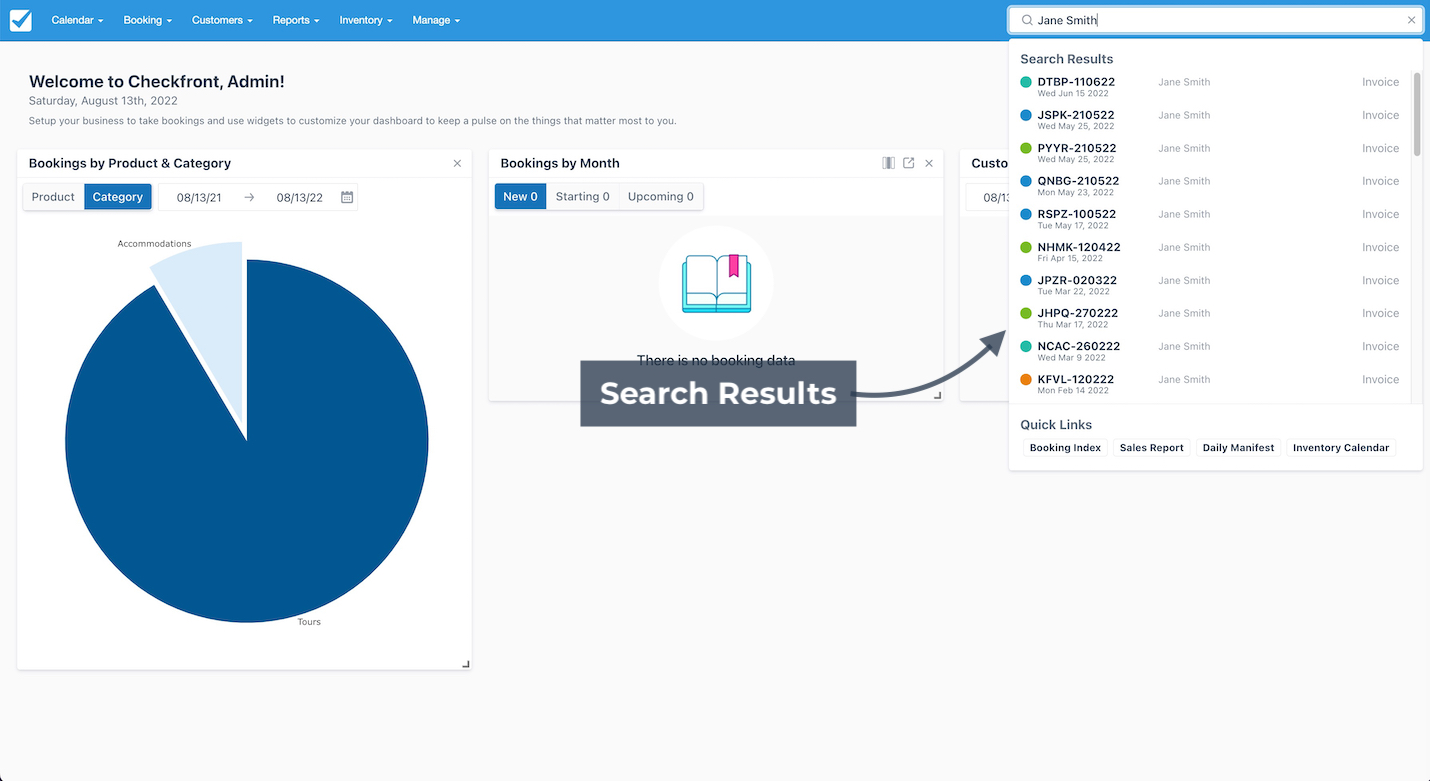 As you start typing, the system dynamically displays results based on the search term entered. Click on each result to access the related resource.
A maximum of ten (10) results are listed at once. If more than ten (10) entries match your term, the results list is scrollable.
| | |
| --- | --- |
| | The scrollable results window may take a few extra seconds to load if your search term generates many matches. |
---
Multiple types of information are supported when searching. These include:
Booking information

Booking IDs

Invoice notes (any text or keyword)

Keywords from any non-archived Booking Form fields

Customer/Guest information

Names

Phone numbers

Emails

Guest details

Keywords from any non-archived Guest Form fields

System pages, including reports
| | |
| --- | --- |
| | For steps on how to search for a Customer's phone number specifically, feel free to visit: |
---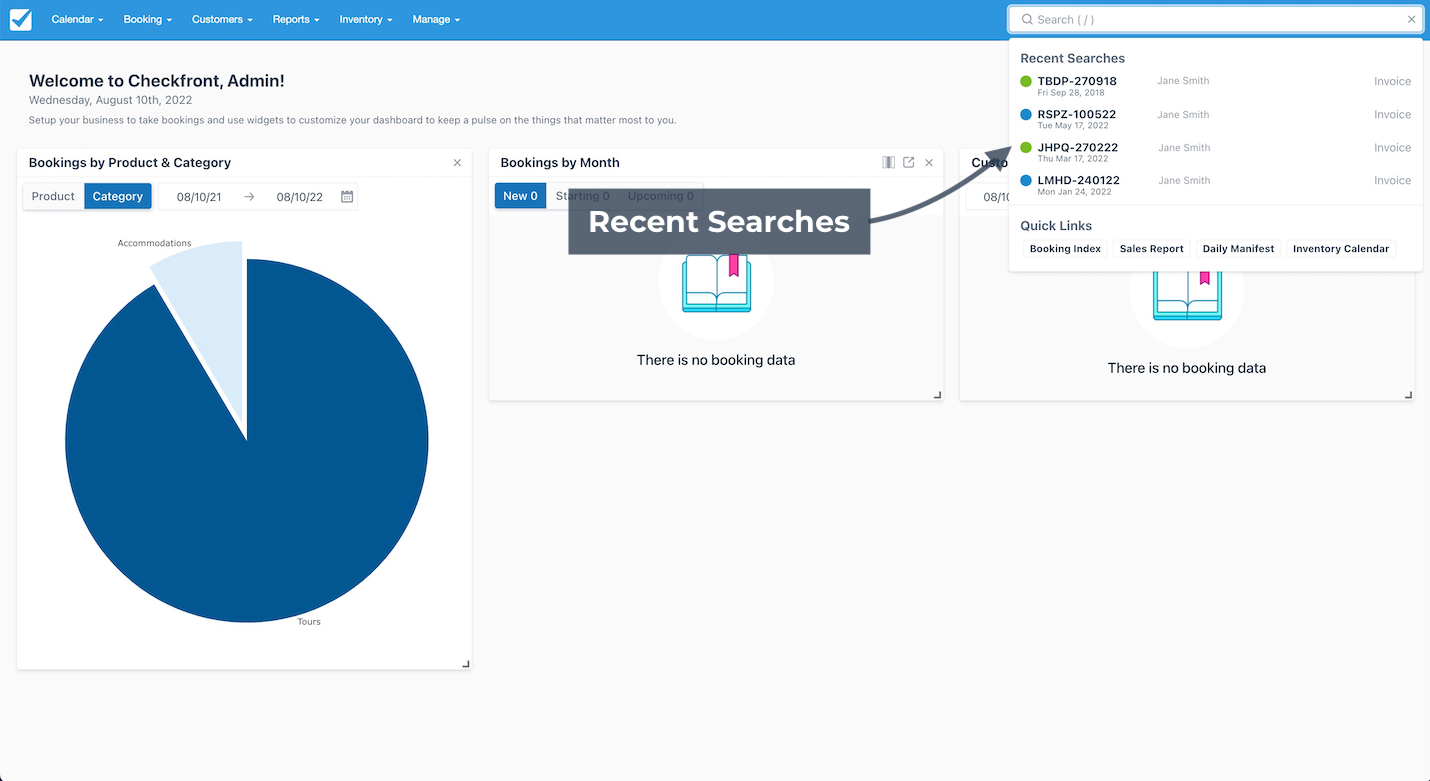 When not actively searching, the Recent Searches list displays up to the last ten (10) successful searches.
---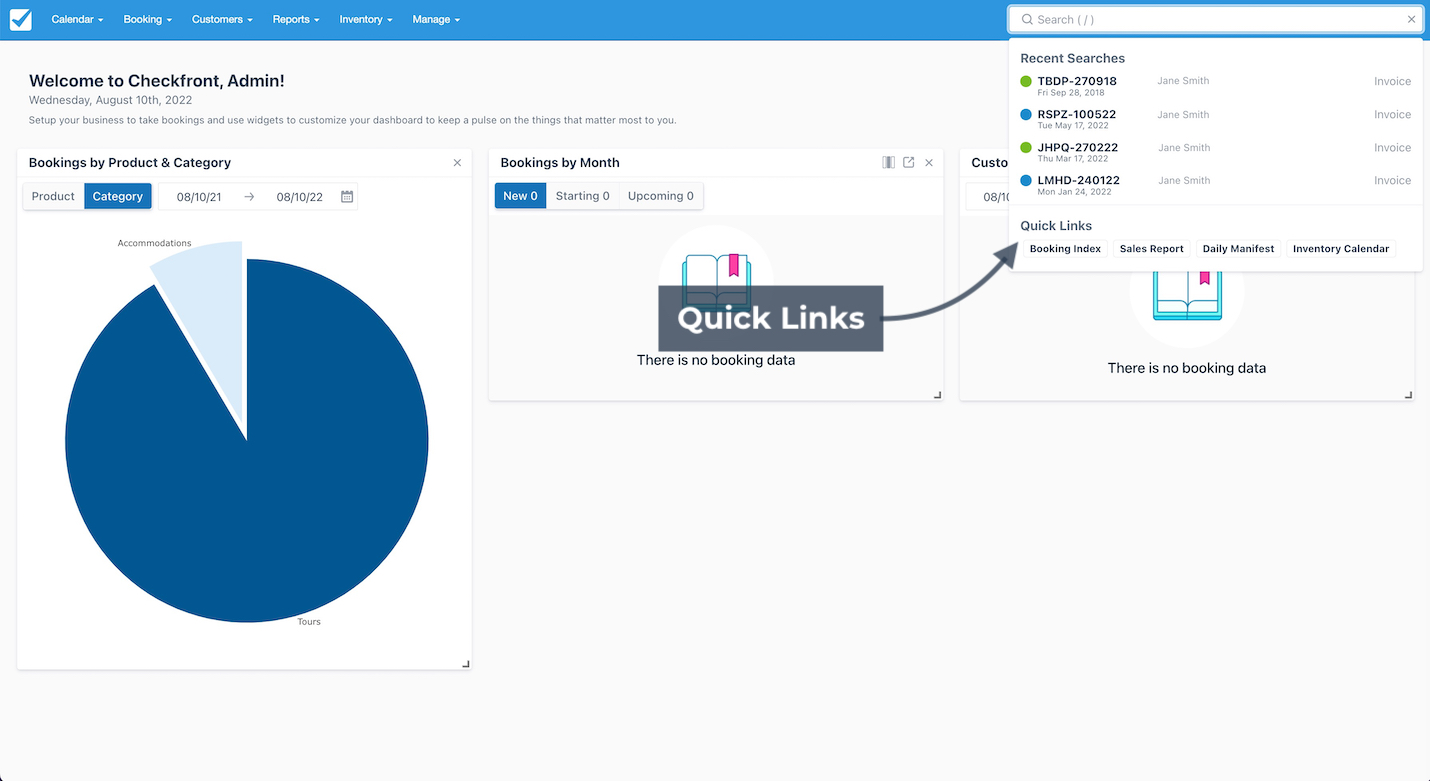 Quick Links display beneath results in the search area and point to commonly used areas in the system that include:
Booking Index
Sales Report
Daily Manifest
Inventory Calendar
| | |
| --- | --- |
| | Quick Links are stationary and cannot be customized at this time. |
---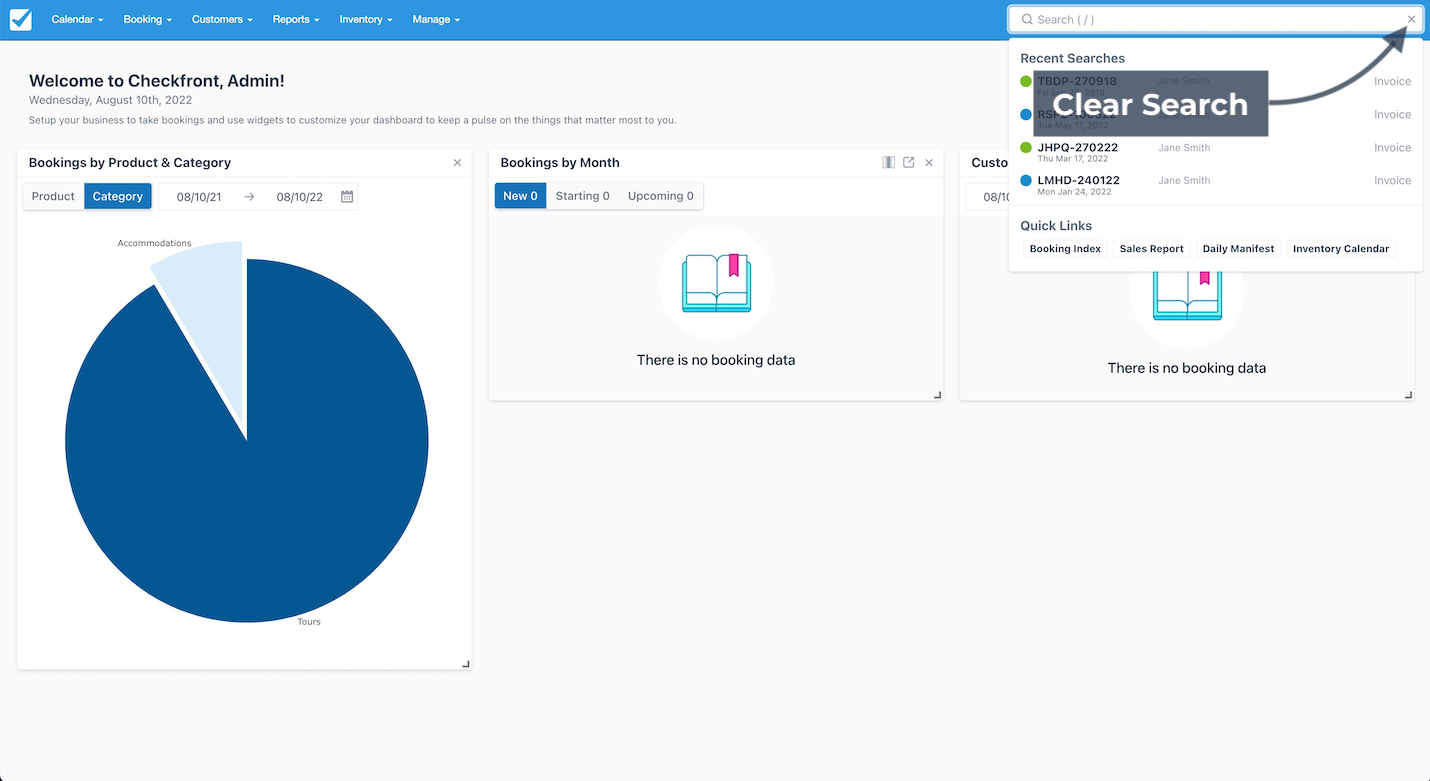 Select the X to the right of the search bar to clear the current search and start over.
---
If multiple categories of results match my search term, is there a certain order they display in?

Yes, if different types of information match your search term, invoice results display first, followed by Customer/Guest details, and finally, system pages, such as reports.