---
Learn how to review options for reporting on issued gift certificates, including reporting on gift certificate balances.
New to Gift Certificates? Read the first article in this series for an introduction to the Gift Certificates feature.
---
Which plans include this feature?
Legacy:  Pro, Plus, Enterprise, Flex
New:  Available with Growth (Subscription), Growth (Per Booking), and Managed plans only. Not available with Starter plans.
→ Learn more about our new plans or how to change your plan.

Where can I find this feature using the top menu?
Inventory > Gift Certificates


What prerequisites are there?
The Gift Certificates feature is activated within your account (Manage > Integrations).
Admin or restricted to

 

Manage Gift Certificates and Issue Gift Certificates.


Which Checkfront version supports this feature - classic, new or both?
This feature is available in both our classic version using items (Inventory > Items) and our newest version using products (Inventory > Products).  → Learn more about products
---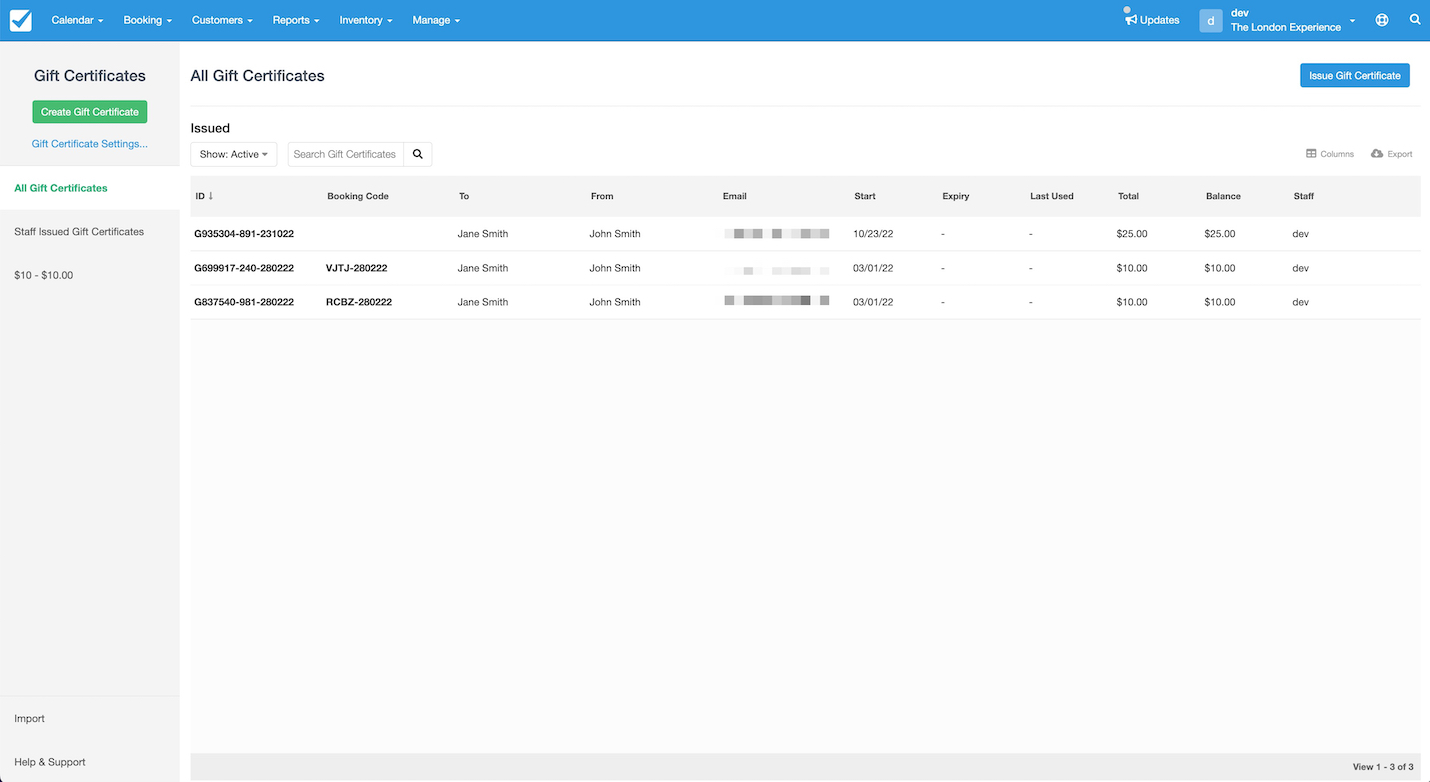 All gift certificates are viewed and managed from the main Gift Certificates page (Inventory > Gift Certificates > All Gift Certificates). This default view includes gift certificates purchased by Customers and issued manually by Staff.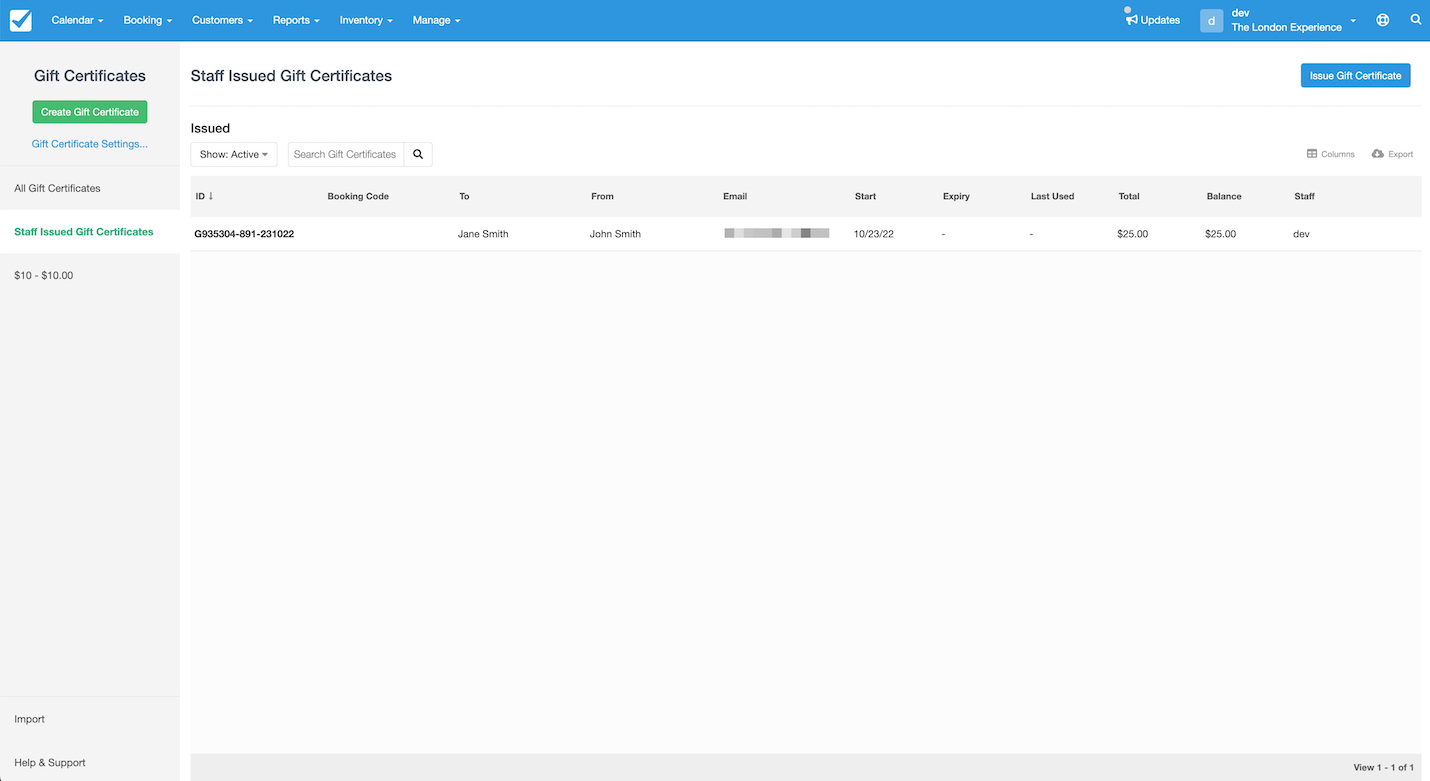 Gift certificates issued by Staff may be viewed separately through the Staff Issued Gift Certificates left sidebar menu option.
Both views share the same default columns: ID, Booking Code, To, From, Email, Start, Expiry, Last Used, Total, Balance, and Staff. What columns display is customized from the Columns button at the top-right of the list.
Gift certificate entries are sorted by selecting the header of the individual column.
A search field is also available to filter by specific gift certificate criteria.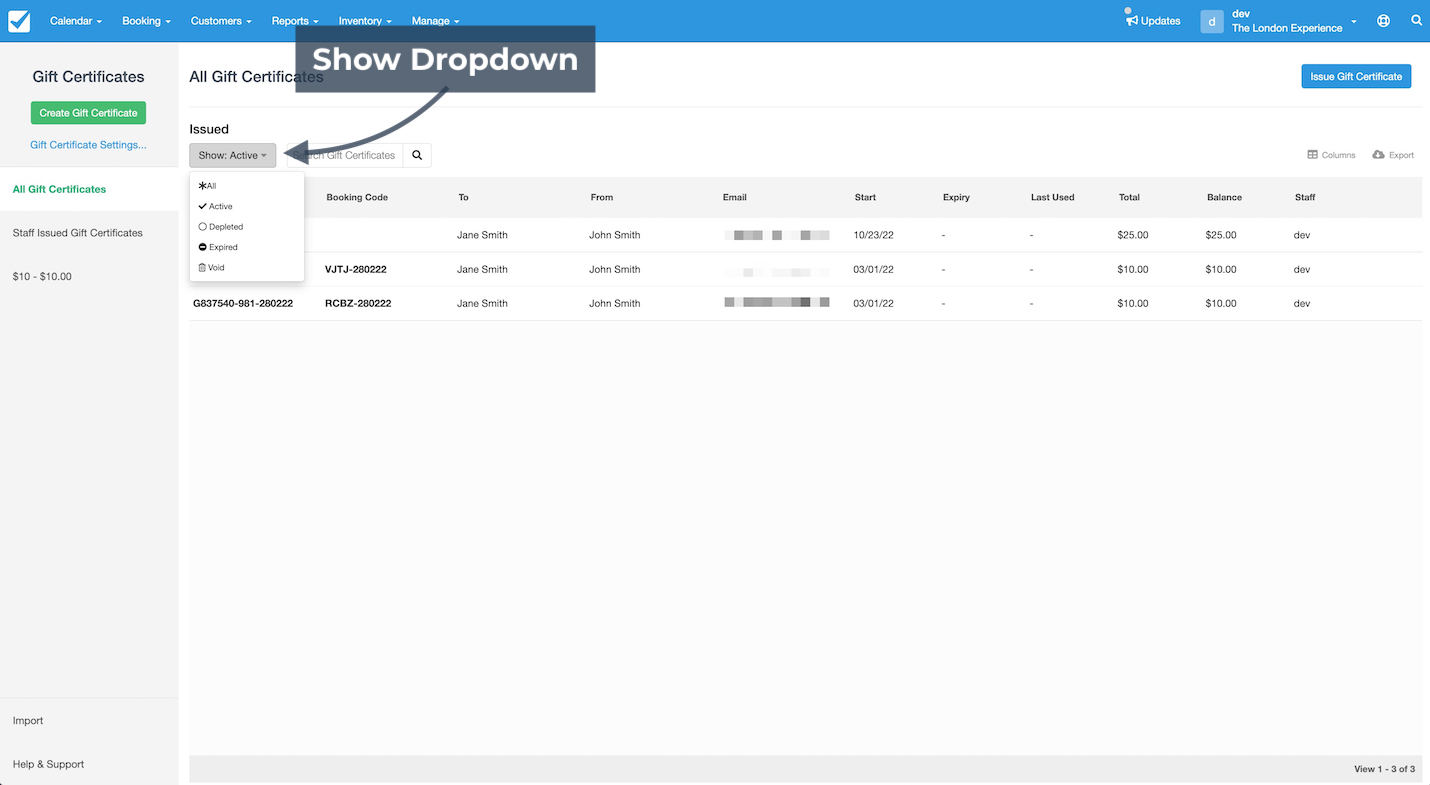 Both views may be filtered further by selecting from the Show: Active drop-down menu. Options are All, Active, Depleted, Expired, and Void.
| | |
| --- | --- |
| | Gift certificates purchased by Customers are also listed briefly in the Booking Index and Sales Report. Find out more about these reports here: |
---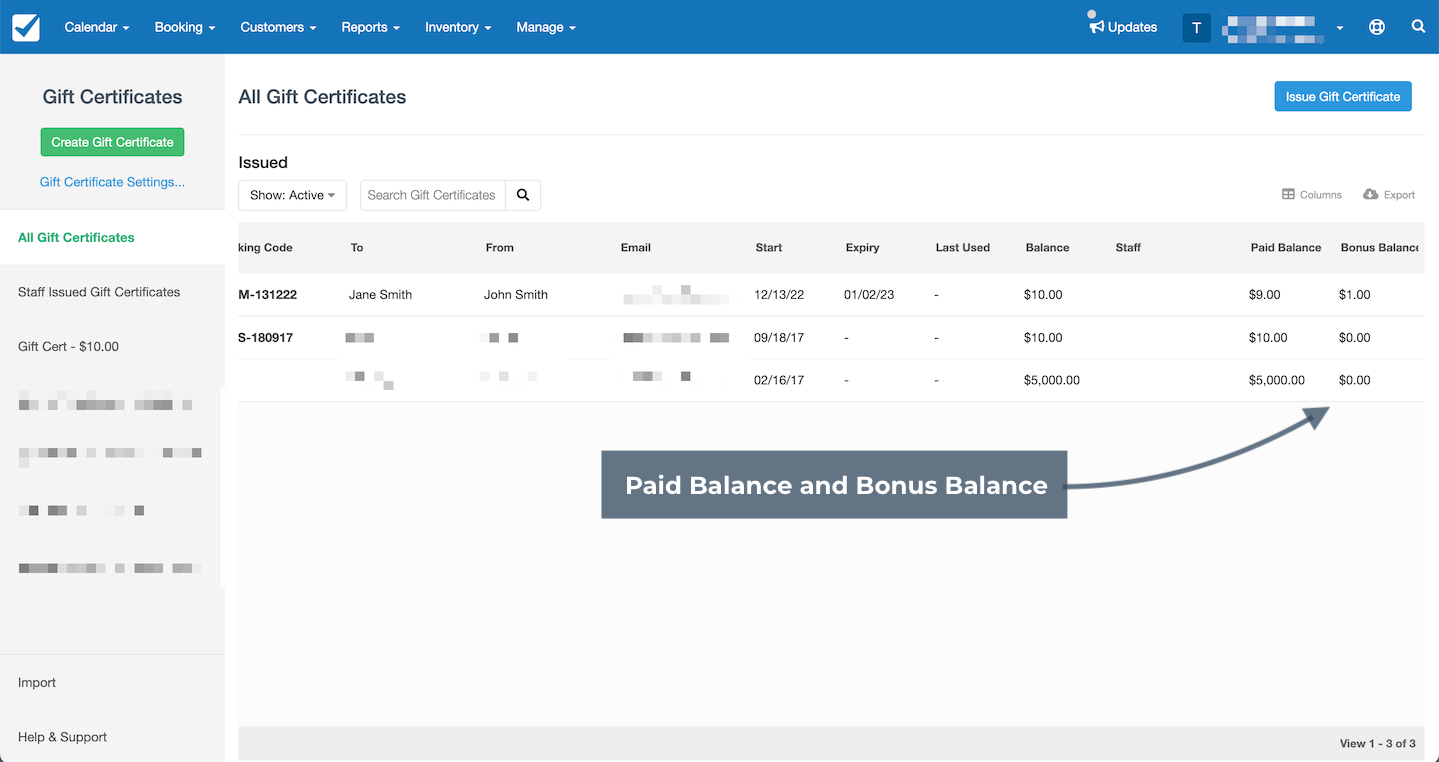 Do you offer gift certificate sales discounts? You can report the total Balance, Paid Balance, and Bonus Balance in addition to the total value of the Gift Certificate at the time of sale (Total).
For example, a Guest may have paid $9.00 for a $10.00 gift certificate during a sale period. Initially, the gift certificate has a Paid Balance of $9.00 with a Bonus Balance of $1.00 for a total initial Balance of $10.00. 
You can report on this information by editing which columns are displayed for the list of Issued gift certificates and adding the Paid Balance and Bonus Balance columns.
From the Inventory menu, select Gift Certificates.
Click on the Columns option at the top right of the All Gift Certificates list.
Select the Paid Balance and Bonus Balance options. Reorder the columns as needed.
Don't forget to Save your changes!


---
< Importing gift certificate data  |
---