---
Learn about the Automatic Customer Redactor, including enabling the feature, configuring redaction settings, and performing a manual redaction.
New to managing Customer Accounts? Be sure to read the first article in this series for an introduction to managing Customer Accounts.


| | |
| --- | --- |
| | We also offer the option to manually redact Customer information via their profile. Learn more: |
---
Which plans include this feature?
Legacy:  Not available with legacy plans.
New:  Available with Managed plans only. Not available with Starter or Growth plans.
→ Learn more about our new plans or how to change your plan.

Where can I find this feature using the top menu?
Customers > Directory > Customer Settings

Manage > User Accounts > Customer Settings


What more do I need to use this feature?
Admin

 

permissions to manage accounts.


Which Checkfront version supports this feature - classic, new or both?
This feature is available in both our classic version using items (Inventory > Items) and our newest version using products (Inventory > Products).  → Learn more about products
---
With the Automatic Customer Redactor, it is possible to automatically purge personal information from Profiles and bookings for inactive Customers and Guests. This is helpful if you need to follow privacy regulations for your location, such as the General Data Protection Regulation (GDPR) in the European Union.
What is an inactive Customer? An inactive Customer is a Customer who has not logged in to their Customer Account or made a booking within a specified period based on the current date, such as within one year.
| | |
| --- | --- |
| | Using this redaction tool permanently removes selected Customer data. |
| | |
| --- | --- |
| | Learn more about how Checkfront works with General Data Protection Regulation (GDPR) here: |
The Automatic Customer Redactor feature does not redact Blocked Customer information.

Learn more about blocking Customers from booking with the Blocklist feature here:
| | |
| --- | --- |
| | Learn more about Guests and the Guest Form here: |
---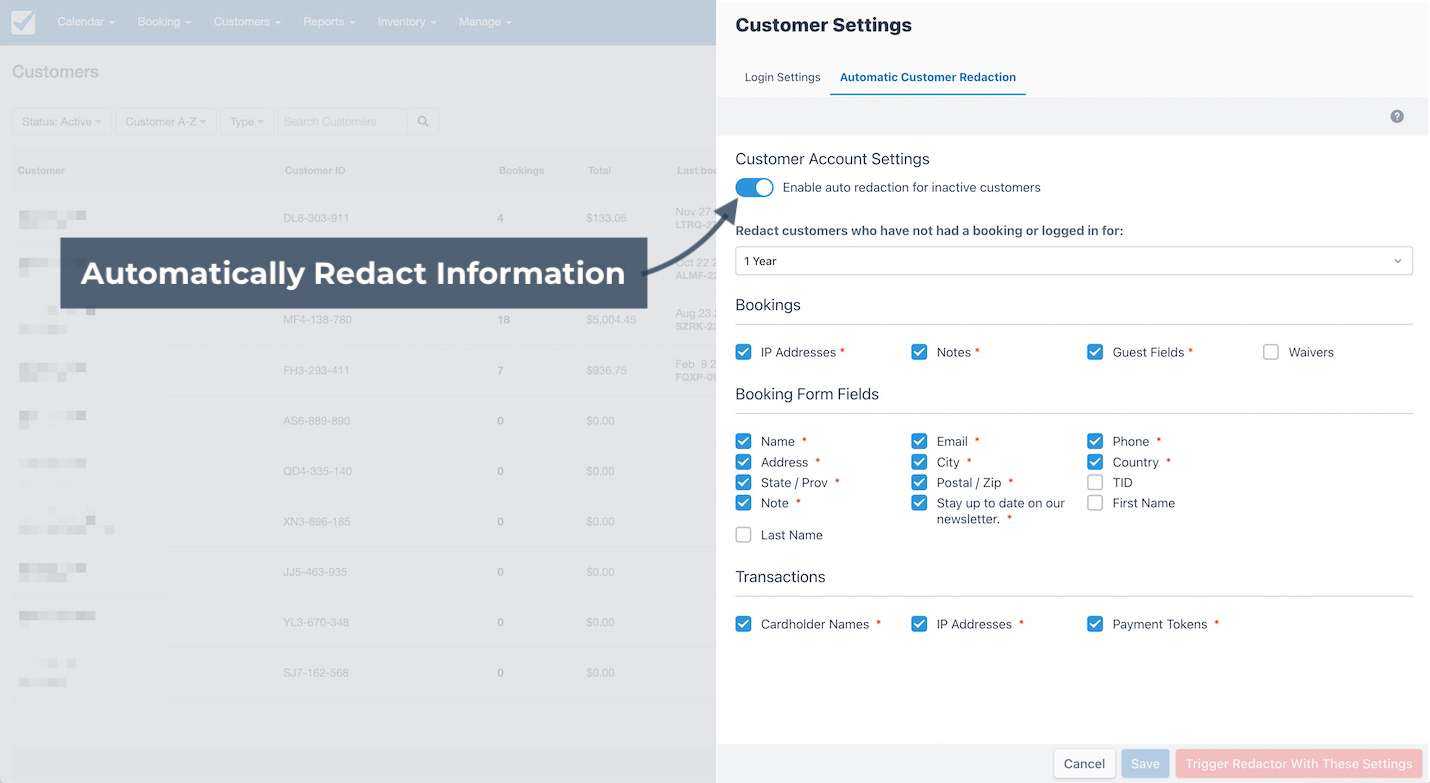 Enable this feature by turning on the Enable auto redaction for inactive customers setting from the Automatic Customer Redaction tab when viewing Customer Settings.
Once enabled, other options show where you choose what type of Customer information is removed.
The Redact customers who have not had a booking or logged in for dropdown setting lets you choose a preset time from 1 year to 5 years to redact Customer details. The 1 Year option is selected by default.
The settings you choose here apply automatically going forward to Customer Accounts so that you don't have to keep returning to redact Customer information.
| | |
| --- | --- |
| | With this setting enabled, the system automatically redacts matching inactive Customer and Guest records once a day during off hours. |
| | |
| --- | --- |
| | Customer information is redacted based on the latest Start Date of their current bookings. |
Details can be removed from bookings, including IP addresses, notes, Guest fields, and Waivers. The IP Addresses, Notes, and Guest Fields options are required by default.
If you have the Waivers & Documents feature enabled now or previously, a Waivers field is available to select.
This section lists system and custom form fields as options (e.g., Email, Name, and Phone). System form fields are required by default. Select any custom form fields you want to redact.
Specific transaction details are removed, including cardholder names, IP addresses, and payment tokens.
The Cardholder Names, IP Addresses, and Payment Tokens fields are required by default.
---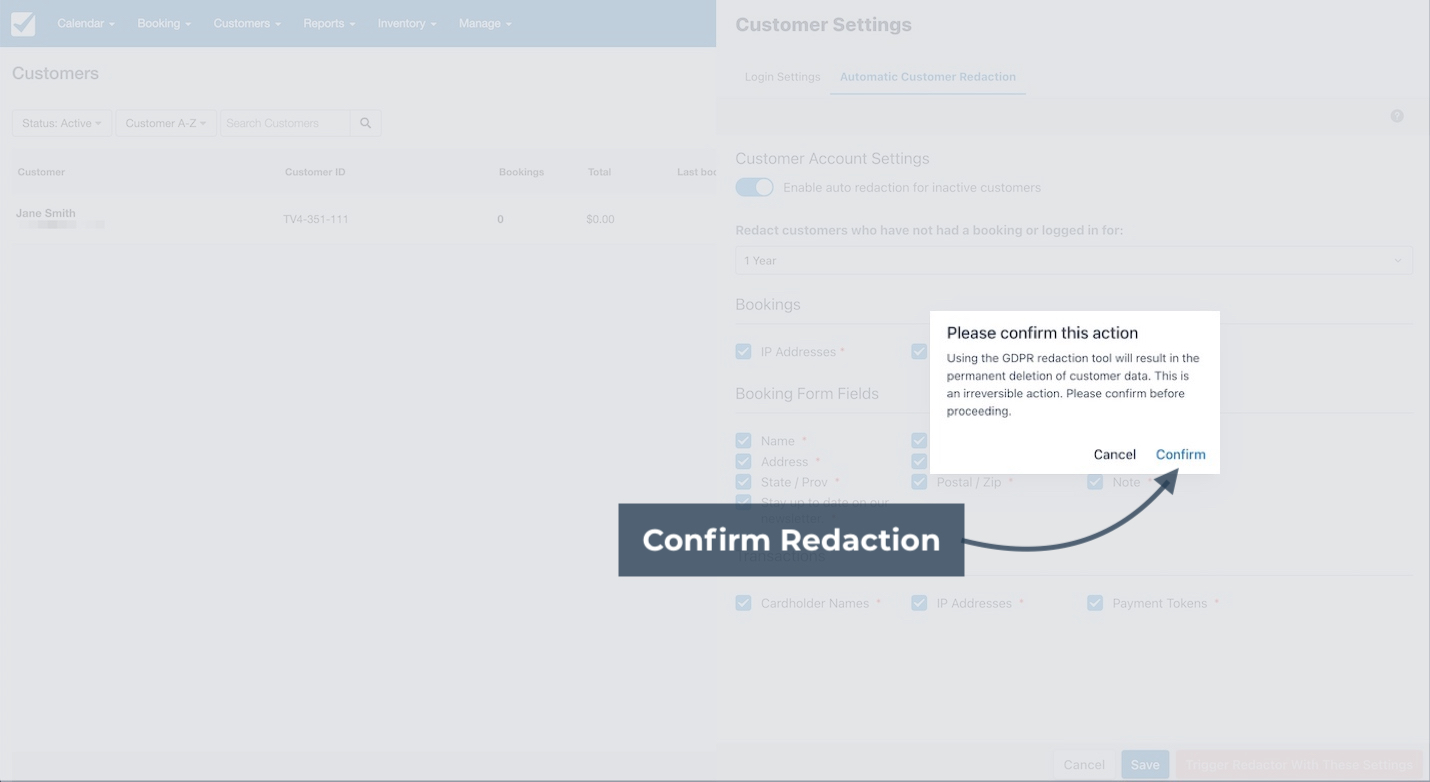 After enabling the feature and choosing the information fields you want to redact, you must Save your selections.
Next, a confirmation message displays, informing you that redacting booking information cannot be reversed. Select Confirm to continue, or choose Cancel to go back.
After confirming, the message closes, and you are returned to the main Customer Directory page.
---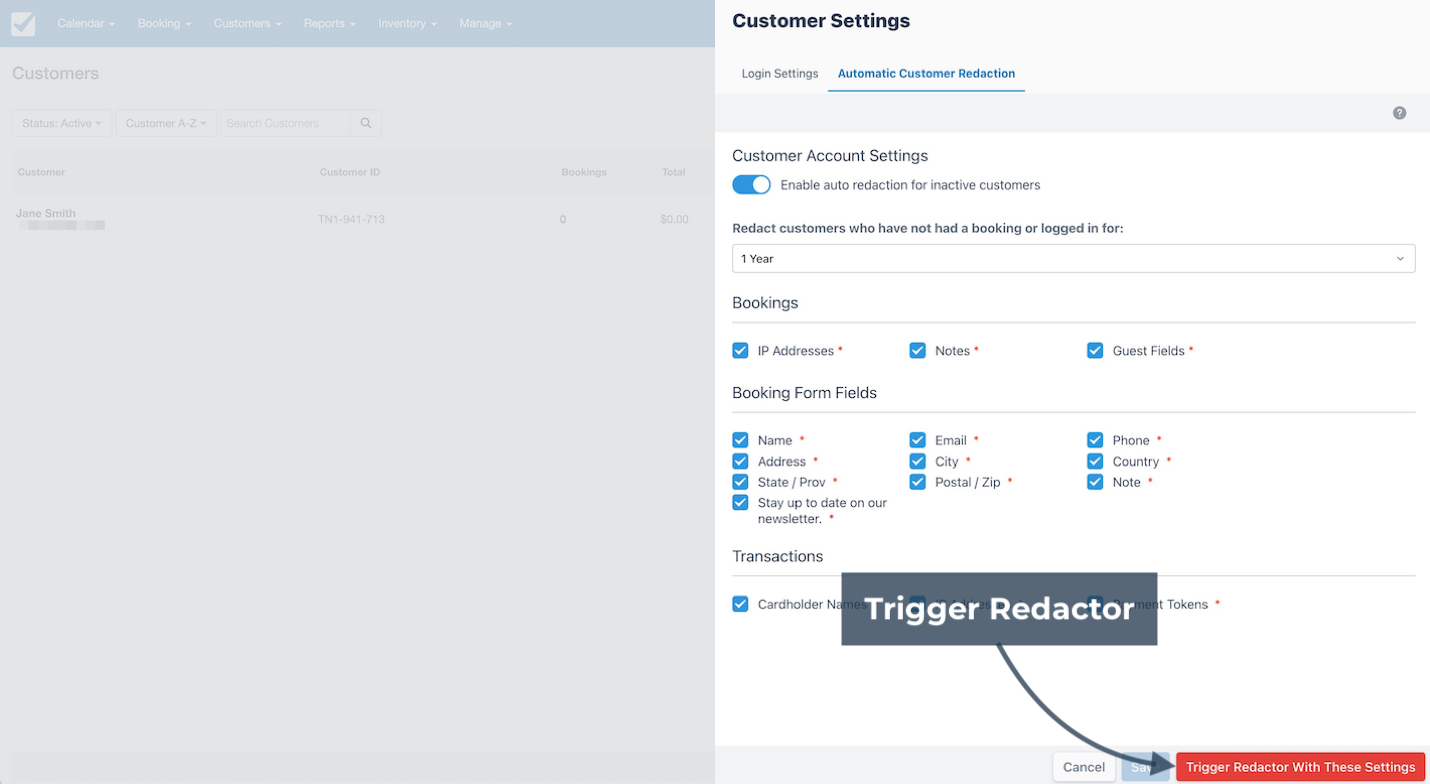 Redacting Customer and Guest details may be done manually after you enable the redaction feature and save the settings.
In the Automatic Customer Redaction tab, click the now active Trigger Redactor With These Settings button to manually start the redaction process for any Customer and Guest records that match your previously saved settings.
When selected, matching records automatically redact, and the Customer Settings window closes.
In the following article, we provide steps on how Customers create an account.
---
< Configuring Customer account login settings     |    Creating Customer accounts via Admin or Staff Accounts >
---