---
Try out experimental features and provide us with feedback via Checkfront Labs to help us shape an even better Checkfront! Current experiments include Memberships with Members only Products, Left-Side Vertical Navigation Menu, Copy Booking, Inventory Tags, and Booking Page Style Editor.
---
Which plans include this feature?
Legacy:  Soho, Pro, Plus, Enterprise, Flex
New:  Starter, Growth (Subscription), Growth (Per Booking), Managed
→ Learn more about our new plans or how to change your plan.

Where can I find this feature using the top menu?
Manage > Labs > Checkfront Labs


What more do I need to use this feature?
Checkfront Labs is available to Admins only.


Which Checkfront version supports this feature - classic, new or both?
This feature is available in both our classic version using items (Inventory > Items) and our newest version using products (Inventory > Products).  → Learn more about products
---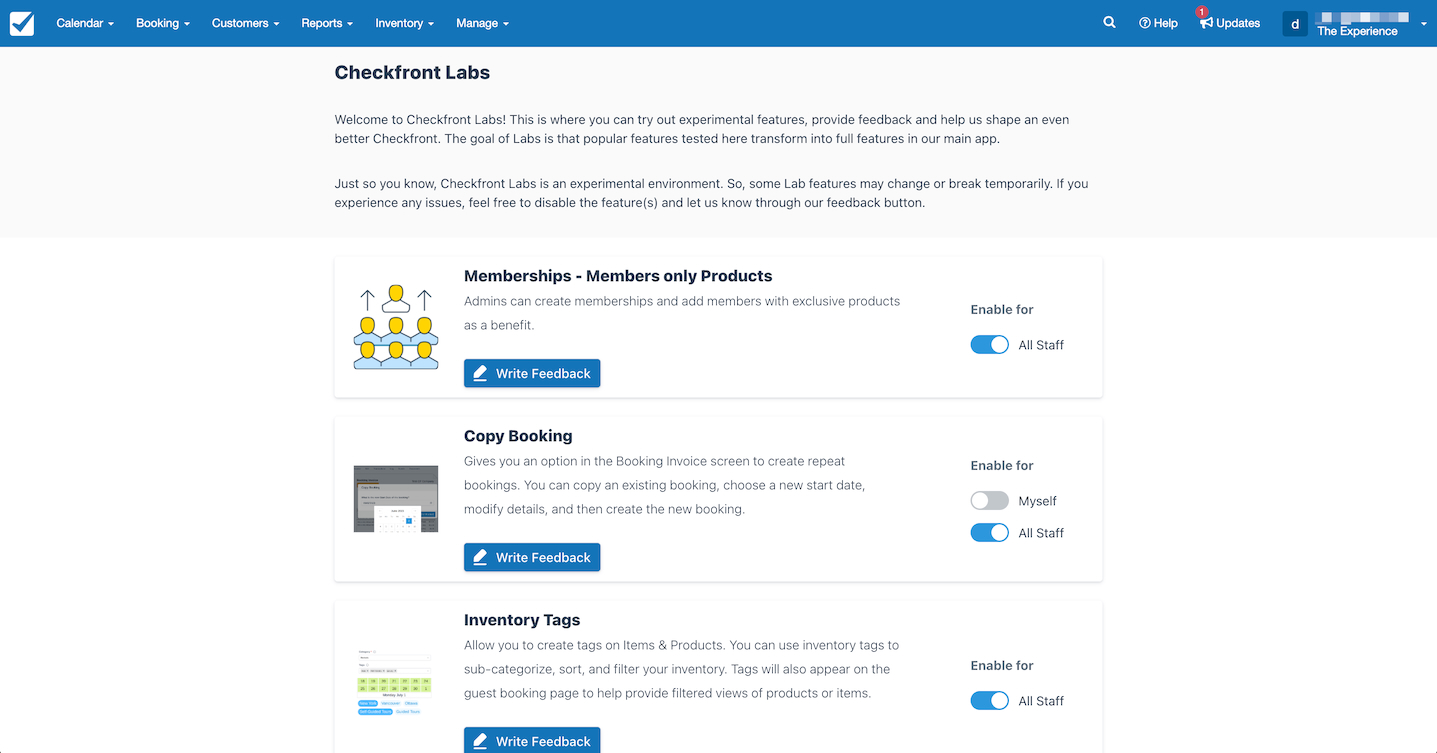 Checkfront Labs gives you access to experimental features and the opportunity to provide feedback. 
| | |
| --- | --- |
| | Checkfront Labs is an experimental environment. So, some Lab features may change or break temporarily. If you experience any issues, please turn off the feature(s) and let us know through our feedback button. |
---
Memberships - Members only Products



Learn More

Admins can create memberships and add members with exclusive products as a benefit.

Enabling Memberships

This feature is experimental and may change as we improve the feature based on your feedback.

Enabling this:

Allows you to create custom membership plans.
Allows you to assign specific products to those membership plans.
Adds Customers to your internal membership plans.
Updates your settings to allow Customers to create an account. Once logged in, Members can see the members-only products available to their membership plans.
Sets Admins as the only ones with permission to add products and/or members to membership plans.

Please note: A product must be in a draft or active state to add them to memberships.

Have you got questions? Our friendly support team is always here to help. You can reach out to them by clicking on the Help button in the top right corner of your screen.

 

Disabling Memberships

If you would like to turn off this feature, please note this:

Removes Memberships from the Customers and Manage menus.
Removes access from all members from existing membership plans and exclusive products.
Makes Members only Products visible to Staff only. You can update visibility settings on the Details tab of the Product Builder.

Checkfront keeps all existing settings you made for Memberships, including Members and Members only Products. When you enable Memberships again, your progress remains.

Customers can log into Customer Accounts on the Booking Page, but they will no longer have access to their membership benefits or see Members only Products. To turn off Customer logins, you can go to Customer Settings (Customer > Directory > Customer Settings).

 

Booking Page Style Editor



 

We have created an editor to help personalize your booking page's look and feel without learning how to code. Easily customize font, colours, borders, titles, and buttons to match your company's brand.

Enabling this will make the following changes:

Booking Page: Display a new style editor with customization options.
Booking Page: Added customization options (font, sizing, colours, borders, titles, and buttons).
Custom CSS: You can still add custom CSS under the advanced settings of the Booking Page Style Editor.

Disabling Booking Page Style Editor

This Lab can be disabled at any time. Any associated styles made using the Booking Page Style Editor will be hidden until the next time you activate it.

 

Inventory Tags

Learn More

Allow you to create tags on Items & Products. You can use inventory tags to sub-categorize, sort, and filter your inventory. Tags will also appear on the Guest booking page to help provide filtered views of products or items.




Enabling this will make the following changes:

Product Builder: Allow tags to be added to items and products.
Booking Page: Allow customers to filter products by tags.
Reports: Allow users to filter reports with tags.
Manage Tags: allow users to manage all tags under categories.


Disabling Inventory Tags

This Lab can be disabled anytime, removing the ability to add, use, and see Tags.

Copy Booking

 

Learn More

Gives you an option in the Booking Invoice screen to create repeat bookings. You can copy an existing booking, choose a new start date, modify details, and then create a new booking.

Enabling this will make the following changes:

Booking Invoice: Add an option on your invoice to "copy booking".
Booking Form: Duplicate booking details (products, etc.).
Booking Form: Edit the booking date, Customer details, and create the new booking.

Disabling Copy Booking

This Lab can be disabled anytime, and the copied booking will remain.

 

Left-Side Vertical Navigation Menu

This navigation menu is mobile-friendly, easier to scan, and allows more room for content on pages.

Enabling this will make the following changes:

Navigation Menu: The new menu will appear on the left side of the page instead of appearing on the top of the page.

Disabling Left-Side Vertical Navigation Menu

This Lab can be disabled at any time.

 
---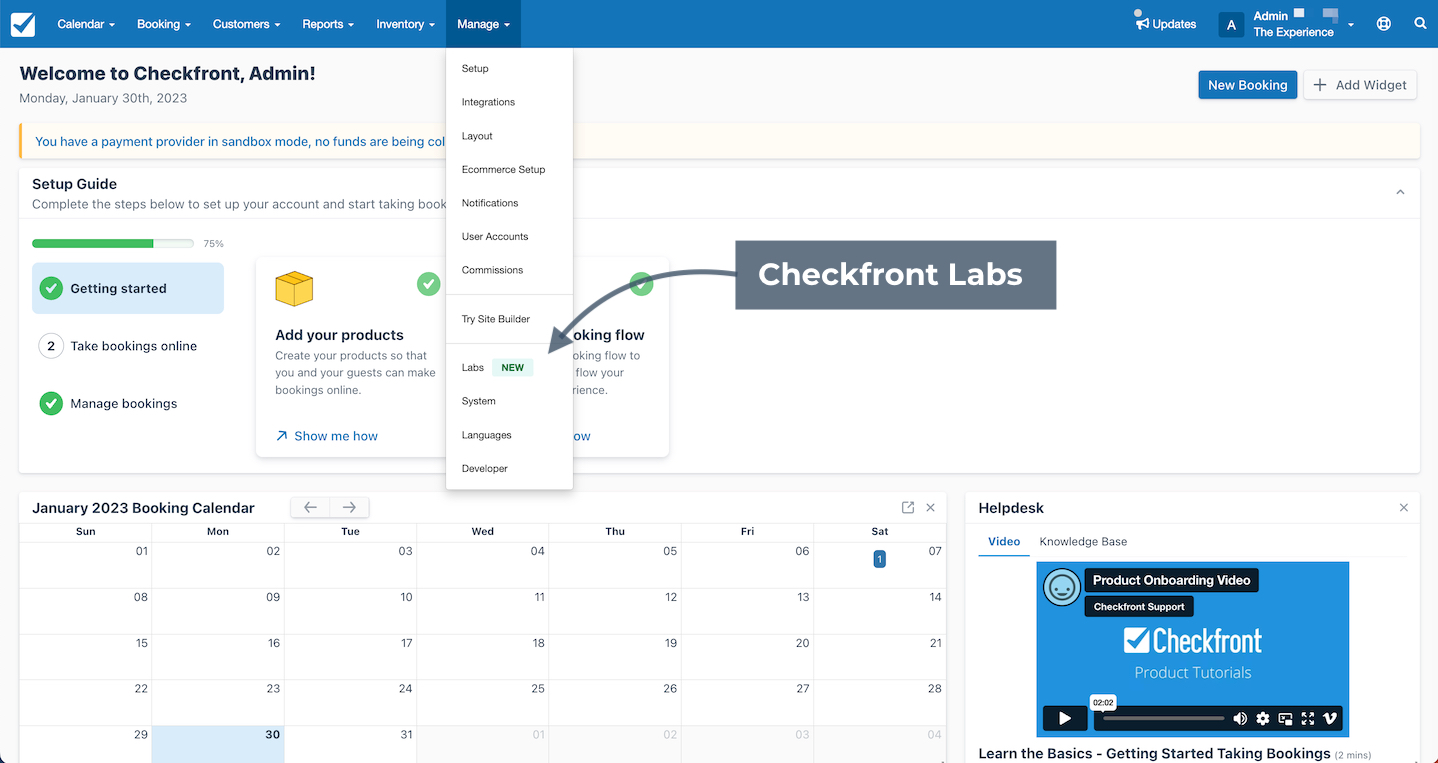 Checkfront Labs is listed within Admin accounts under the Manage menu.
---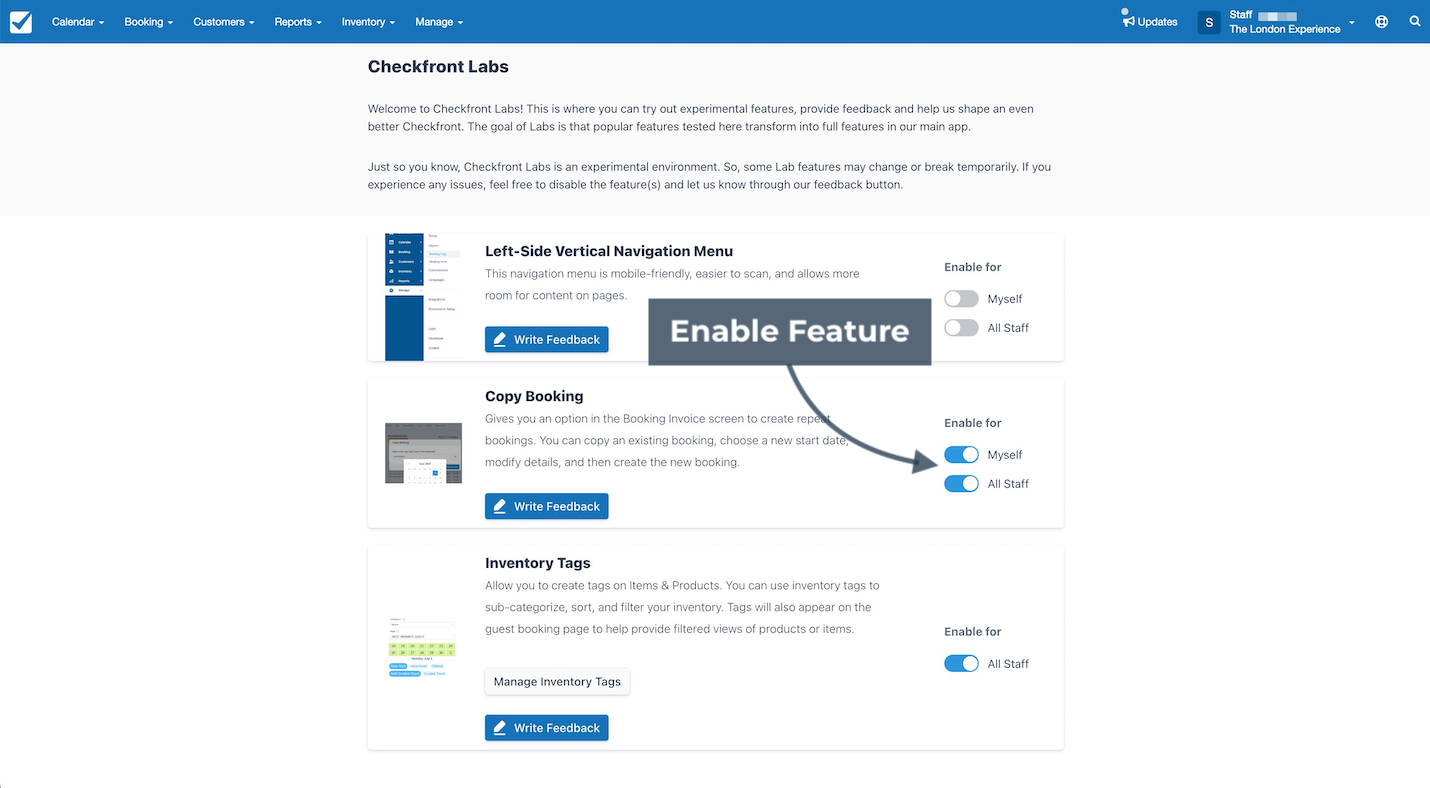 You can turn on a Checkfront Labs feature via the settings next to the feature listing.
The options listed vary depending on the feature. You can enable the feature within your Admin account only (for Myself) or All Staff accounts, where the choice is listed. Sometimes, you may only be able to turn on the feature for all Staff where the feature affects all accounts.
Read the table above to understand how enabling a feature impacts your account.
---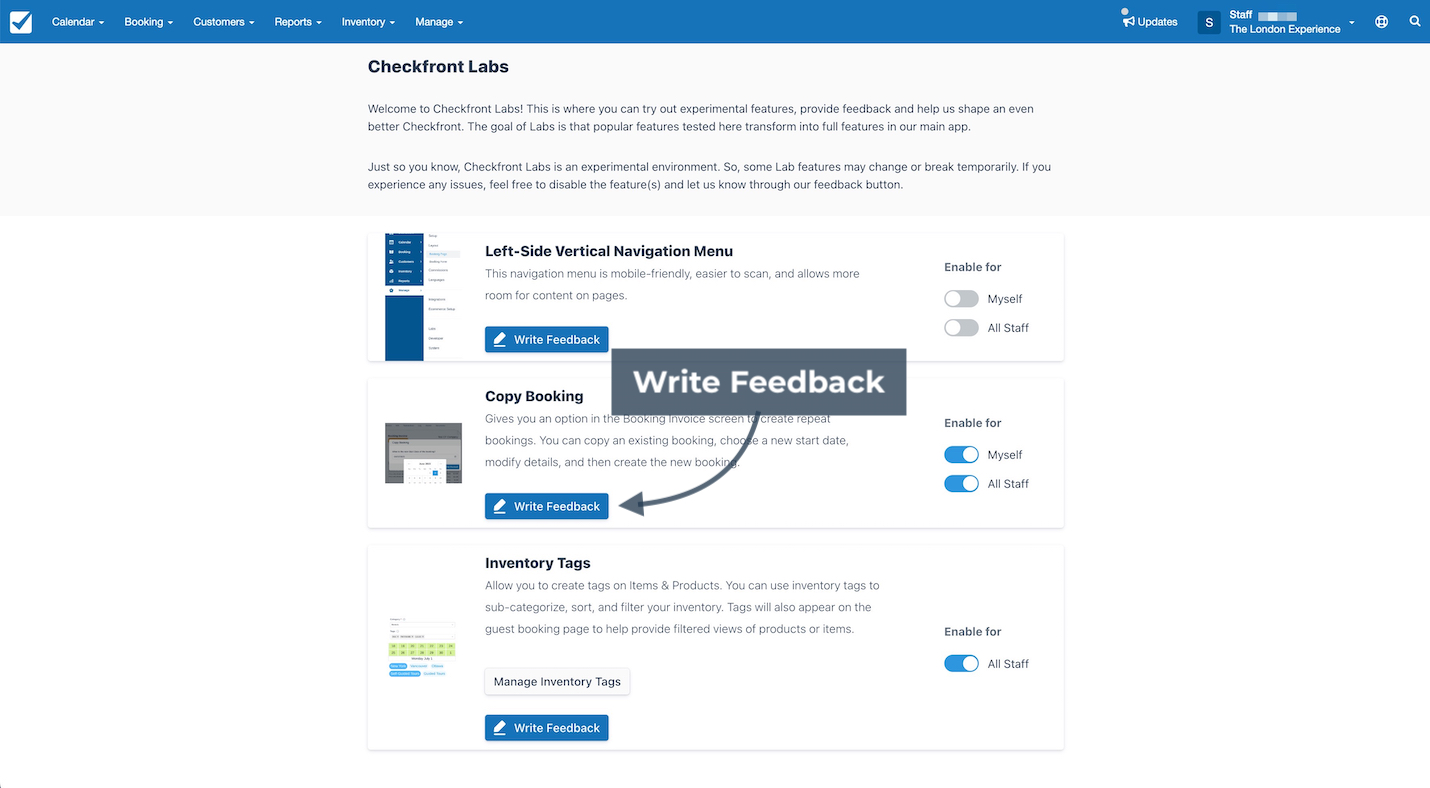 Thank you for trying our feature! Please provide us with feedback on your experience. You can do so by clicking the Write Feedback link next to the feature listing in Checkfront Labs.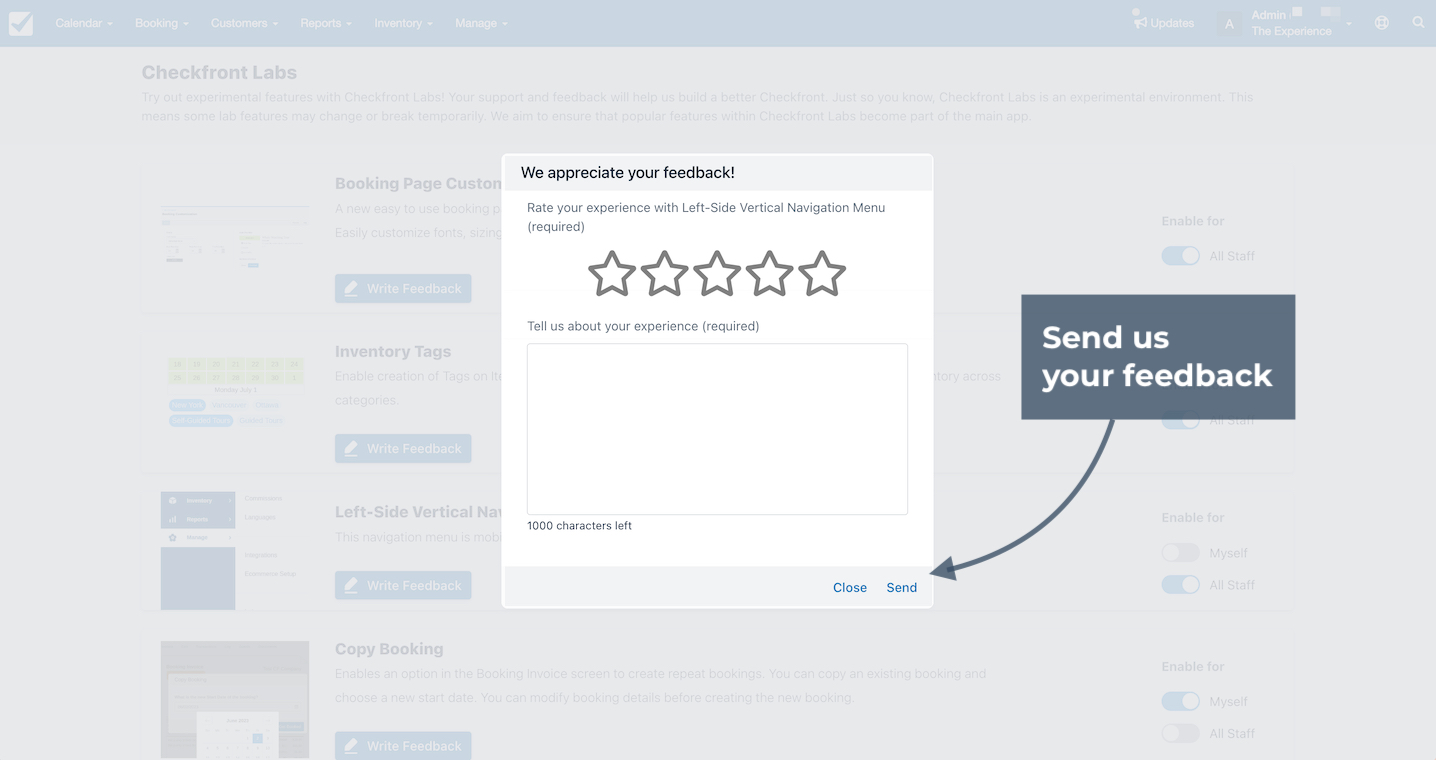 From there, you can rate and let us know about your experience. We appreciate your feedback!