---
Plan Availability: ✓ Soho | ✓ Pro | ✓ Plus | ✓ Enterprise | ✓ Flex |
Locate: Manage > Ecommerce Setup > Payments
Prerequisites: Admin permissions to manage Payment Providers.
---
Both our Stripe and Checkfront Payments payment provider integrations offer additional payment methods alongside traditional card payments. Operators can offer the option to pay using:
Browser wallets with saved cards or stored balances
Banking credentials via bank redirects
We present these options in more detail below.
---
Payment method support varies depending on the business region and currency.
Type
Provider

Region


Learn More

Apple Pay

"Allow customers to securely make payments using Apple Pay on their iPhone, iPad, and Apple Watch." ~ Stripe

Apple Pay is auto-enabled for those accounts using Checkfront Payments.

Google Pay

"Google Pay allows customers to make payments in your app or website using any credit or debit card saved to their Google Account, including those from Google Play, YouTube, Chrome, or an Android device." ~ Stripe

Google Pay is auto-enabled for those accounts using Checkfront Payments.

Alipay

"Alipay is a digital wallet in China...users can pay on the web or on a mobile device using login credentials or their Alipay app." ~ Stripe

Accounts within supported countries can accept payments from Chinese consumers, overseas Chinese, and Chinese travellers.

iDEAL

"iDEAL is a Netherlands-based payment method that allows customers to complete transactions online using their bank credentials." ~ Stripe

Accounts within supported countries can accept payments from Customers in the Netherlands with local currency settlement.
---
From the Add-on Setup modal for either Stripe or Checkfront Payments, choose which additional payment method to offer from the Additional Payment Methods dropdown menu.
The selected payment method should meet your business needs, and your Stripe and Checkfront accounts must meet the payment provider requirements in terms of locale and currency.
---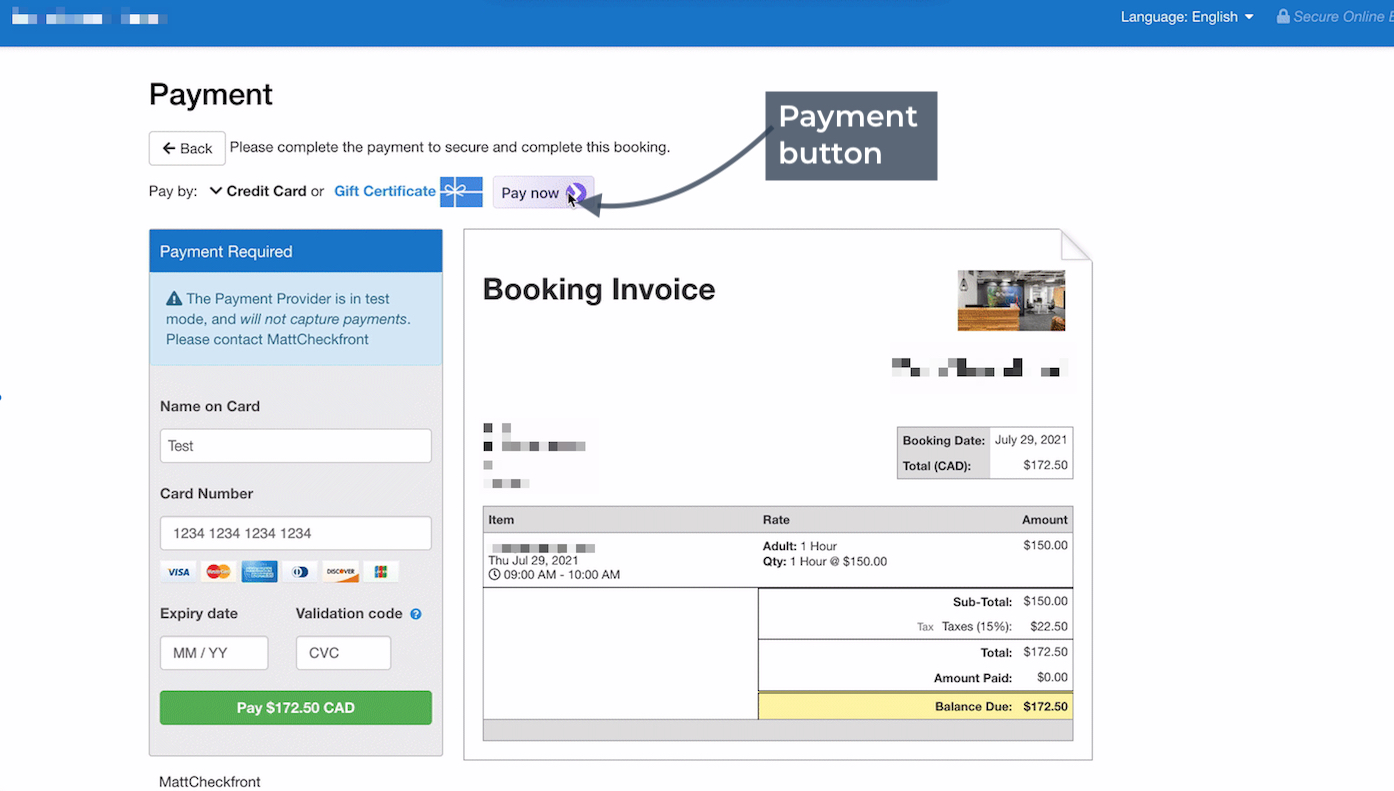 Once activated, the relevant payment methods are available on the Checkfront Payment page, for example, Apple Pay and Google Pay. Which payment method buttons are visible to the Booker, also depends on which payment methods the Booker has configured.
Clicking on the payment button takes the Booker through the selected payment option and then returns them to the Payment page with a success or failure message depending on the status of the payment.
Prerequisites for Bookers Using Apple Pay or Google Pay

The payment buttons only appear to Bookers who already have Apple Pay or Google Pay.

You may wish to advise your Bookers to set up their browser wallets in advance of booking if they would like to take advantage of this payment method.

Google Pay

Bookers must have...

An Android phone or laptop that is able to run a Chrome browser.
A saved card for Google Pay, which requires the Google Pay app, is available here: Google Pay - Apps on Google Play.
A Chrome browser for mobile or desktop is installed.

Apple Pay
Bookers must have...