---
Xero is an online accounting solution for businesses that tracks invoicing/billing, accounts payable, bank reconciliation and bookkeeping. Checkfront made the decision to adopt Xero and replace our existing system with the hopes of streamlining expenses, reconciliation and cash flow management. We have been so impressed with Xero's efficiencies and benefits that we want to share them with the Checkfront community, providing an end to end solution. If you are still using desktop accounting software, imagine this:
Reconciliation while you sleep. Checkfront will automatically sync your invoices and payments with Xero.
No more dragging files around. Give your bookkeeper and accountant access to your records wherever you are.
---
The Xero add-on automatically adds invoices, payments, and customers to your Xero account. When a new booking is created, Checkfront creates an invoice and contact in Xero with the information supplied at the time of booking. When a payment is applied in Checkfront, a payment is applied to the invoice in Xero. If a booking is amended, changed or a refund is applied, the invoice is updated in Xero. This means all of your transactions and outstanding accounts payable are synced in both in Checkfront and Xero.  
---
If you don't already have a Xero account, scoot over to www.xero.com and sign up. They offer a free trial and are well priced. Once signed up, make sure you are logged into your Xero account before proceeding. Once you're logged in to Xero, sign into Checkfront and navigate to Manage > Add-ons in your menubar. From there, you will see a list of available modules. Select the Xero tile and then click on the blue Activate button to connect with Xero.
At that point, you will need to authorize the connection between your accounts. Click on the blue Allow Access button to continue.
If you haven't already logged into Xero, you will be asked to do so now. Otherwise, you will need to allow Checkfront to access your organization's data in Xero.
If you have multiple organizations you'll be given the option to choose the one you want one to use. Once authorized, you will be returned to Checkfront where you can go ahead and configure your Xero settings.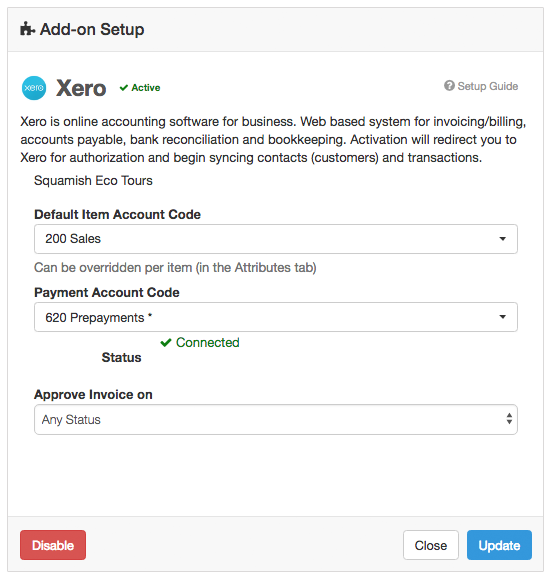 Default Item Account Code:
The Xero Account Code to assign to invoice items (for example 200 - Sales).
Payment Account Code:
The Xero Account Code to make payments to (620 - Prepayments).
Checkfront Tip:

You can find a list of your accounts in Xero under Settings > Chart of Accounts. Your invoice items account should be a REVENUE account and your payments account should be a BANK account, most likely 620 - Prepayments.

 

Make sure you edit the account details in Xero, for both accounts, checking the box labelled enable payments to. Once you've done this, the 620 Prepayments account will appear in Checkfront with an asterisk next to it, as seen in the screenshot above.

 

 
Status:
Status of your connection to Xero. If everything is hooked up properly, this will say Connected.
Approve Invoice On:
The status your invoice should be set to in Checkfront in order to be approved in Xero.   
---
Once the Xero add-on has been successfully activated and linked to your Checkfront account, it should pretty much take care of itself. If you create an invoice or update a payment in Checkfront, the changes will automatically update in Xero.
If you don't use the same revenue account for all your items, it is possible to override the default setting on a per item basis. To do this, open the item at Inventory > Items and click on the Attributes tab. You will see a field for the Xero Account Code, just below the Advanced Options and you can make the new account selection here.  
Checkfront Tip:

Refunds to applied payments on invoices aren't currently supported by Xero. You need to login to Xero and cancel the payment. Once payments are cancelled (or if there are no payments applied) you can VOID or CANCEL the booking in Checkfront and it will VOID or DELETE the invoice in Xero.
Frequently Asked Questions:

Q: I've activated the Add-on, but I'm not seeing any information in Xero?

A: Please check your activity log for errors (under reports/log), or via the log link while viewing a booking.

 

Q: Will my customers get two invoices, one from Checkfront and one from Xero?

A: Xero does not automatically e-mail invoices or receipts. You would have to do this manually from within Xero if needed.

 

Q: What happens if a contact already exists in Xero for a new booking?

A: Checkfront first tries to find an existing contact based on the email address, and will use that first before creating a new one.

 

Q: Can we supply different Xero account codes based on the items booked?

A: Yes. See the advanced tab in the item setup to supply a different account code for that item.