---
Plan Availability: ✓ Soho | ✓ Pro | ✓ Plus | ✓ Enterprise | ✓ Flex |
Locate: Manage > Ecommerce Setup> Payments
Prerequisites:
Admin permissions to manage Payment Providers.
A Stripe

account
---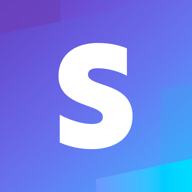 Stripe is a very popular payment processor, highly recommended by Checkfront for use with your business. It allows you to offer your Customers the ability to make partial or full payments at the time of booking and fully integrates into the Checkfront backend app.
Stripe has is the ability to store and re-bill a Customer's credit card as needed. For instance, if you currently charge a deposit in Checkfront, you can collect that at the time of booking and then charge the final balance at a later date without needing to obtain the credit card details again.
Checkfront currently integrates into Stripe by way of their direct payment method. This provides a seamless checkout for your customers and fully integrates into the Checkfront backend.
Non-Profit Organization?

Stripe wants to make sure that its service is available to all organizations. If you have 501c3 status, send an email to sales+nonprofit@stripe.com and they will provide you with more information!
| | |
| --- | --- |
| | Google reCAPTCHA is now supported by Checkfront with Stripe. Learn more here... |
---
Exclusive Provider
Stripe is the required and exclusive provider for the following Checkfront integrations...
PSD2 and SCA compliant

This integration is Payment Services Directive 2 (PSD2) compliant including Strong Customer Authentication (SCA).

Checkfront is prepared to handle any transactions that the Payment Provider deems applicable.

These measures help reduce fraud and make online payments more secure!
---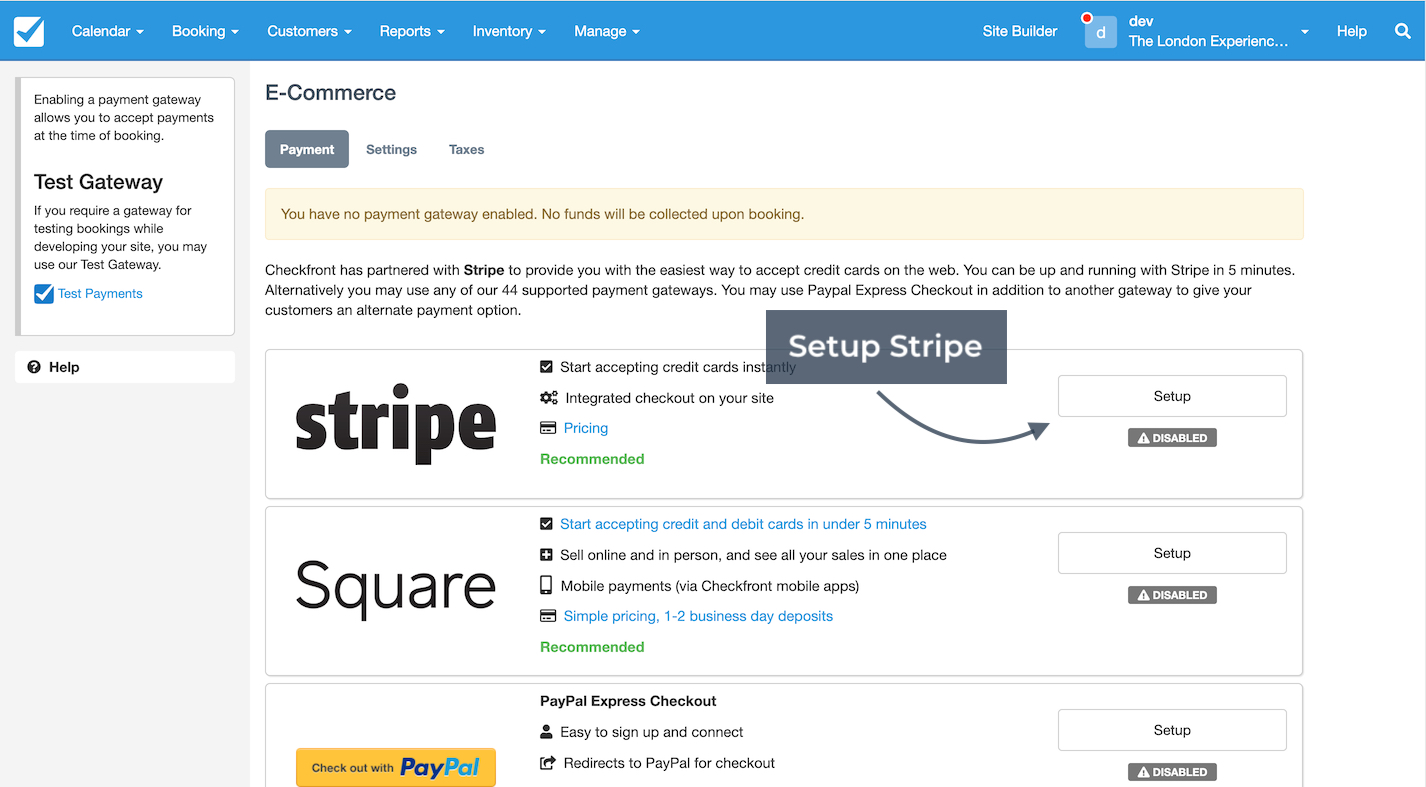 To enable the Stripe extension, log into your Checkfront account, and navigate to your Payment Provider settings (Manage > E-Commerce > Payment). Here you a list of available payment modules is displayed.
You should see the Stripe module featured as a recommended choice, so go ahead and click on the Setup button. This launchs the Setup modal.

Click Connect with Stripe to connect to your live account or (use) this link (for Sandbox Mode) to try Stripe in test mode. See the 'Test Mode' section below for more information on 'Sandbox Mode'.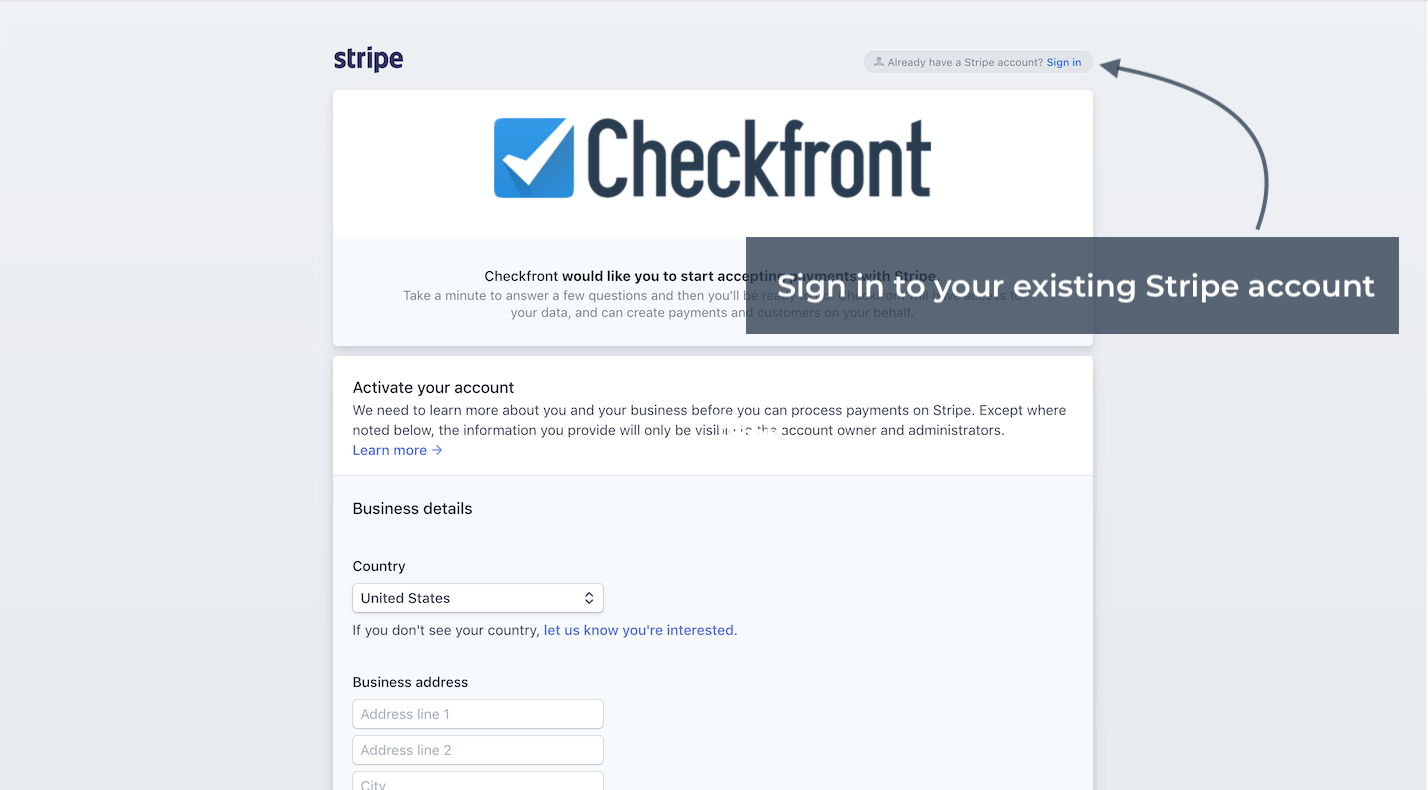 From the Stripe onboarding page, you have two options...
If you already have an account with Stripe, you can (1) sign in at the top right-hand corner of the page OR (2) you can fill out the application form to create your account with Stripe.
If you choose to create a new account, fill out the form and click the Authorize access to this account button at the end. Your account is then created instantly and you'll immediately be returned to your Checkfront account.
You are also immediately returned to your Checkfront account if you choose to sign in to an existing Stripe account.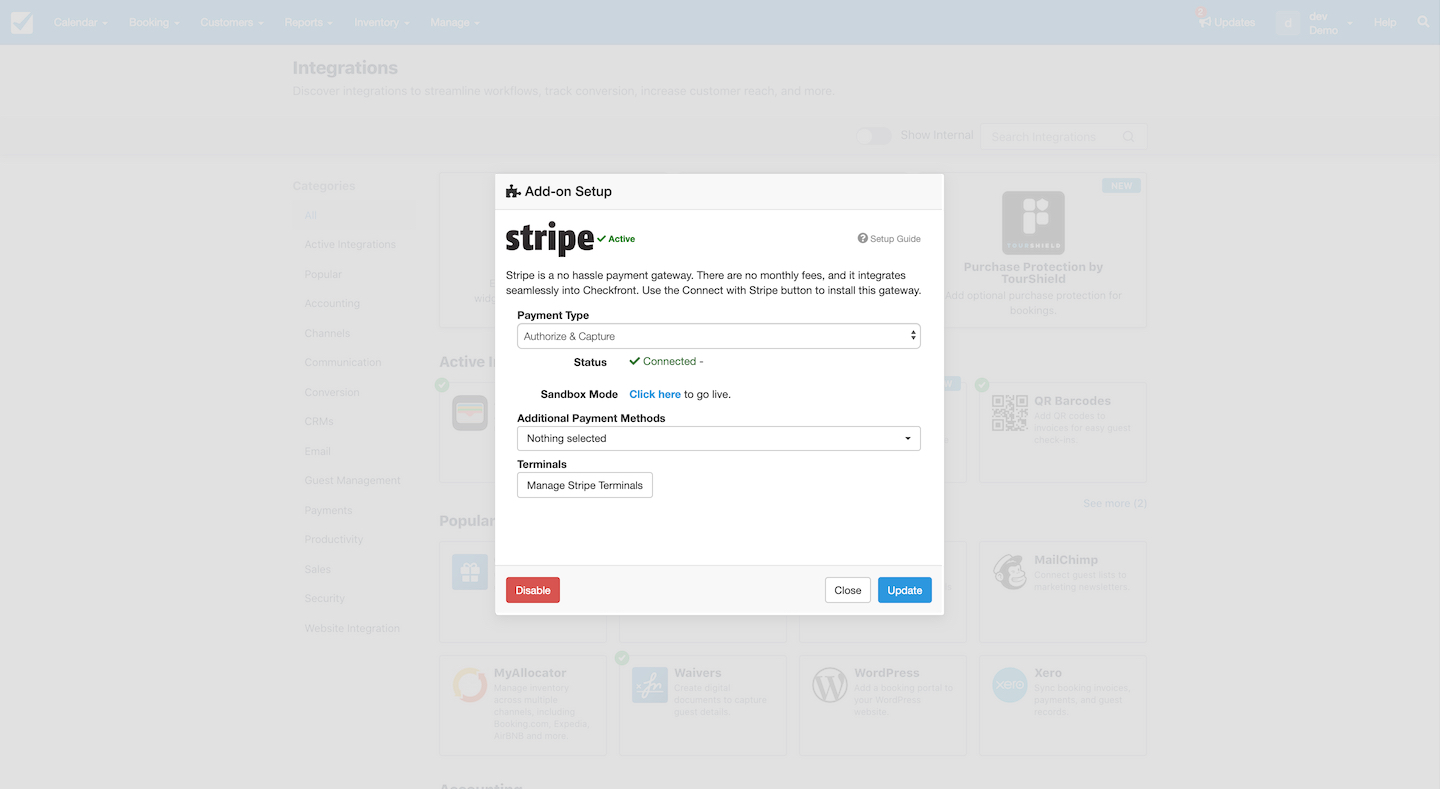 Once successfully connected, the following settings are available to configure...
Choose whether you would like to Authorize & Capture customer transactions or Authorize Only.
With the Authorize Only method, Stripe holds the deposit amount for 7 days. An authorization left uncaptured for 7 days, is automatically reversed. You'll need to accept (capture) the payment in your Stripe account directly.

Stripe doesn't charge any fees for un-captured charges. Fees after you capture, are the same as any other Stripe charge.
Checkfront treats the authorizations as actual payments, so the booking would be confirmed in the Deposit or Paid status, based on your E-commerce settings (E-commerce > Settings > Online Payments). Any additional booking status modifications (Cancellations, Fully paid bookings) would need to be done manually on the invoice in Checkfront.
With Authorize & Capture the payment is accepted (captured) immediately after authorization. No further action is required on your part. Authorize & Capture is required with Stripe Terminal.
Additional Payment Methods

AliPay

All Stripe users are able to accept Alipay payments from mainland Chinese customers.

iDEAL

Stripe users in Europe and the United States can accept iDEAL payments from customers in the Netherlands.
Alipay and iDEAL are push-based, single-use, and synchronous methods of payment. This means that your customer takes action to authorize the push of funds through a redirect with one of the offered banking institutions. There is immediate confirmation about the success or failure of a payment.
Select AliPay and/or iDEAL as your Additional Payment Methods.
Next, go to Manage, then Setup, followed by Locale. Here you can set your system currency to EURO if you are using iDEAL and one of the approved Stripe currencies if you are using AliPay. To see a list of the approved currencies when using AliPay, please visit: AliPay Supported Currencies.
Stripe Terminal is available for use with Checkfront for Staff-side, in-person payments if you are...
a

US merchant

doing Authorize & Capture of payments
Stripe Terminal and Veriphone P400 devices are available through Stripe.
| | |
| --- | --- |
| | If you are a US merchant and interested in using Stripe Terminal with Checkfront, please reach out to the Support team at support@checkfront.com to enable this feature. |
To set up the new Stripe Terminal (with Veriphone P400 card reader) to accept Staff-side, in-person payments at your point of sale, please see the following.
Click on the Manage Stripe Terminals button.
Within the Stripe Terminal dashboard, Register your Terminal.
Enter the code displayed on your Verifone P400 to get a registration code.
Next, enter that Registration Code in the field provided.
Enter a Terminal Label, for example, Stripe Terminal. This displays to Staff as an option when selecting a method of credit card payment.
Finally, Save your entries to complete the registration.
Your Stripe Terminal device is now paired with Checkfront!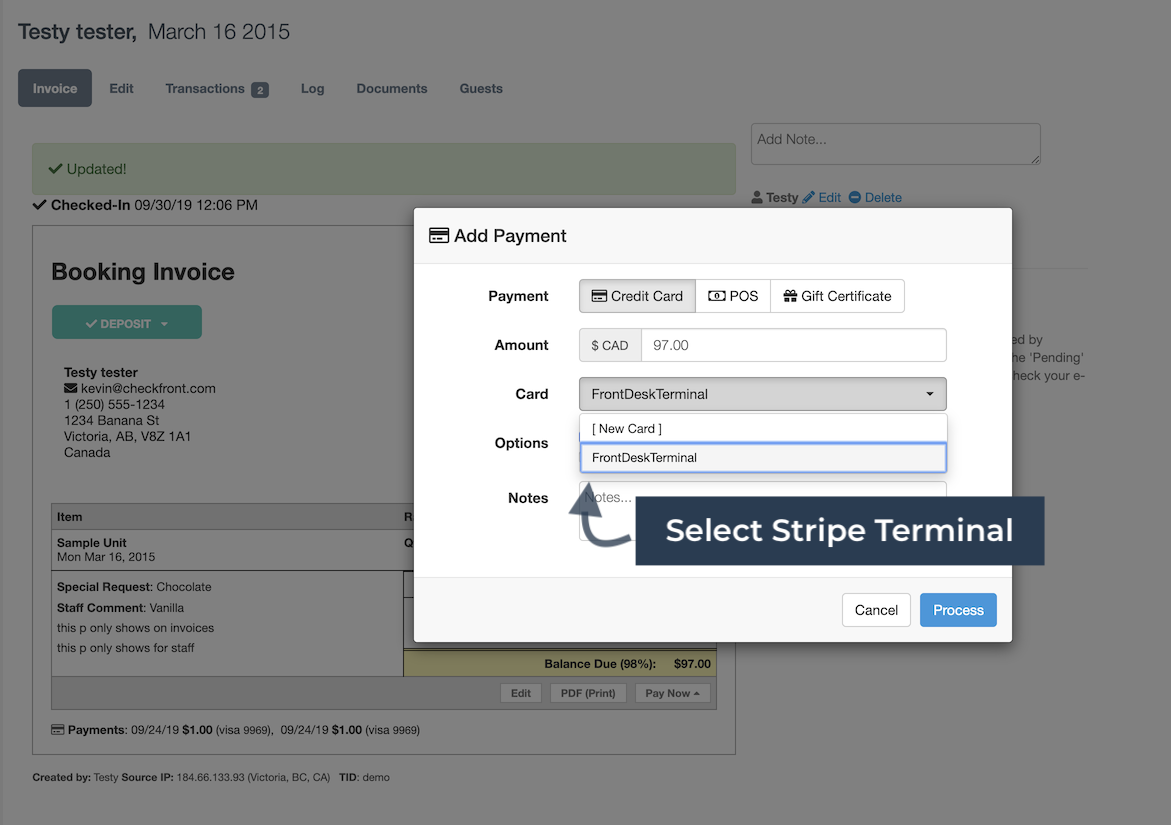 Once registered, the terminal displays as an option for staff-side payments (Invoice > Add Payment> Credit Card)!

Simply select the terminal from the Card drop-down menu, then have the card-holder insert the card into the terminal and complete the payment.
Stripe Terminal and Credit Card Tokens

If you need to save credit card payment information for future, card-not-present transactions, such as refunds or damage deposit claims then be sure to insert the chip card into the card reader to automatically process a tokenized transaction.

Tokens are not issued for tapped or swiped transactions.
Stripe Terminal not available in your Country?

Visit the Stripe Terminal page for your country and fill out the form at the bottom of the page to express interest in the program once it becomes available, for example:

UK: https://stripe.com/gb/terminal

If you view the page above and you are not located in the UK, you are prompted with the option to switch to the page for your country.
---
Required Billing Information for Fraud Prevention
Back to top
While no Billing Information is actually required, Suppliers have the ability to require certain fields in Stripe (and Checkfront). Learn more about the best practices to prevent fraud in this Stripe article.
---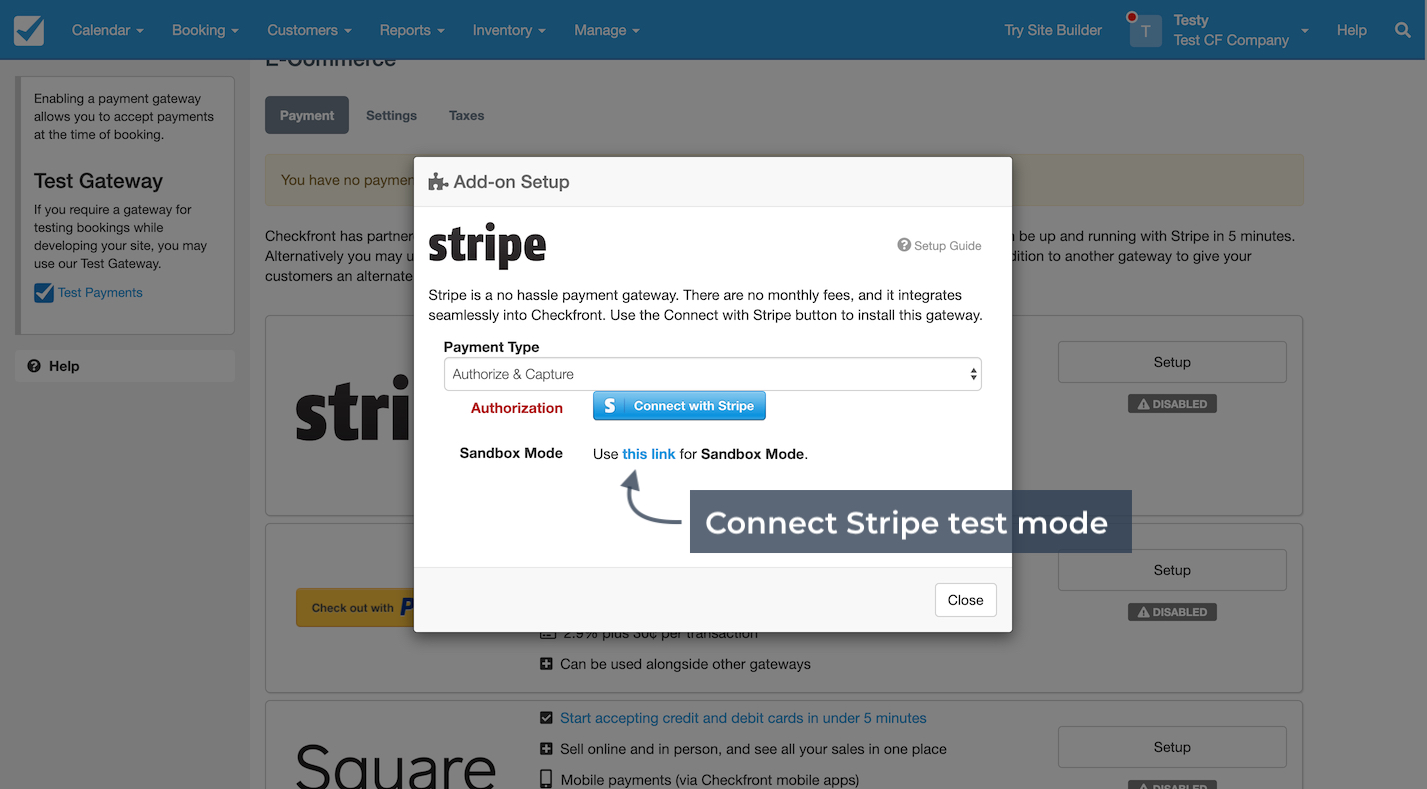 It's highly recommended that you do an end-to-end test of your checkout process before launching your site live.
To do so, follow the steps outlined above to activate the Stripe Payment Provider, but rather than clicking on the Connect with Stripe button, click on this link next to Sandbox Mode.
Once you've logged in to the Sandbox Mode, create a booking and payment transaction as a customer, checking that it shows up in your Checkfront account as paid or deposit. Make sure the payment is shown within Stripe also.
If you don't have a website to test on yet, use the hosted booking page (eg: https://yourcompany.checkfront.com/reserve/) to test.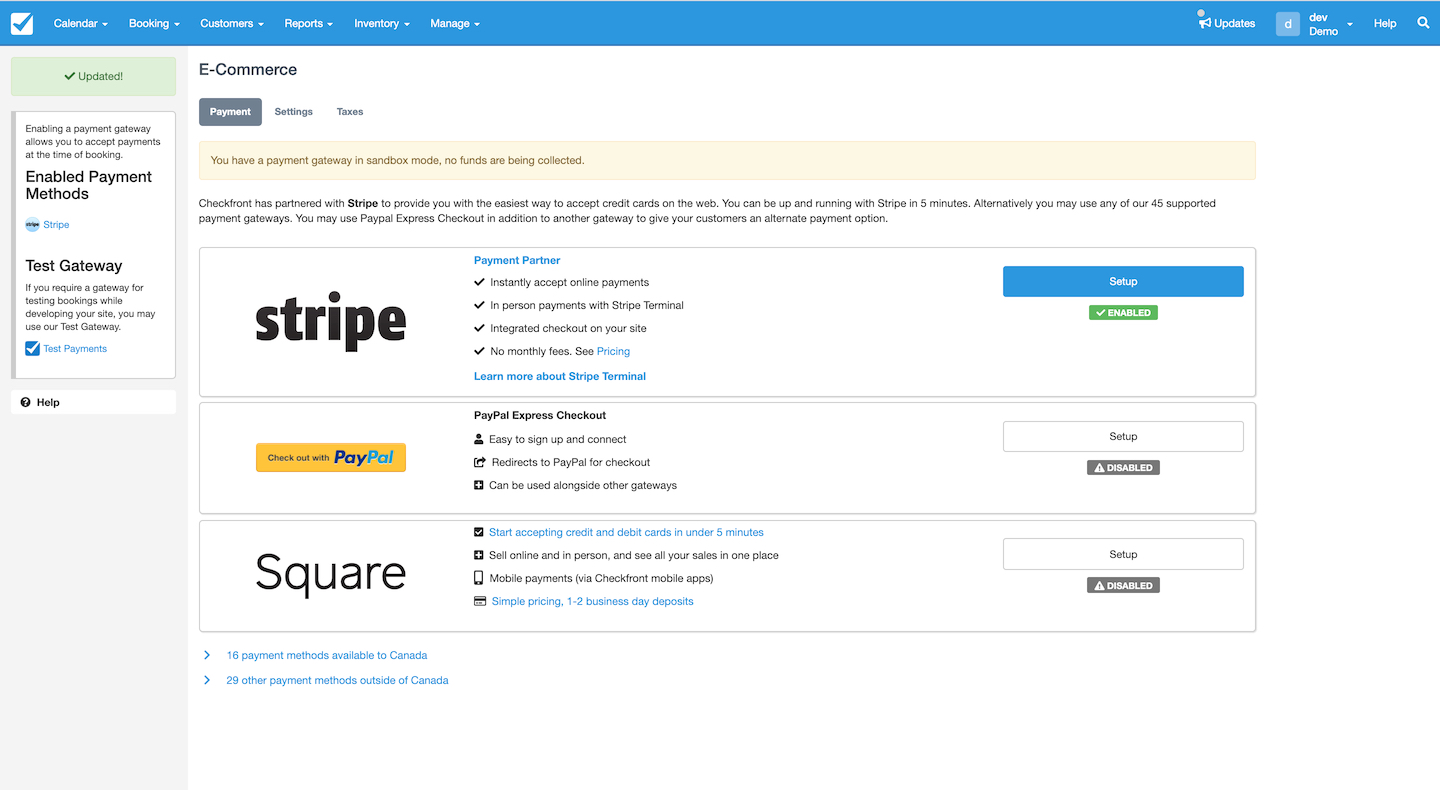 When in test mode, you'll see a message on the E-Commerce screen indicating that you have a Payment Provider in sandbox mode. This is a helpful reminder to make sure you don't process actual bookings in test mode!
---
In order to test the system, you must use dummy credit card credentials when processing a payment in Checkfront. You can find a list of credentials available for use in Stripes' online documentation. To get there directly, click here.
Use one of the dummy credit card numbers provided with any future expiry date and any 3-digit CVC number.
---
After testing is complete, you need to switch from Sandbox mode and choose to go live with your account (Setup >Sandbox Mode > Click here to go live). The Sandbox mode banner is no longer display on the Payment page, but the Enabled tag within the Stripe section of your E-Commerce page should still be visible. You are now live!