---
Plan Availability: ✓ Soho | ✓ Pro | ✓ Plus | ✓ Enterprise
Locate: Manage > E-Commerce > Payment
Pre-requisites: Permission to manage Payment Gateways, Stripe account
---
Stripe is a very popular payment processor and highly recommended by Checkfront for use with your business. It allows you to offer your customers the ability to make partial or full payments at the time of booking and fully integrates into the Checkfront backend app.
One nice feature that Stripe has is the ability to store and re-bill a customer's credit card as needed. For instance, if you currently charge a deposit in Checkfront, you can collect that at the time of booking and then charge the final balance at a later date without needing to obtain the credit card details again.
Stripe has no setup fees, no minimum term, and a hassle-free signup process. Settlements are performed weekly and the service is very competitively priced. There are also no monthly fees or additional fees for refunds.
Non-Profit Organization?

Stripe wants to make sure that their service is available to all organizations. If you have 501c3 status, shoot off a quick email to sales+nonprofit@stripe.com and they'll be able to provide more information on that!
Checkfront currently integrates into Stripe by way of their direct payment method. This provides a seamless checkout for your customers and fully integrates into the Checkfront backend.
Features
Virtual Terminal
Re-billing
Multi-currency
In-App Refunds
Integrated Checkout
Live / Test Environments
Credit card swiping (card present)
Accept bank transfer payments via AliPay and iDEAL (offered using Stripe.js)
PSD2 and SCA Compliant

The Stripe.js integration is Payment Services Directive 2 (PSD2) compliant including Strong Customer Authentication (SCA).

Checkfront is prepared to handle any transactions that the Payment Gateway deems applicable.

These measures will help reduce fraud and make online payments more secure!
---
Step 1
To enable the Stripe extension, log in to your Checkfront account and navigate to your Payment Gateway settings (Manage > E-Commerce > Payment). Here you will see a list of available payment modules.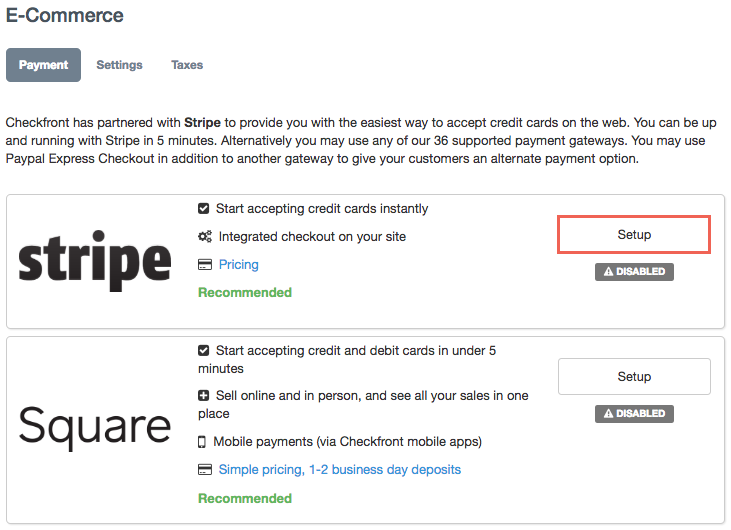 Step 2
You should see the Stripe module featured as a recommended choice, so go ahead and click on the Setup button. This will launch the setup window.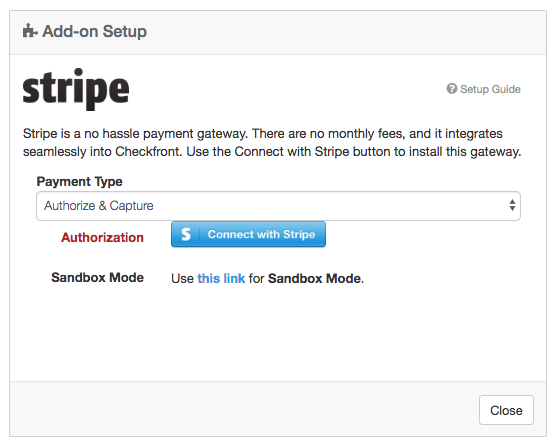 Step 3
Once you have connected your Stripe account you will be given the option to use Stripe Legacy or Stripe.js. With Stripe Legacy you get all the features you are familiar with in the regular Checkfront integration.

Using Stripe.js you get the added benefit of being able to accept payment using AliPay and/or iDEAL. Stripe.js is also PSD2 compliant including Strong Customer Authentication (SCA)!
Alipay and iDEAL are push-based, single-use and synchronous methods of payment. This means that your customer takes action to authorize the push of funds through a redirect with one of the offered banking institutions. There is immediate confirmation about the success or failure of a payment.
To set up Stripe.js with AliPay or iDEAL first select which additional payment options you would like to offer.
Next, go to Manage, then Setup, followed by Locale. Here you can set your system currency to Euro's if you are using iDEAL and one of the approved Stripe currencies if you are using AliPay. To see a list of the approved currencies when using AliPay, please visit: AliPay Supported Currencies
Click save and you are now all set up, to see how the booking flow will look go to the Customer Booking Page (Customers > Customer Booking Page) to see the newly added payment option.
AliPay

All Stripe users are able to accept Alipay payments from mainland Chinese customers.

iDEAL

Stripe users in Europe and the United States can accept iDEAL payments from customers in the Netherlands.
---
Choose whether you would like to Authorize & Capture customer transactions or Authorize Only.
With the Authorize Only method, Stripe will hold the deposit amount for 7 days. An authorization left uncaptured for 7 days, will automatically be reversed. You'll need to accept (capture) the payment in your Stripe account directly.

Stripe doesn't charge any fees for uncaptured charges. Fees after you capture, are the same as any other Stripe charge.
Checkfront will treat the authorizations as actual payments, so the booking would be confirmed in the Deposit or Paid status, based on your E-commerce settings (E-commerce > Settings > Online Payments). Any additional booking status modifications (Cancellations, Fully paid bookings) would need to be done manually on the invoice in Checkfront.
With Authorize & Capture the payment is accepted (captured) immediately after authorization. No further action is required on your part.



---
Click on the Connect with Stripe button to get started with the authorization. This process will authorize Stripe to connect with Checkfront for the purpose of payment processing.
If you are already signed in to Stripe on your computer, the payment gateway will simply activate and you will see confirmation of this on your Checkfront payment gateways page.

If you are not already signed in to your Stripe account, you will be redirected to a Stripe authorization page (see screenshot below).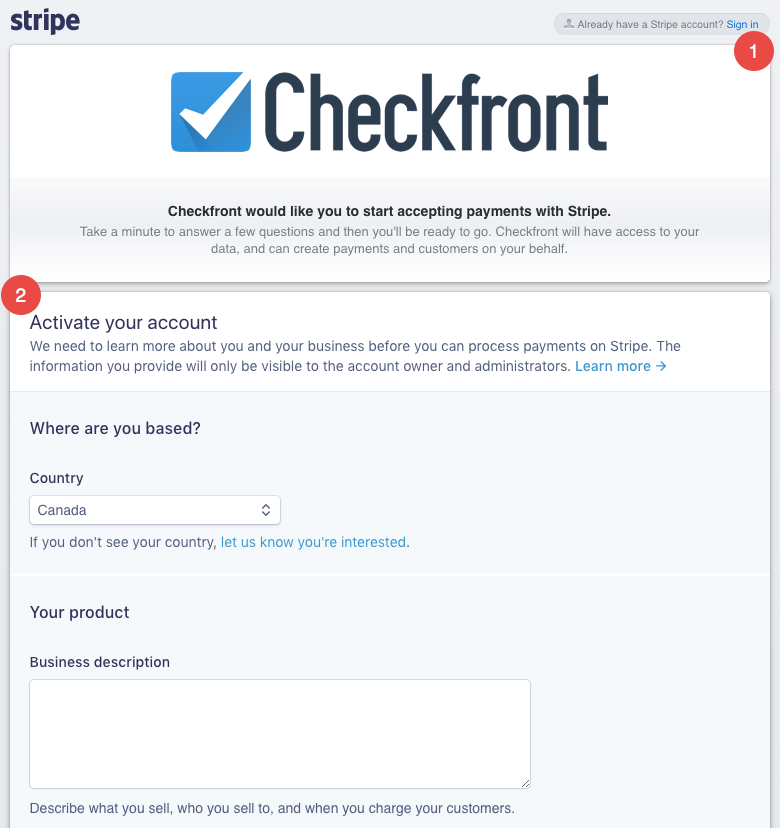 There are two options at this point. If you already have an account with Stripe, you can (1) sign in at the top left corner of the page OR (2) you can fill out the application form to create your account with Stripe.
After filling out the questions on the form, click the Authorize access to this account button at the end. Your account will be created instantly and you'll immediately be returned to your Checkfront account.
You're now ready to go! This can be confirmed by the Enabled tag in your E-Commerce page.

Make sure you have enabled payment processing and setup any appropriate taxes and e-commerce settings (Manage > E-Commerce) in your Checkfront account.
---
It's highly recommended that you do an end-to-end test of your checkout process before launching your site live.
To do so, follow the steps outlined above to activate the Stripe payment gateway, but rather than clicking on the Connect with Stripe button, click on this link in the Sandbox Mode field, as seen below.
Once you've logged in to the sandbox mode, create a booking and payment transaction as a customer, checking that it shows up in your Checkfront account as paid or deposit. Make sure the payment is shown within Stripe also.
If you don't have a website to test on yet, use the hosted booking page (eg: https://yourcompany.checkfront.com/reserve/) to test.
Make sure you take Stripe out of test mode before you begin to use the system for live bookings. To do this, go back to the activation modal in Checkfront and click on the Click here (to go live) link.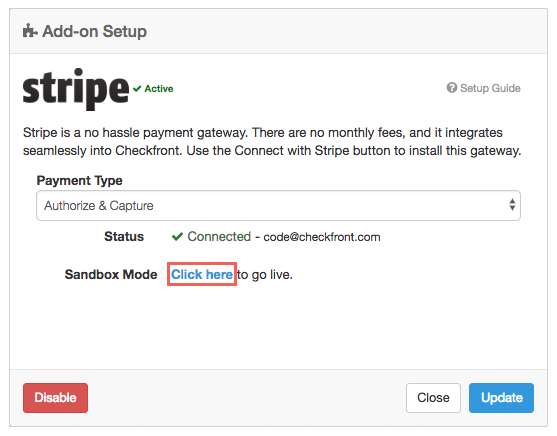 When in test mode, you'll see a message on the E-Commerce screen indicating that you have a payment gateway in sandbox mode. This will be a helpful reminder to make sure you're not processing real transactions in test mode!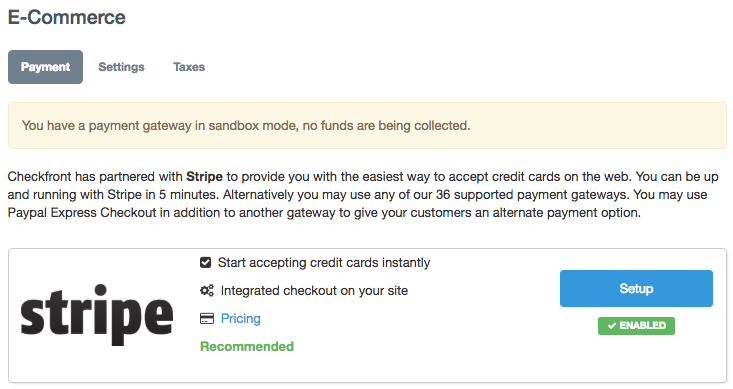 ---
In order to test the system, you must use dummy credit card credentials when processing a payment in Checkfront. You can find a list of credentials available for use in Stripes' online documentation. To get there directly, click here.
Use one of the dummy credit card numbers provided with any future expiry date and any 3-digit CVC number.
Credit Card Swiping
You can use any USB card reader to swipe card-present transactions for your bookings. See Card Swiping with Checkfront.
Frequently Asked Questions
Q: When testing I get the following error message: Cannot process - Setup error.
A: If you check your Activity Log ( reports/log ) an error message will show: "Amount must be at least 50c" (dependent on currency). Increase amount to test higher than the amount mentioned in the log.
Q: Can I use Stripe and Paypal at the same time?
A: Yes, you can enable Paypal Standard to offer that options to your customer at the time of Checkout.
Q: Is Stripe available in my country?
A: Please check-out the payment page to see if Stripe is available in your country. As Stripe is always adding new countries, you may wish to double check with them if it's not listed as an option with us.
Q: Does Stripe offer a fee discount for non-profit organizations?
A: Stripe makes itself available to all organizations. If you have 501c3 status, drop them an email at sales+nonprofit@stripe.com to find out how you can partner with them. For more information see www.checkfront.com/updates or www.stripe.com