---
Plan Availability: ✓ Soho | ✓ Pro | ✓ Plus | ✓ Enterprise | ✓ Flex |
Locate: Inventory > Products > Products
Prerequisites:
Admin

permissions to manage inventory or

restricted permissions

to

View products and assets and Manage products and assets.
Your account must have access to products (Inventory > Products), which is a key feature of our newest version of Checkfront.
New to Checkfront - Products ✨

Products (Inventory > Products) is the successor feature to (Inventory > Items) and is available in our newest version of Checkfront.

Not yet on our newest version and interested in upgrading? Please contact our Technical Support team for more information.

Discover more product-related help articles here: Products (New).
Products represent the inventory your Guests can book, rent or purchase. With this series of articles, we explain in detail, how to set up your products.
This article is a brief introduction to the Product Builder including tips on preparation, adding a new product and navigating the Products list.
Please step through the full series of articles, accessed at the side and bottom of this page, for guided help getting your offerings configured and optimized!
---
Allow yourself ample time to configure, test and optimize your products before going live. Before you start building out your products, it is helpful to prepare some information in advance...
List of categorized offerings with names, SKU codes, and summary descriptions.
Photos or videos of your product offerings.
Link to your website for more information.
Inventory numbers (where limits apply) including associated assets (equipment, spaces, transport...) that limit the availability of your offerings.
Product allocation (All Day, Nightly, Timeslots, Flextime).
Product availability (dates and times), including any pricing adjustments and booking rules.
Pricing structure for your products, including group pricing where applicable.
Custom Rates for longer durations of bookings.
Guest types (Adult, Child...) to allow for specific price points and the use of guest forms.
Minimum or maximum numbers on the number of guests, or the number of total guests within a single booking.
Taxes configured within Ecommerce Setup (Manage > Ecommerce Setup), ready to apply to your product, as needed.
Booking deposits, if required for the product.
Partner commissions, if applicable to the product.
Additional products configured for any upsells, which are additional product offers associated with your primary product.
Consider what Custom Email Notification content you might need.
Consider activating Waivers and Documents (for those on the Plus plan and up)...or starting your 14-day trial!
To understand how inventory information is organized throughout the system, it is best to start by creating one product (based on assets if needed). You can then preview that product or better yet, run a test booking through the system.

Once booked, you can check out how that booking displays within booking tools (e.g. Daily Manifest), reports (e.g. Booking Index) and the Booking Invoice and then adjust how your products (and assets) are configured to suit your needs.
---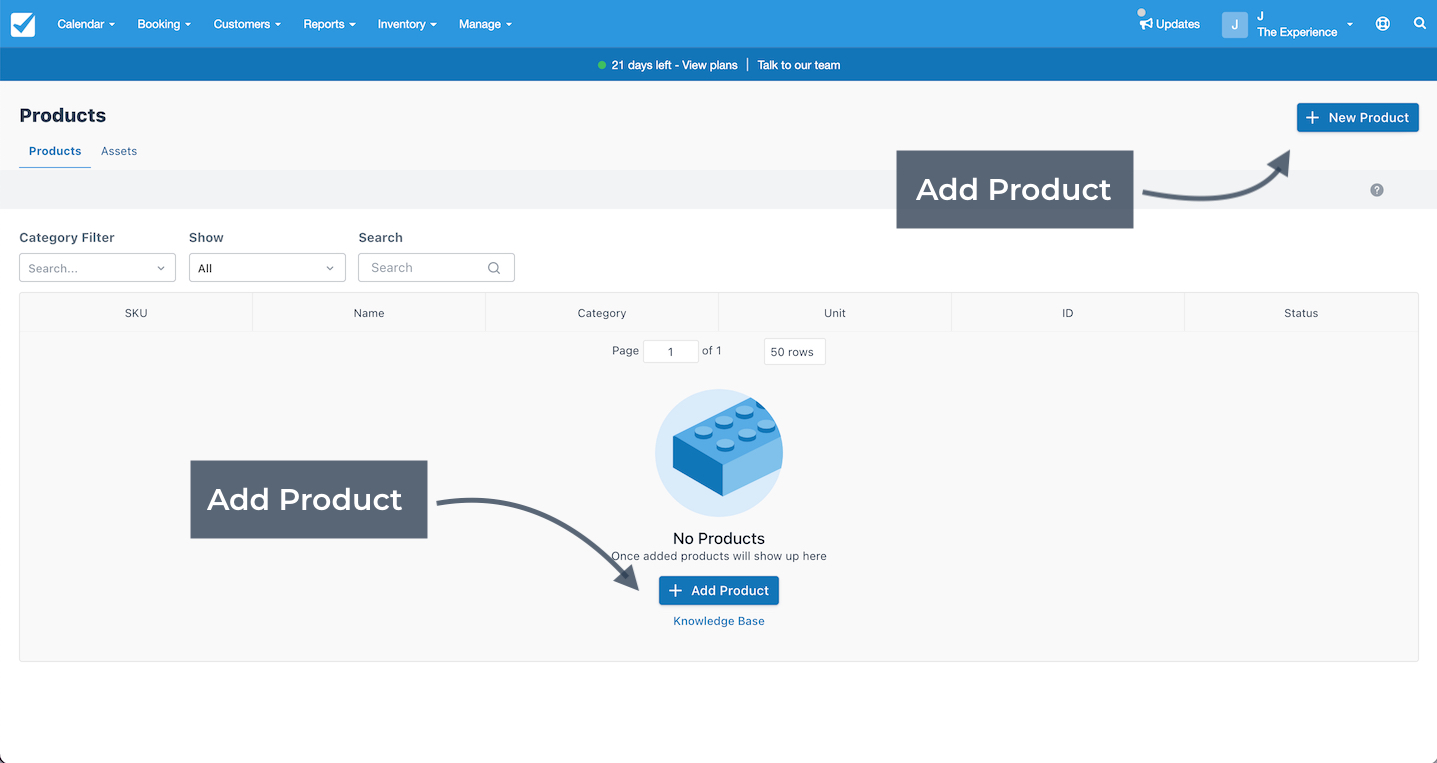 To add a new product, click on the + New Product button in the top right-hand corner of your Inventory page.
You can then start building your product via our Product Builder, which is covered by the following articles in detail...
---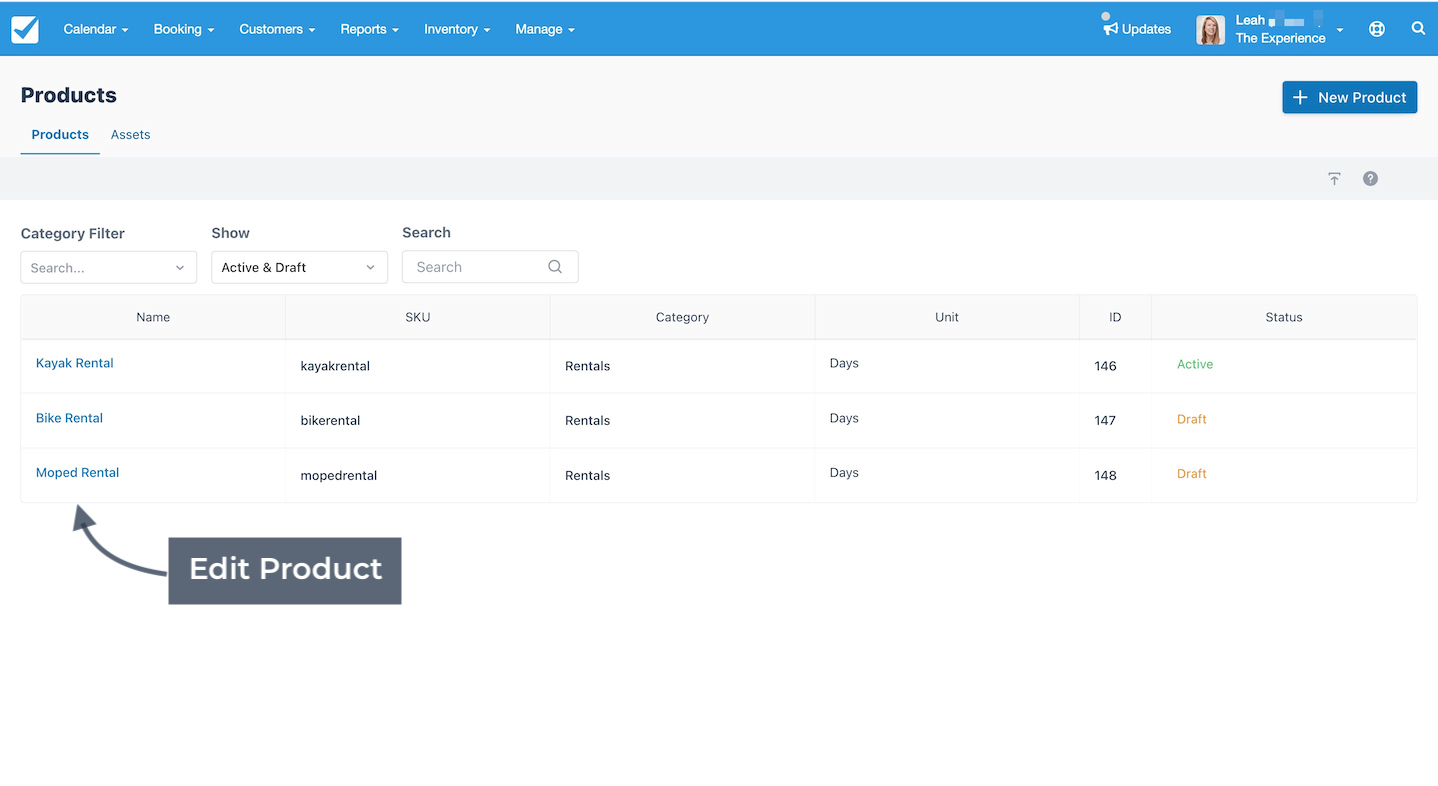 Once created, products are listed on the Products page. From here you can filter your list by Category, Status (Show) or by keyword Search of the SKU and Name fields.
Click on the Name or SKU of the product within the Products page to enter the Product Builder and edit your product.
Product columns (SKU, Name, Category, Unit, ID, and Status) are sortable. Simply click on the column header to sort the column by ascending or descending order.
Why is my product not visible on my booking page?

There are a number of reasons, your product may not be visible for booking, for example:
Users with restricted product and category permissions may not automatically have permission to access newly created products and categories.

Permissions should be reviewed to make sure that Users have the desired ones enabled.

Find out more about permissions here:
---
| | |
| --- | --- |
| | Entries on the Product page can be exported to a downloadable file. Find out more about this process here: |
---
| Setting up details, visibility, and media on products >
---