---
Are you already using Checkfront with a payment provider but want to switch to Checkfront Payments? Learn how with this guide, including step-by-step instructions, access to more resources, and answers to frequently asked questions.
---
Which plans include this feature?
Legacy: Soho, Pro, Plus, Enterprise
New: Starter*, Growth (Subscription), Growth (Per Booking)**, Managed
*Checkfront Payments is the exclusive payment provider for accounts on the Starter plan. 
**Checkfront Payments (and Stripe) are the supported payment providers for the Growth (Per Booking) plan.
→ Learn more about our new plans or how to change your plan.

Where can I find this feature using the top menu?
Manage > Ecommerce Setup > Payment


What more do I need to use this feature?
Admin permissions are required to manage Payment Providers.
---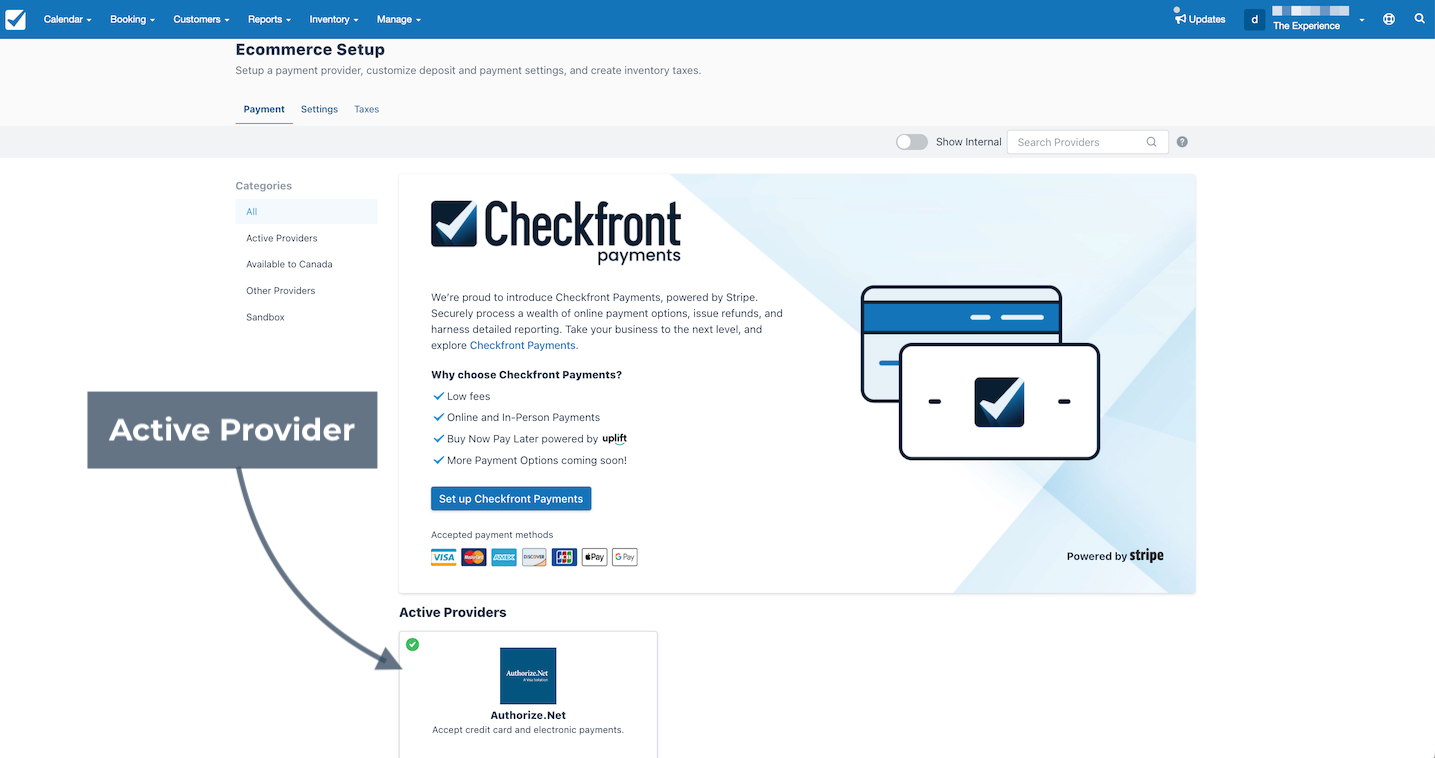 1. Start by navigating to your Ecommerce settings (Manage > Ecommerce Setup) and opening the setup modal for your Active Provider, e.g. Authorize.net.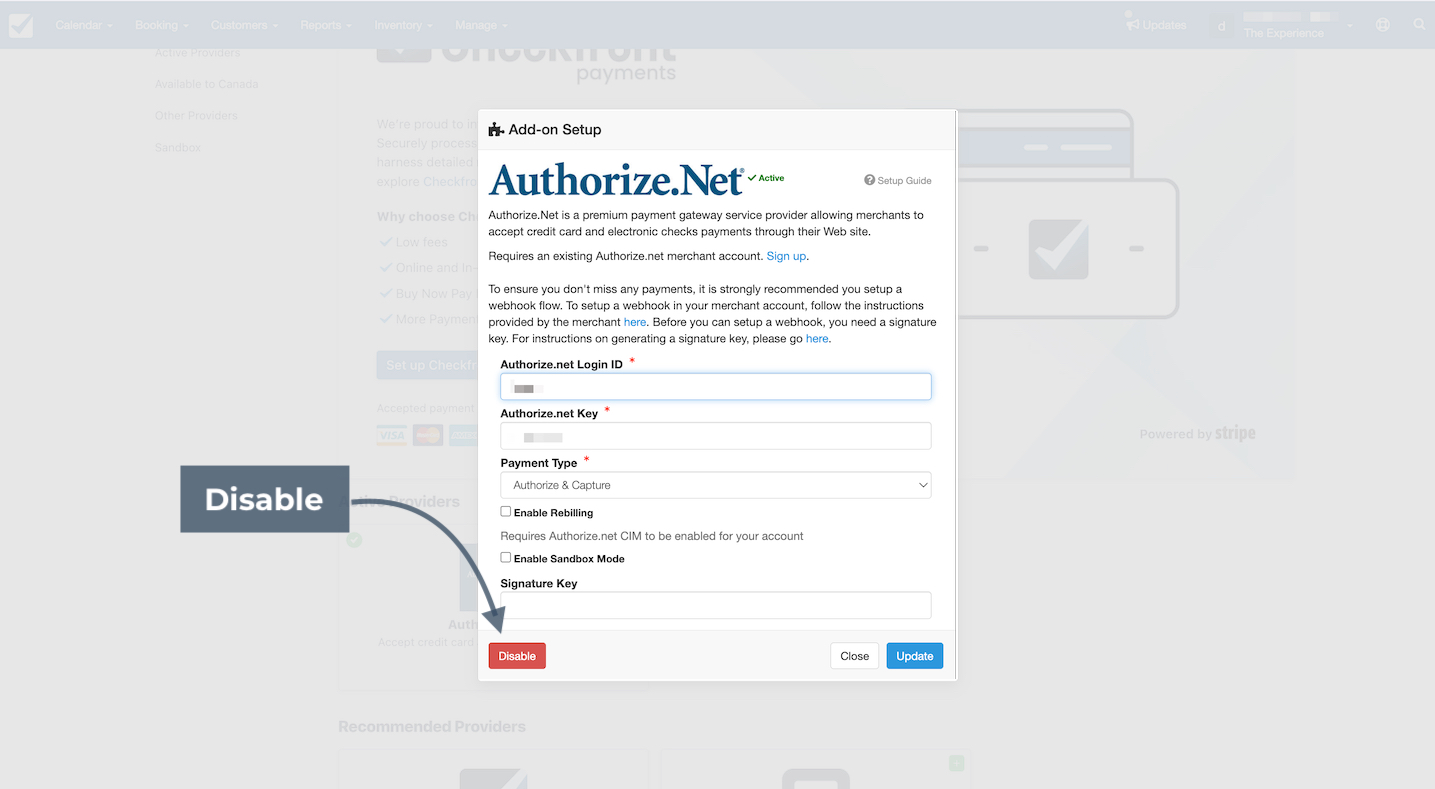 2. Click the Disable button within the Add-on Setup modal to deactivate your current payment provider.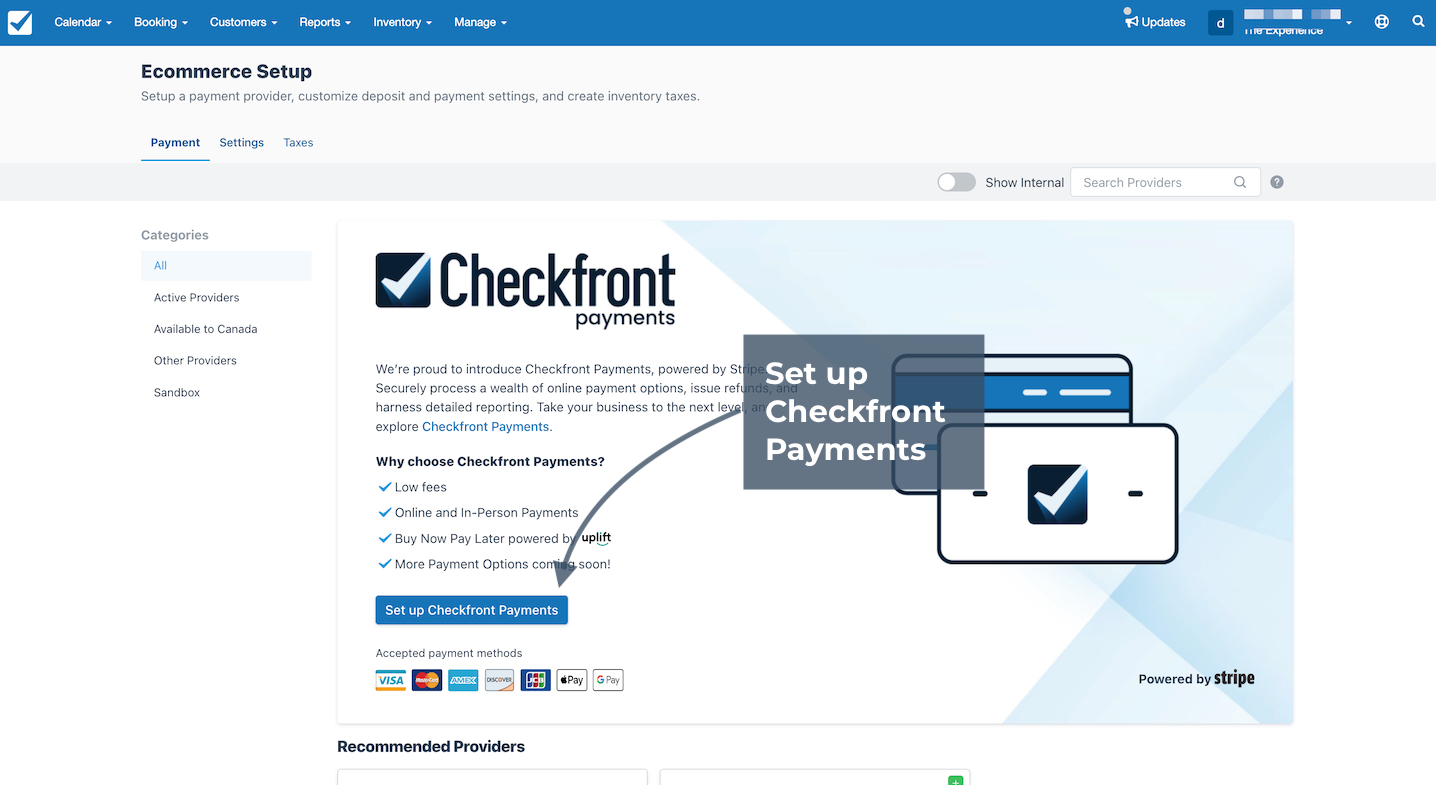 3. Choose to Set up Checkfront Payments.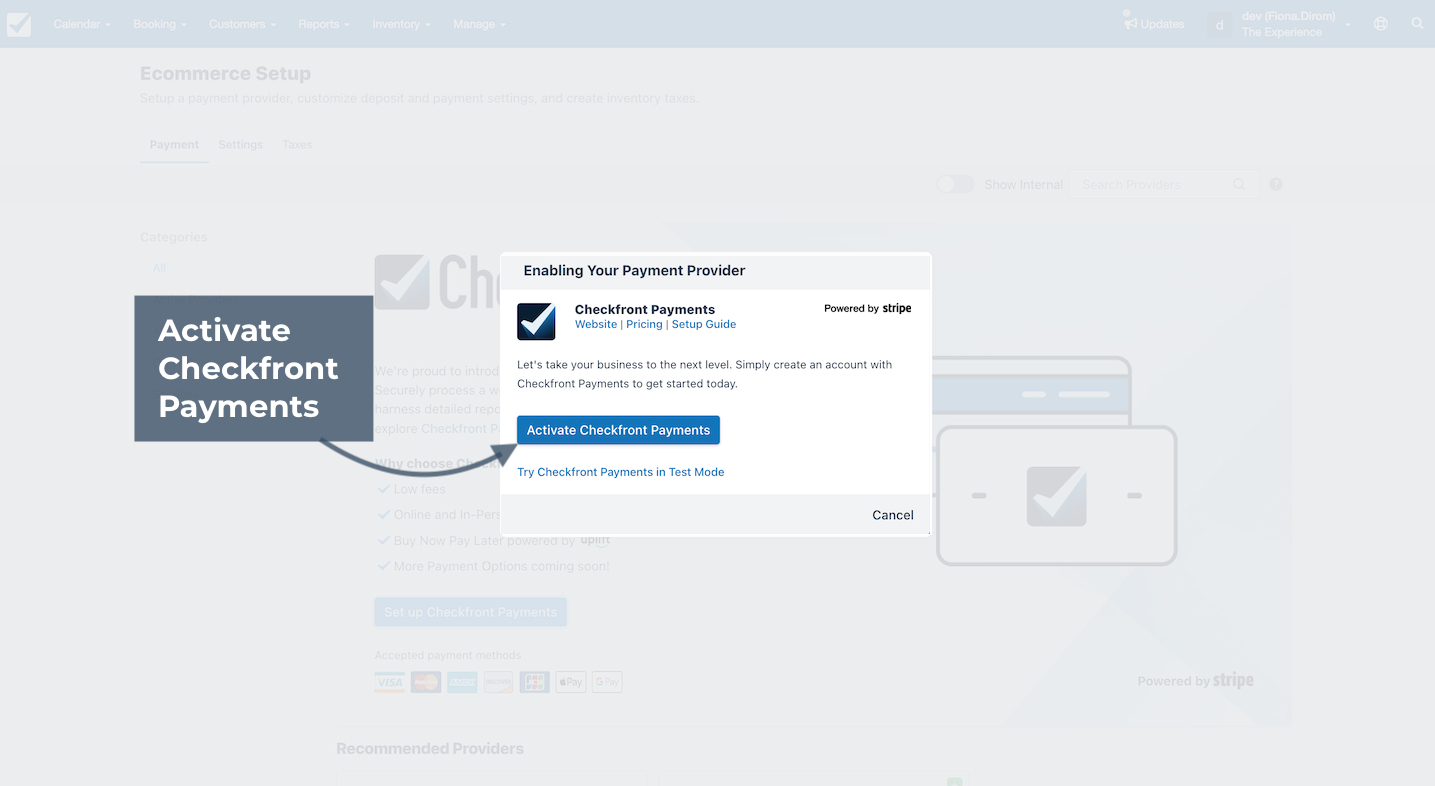 4. Click Activate Checkfront Payments to start creating your account with Stripe.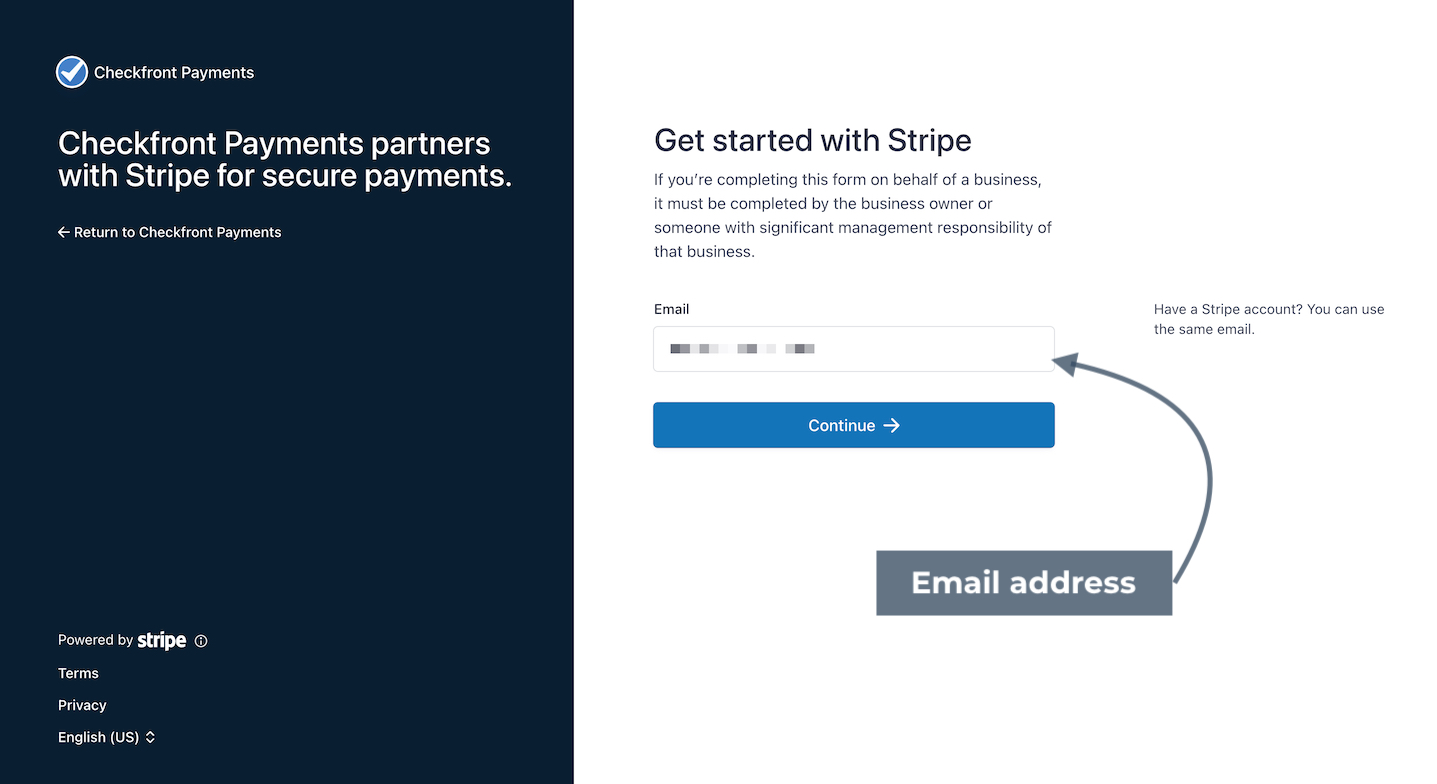 5. Next, you are presented with the Get started with Stripe page, as Checkfront Payments is powered by Stripe. Enter your Email address here and click Continue to proceed to the next step.
Need a new Stripe account? Follow the steps to doing so with Stripe. Start by entering your email address. Be prepared with payout bank account details.
Already have a Stripe account? Enter the email address associated with your Stripe account. Stripe then retrieves the associated account and asks you to sign in. Note existing Stripe accounts with active business are not supported at this time. We would like to direct you to use our standard Stripe integration instead.
Once the connection to your Stripe account is authorized and completed, you are returned to your Checkfront account with Checkfront Payments activated.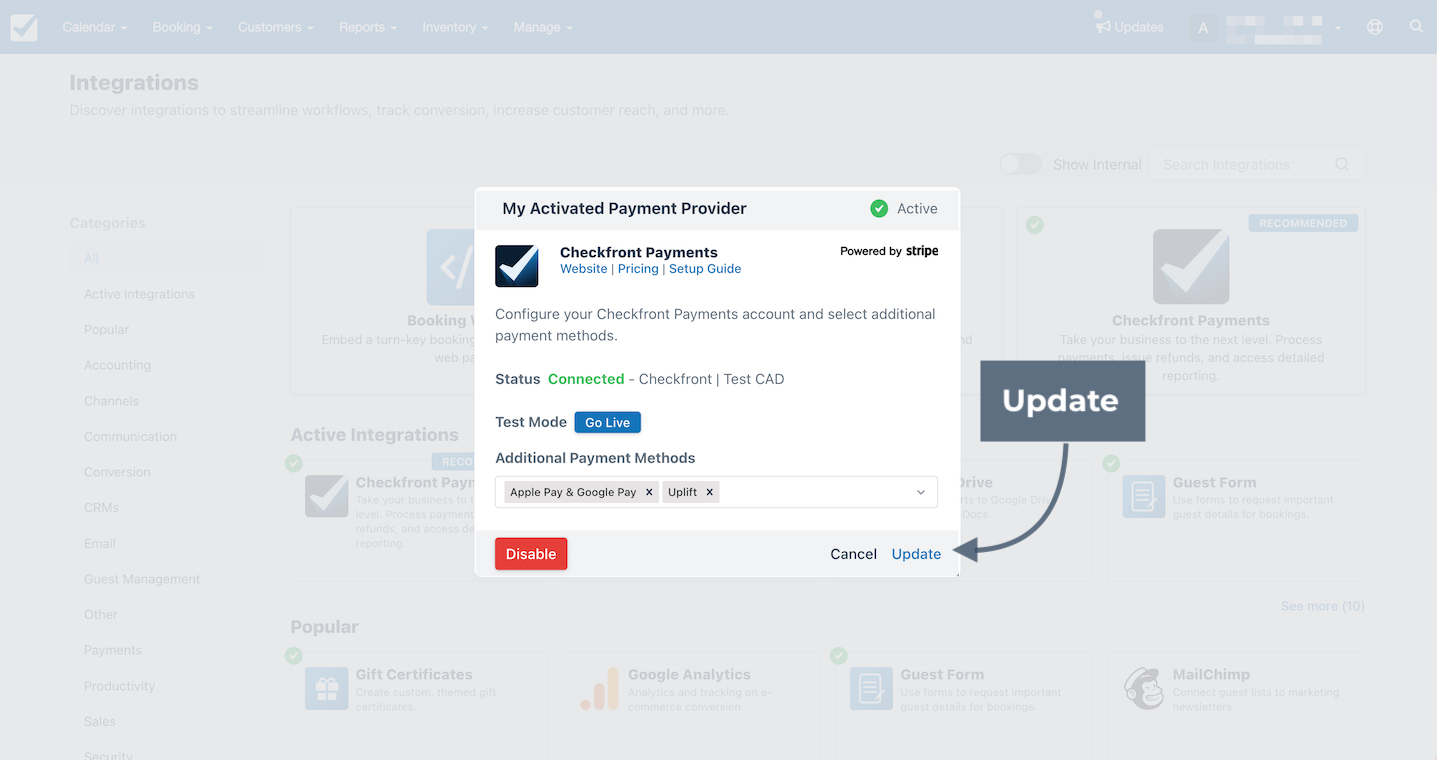 6. The Setup modal refreshes, and the following settings are presented (see below). Click Update to save any changes.
Choose to offer AliPay, iDEAL, Apple Pay and Google Pay, and/or Uplift if the payment method(s) meets your business needs and account requirements.
| | |
| --- | --- |
| | Learn more about enabling additional payment methods here: |
| | |
| --- | --- |
| | Ensure that your Base Currency and Locale (Manage > Setup > Base Currency/Locale) match those supported by the payment method and Stripe.  |
Stripe Terminal is available for Staff-side, in-person payments for US and Canadian accounts.

For detailed information and instructions on setting up Stripe Terminal to work with Checkfront, please see the following article...
---
Learn more about Checkfront Payments:

This article includes information on:
| | |
| --- | --- |
| | Find general best practices for switching payment providers here: |
---
Answers to frequently asked questions about switching to Checkfront Payments.
What is Checkfront Payments?

Checkfront Payments is an all-in-one payment provider built for businesses of any size. Accessible to any plan, you can securely process online payments, issue receipts, refunds, and harness detailed reporting.



Why choose Checkfront Payments?

How much does Checkfront Payments cost compared to my current payment provider?

While we cannot provide pricing for every payment provider, as they may update without notice, we encourage you to review your current pricing and compare it to ours.
What happens to my previous bookings?

Your previous bookings remain in your Checkfront account, but you must refund them directly through your merchant account with your previous payment provider.

For example, an Operator switching from Authorize.net to Checkfront Payments would manually sign into their online Merchant account with Authorize.net to refund previous payments. 



How do I refund my previous bookings?

As you are no longer connected to your previous payment provider with Checkfront, your transactions are no longer connected to the payment provider through the secure token. You can refund or rebill those specific Customers by logging into your previous payment provider and initiating the refund manually. Once that is done, you must update your records in Checkfront to match. This is done by adding a POS refund to the Checkfront Booking Invoice. 
How do I rebill my previous bookings?

You can re-charge using previously provided payment information (tokens). This can be done by one of two methods:

You can add the card to the booking within Checkfront and charge them again through Checkfront Payments. You can then refund or rebill that transaction through Checkfront in the future. 
Alternatively, you can access the original transaction within your previous payment provider dashboard and manually initiate the new charge.

Once that is done, you must update your records in Checkfront to match. This is done by adding a POS-type payment to that booking from the Checkfront booking.
What are some of the features supported with Checkfront Payments?
How long does it take to switch to Checkfront Payments?

Instantly! Once you switch to Checkfront Payments, transactions are processed through Checkfront Payments.