---
If you are using Facebook advertising as a way to help generate business and boost your bookings, Checkfront has an add-on just for you. Retargeting is a marketing tactic that tracks the movement of your customers across the internet and uses the data to show them specific ads.
Checkfront Tip: How Does a Facebook Pixel Work?

You can generate a Facebook Pixel and place in the header or footer on every page of your website. When someone visits your site, Facebook stores the pixel code in their browser. This is called a cookie (a piece of temporary code which tracks whether a visitor has been to the site before). When the visitor goes back to their Facebook homepage, they'll be shown one of your ads. You can specify various groups of people you wish to target based on a variety of factors, including how recently they visited your site and which specific pages they've been to.
---
Before activating the add-on in Checkfront you will need to create a tracking pixel in your Facebook Ad Manager.
From within the Ad Manager interface, click on the menu top left and select Pixels from the Measure & Report column, as seen in the screenshot below.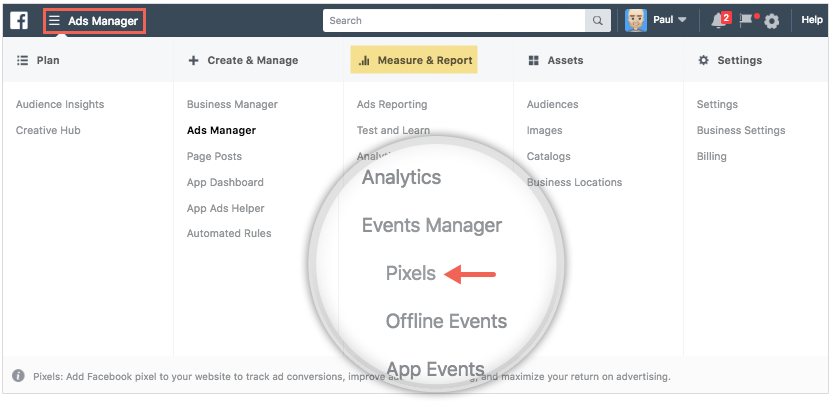 This will bring you to the Events Manager where you can create a Facebook pixel.
To get started, click on the green Create a Pixel button.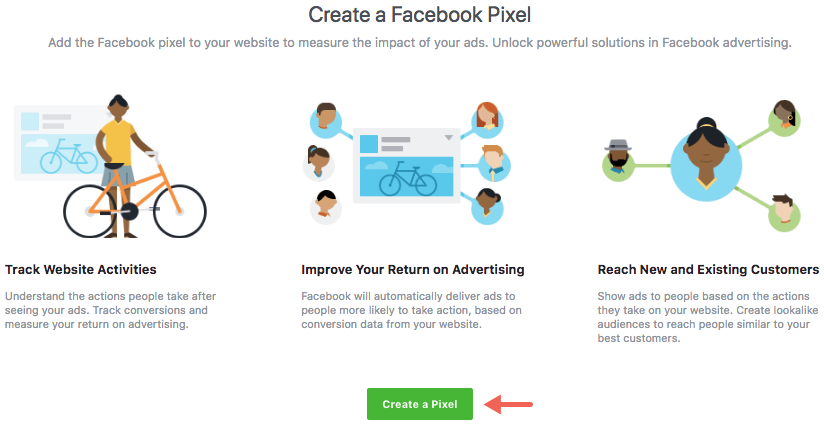 This will open a small pop-up window where you will be asked to name your pixel. The name isn't important, but if you plan on creating more than one it might be a good idea to name it something descriptive that will separate it from the others, just so you can keep track of your tracking pixels!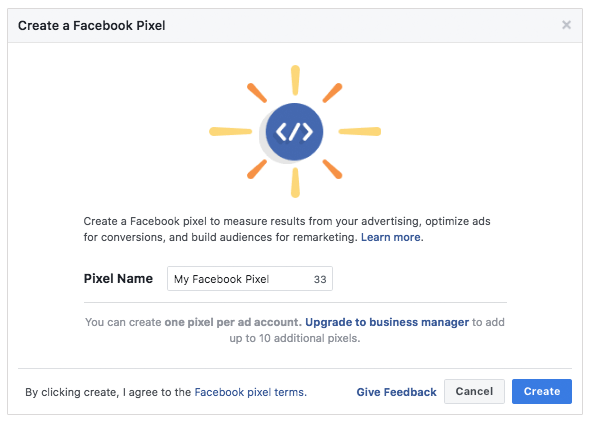 You have 50 characters, but that should be long enough to create a nice, unique name.
When you're ready, click on the blue Create button bottom right of the window.
Your Facebook pixel will now be created. The pop-up window will now ask how you'd like to install the pixel. Select Manually Install the Code Yourself.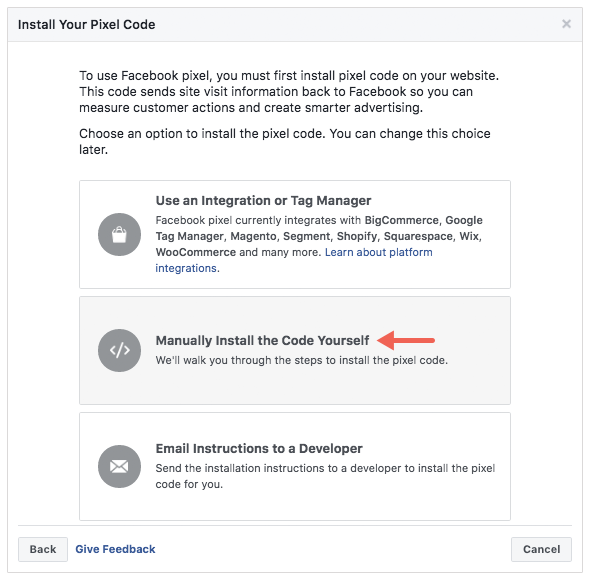 The pop-up will next show you some code which you can add to your website pages. Checkfront takes care of this for you, so all you need at this point is the actual tracking pixel.
You can copy this from the code provided. We've highlighted it in yellow below.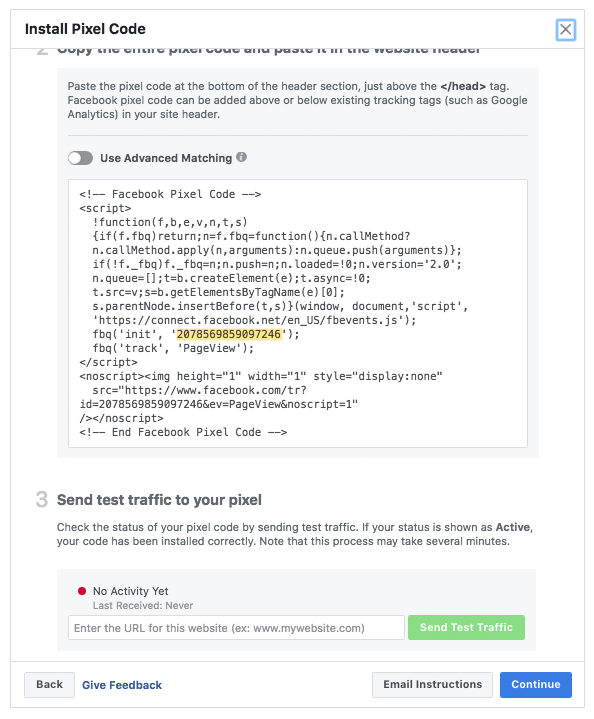 Once you've copied the pixel, which is just a long number, click Continue.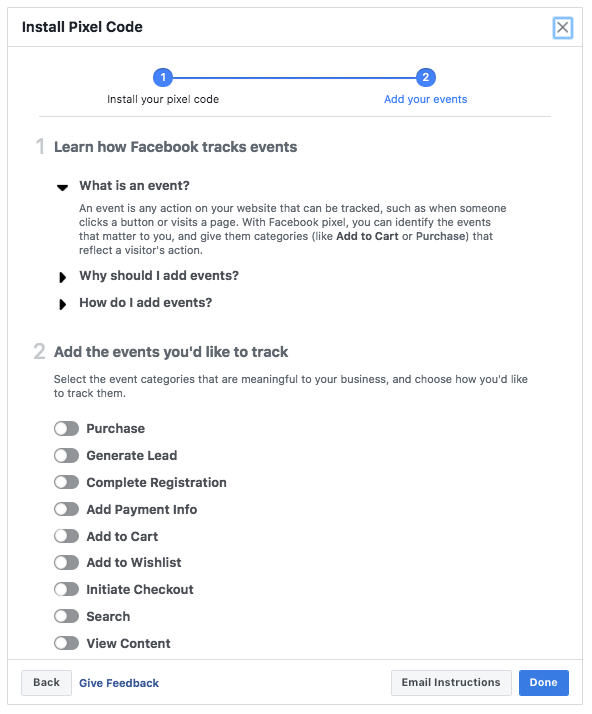 Complete the process by selecting the events you'd like to track and then click Continue.
That's it! Your Facebook Pixel has been created and you can see it by returning to the Pixels screen we visited earlier. Your pixel will be listed and you can get the tracking number from here if you didn't copy it earlier.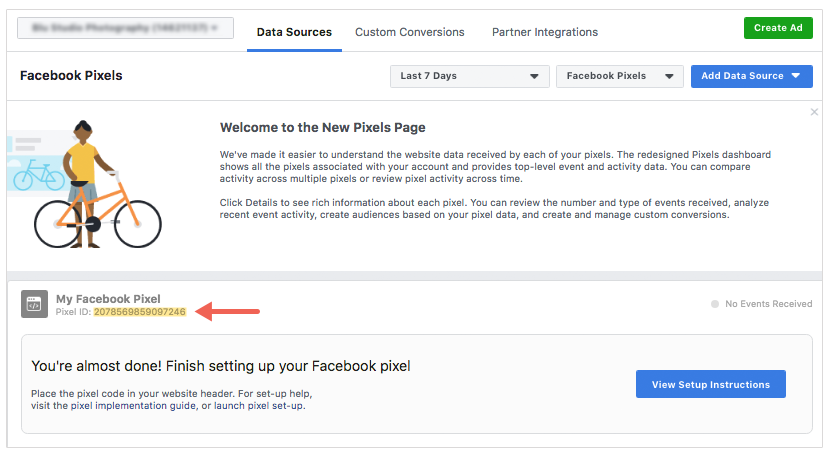 ---
Once your Facebook Pixel is set up and ready to go, sign into Checkfront and navigate to Manage > Add-ons in your menubar. Hover over the Facebook Advertising tile from the Marketing section and click on the Setup button.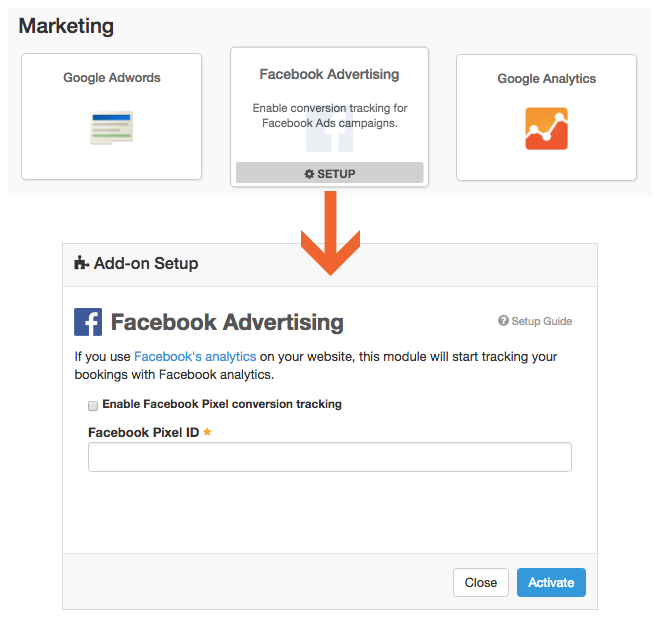 Paste the Facebook Pixel you copied to your clipboard in the previous step into the field provided and check the box labeled Enable Facebook Pixel conversion tracking.
To complete the setup, click the Activate button.
The add-on is now configured and ready to be used.
For more information on Facebook Pixels and how to monitor its activity, please visit your Facebook Ad Manager.