---
Plan Availability: X Soho | ✓ Pro | ✓ Plus | ✓ Enterprise | ✓ Flex |
Locate: Customers > Customer Booking Page or Booking Widget
Prerequisites:
Plan that includes Gift Certificates.
Gift Certificates activated and configured within your account (Manage > Integrations).
Gift Certificates are available to those using items (Inventory > Items), a feature of our classic version of Checkfront.
Interested in using Gift Certificates with products (Inventory > Products)? Your account must be a member of our

Early Access Program. Please reach out to

Checkfront Technical Support

to learn more.
Need to activate Gift Certificates for your account? Be sure to read the first article in this series: Gift Certificates: Setup
---
| | |
| --- | --- |
| Detail Booking Page | Hero Booking Page |
| | |
Once you create Gift Certificates, Customers can purchase a Gift Certificate themselves through your company website. The Gift Certificate is displayed to your Customers in just the same way as your other bookable inventory.
When a Customer selects a Gift Certificate for purchase, they are presented with a modal where they can confirm the Amount.
The Customer is then required to provide the name of the sender (From).

Customers can change the Theme of the Gift Certificate, by selecting one from the drop-down menu. This is only an option if you have kept the Default Themes (Celebration, Seasonal, or Summer) or have added multiple Custom Themes.

Next, the Customer provides the name of the recipient (To), the Recipient Email address, and a Message.
The Start Date and Expires date are displayed for reference purposes. Depending on the configuration of your Gift Certificate, the Expiry date may be a specific date or it may Never expire!

If the Customer chooses to purchase more than one Gift Certificate, then they are able to specify unique information for each Gift Certificate.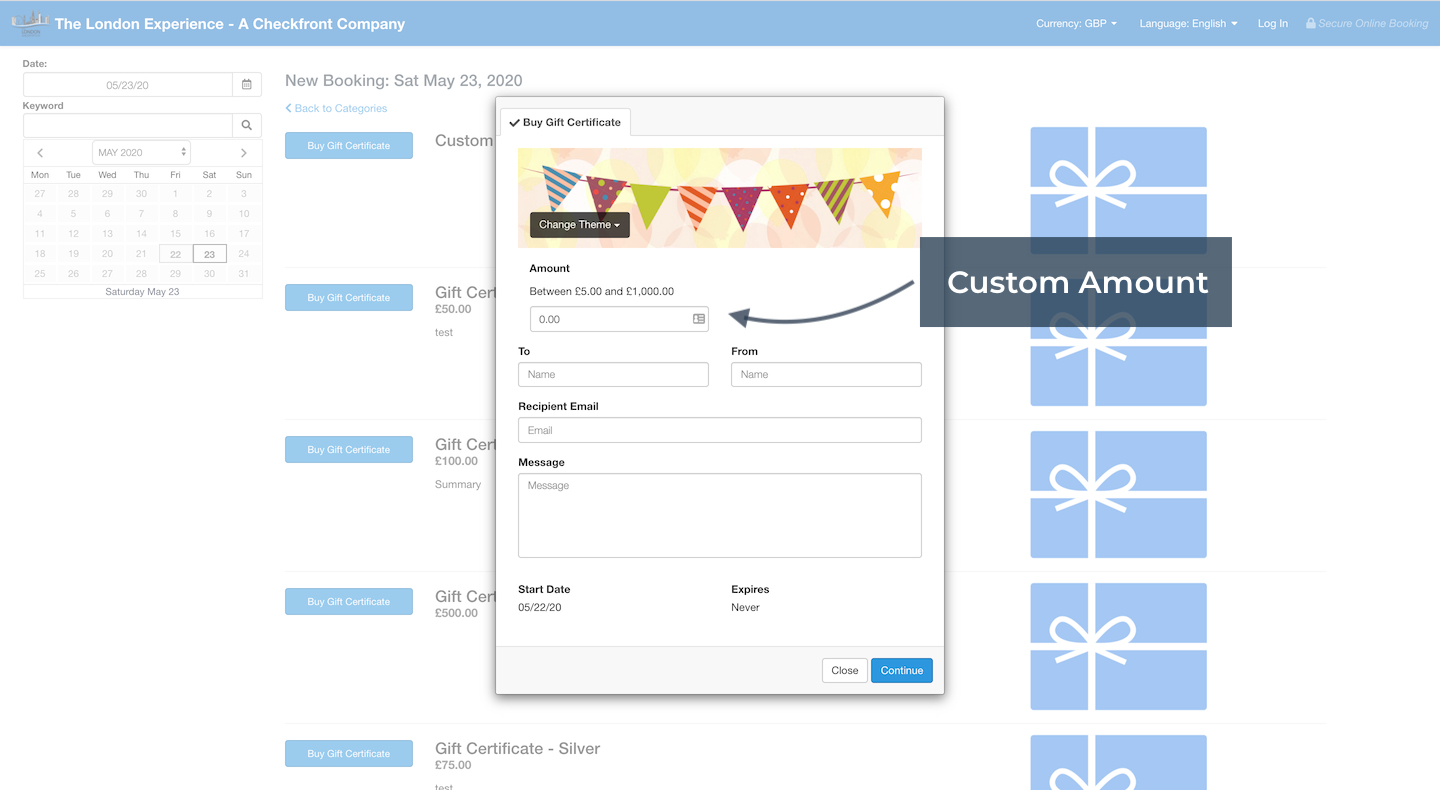 If the Gift Certificate is configured to support a Custom Amount, then an input field displays in place of the price. The acceptable range of values is displayed above the field for guidance purposes, for example Between $5.00 to $1000.00.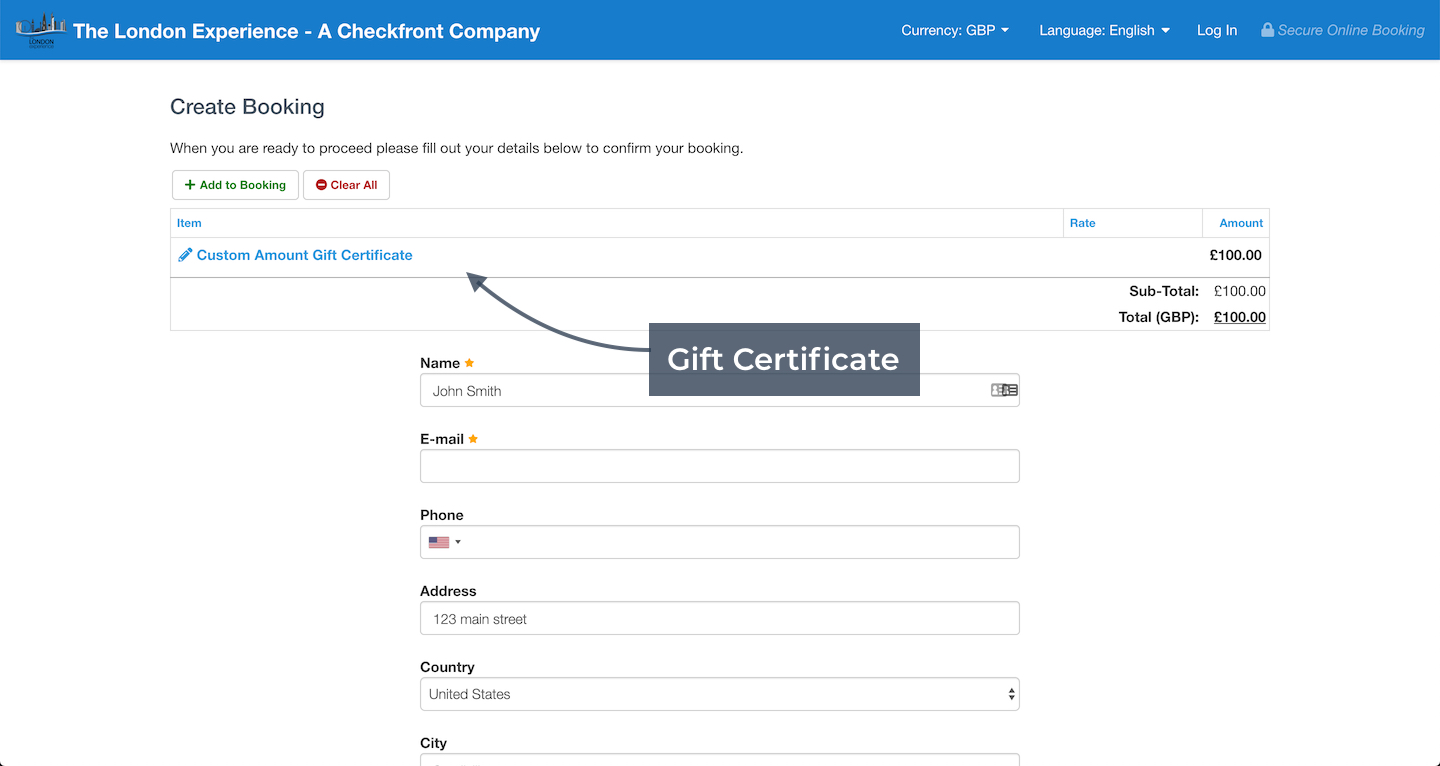 After filling out Gift Certificate details for all Gift Certificates and clicking Continue, the Customer is sent to the Create Booking screen where they can complete their purchase and payment as with standard bookings.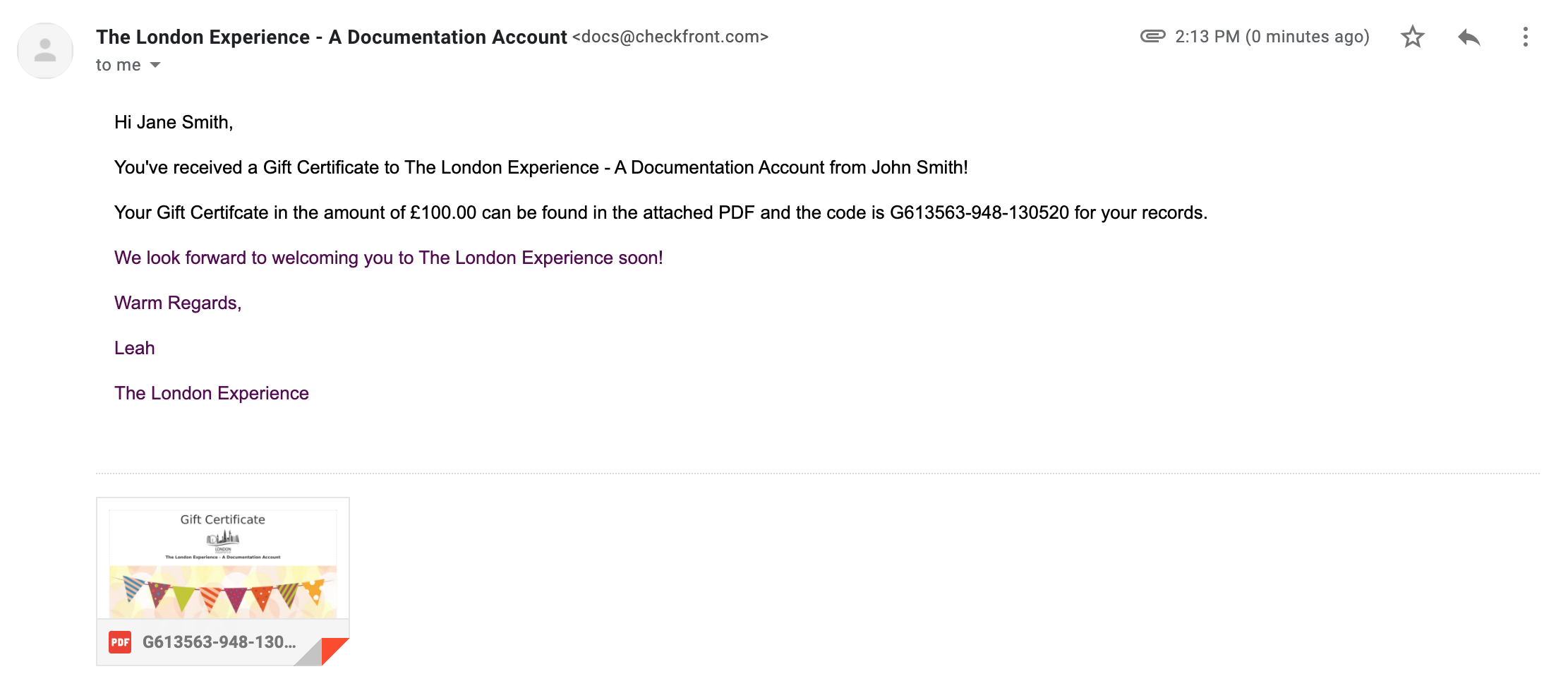 After the purchase is completed, the sender receives their usual purchase confirmation and the recipient receives their Gift Certificate as a PDF attachment to the email.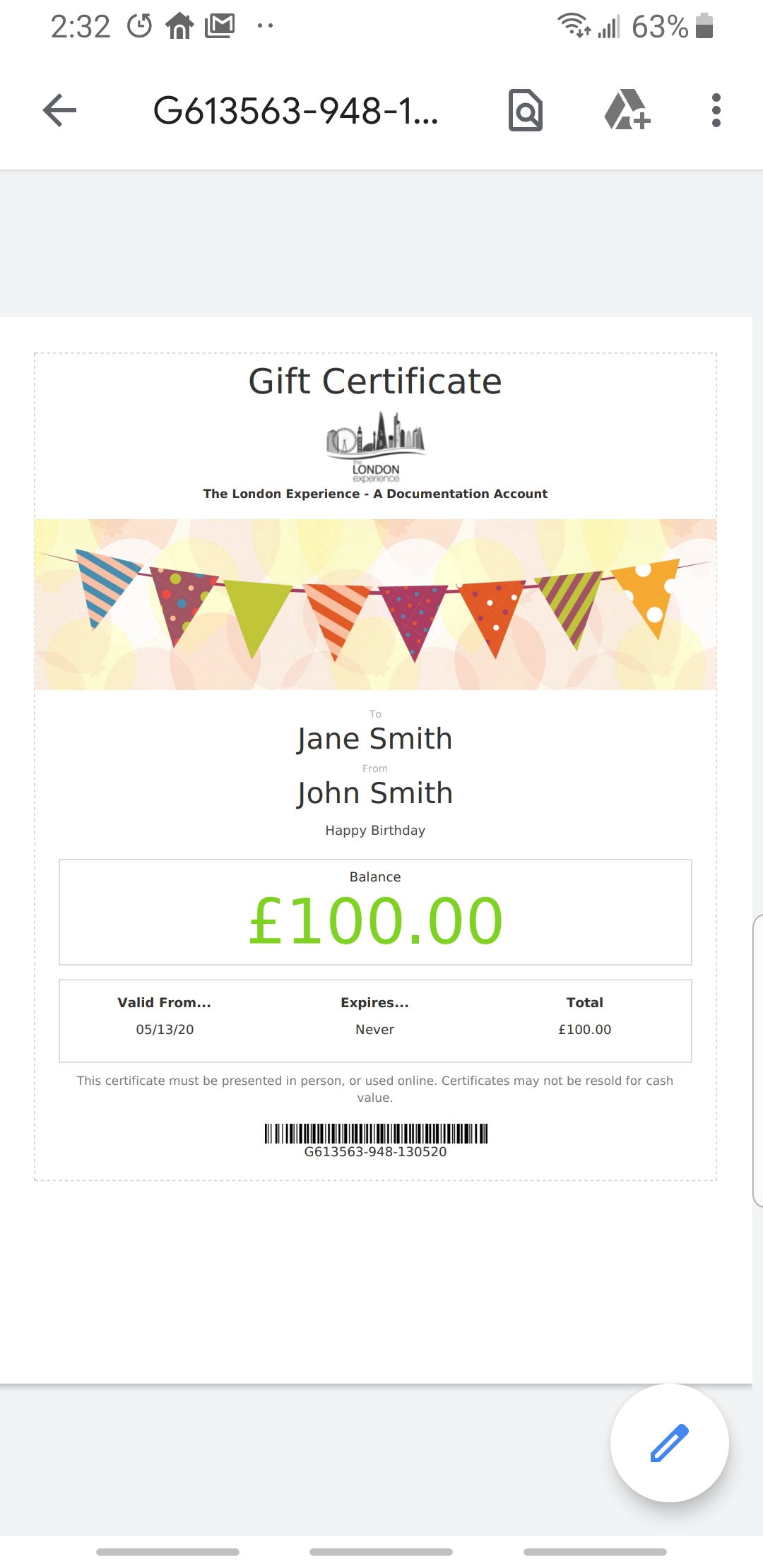 This attachment contains a barcode that could be scanned by your business via a third-party barcode scanner. The Customer can either print out the Gift Certificate or present it on their mobile device screen.
---
< Gift Certificates: Gift Certificate Notifications | Gift Certificates: Staff-Issued via Email >
---