---
Plan Availability: ✓ Soho | ✓ Pro | ✓ Plus | ✓ Enterprise | ✓ Flex |
Locate: Manage > Integrations > Conversion > Google Analytics
Prerequisites: Admin permissions to manage integrations.
In the previous article in this series - Google Analytics: Setup in Google, we reviewed setting up your Google Analytics account for E-commerce Tracking and made note of your Tracking ID.
In this article, we will cover setting up Google Analytics in Checkfront, so get ready to use that Tracking ID!
---
Google Analytics Setup in Checkfront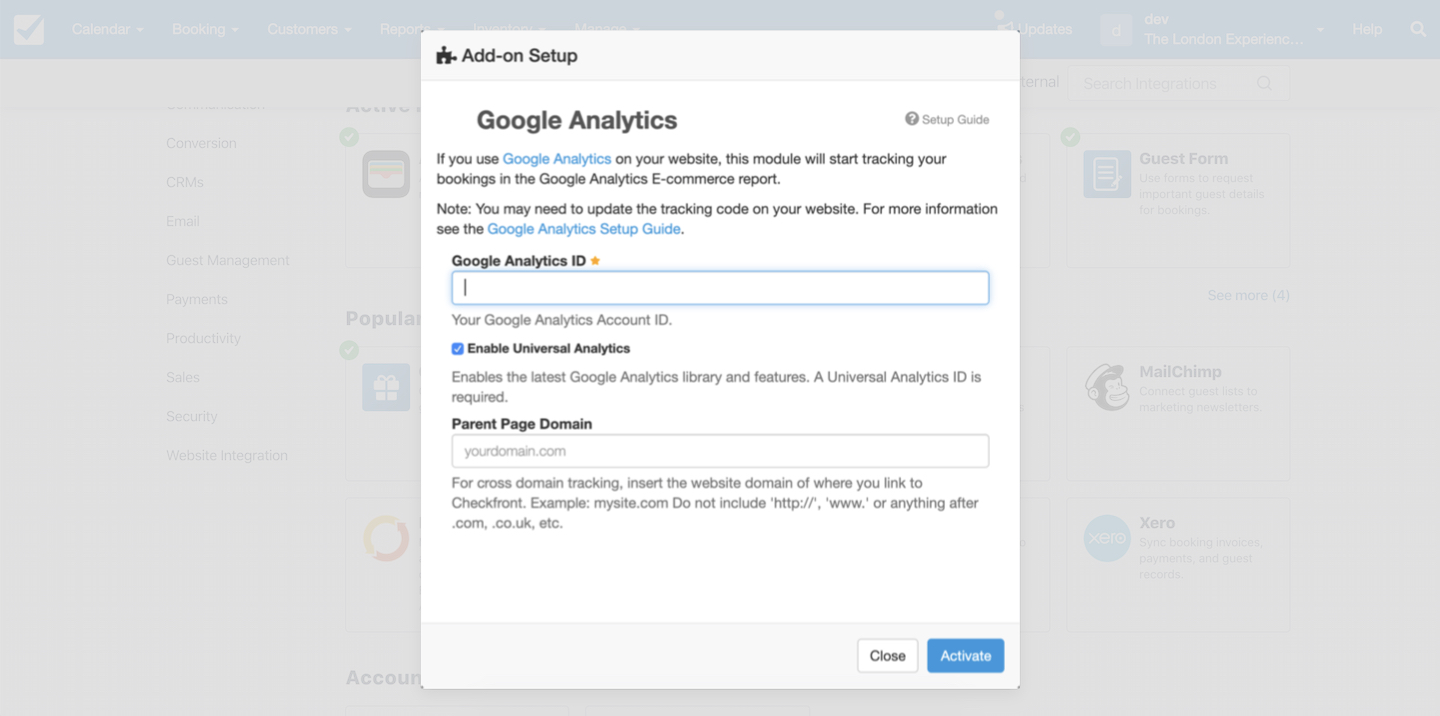 To set up Google Analytics for your Checkfront account, follow these steps.
Go to Integrated under the Manage menu in your top navigation menu.
Search for Google Analytics. It is listed under Conversions.
Hover over the Integrations and click Setup to initiate the Setup modal.
Copy and paste your Tracking ID into the Google Analytics ID field.
Keep the Enable Universal Analytics setting selected. Universal Analytics is now the operating standard for Google Analytics.
Click Activate to enable the Integration.
---
It may take up to 24 hours after the first booking for tracking data to appear in your Google Analytics reports. Reporting will show in the E-commerce section of Google Analytics. Your Checkfront inventory will be represented as products and your bookings as transactions.
Are conversions not showing up in Google Analytics?

Make sure that you have Customer-made bookings. Bookings made Staff-side do not show in Google Analytics.
Customers are most likely using adblockers or the type of browser or device they are using is not supported by Google Analytics.
No personally identifiable information on your Customers is sent to Google. Google Analytics reporting should be used as a guide, but should not be relied upon as accurate financial reporting or accounting.

Only bookings made by your Customers from your website will be included in these reports, not bookings made from within Checkfront.
---
< Google Analytics: Setup in Google | Google Analytics: Cross-domain Tracking >
---