---
Plan Availability: ✓ Soho | ✓ Pro | ✓ Plus | ✓ Enterprise | ✓ Flex |
Locate: Manage > Integrations > Channels > Viator
Industries: X Accommodations | ✓ Activities | ✓ Tours | X Rentals | ✓ Adventures | ✓ Escape Rooms | Learn More
Prerequisites:
Admin permissions to manage integrations and inventory.
A Viator account (or sign up during integration setup!)
Your account must have access to items (Inventory > Items), which is a key feature of our classic version of Checkfront.
This integration is not yet supported with products (Inventory > Products), which is a key feature of our newest version of Checkfront.
New to Checkfront - Products ✨

Products (Inventory > Products) is the successor feature to (Inventory > Items) and is available in our newest version of Checkfront.

Not yet on our newest version and interested in upgrading? Please contact our Technical Support team for more information.

Discover more product-related help articles here: Products (New).
| | |
| --- | --- |
| | You can now map your Viator products to your Checkfront items from within your Viator dashboard/product builder. Find out how to do this using Viator's helpful guide. |
---
The options you select here define how your Checkfront item parameters map to your Viator age bands.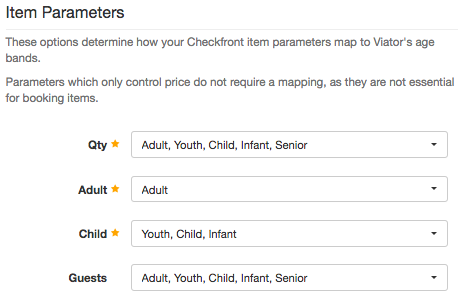 Checkfront allows you to create as many parameters as you need, which can be customized in whichever way you need. Viator, on the other hand, only offers a very specific set of parameters for use with their system.
This could make it a little bit tricky when mapping your parameters between the two systems, depending on how complicated your Checkfront setup is.
The parameters in Viator are Adult, Youth, Child, Infant, Senior. As such, you must best match your parameters in Checkfront to accommodate this.
Let's look at a simple configuration in Checkfront with parameters you may well have used in your own setup. First of all, parameter mapping is achieved by clicking on the drop-down menu for each of your Checkfront parameters, as shown below: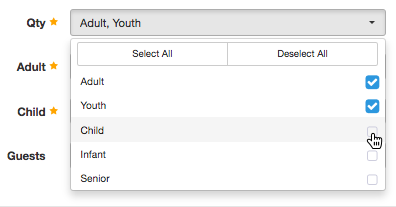 The parameters in the drop-down menu are the Viator ones. Check off each one you wish to map to the matching Checkfront parameter. Sometimes, you may need to map more than one Viator parameter to each Checkfront parameter.
Usage Examples
Here are some usage examples based on the simple Checkfront parameters Qty, Adult, Child.
Qty
In this example, the Checkfront parameter Qty (quantity) is not based on any single group of people, such as adults or children. Therefore, we must map all Viator parameters to this one.

Adult
Viator also has an Adult parameter, so this is a simple map, like-for-like.

Child
Looking at the Viator parameters, you see three that could be mapped as a child to Checkfront - Youth, Child & Infant.

So, in this case, we will select the three "child" parameters in Viator and map them to the Child parameter in Checkfront. Make sense?
Multiple Parameter Mapping

If a Viator parameter is mapped to multiple Checkfront parameters that are part of the same item, then all selected parameters are mapped automatically. It isn't possible to select only certain Checkfront parameters to map to in this instance.
Hints & Tips:

• If you cancel a booking in Checkfront, it will not be automatically cancelled in Viator. You will need to contact them directly to inform them of the change.

• If bookings are made in Checkfront, it takes time for Viator to refresh availability as Viator checks inventory at intervals.

Viator integration activation can take between 24 to 48 hours.
Availability checks are done twice a day (every 12 hours).
Inventory is checked again before the booking is confirmed.

• Checkfront cannot collect reports on commissions or guests booked through the channel. You will need to rely on Viator for this information.

• We cannot map custom guest fields with the remarks from Viator. Due to how Viator sends booking details, we cannot sync these with individual booking form fields.

• Viator provides you with the mobile phone number of the Guest but not an email address.

• If you change a schedule or timeslot of an item, then this will need to be mapped manually within Viator. As a result, changes in your schedule will take a while to reflect on Viator. You must contact Viator directly and inform them of the change(s). In the meantime, you can "close" existing trips by blocking them or setting the capacity to 0.

Checkfront handles all mapping. Some clients do their own mapping, but we recommend you contact us if you make any changes to your items.

• Changing an item's "schedule" is fine (like opening/closing dates). It is only tricky if you change the item's timeslots or SKU, as they are used directly in the "option codes" on Viator.

Viator will need this mapped MANUALLY on their side.

Checkfront handles all mapping. Some clients do their own mapping, but we recommend you contact us if you make any changes to your items.


Any changes made to items are only seen when you do your batch availability request (twice a day), so we cannot remap items immediately after changes are made.

• Items must have an inventory greater than zero to be successfully mapped to a Viator item.

• An item's visibility must not be hidden to successfully map to a Viator item. This includes staff only, package only, and child items.

• Viator is considered Staff in terms of Rule Sets in Checkfront. If you have a Rule allowing Staff to overbook associated with an item listed on Viator, Viator will look to this rule to determine availability. Viator could then potentially overbook an item. If you would prefer Viator be considered a Customer in terms of Rule Sets, then please reach out to Customer Support, who can enable this feature for you.
---
< Setting up the Viator Integration with Checkfront
---