---
Plan Availability: ✓ Soho | ✓ Pro | ✓ Plus | ✓ Enterprise | ✓ Flex |
Locate: Manage > Integrations > CRMs > Zoho CRM
Prerequisites:
Admin permissions to Manage your account and Integrations.
Your account must have access to items (Inventory > Items), which is a key feature of our classic version of

Checkfront.
This feature is not yet supported with products (Inventory > Products), which is a key feature of our newest version of

Checkfront.
New to Checkfront - Products ✨

Products (Inventory > Products) is the successor feature to Items (Inventory > Items) and is available in our newest version of Checkfront.

Not yet on our newest version and interested in upgrading? Please contact our Technical Support team for more information.

Discover more product-related help articles here: Products (New).
In this article, we look at testing the Zoho CRM integration once set up in Checkfront.
New to the Zoho CRM integration? Be sure to read the first article in this series for an introduction!
Please read the full series of articles, accessed at the side and bottom of this page, to learn more about the full capabilities of the Zoho CRM feature.
---
To test your setup, create a new booking and set the status to Reserved, Paid, or Deposit.
| | |
| --- | --- |
| | An email address must be supplied during the booking process, otherwise, you are not able to click on the link at the bottom of the invoice to access the contact/lead in Zoho. |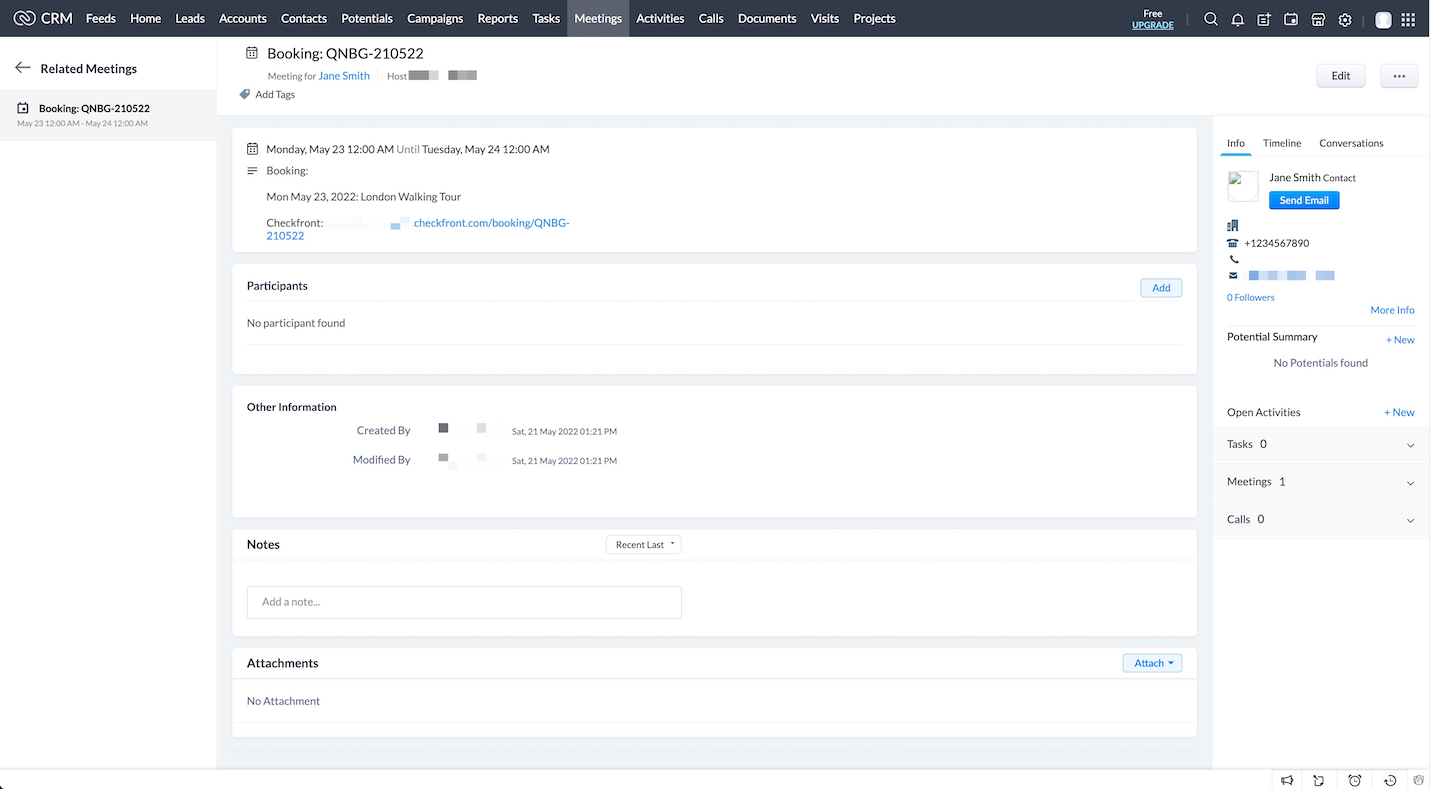 You should see the new data appear in Zoho, including the Customer contact details and booking information.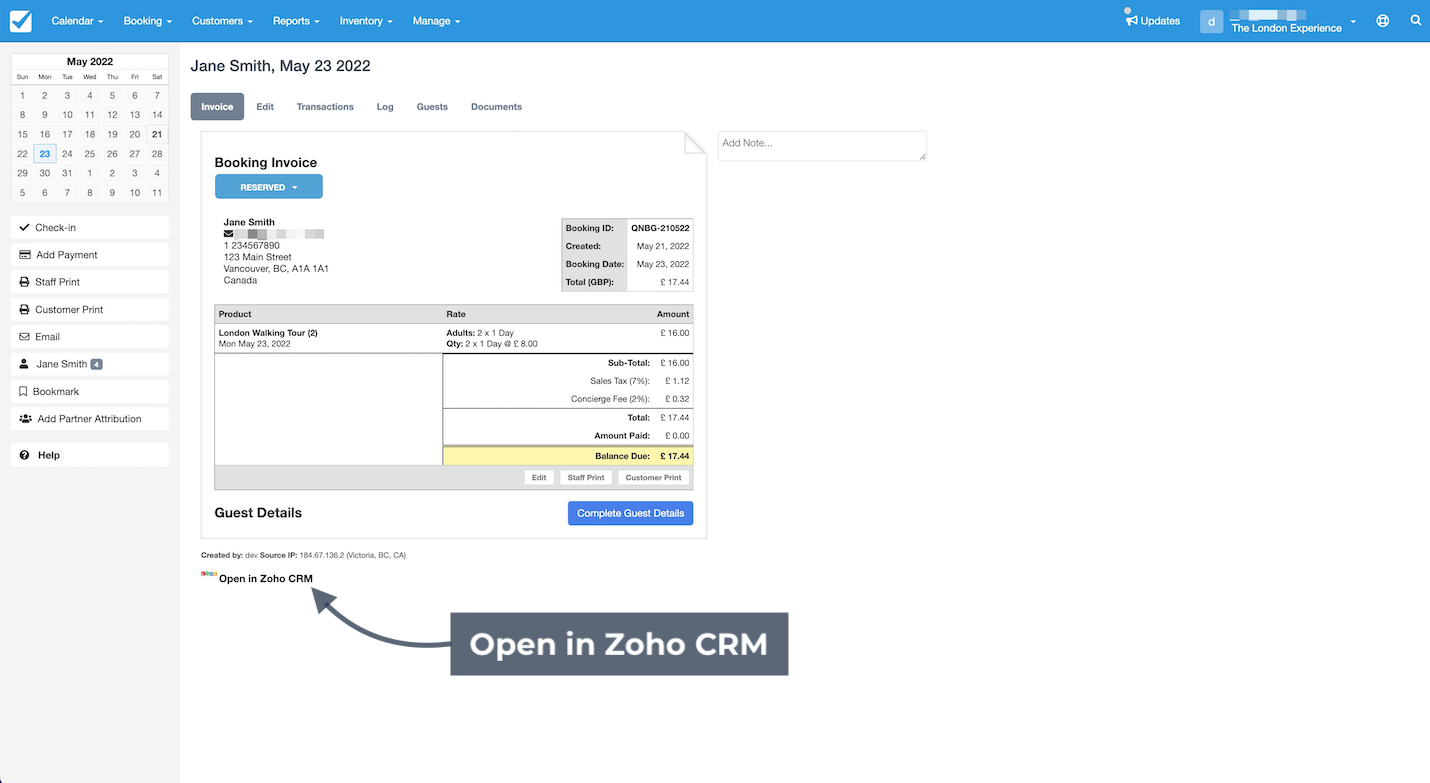 You can quickly access a Customer record in Zoho by clicking on the Open in Zoho CRM button at the bottom of your invoices in Checkfront.
Conversely, you can also access the booking in Checkfront via the booking ID link in Zoho.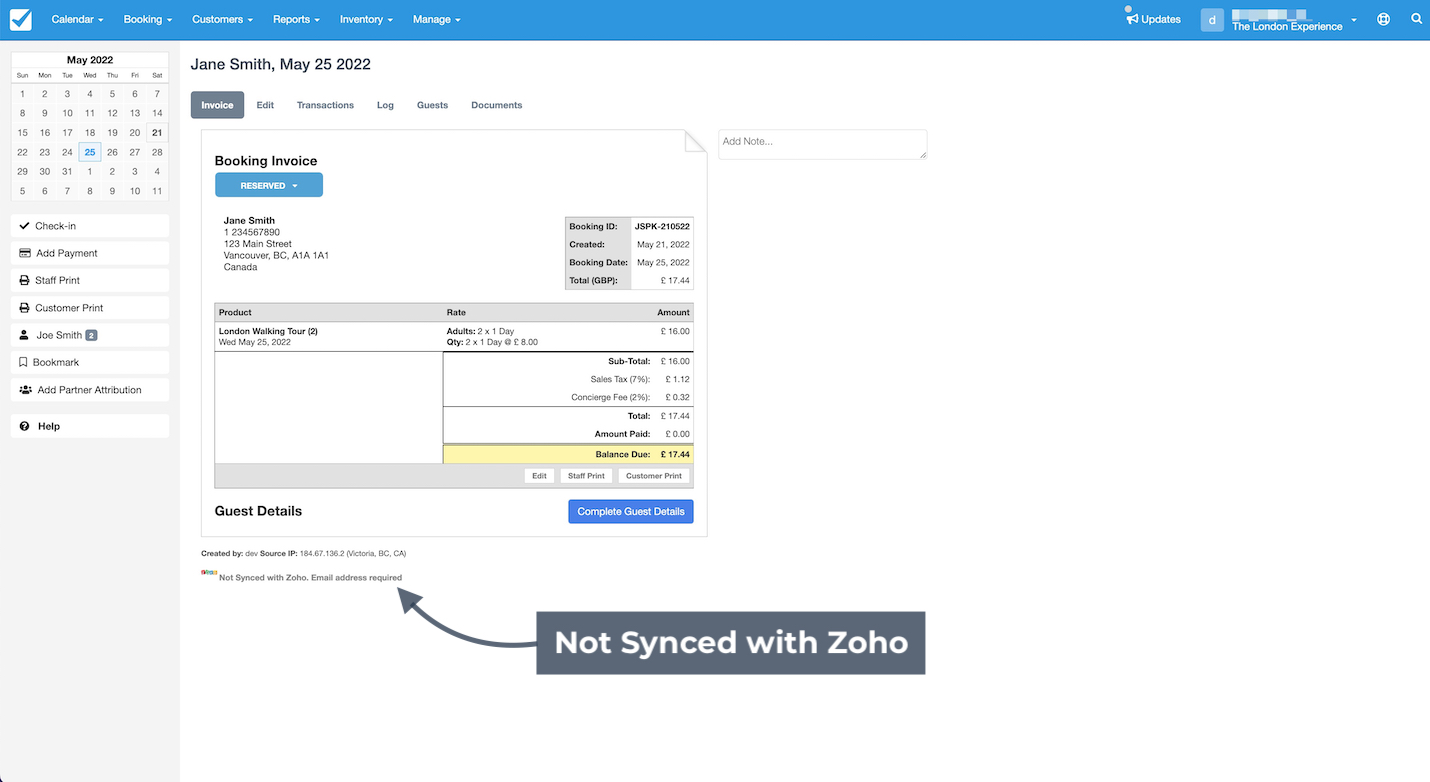 In order for a booking in Checkfront to sync with Zoho, an email address must be included; otherwise, you see the label Not Synced with Zoho. Email address required at the bottom of the invoice.
In order to remedy this, you need to edit the invoice in Checkfront and add the Customer's email address. Once you have done this, the clickable link to open the Zoho contact or lead re-appears.
---
< Setting up Zoho CRM in Checkfront | Updating and syncing data with Zoho CRM >
---