---
Plan Availability: ✓ Soho | ✓ Pro | ✓ Plus | ✓ Enterprise | ✓ Flex |
Locate: Reports > Booking Index > View Booklet
Prerequisites:
Admin permissions or restricted permissions to View all Reports or the Booking Index.
The Booking Index is available to those using items (Inventory > Items), a feature of our classic version of Checkfront.
Interested in using the Booking Index with products (Inventory > Products)? Your account must be a member of our

Early Access Program.
In this article, we cover your Invoice options from the Booking Index. In addition to the option to View a Booklet of the Invoices, you can also select one or more Invoices to bulk view, download, bookmark, and print.
Please read the full series of articles, accessed at the side and bottom of this page, to learn more about the various features of the Booking Index.

New to the Booking Index? Be sure to start with the first article in this series: Booking Index: Introduction!
---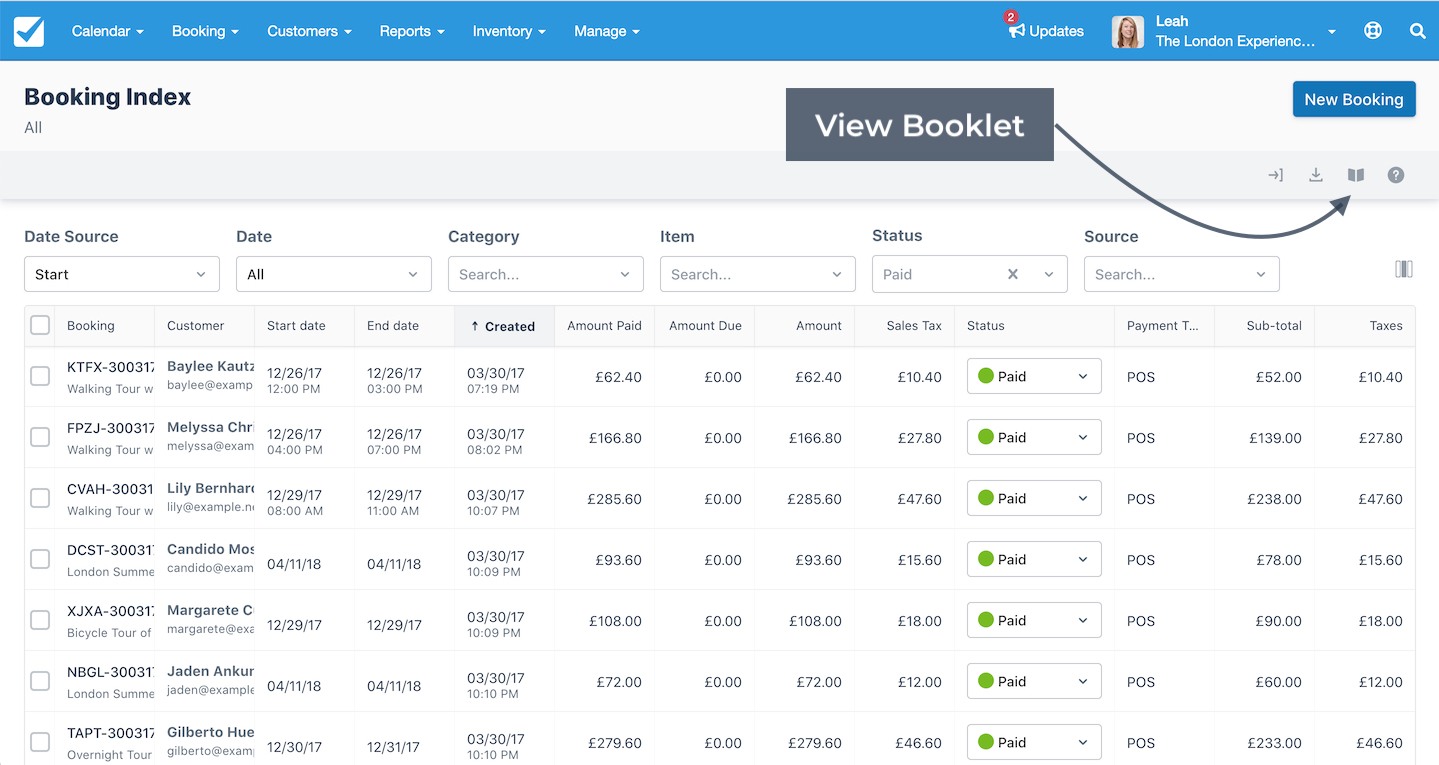 The Booking Index Booklet is a compilation of all the invoices associated with the Booking Index records considering the filters in place. The Booking Index Booklet allows you or your Staff to view invoices for a group of select bookings without having to drill down into each booking independently!
Access the Booking Index Booklet from the View Booklet icon at the top-right of the page.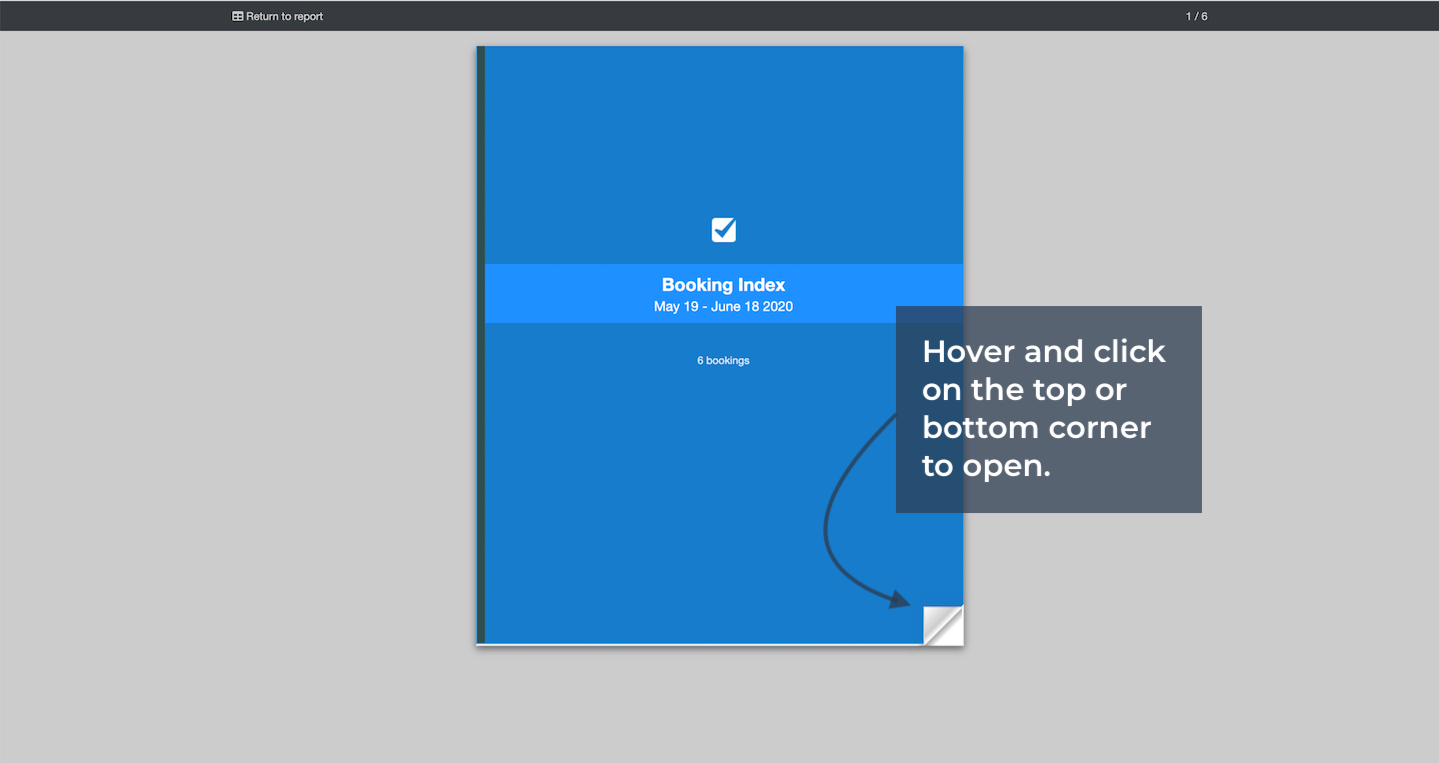 Hover and click on either the top or bottom-right corner (or use the right arrow key on your keyboard) to open the Booking Index Booklet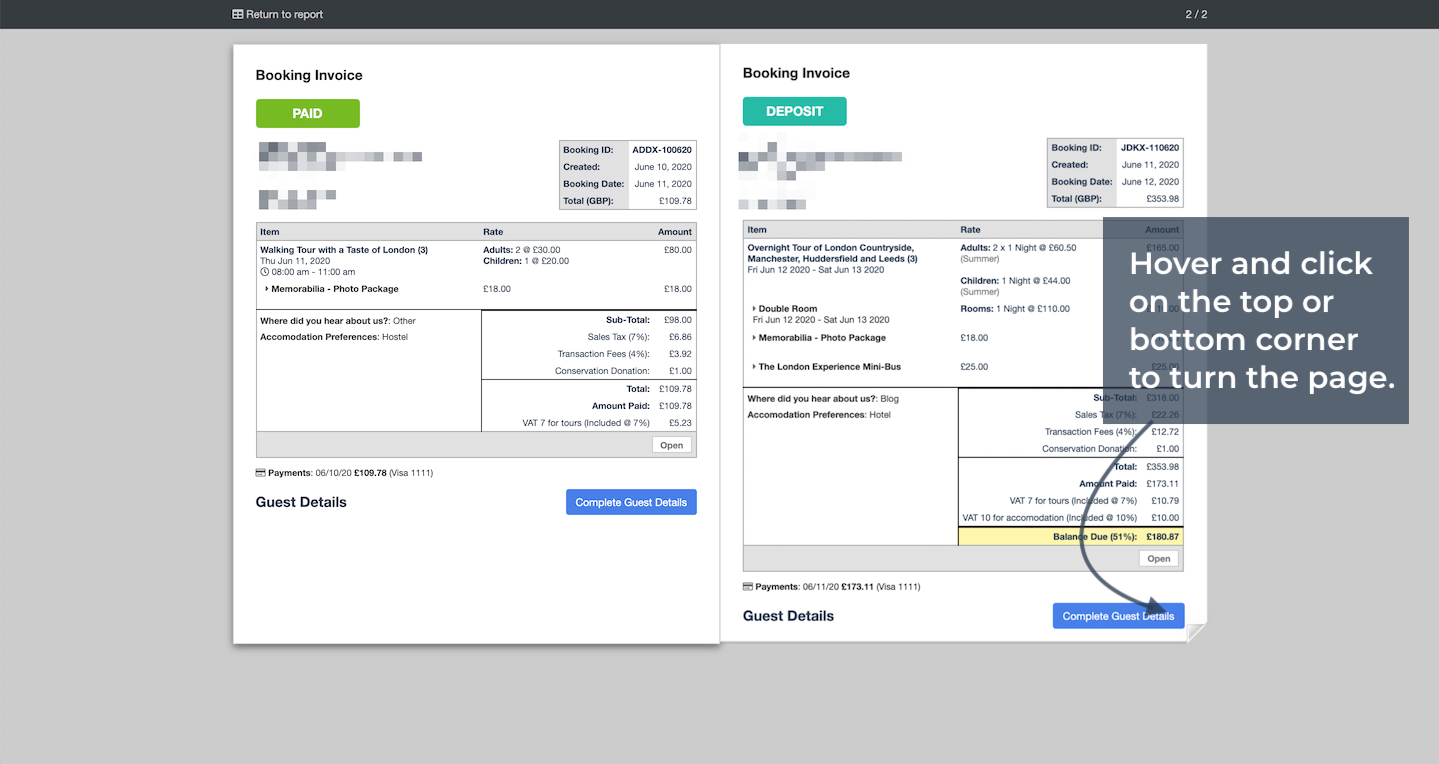 Browse back and forth through the Booking Index Booklet by hovering and clicking on the corners or use the arrow keys on your keyboard.
Click Return to Report to close this view and return to the Booking Index page.
The Booking Index Booklet displays Invoices in the order the bookings were created rather than the sort order specified in the Booking Index.

A more flexible option would be to Export the Booking Index to a third-party program, such as Microsoft Excel, to sort, view and print.
---
View, Download, Print, or Bookmark Select Invoices
Back to top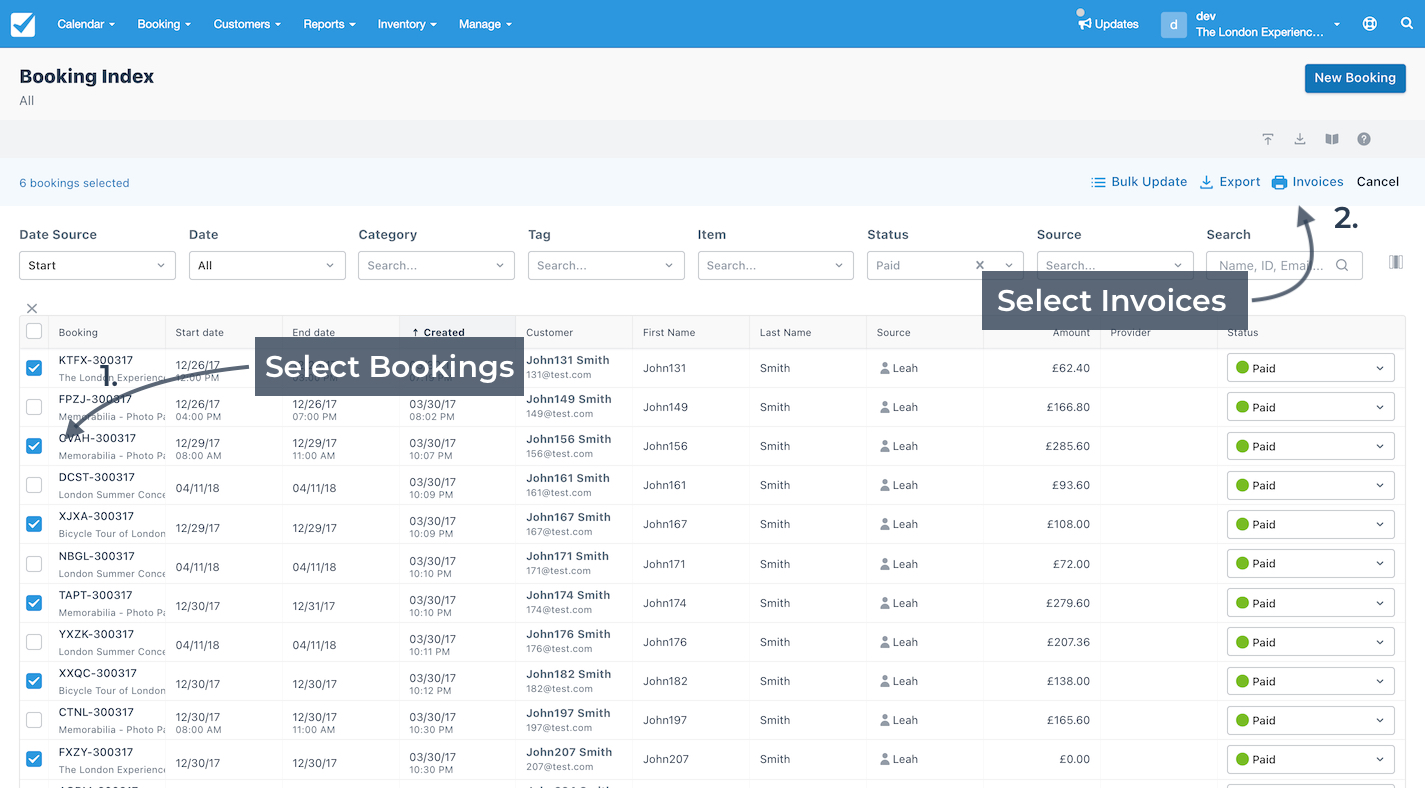 To view one or more Invoices in your browser's PDF viewer, first select those listings of interest.
If you select the checkbox next to the category, then all bookings listed under that category are automatically selected.
Alternatively, you can select one or more bookings independently by checking the boxes next to the Booking Code.
After you have selected one or more listings, a menu appears at the top of the page with the number of bookings selected and the option to access the Invoices. Click the Invoices option to open the Invoices in a separate tab.
From there, you can review, download, print or bookmark the invoices from your browser PDF viewer. This experience varies depending on which browser you are using - Chrome, Firefox, Safari, etc.
| | |
| --- | --- |
| | Looking for instructions on Bulk Updates and Exports? Learn more here: |
---
< Booking Index: Import and Export | Booking Index: External Bookings
---