---
Learn how to set up the Customer Booking Maps integration, including where the map is centred, map links on invoices, and item location maps.
New to Customer Booking Maps? Read the first article in this series for an introduction to Customer Booking Maps.
---
✓ Soho | ✓ Pro | ✓ Plus | ✓ Enterprise | ✓ Flex |


Where can I find this feature using the top menu?
Manage > Integrations > Communication > Maps


What prerequisites are there?
Admin permissions to manage integrations.
The Country, City, or ZIP code you want to use with the Map!


Which Checkfront version supports this feature - classic, new, or both?
The Customer Map feature is available to both those using items (Inventory > Items), a key feature of our classic version of

Checkfront, and those using products (Inventory > Products), a key feature of our newest version

of

Checkfront.
New to Checkfront - Products ✨

Products (Inventory > Products) is the successor feature to (Inventory > Items) and is available in our newest version of Checkfront.

Not yet on our newest version and interested in upgrading? Please contact our Technical Support team for more information.

Discover more product-related help articles here: Products (New).
---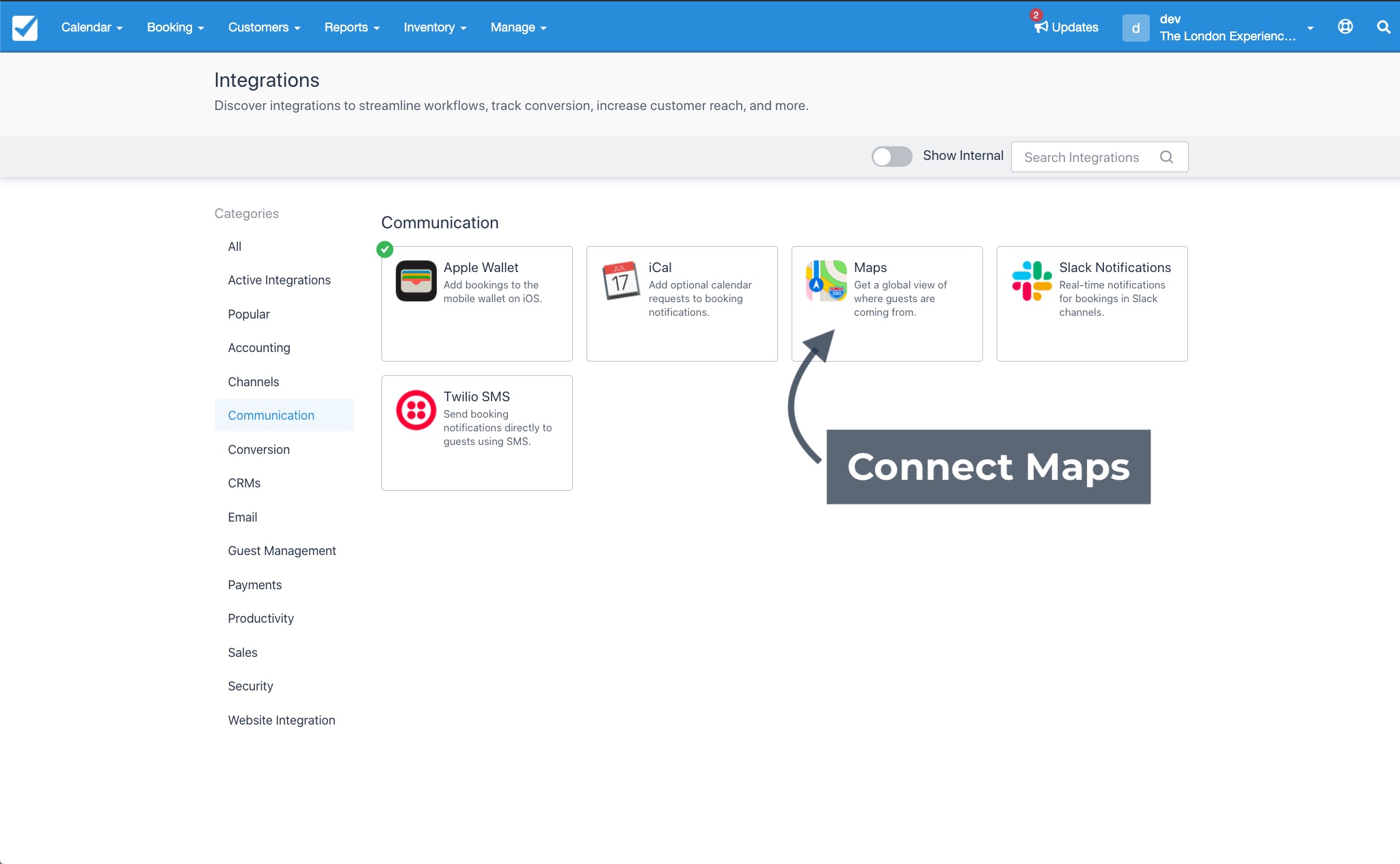 To activate the Maps integration in Checkfront, navigate to Integrations (Manage > Integrations > Communication), and click the Maps listing.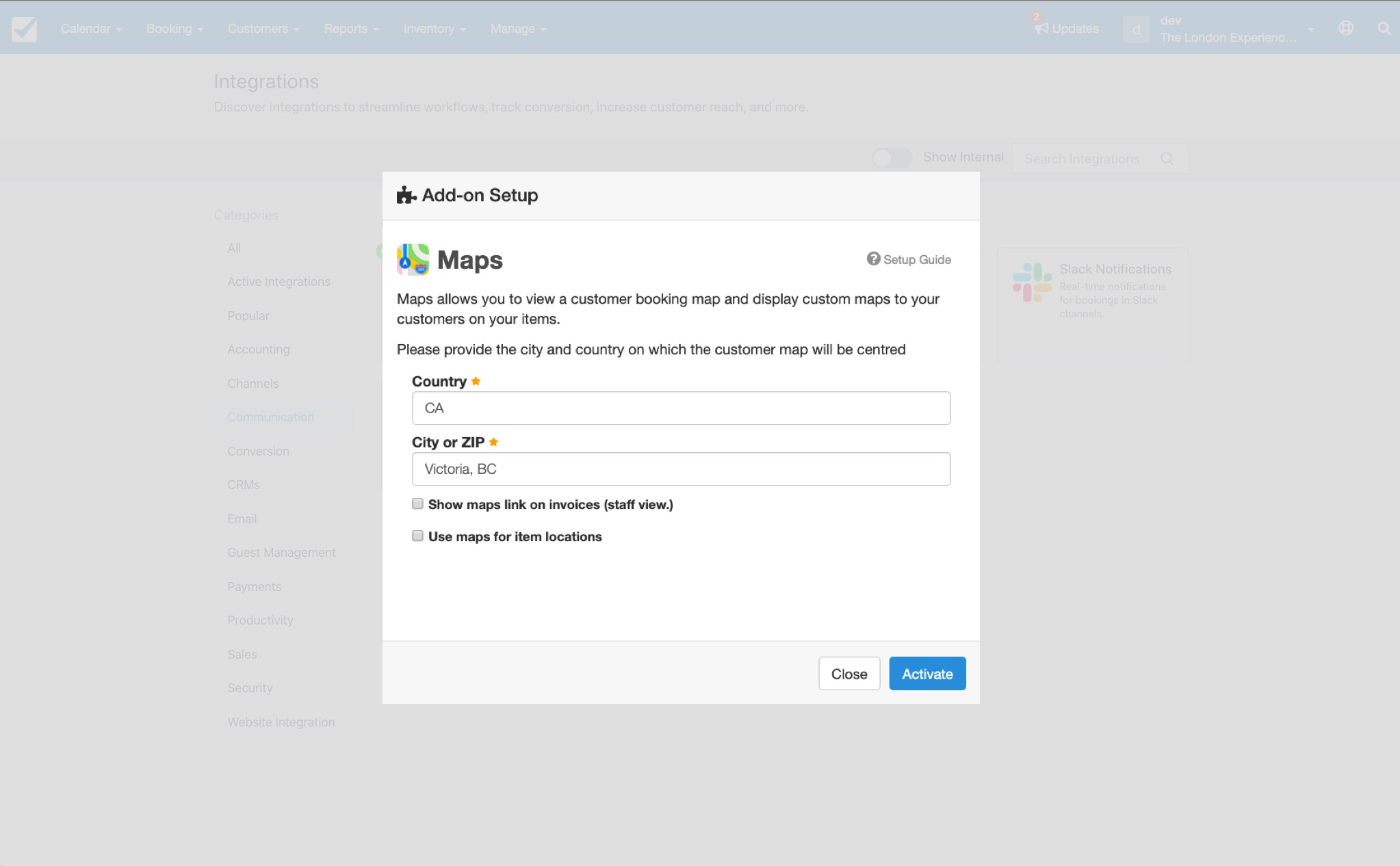 From the Add-on Setup modal, enter the Country and City or ZIP that you want the Customer Booking Map to centre on.
Specifying a country, city, or ZIP code allows you to customize the focus of the Customer Map. This can be a location that doesn't necessarily match your business address.


For example, some businesses might be located in the UK, but operate their tours in Spain. It would, therefore, make more sense to center the Map on Spain.

If you don't specify a city or zip code, then map centres on the capital of your chosen country.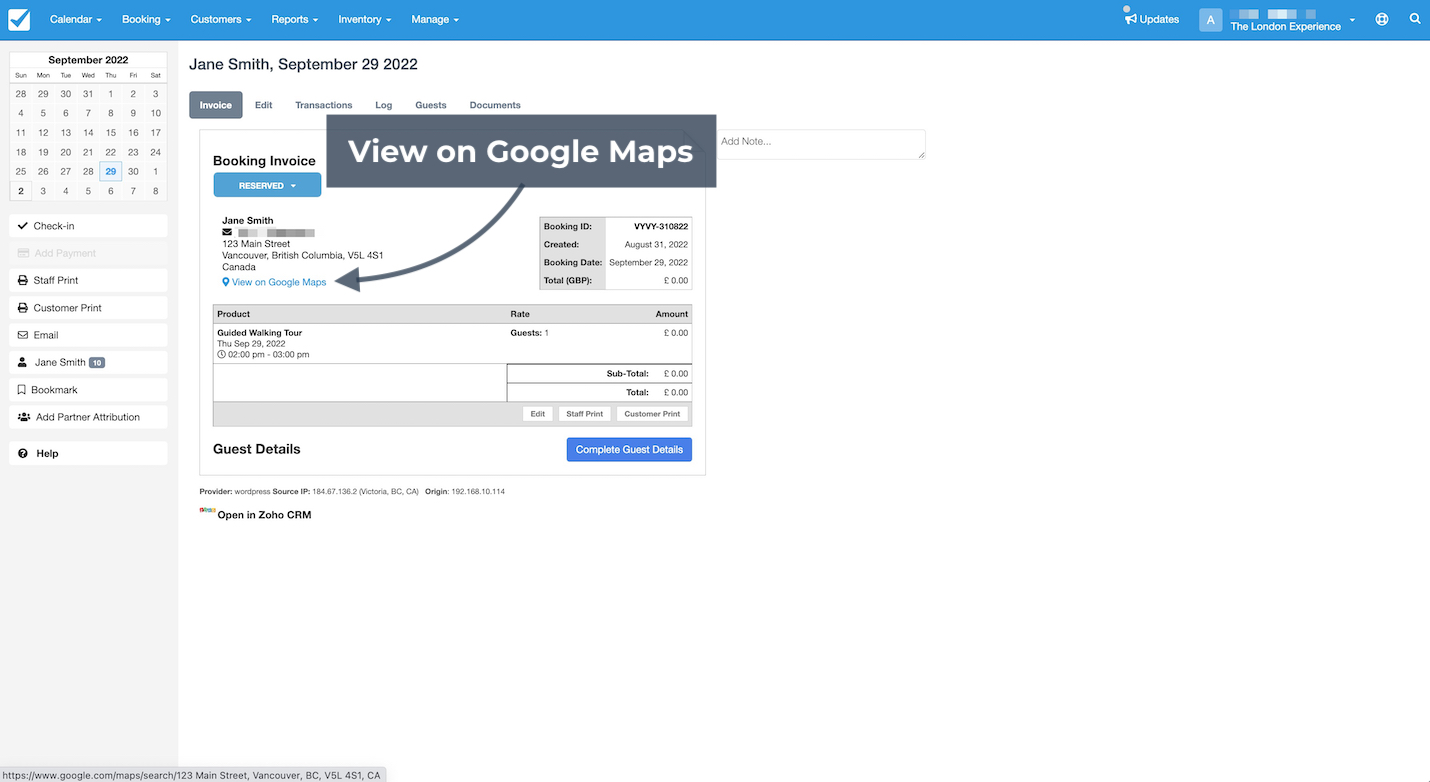 With the Show map links on invoice option selected, a link to Google Maps, pinpointing the Customer's location, is displayed within the invoice.
To view the Customer's location, hover your cursor near the Customer's address on the invoice to reveal the View on Google Maps link. Click on the link to open Google Maps. This option is only visible to Staff Members and is not shown on the Customer's invoice.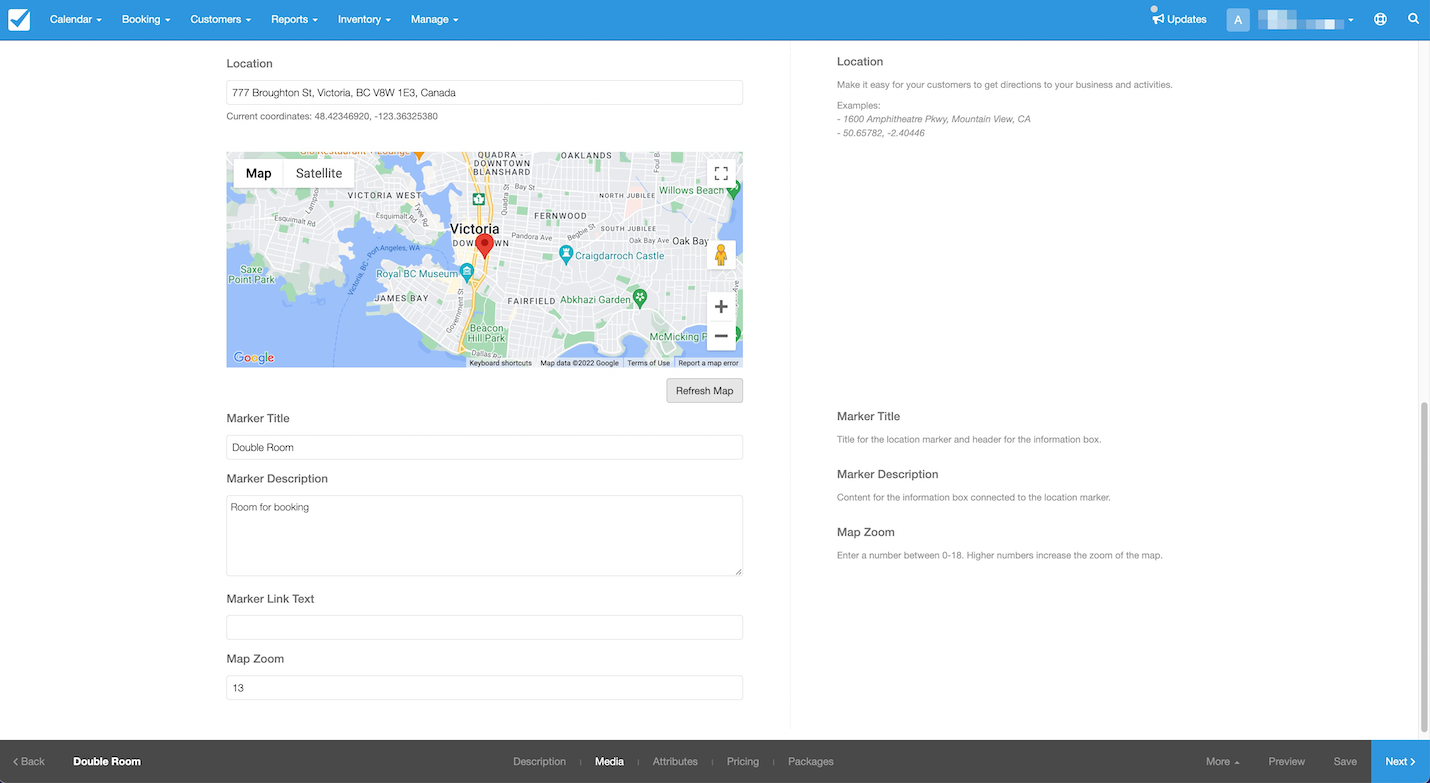 You can specify the address for the item's location under the Media tab when editing an item.
| | |
| --- | --- |
| | Learn more about configuring the map from within the item builder here: |
| | |
| --- | --- |
| | Currently, the Use maps for item location option does not apply to products created in our Product Builder. |
Make sure to click Activate to enable the integration!
In the next article, we look at map clusters in the Customer Booking Map.
---
< Introduction to the Customer Booking Map | Viewing location clusters within the Customer Booking Map >
---