---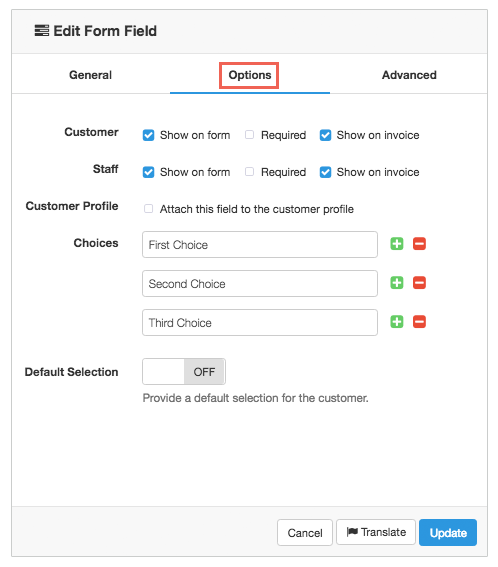 Customer/Staff Only Fields:
You can choose whether or not to show certain fields to your customers on the booking form and/or invoice. You can also decide whether these fields are visible to staff members also. You may want your staff to collect information when taking bookings over the phone, but not want those fields visible on the public booking form. Set that up here. 
You can also control whether or not a field is required. 
Checkfront Tip:

When a staff member edits a booking, they will see fields that are normally hidden to staff. This gives staff the power to edit a customer only booking field.
Customer Profile
Checking the customer profile option configures the booking form to add the response received via the field during checkout to the profile of the customer making the booking. This information will then autofill in the future when the customer makes a new booking.

This option is visible to all field types.
Choices
If you've selected a field type that requires choices, such as the drop-down menu, multiple checkboxes, or the radio filter, you can manage the field choices here.

The choice labels are fully editable and a field can be removed by clicking on the red minus icon to the right of the field.
Additionally, a new field can be added by clicking on the green plus sign icon to the right of the field.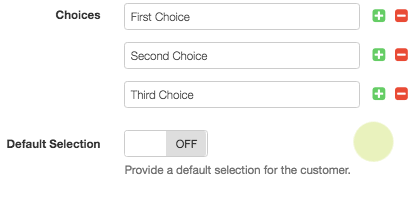 The new field will be added directly below the field of which you clicked the plus sign icon, as seen in the animation above.
Checkfront Tip:

At this time, field choices cannot be rearranged. To do that, you will need to manually change the labels.
Default Selection
The default selection switch will display when you have selected the multiple choice fields, drop-down select field, or the radio filter.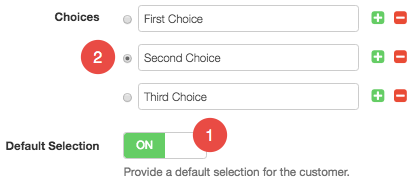 After activating the switch (1), a radio button will appear to the left of each field (2). Select the field you wish to be presented as the default choice to the customer. Of course, the customer can change this to something else if they wish.
Other Field Type Options
Value
If you wish to display a default value for the field, add that here. This option will only display if you have selected the single line text field or the paragraph text field.
Contact Info
If you wish to display the contents of the field in the contact section of the customer's invoice, select this option.

Display 'Other' Option
Sometimes your customer may wish to provide an answer that isn't included in your choices. In this case, you have the option to add another field.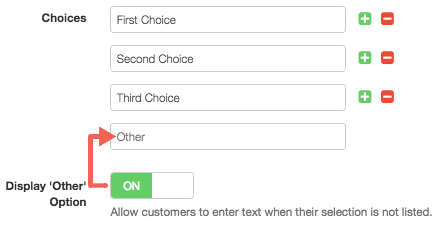 Once you activate the switch, a text field pre-filled with Other will appear below the other choices. The customer can choose to enter their answer here if the other choices are not relevant to them.
This option is available to the multiple choice fields.
---
< Booking Form & Field Editor: General Tab     |     Booking Form & Field Editor: Advanced Tab >
---