---
Plan Availability: ✓ Soho (One language only) | ✓ Pro | ✓ Plus | ✓ Enterprise | ✓ Flex |
Locate: Manage > Languages
Prerequisites:
The Checkfront Translations feature is available to all plans.
Admin permissions to access and manage Languages (Manage > Languages).
Checkfront Translations are available to those using items (Inventory > Items), a feature of our classic version of Checkfront.
Interested in using Checkfront Translations with products (Inventory > Products)? Your account must be a member of our

Early Access Program. Please reach out to

Checkfront Technical Support

to learn more.
New to Languages? Be sure to read the first article in this series for an introduction to this feature!
---
---
In the previous articles in this series, we looked at how to offer your Booking Pages in more than one language, e.g. English or French.
However, your account's default system-wide language (e.g. English) is configured via the Language setting (Manage > Setup > Locale). We support a number of translations of these languages - both shared and private.
By default, you have access to a number of shared language translations that reflect your default system language options.
Click on the name of the translation to review the values for each text string.
Warning

Editing a shared translation affects other operators using this translation. Please create a private translation, if you need to customize what is presented by default.
You may notice that some of the available languages are not fully translated yet or you may simply wish to word a language string slightly differently.
You are able to create a private language translation for your account and make whatever changes you like, without affecting other Checkfront Customer's accounts.
To do this, navigate to the Locale area (Manage > Setup > Locale) and click on the language pack link underneath the Language selection menu.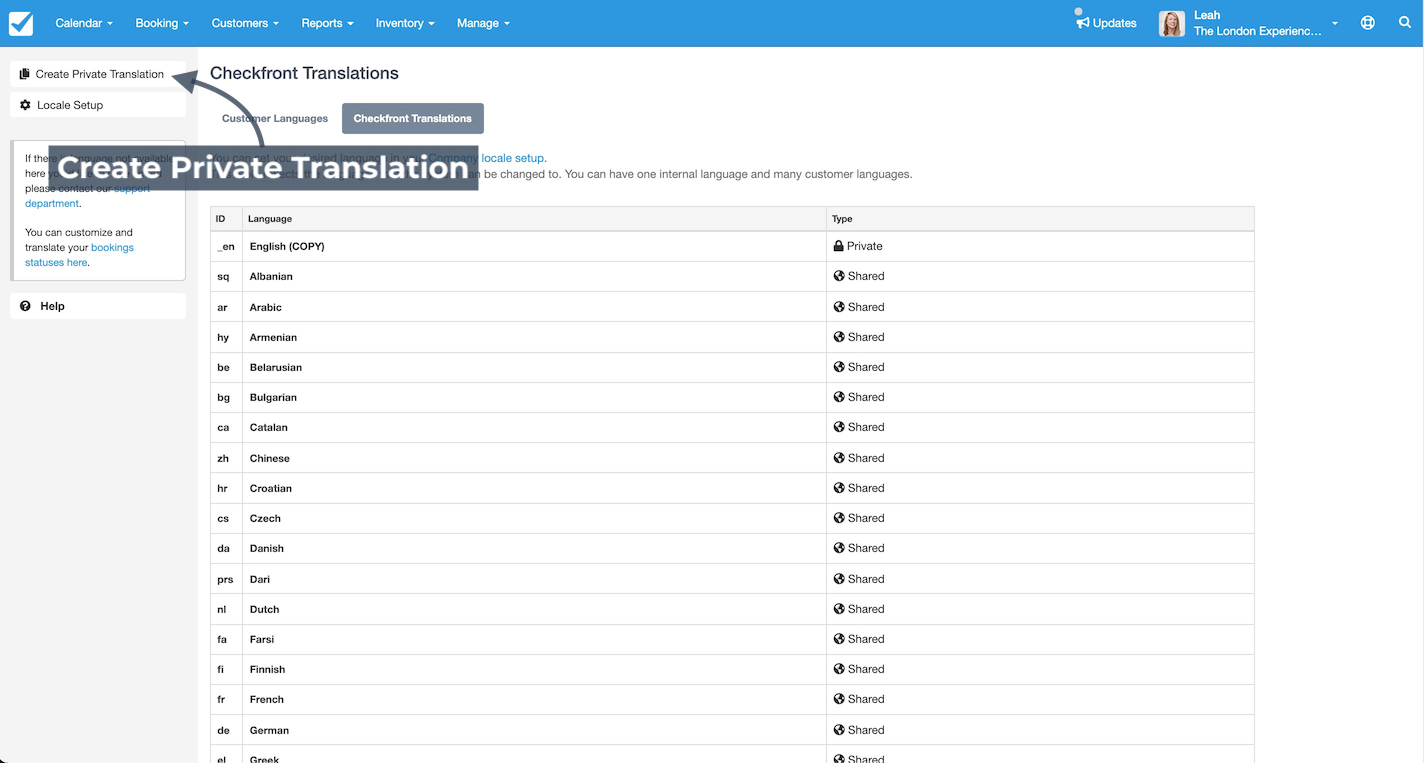 After clicking on the language pack link, you are presented with the Checkfront Translations tab. Click on the Create Private Translation button in the left sidebar to get started.
You can also navigate directly to the Checkfront Translations tab (Manage > Languages) to create and edit a private language pack.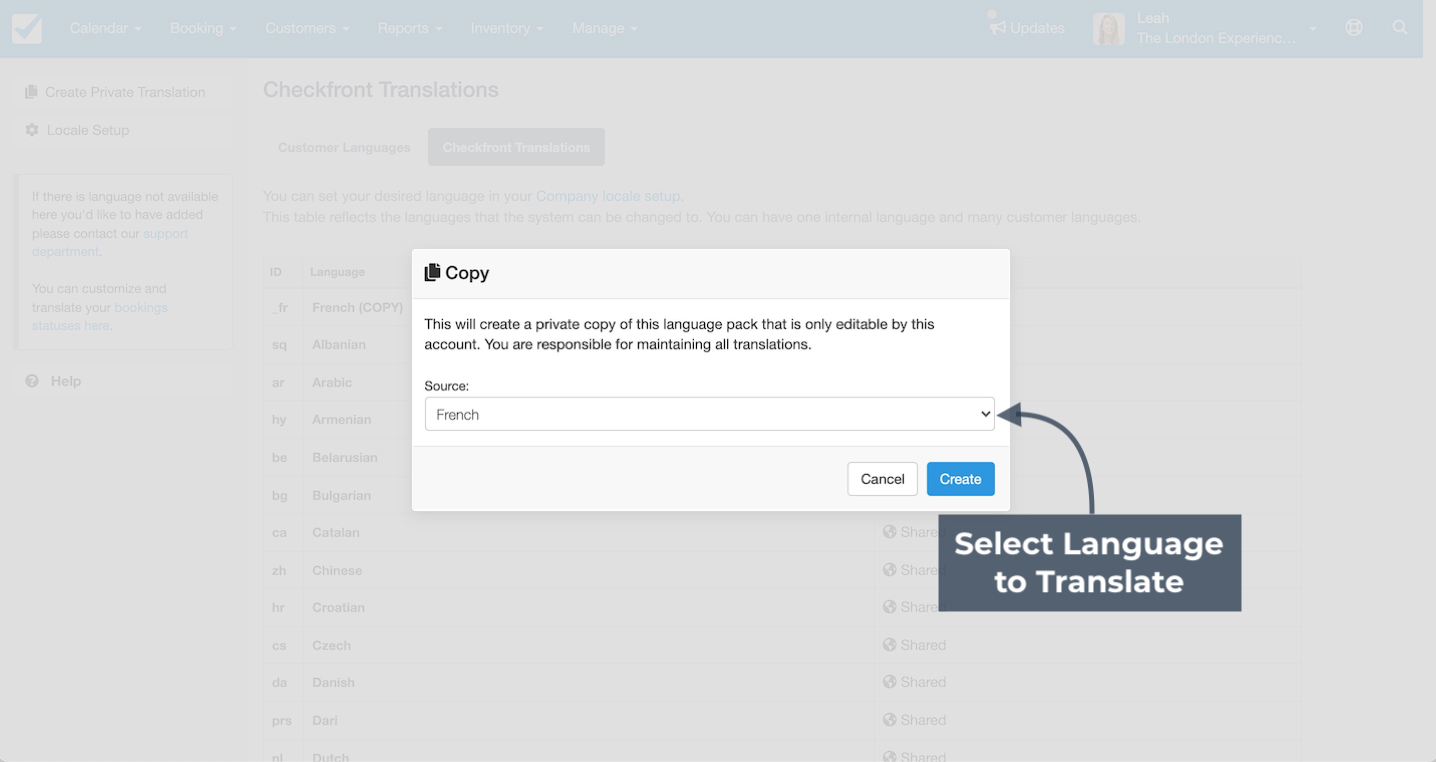 From the dropdown menu in the resulting pop-up window, select the language you wish to translate and click Create.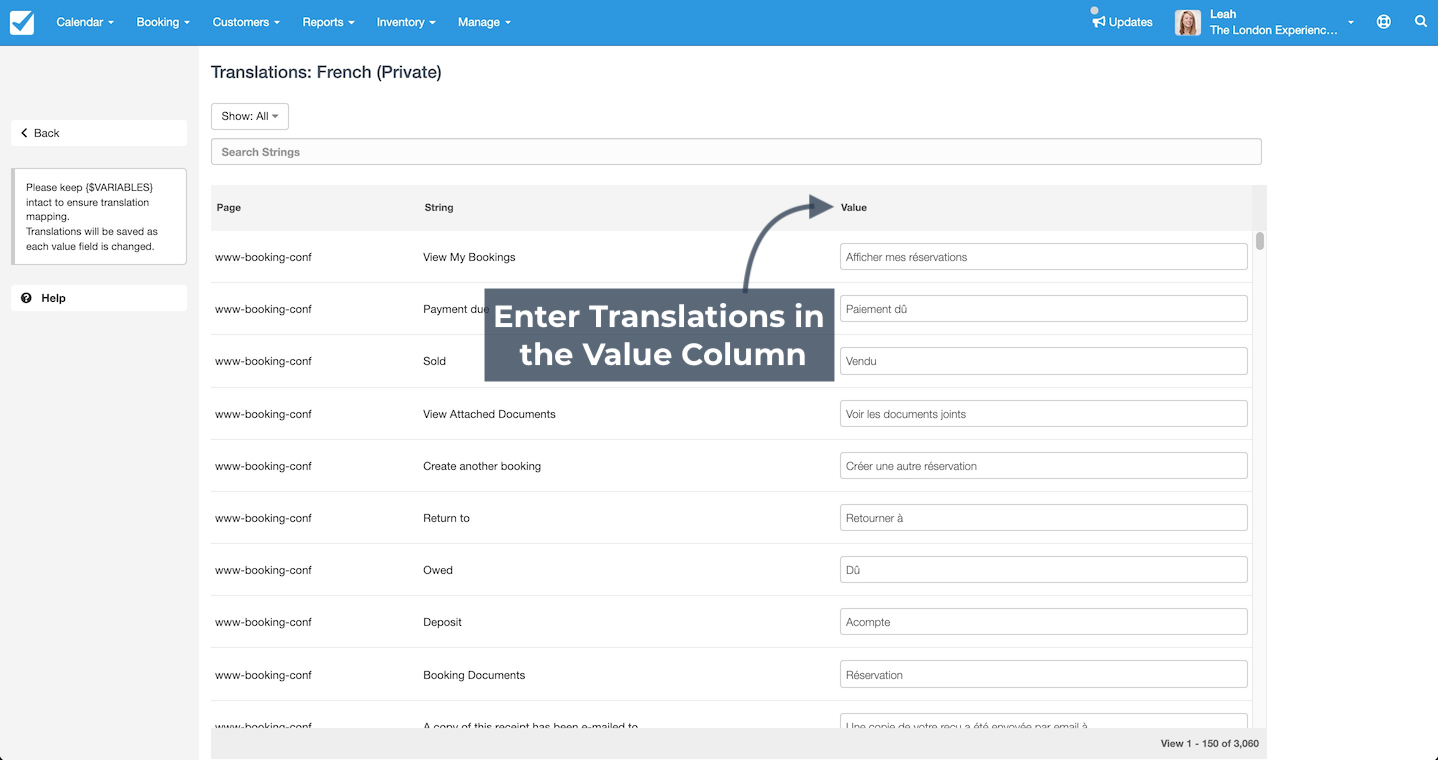 The next step is to simply type your translations into the fields within the Value column. Changes are saved automatically when clicking outside of a field.
You can also search for particular language strings using the search box at the top of the list.
| | |
| --- | --- |
| | Have you created a private language translation? Then, be sure to activate the private translation pack by selecting it as the new default language in the Locale area (Manage > Setup > Locale). |
---
< Languages: Notification Language |
---