---
Prerequisites:
WordPress is available to those using items (Inventory > Items), a feature of our classic version of Checkfront.
Interested in using WordPress with products (Inventory > Products)? Your account must be a member of our

Early Access Program. Please reach out to

Checkfront Technical Support

to learn more.
Early Access Program

The new product feature mentioned in this article is currently part of our Early Access Program, which means it is available to select Customers to try out and provide us with feedback.

To learn more about becoming part of our Early Access Program check out our related blog post or contact our Technical Support team.

Find our complete set of help articles related to the Early Access Program here: Early Access Program.
---
That's it, now! You should have selected all the options that make the most sense in terms of your requirements. It's now time to generate the shortcode for your website. Click on the Generate Code button and copy the resulting shortcode to your clipboard.

Once you've pasted the shortcode into your web page, publish it and check out your results.
With the shortcode pasted to your clipboard, head back over to WordPress and locate/create the page/post in which you wish to embed the booking portal. Place the shortcode wherever you would like the portal to appear. This may be before, after, or somewhere within your page content.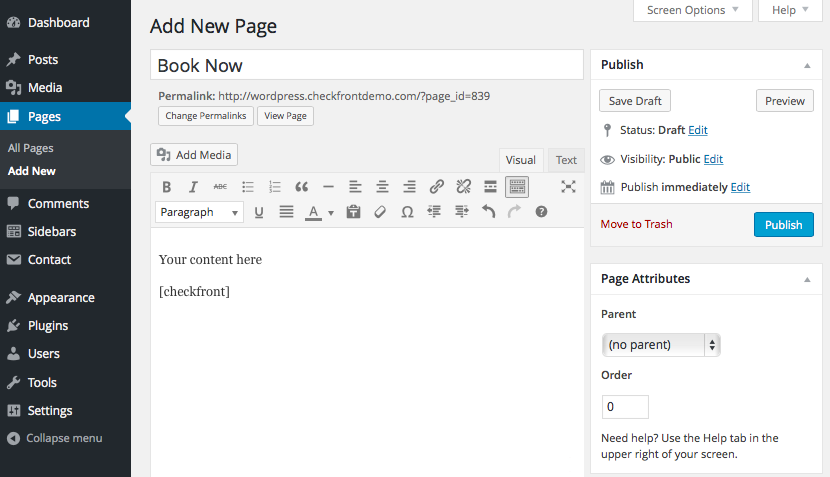 Adding some of the arguments from the list lower down this page controls how the booking portal appears and the information it contains. Below is an example of what this shortcode might look like: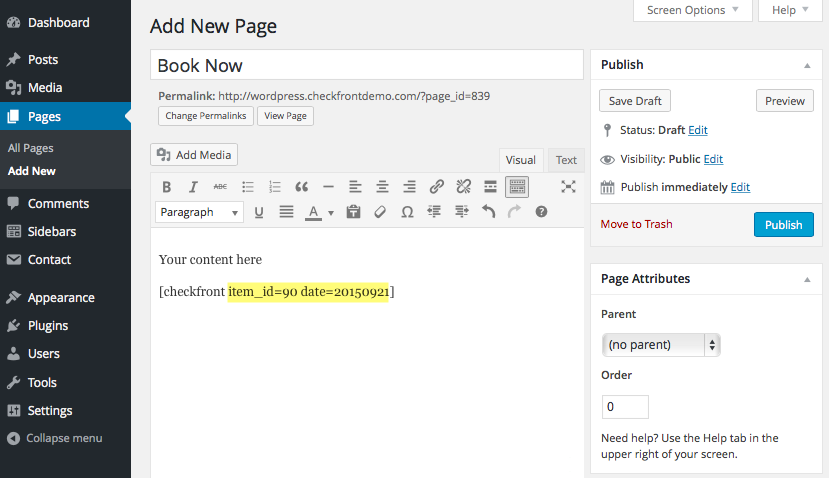 ---
Following is a list of arguments that can be added to the basic [checkfront] shortcode to change the look and behaviour of your booking portal.
Show specific items: [checkfront item_id="3,8,37"]
Show specific categories: [checkfront category_id="2,3"]
Limit upcoming events to specific category: [checkfront filter_category_id="3"]
Tabs as categories: [checkfront options=tabs]
Hide search and calendar: [checkfront options=hidesearch]
Together, they look like this: [checkfront options=tabs,hidesearch]
Include an automatic discount code: [checkfront discount_code="insert_code"]
Font colour: [checkfront style="color: #000000"]
Font family: [checkfront style="font-family: arial"]
Background colour: [checkfront style="background-color: #873333"]
Together, they look like this: [checkfront style="color: #000000; background-color: #873333; font-family: arial"]
Fast forward to specific date: [checkfront date="20141224"]
Add an end date: [checkfront end_date="20140131"]
Tracking ID: [checkfront tid="promo-page"]
See campaign tracking for more information on using tracking IDs.
Set default booking portal language: [checkfront lang_id: "en"]
Set default customer language. Customers can change this from the menu bar. Supercedes lang_id: [checkfront locale_id: en_US"]
---
After configuring the WordPress plugin and adding the shortcode to your web page, you may experience an issue whereby the Booking Page does not appear when the website is viewed live on the web. Instead, you see a message that says "Searching Availability".
There are two things you can do to fix this issue. The first is to simply use the Booking Widget method to add the booking page to your web page.
Alternatively, if you wish to use the WordPress shortcode, then you can follow the instructions below to get it working as expected:
1. Navigate to Manage > Integrations > Website Integration in the Checkfront Booking Manager.
2. Click on the Booking Widget tile.
3. Click on the blue Generate Code button.
4. Copy the first line of the provided code to your clipboard.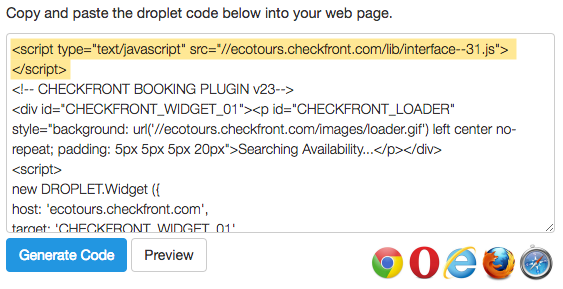 5. Paste the code you just copied into the header of the page on which the booking portal appears. Your theme may have an option to add code to the header, but if not, then you can download a plugin to do the job. Once you've done that, the booking information should be displayed correctly on your web page.
---
< WordPress Plugin: Configurable Options
---