---
Plan Availability: ✓ Soho | ✓ Pro | ✓ Plus | ✓ Enterprise | ✓ Flex |
Locate: See inline below
Industries: ✓ Accommodations | X Activities | X Tours | X Rentals | X Adventures | X Escape Rooms | Learn More
Prerequisites:
Admin permissions or restricted permissions to access Reports & Booking Data.
Access to your GetYourGuide account to manage bookings and Checkfront account to view bookings.
The GetYourGuide feature is available to both those using items (Inventory > Items), a key feature of our classic version of

Checkfront, and those using products (Inventory > Products), a key feature of our newest version

of

Checkfront.
New to Checkfront - Products ✨

Products (Inventory > Products) is the successor feature to (Inventory > Items) and is available in our newest version of Checkfront.

Not yet on our newest version and interested in upgrading? Please contact our Technical Support team for more information.

Discover more product-related help articles here: Products (New).
In this article, we cover where to find your bookings and how to be notified as well as where to do your booking edits and payment reporting!
New to GetYourGuide? Be sure to read: Introduction to GetYourGuide and Setting up the GetYourGuide integration in GetYourGuide before getting started!
---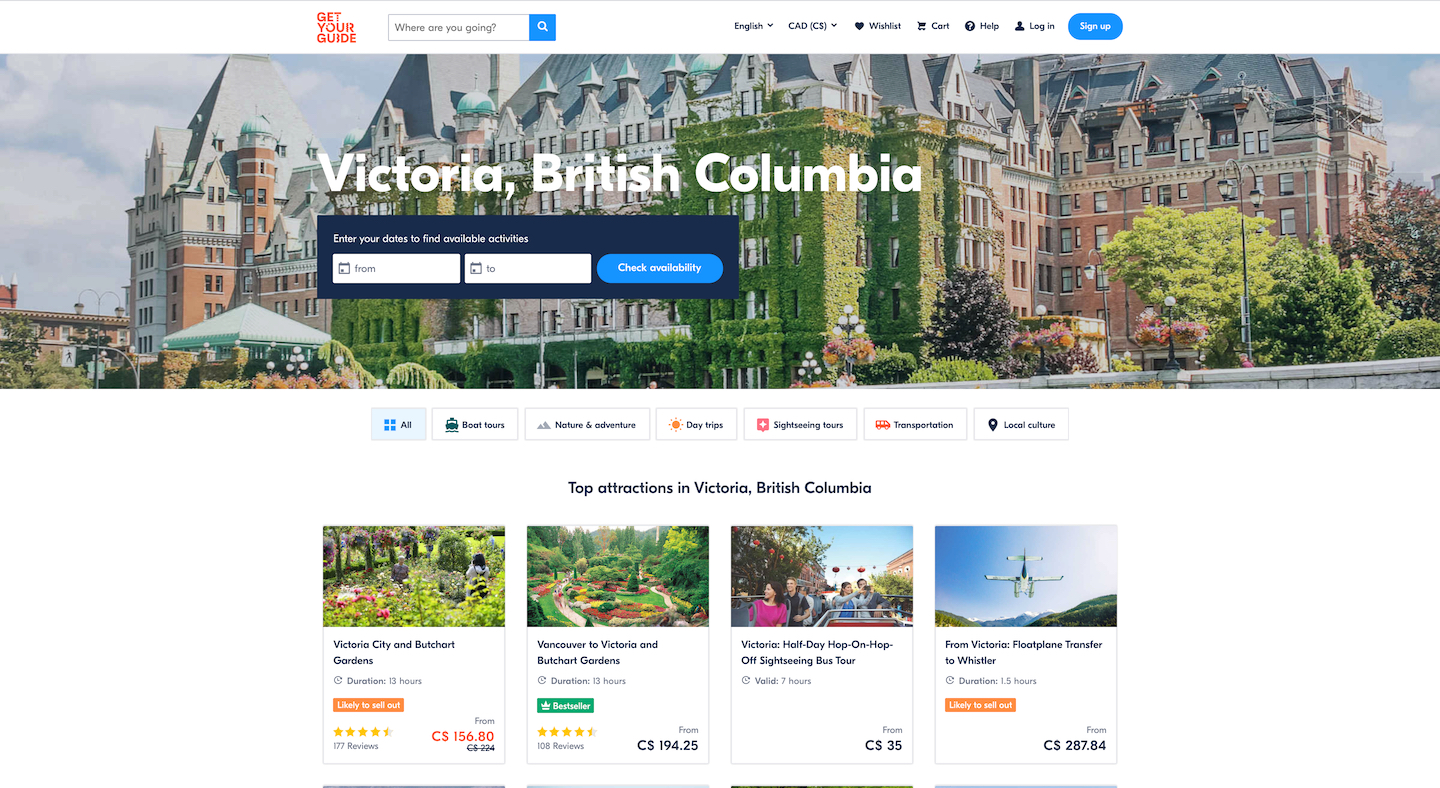 Bookings, of course, are done by Guests through GetYourGuide!
GetYourGuide notifications are sent when bookings are made. Notifications can be configured within GetYourGuide (Account > Notifications).
Custom Checkfront email notifications can also be configured based on the Paid in GYG status. Learn more about Checkfront email notifications here: Notifications (Booking Status): Introduction.
Checkfront email notifications allow you to collect richer information through Waivers and Guest Details.
Inventory Holds

GetYourGuide holds inventory for 60 minutes, compared to the standard 15 minutes in Checkfront for pre-bookings.

As a result, Checkfront inventory reserved through GetYourGuide be also be held for 60 minutes to align with GetYourGuide. Inventory is released after that time frame if the booking is not completed and the Guest is informed that the inventory is no longer available for payment.
---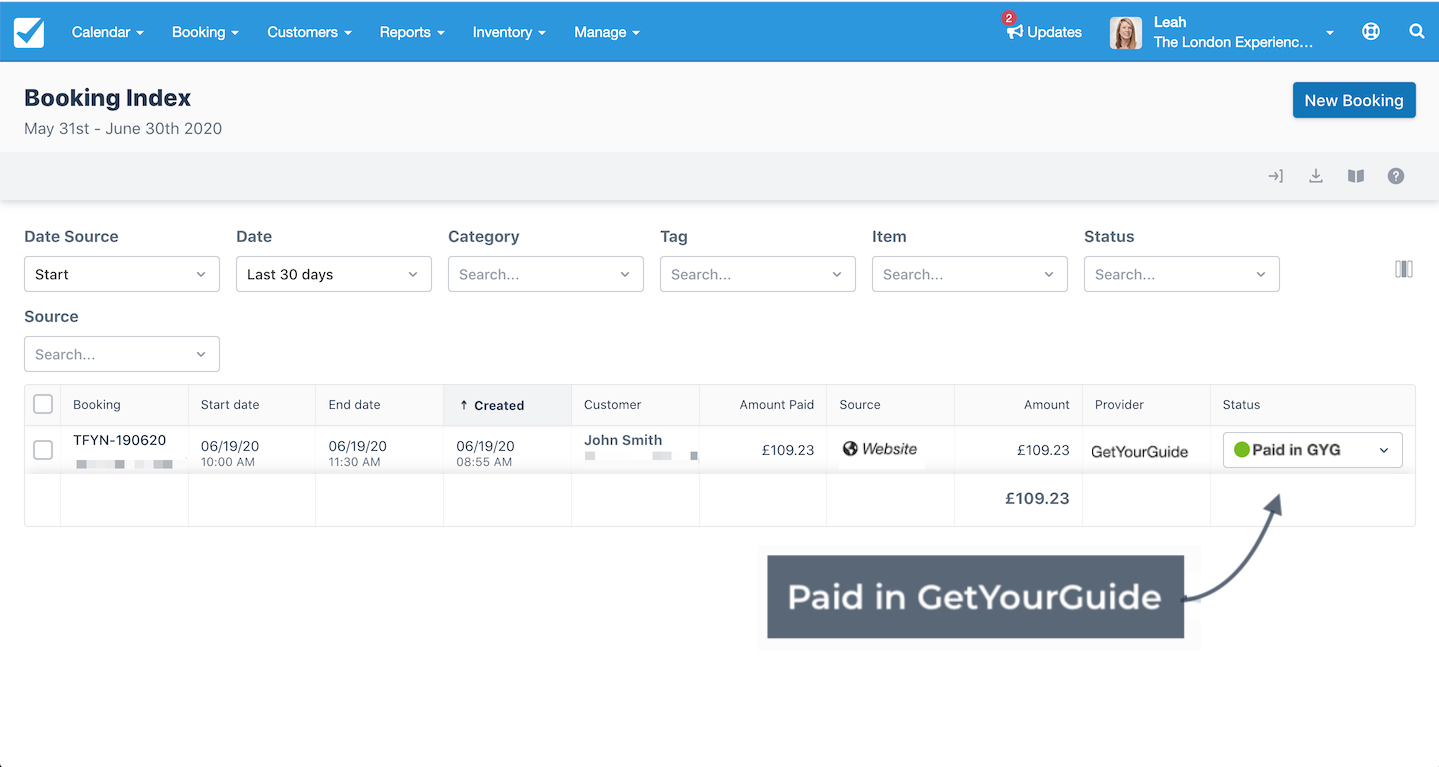 Bookings processed through GetYourGuide appear in the Booking Index (Reports > Booking Index) with the provider of GetYourGuide and a status of Paid in GYG.
---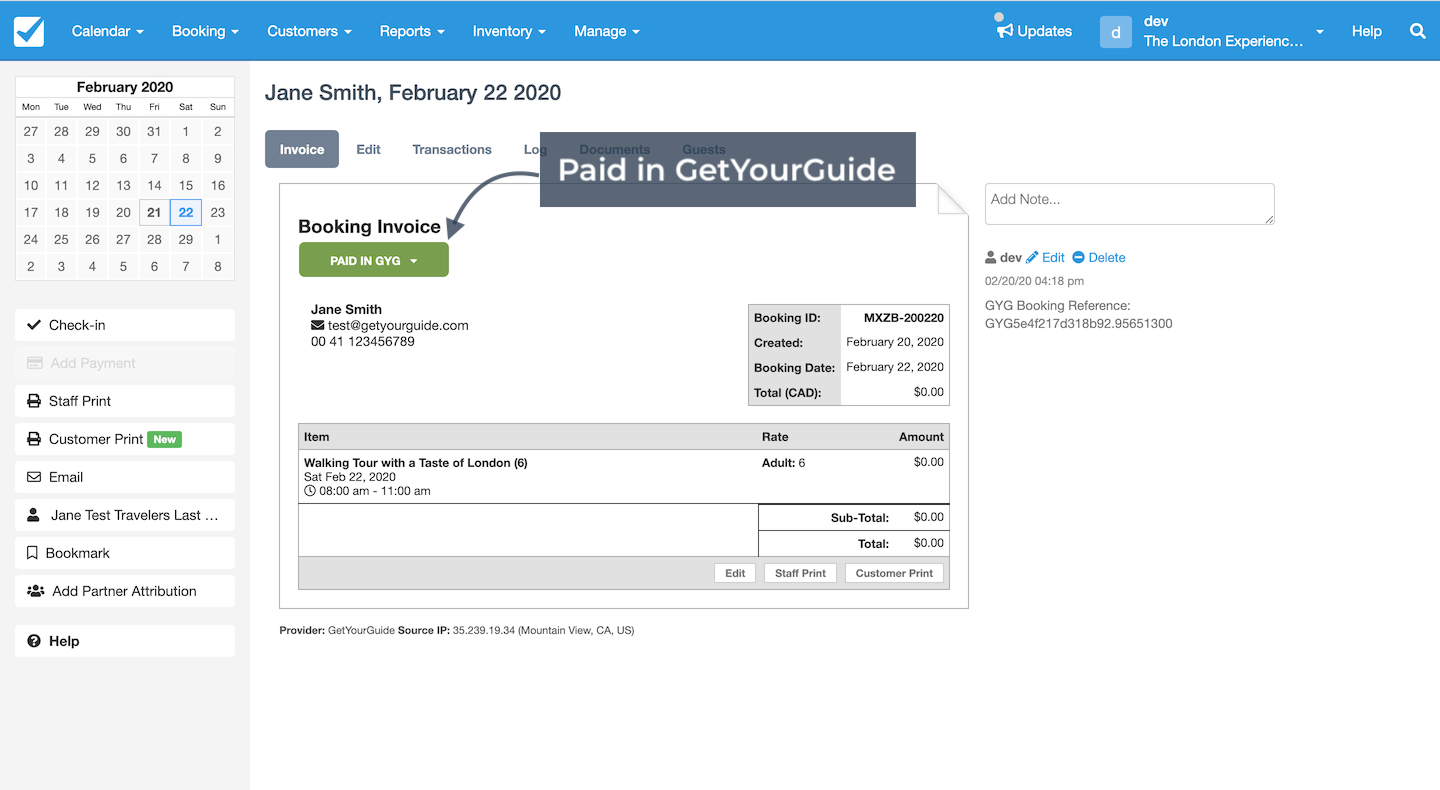 Booking Invoices (Reports > Booking Index > Booking) processed through GetYourGuide also display the status of Paid in GYG.
The amount of the booking is not conveyed by GetYourGuide, so the amount paid remains $0.00 and no transaction information is available in Checkfront. Please refer to reports in GetYourGuide for this information.
The GYG Booking Reference is included in the booking notes at the top-right-hand side of the invoice. This corresponds to the Booking Reference associated with bookings in GetYourGuide.
| | |
| --- | --- |
| | You can change the label and colour of the status; however, the ID is fixed and cannot be edited. |
---
We strongly encourage you to do your Booking Management in GetYourGuide, such as cancellations or changes to the items, number of attendees, or discounts. Edits and cancellations to bookings in Checkfront are NOT communicated to GetYourGuide.

If you do make edits or cancellations to the bookings in Checkfront, then no payments or refunds are processed. Payments need to be processed outside of Checkfront and GetYourGuide.

Also, payments and refunds in Checkfront would then need to be associated with a POS Payment Type, indicating they were handled outside of Checkfront.
GetYourGuide Solutions


For more information on configuring products in GetYourGuide, please see their Supplier Support:
---
< Setting up GetYourGuide in Checkfront
---