---
Learn how to print the Daily Manifest to paper or PDF, so you can share the list of the day's activities with your Staff.
New to the Daily Manifest? Read the first article in this series for an introduction to the Daily Manifest.
---
Which plans include this feature?
Legacy:  Soho, Pro, Plus, Enterprise, Flex
New:  Starter, Growth (Subscription), Growth (Per Booking), Managed
→ Learn more about our new plans or how to change your plan.

Where can I find this feature using the top menu?
Booking > Daily Manifest > Print


What more do I need to use this feature?
Admin or restricted permissions to View all Reports (or Daily Manifest) and Export Data.
Admin or restricted permissions to View all Reports (or Revenue) to access the Revenue Report from Insights.
The Guest Form (Manage > Integrations > Guest Management) integration is required to collect and include Guest information within your Daily Manifest.


Which Checkfront version supports this feature - classic, new or both?
This feature is available in both our classic version using items (Inventory > Items) and our newest version using products (Inventory > Products).  → Learn more about products
---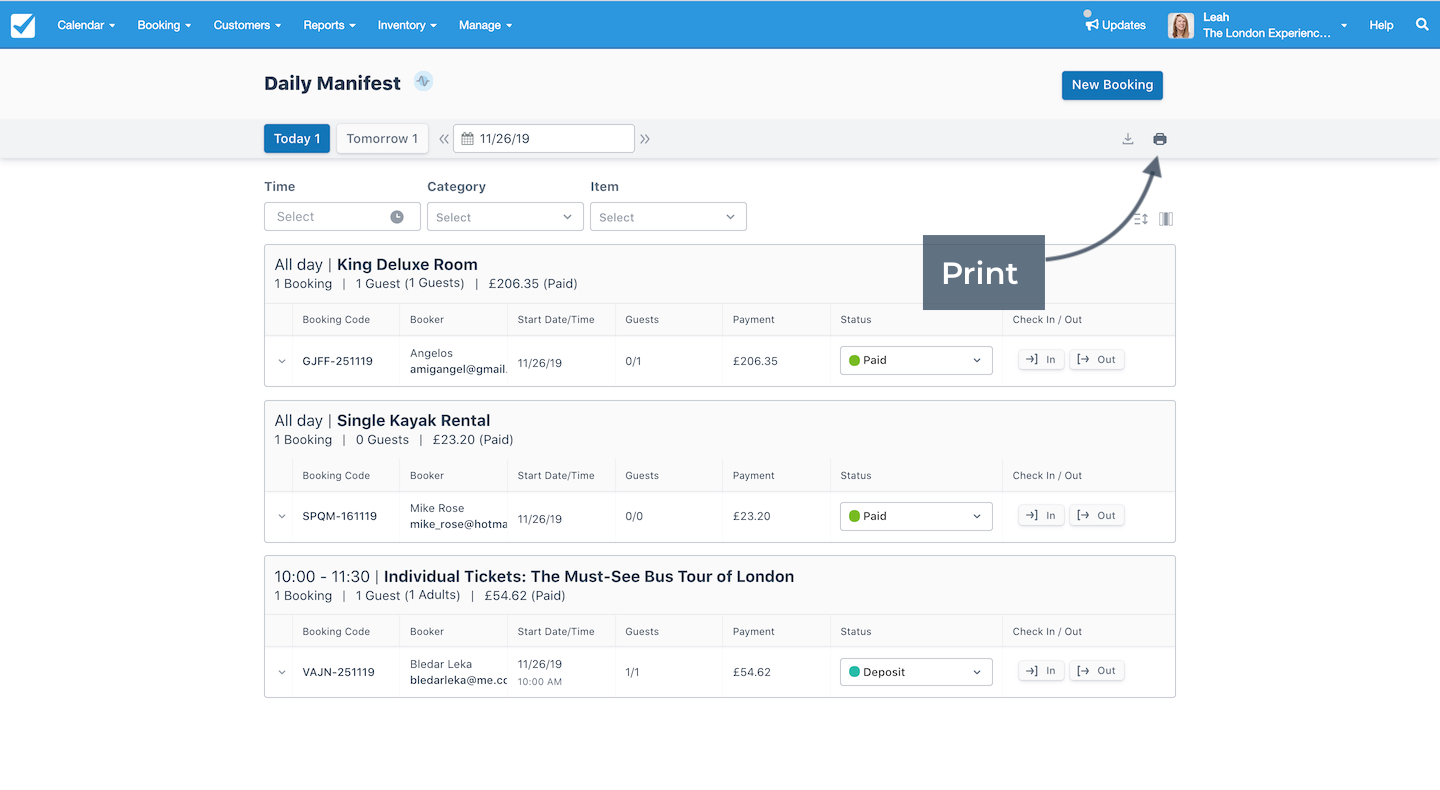 Staff can print out the Daily Manifest for Guides or other Staff that don't have access to Checkfront but need to verify the day's Guests and their needs.
Simply click Print at the top right-hand corner of the Daily Manifest. Your computer's print prompt should then display.
You can print to PDF by choosing to Save as PDF rather than sending the document to a printer. You can then send the PDF to your Staff with devices via email, for example.
How this needs to be configured depends on your computer setup and printer software. Save costs for paper and toner in the process.
---
< Checking in and out Guests or bookings from the Daily Manifest    |    Exporting the Daily Manifest >
---