---
Plan Availability: X Soho | ✓ Pro | ✓ Plus | ✓ Enterprise | ✓ Flex |
Locate:
Preview and Edit: Inventory > Gift Certificates > Create Gift Certificate (button) > Details > Media > Confirmation
Edit Gift Certificate: Inventory > Gift Certificates > Gift Certificate > Gift Certificate Builder

Prerequisites:
A plan that includes Gift Certificates.
Gift Certificates activated within your account (Manage > Integrations).
Admin permissions or restricted permissions to

Manage Gift Certificates and Manage Gift Certificate Templates.
Need to activate Gift Certificates for your account? Be sure to read the first article in this series: Gift Certificates: Setup
---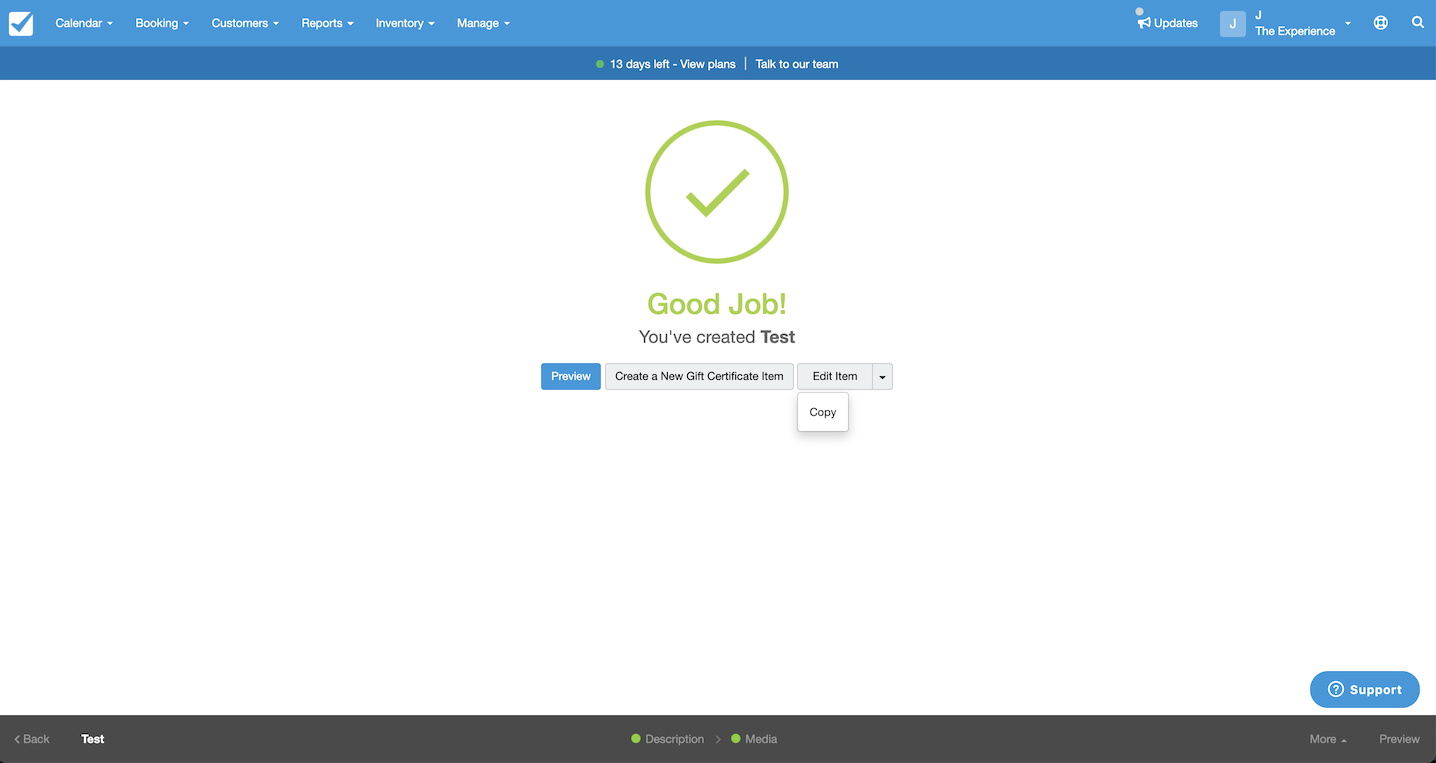 Once you Save and Finish your Gift Certificate, a confirmation page displays.
From there, you can Preview what your new Gift Certificate looks like to your Customers, Create a new Gift Certificate or Edit the one you have just made.
The Edit button also has a drop-down option that enables you to simply Copy the Gift Certificate you have just created. This is great if you want a new Gift Certificate with slightly different properties.
---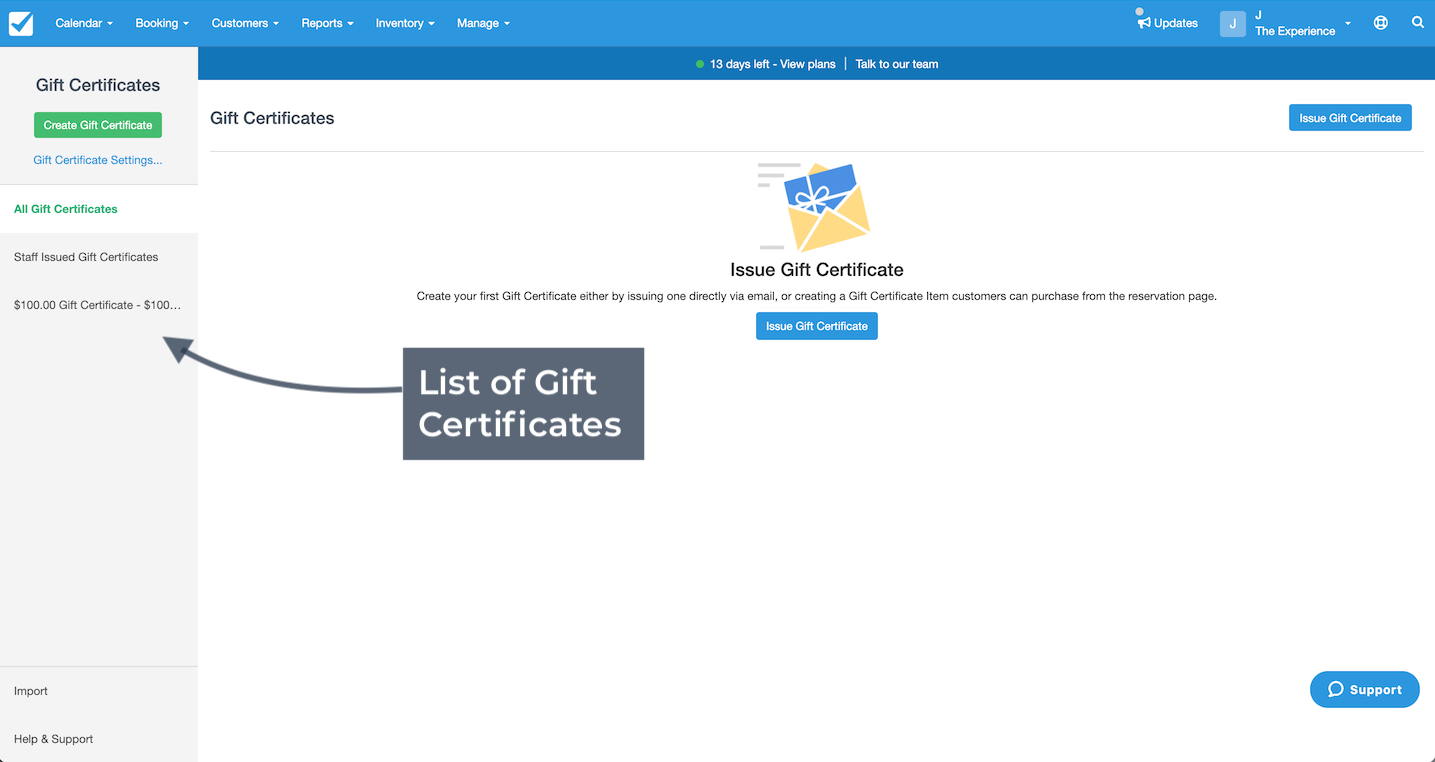 Once you have created your Gift Certificate, you can quickly access the newly created Gift Certificate from the left-hand menu of the main Gift Certificates page.
Simply click on the name of the Gift Certificate to bring it into focus.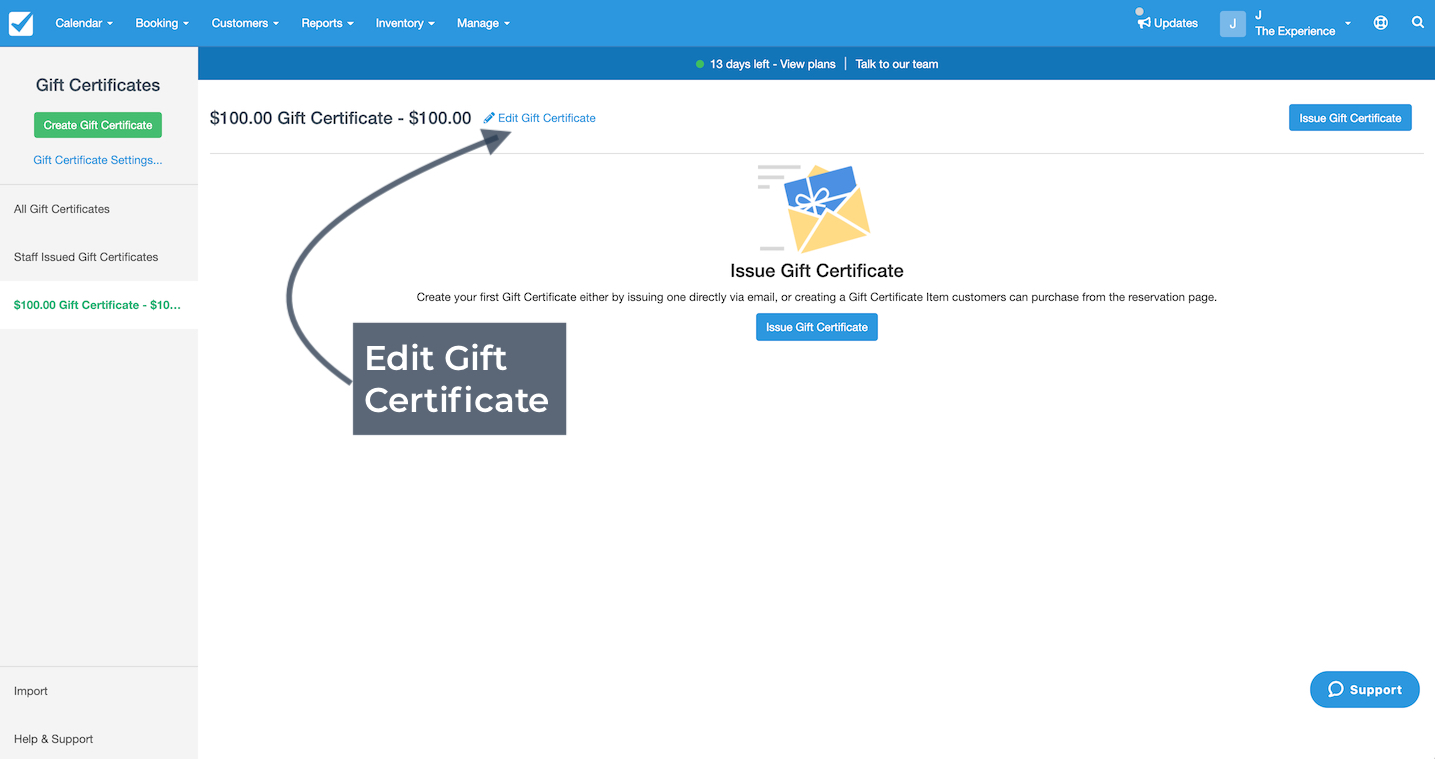 This opens a dedicated page for the Gift Certificate where you can view the list of associated purchases and Edit the Gift Certificate. Edit Gift Certificate opens the Gift Certificate Template Builder described in previous articles.
Congratulations, you have created a Gift Certificate!
When editing a Gift Certificate, you can archive a template by selecting More and then Archive from the bottom menu bar. Once archived, the Gift Certificate is no longer visible as active for Staff or Customers to add to a booking.
To unarchive a template, follow these steps:
1. Navigate to the main Item (Inventory > Items) area and filter the Inventory list to show Archived items.
2. Search, filter for, or scroll the page to find the archived Gift Certificate template and select its Name to open up the editor.
3. In the editor, select the Save bottom menu button and the Gift Certificate is then reactivated.
Next, we learn about Gift Certificate Notifications. See the link below to access the next article.
---
< Gift Certificates: Template Builder - Media: Themes | Gift Certificates: Gift Certificate Notifications >
---