---
Plan Availability: ✓ Soho | ✓ Pro | ✓ Plus | ✓ Enterprise | ✓ Flex |
Locate: Reports > Booking Index
Prerequisites:
Admin permissions or restricted permissions to View all reports

or the

Booking Index

.

The Booking Index feature is available to both those using items (Inventory > Items), a key feature of our classic version of

Checkfront, and those using products (Inventory > Products), a key feature of our newest version

of

Checkfront.
New to Checkfront - Products ✨

Products (Inventory > Products) is the successor feature to (Inventory > Items) and is available in our newest version of Checkfront.

Not yet on our newest version and interested in upgrading? Please contact our Technical Support team for more information.

Discover more product-related help articles here: Products (New).
This article is a brief introduction to the Booking Index including what booking information is available by default and how to add a new booking.
Please read the full series of articles, accessed at the side and bottom of this page, to learn more about the functionality of the Booking Index.
---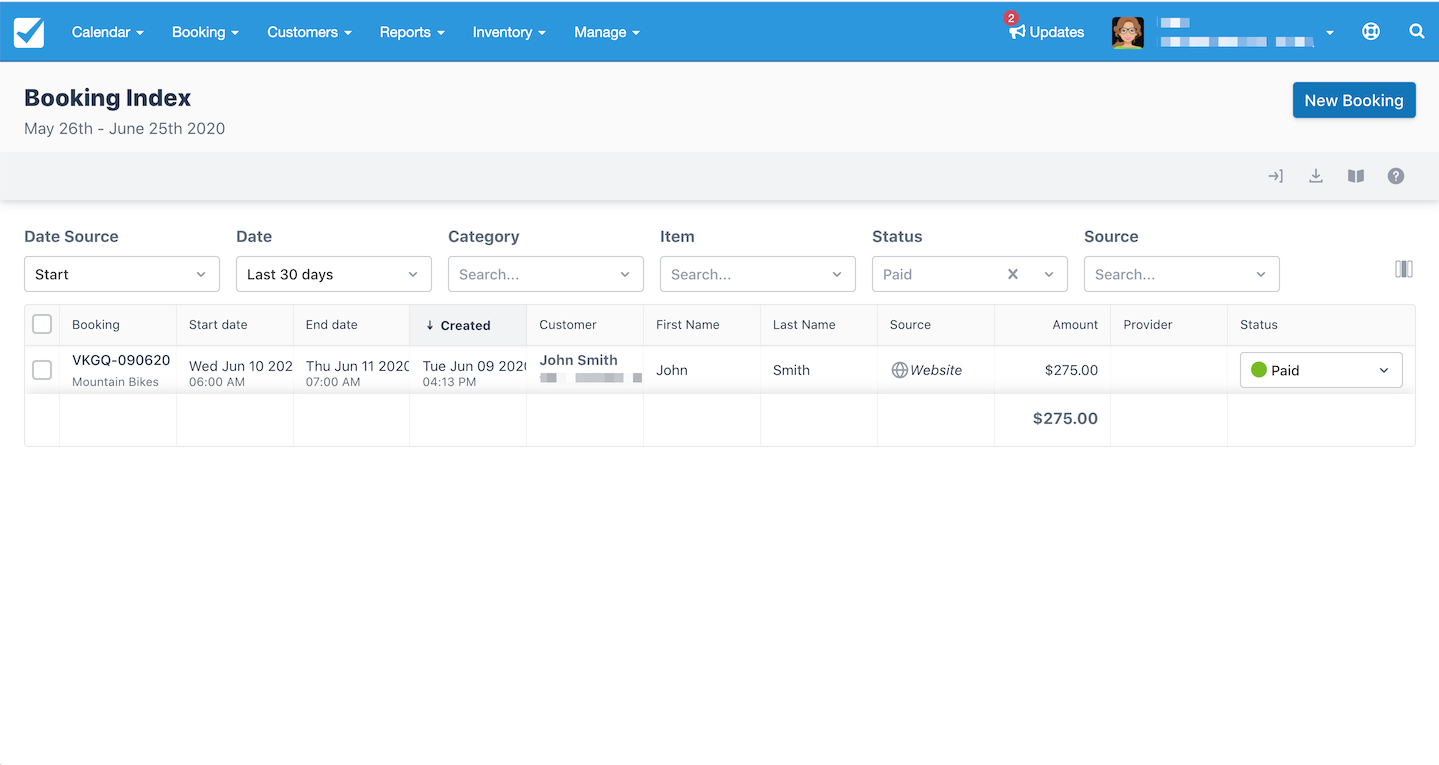 By default, the following booking information displays.


Column
Description
Booking
The Booking ID and name of the item/product booked. Clicking on the Booking ID opens the Booking Invoice. This column is fixed, so cannot be removed from the Booking Index.
Start Date

The start date of the booking, including the start time where applicable.

End Date
The end date of the booking, including the end time where applicable.
Created

The date and time the booking was created. The Booking Index is sorted by Created date with the oldest records showing first (ascending), by default.

Customer
The First Name, Last Name, and Email address of the Booker.
First Name
The First Name of the Booker.
Last Name
The Last Name of the Booker.
Source
The source of the booking - through your Website, Mobile app, or the name of the Staff member or Partner who processed the booking.
Amount
The total amount of the booking.
Provider
The third-party Provider through which the booking was processed (myallocator, Expedia, GetYourGuide...)
Status

The status of the booking. This dynamically updates, for example, if the Amount Due is Paid. Admin and Staff users can also manually change the status as needed.

Learn more about Booking Statuses and Notifications triggered by Booking Status changes here:
Learn more about column display

Data columns displayed can be customized including the display order. Learn more here: Editing columns within the booking index
Data columns can be sorted in ascending or descending order to help you isolate records, such as those processed through third-party providers.
Item parameters/product guest types are not supported as columns within this report at this time.
Next, let's check out the Booking Index filters.
---
< Filtering the booking index | Editing columns within the booking index >
---