---
Plan Availability: ✓ Soho | ✓ Pro | ✓ Plus | ✓ Enterprise | X Flex |
Locate: Manage > Ecommerce Setup > Payment or Manage > Integrations > Payments
Prerequisites:
---
About Square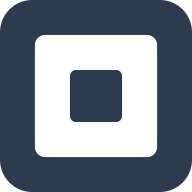 Square is a very popular payment processor and highly recommended by Checkfront for use with your business. It allows you to offer your Customers the ability to make payments online and in-person using Square readers and the Checkfront iOS/Android apps.
Square is currently available in the United States, Canada, United Kingdom, Australia, and Japan.
---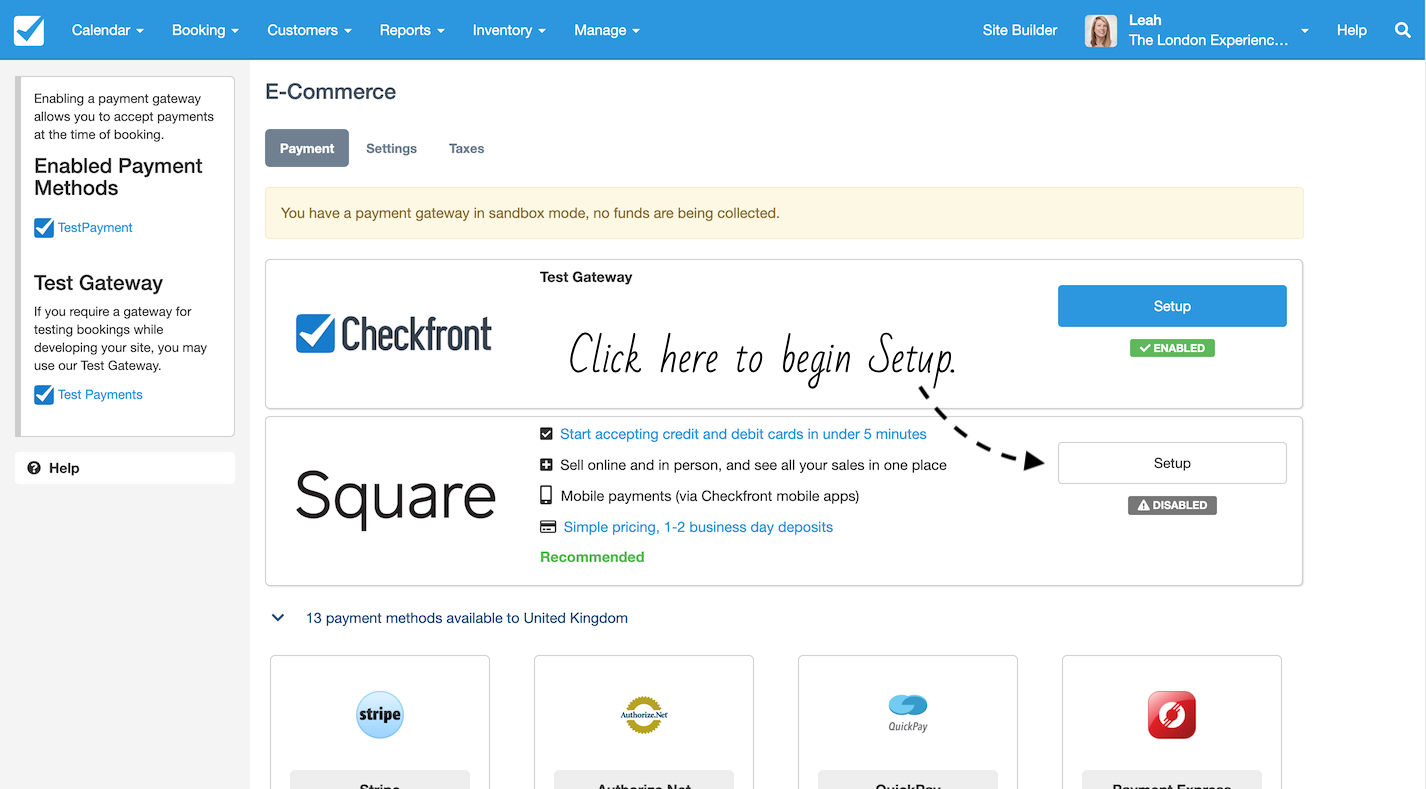 To enable Square, login to your Checkfront account and navigate to Manage > Ecommerce Setup, making sure the Payment tab is selected. Here you will see a list of available payment modules. Locate and click on the Square tile within the list of featured providers.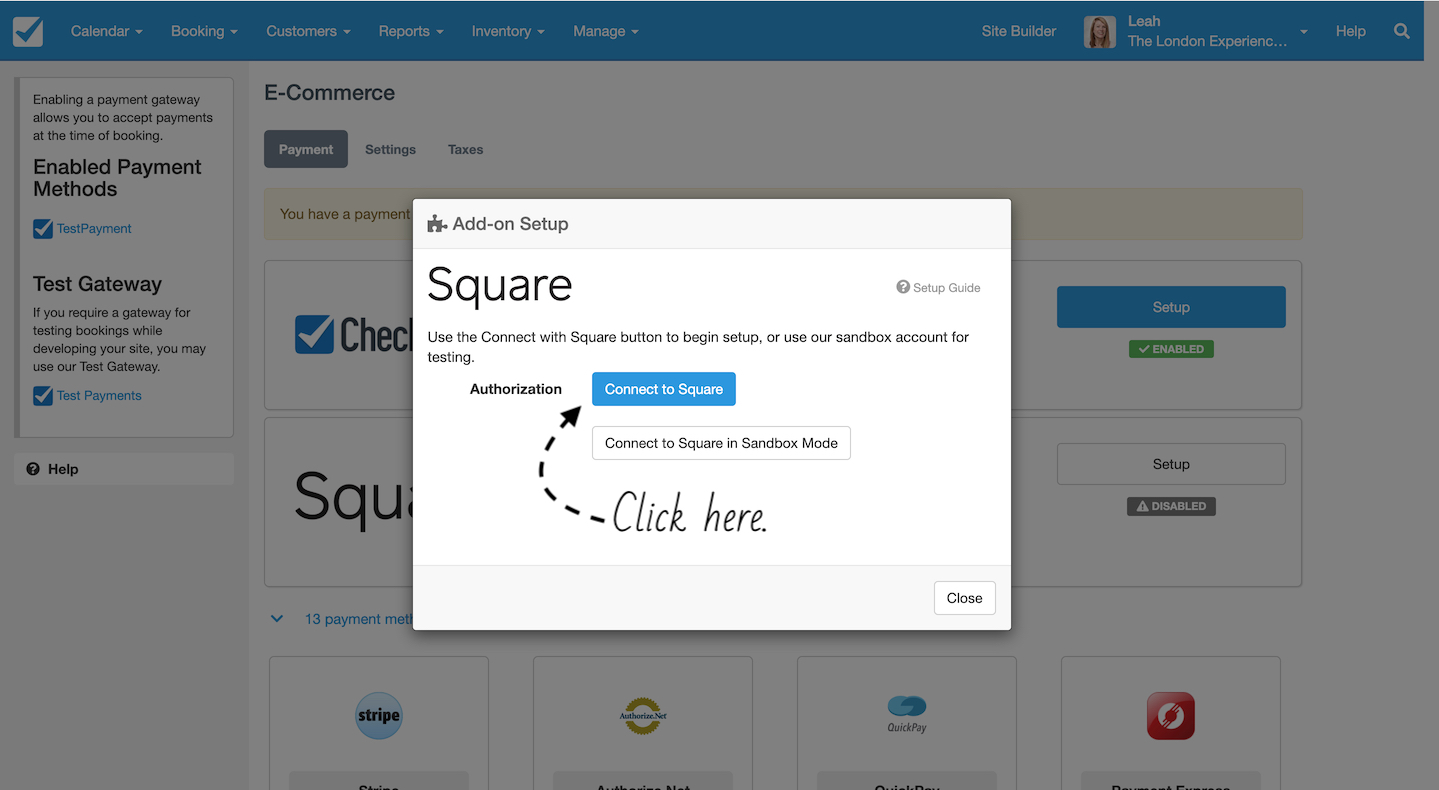 After selecting the Square tile, you will see a pop-up box asking you to Connect to Square. Clicking on the button here will authorize Square to connect your Checkfront account for the purpose of payment processing.
If you are not already logged in to your Square account, a login screen will appear for authentication. Enter your Email Address and Password, then Sign In.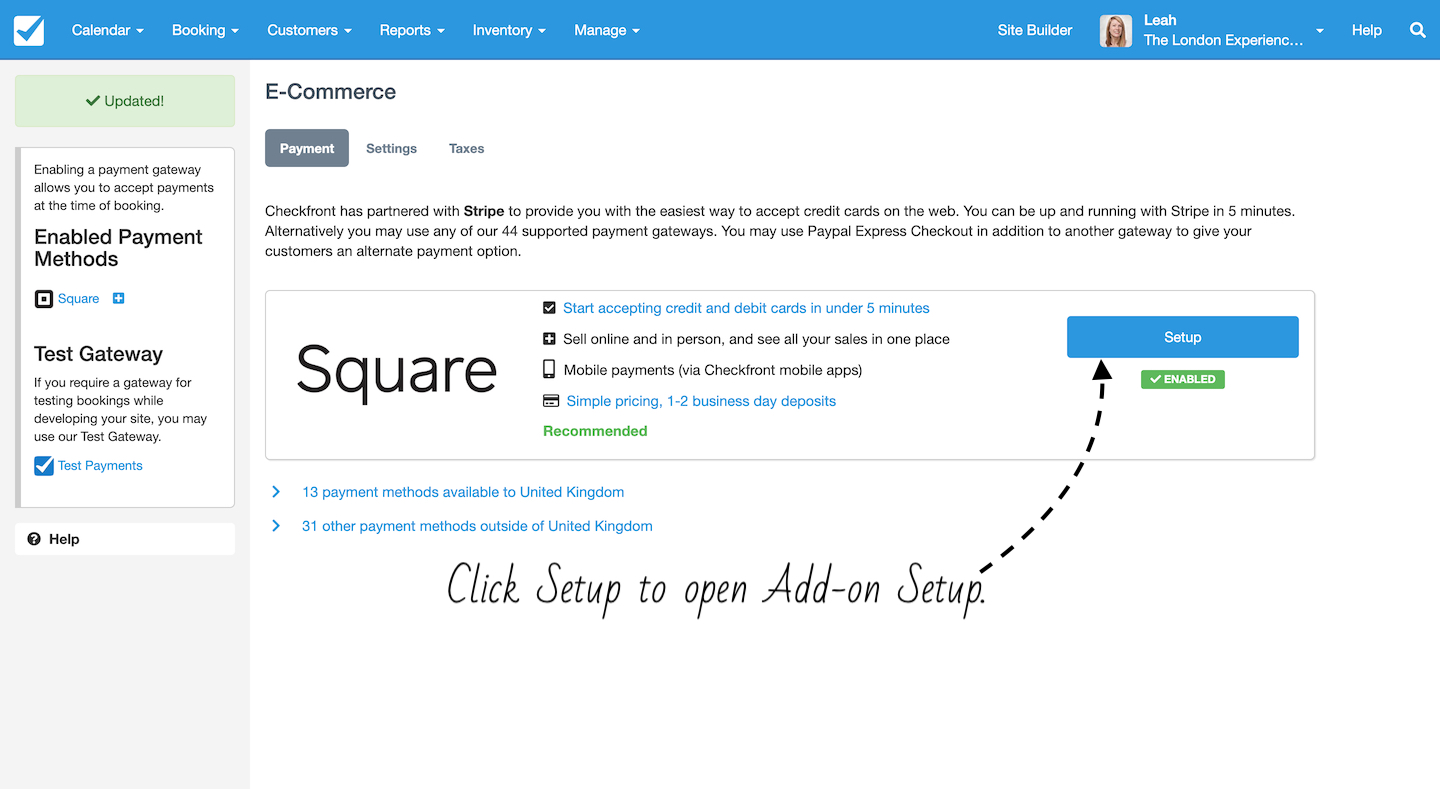 Once you've successfully logged in, the connection will be established with Square and you'll be redirected back to Checkfront where you'll see the integration has been enabled.
Next, click on Setup to configure your Location setting.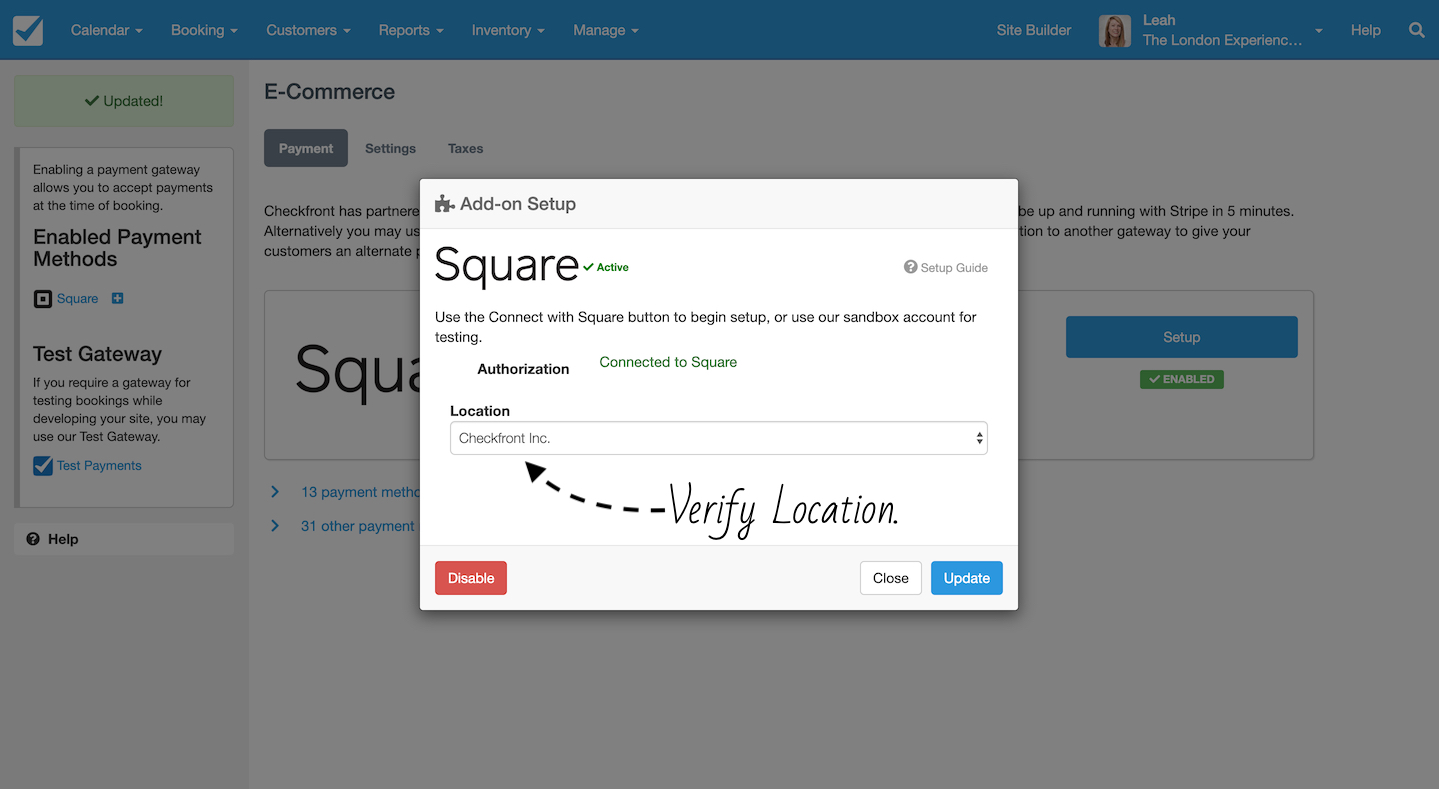 From Add-on Setup, you'll be able to verify the connected Square business Location. You can change the connected Location using the drop-down menu displayed.
Click Update to save your Location selection.
| | |
| --- | --- |
| | This step requires that you have one or more Locations created within Square. Learn more about Location Management in Square here: |
---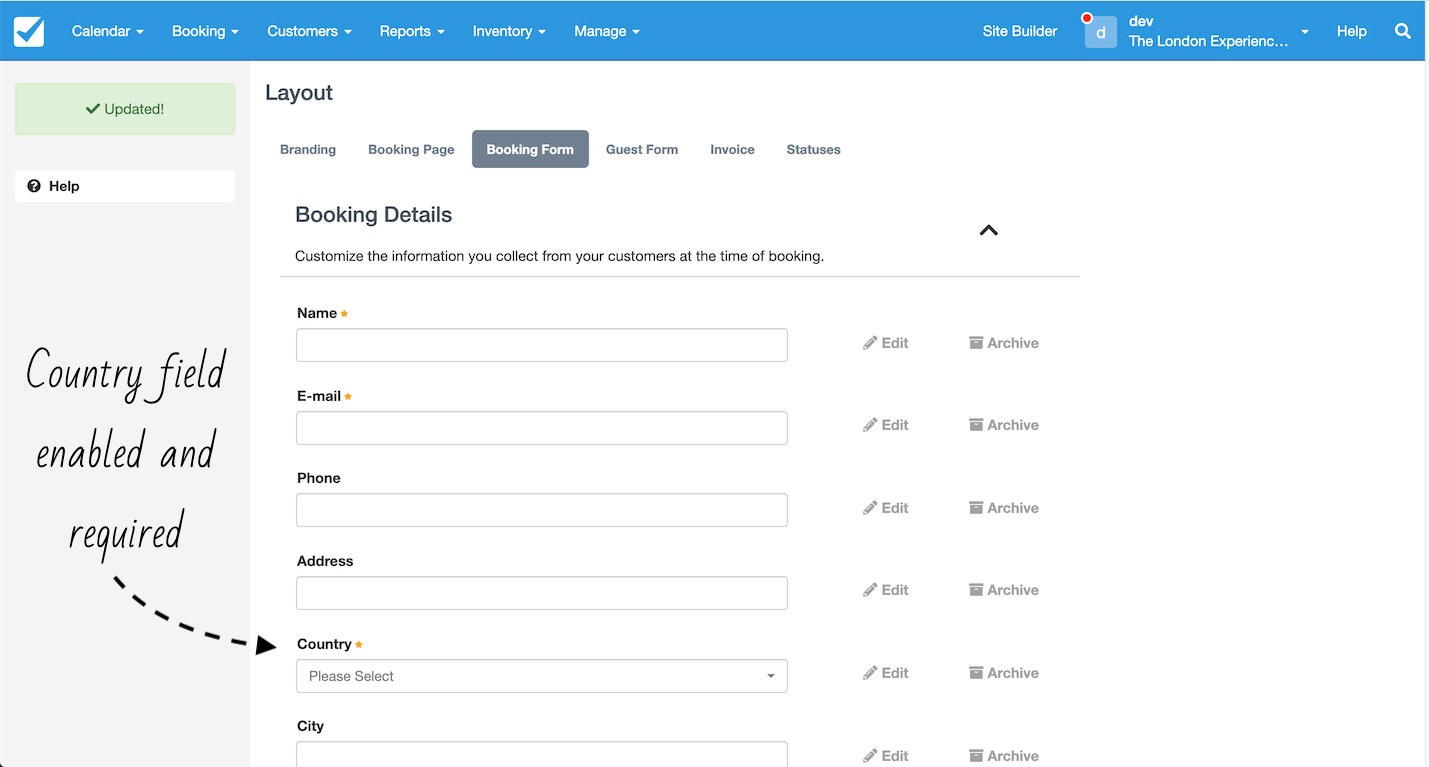 Ensure that the Country field is enabled and required in the booking form (Manage > Layout > Booking Form) when using Square, otherwise, payments may fail.
---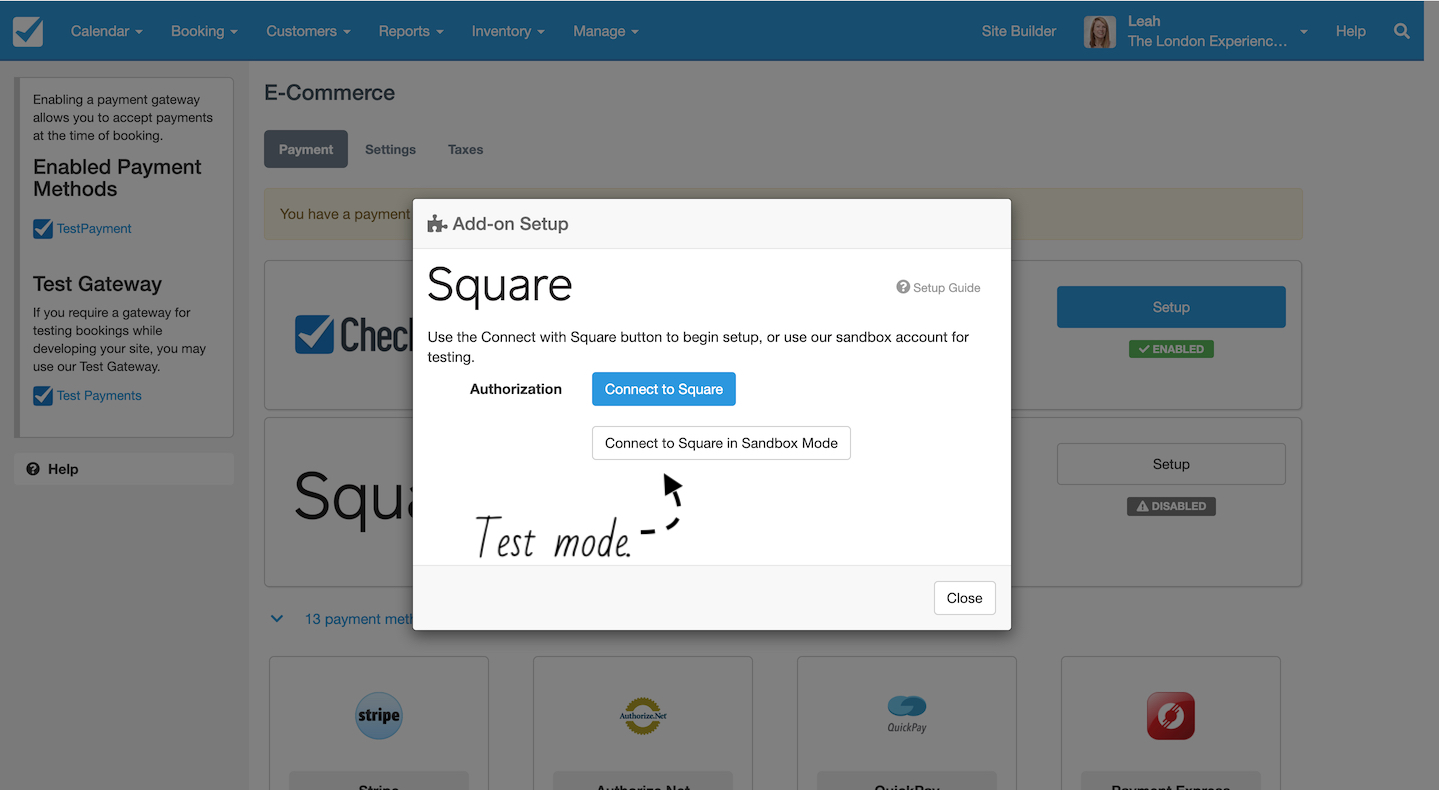 We highly recommend you test the integration with Square before processing any live payments through your account. This enables you to make sure payments through Checkfront are being received in your Square account.
To use the Sandbox Mode, ensure the Square live integration is disabled (Setup > Disable) and then follow the steps above, this time choosing to Connect to Square in Sandbox Mode with a Sandbox location.
Don't forget to go back and click on the blue Connect to Square button, as seen in the screenshot above, when you have completed your testing and are ready to take live payments!
Test Payment Failures due to Currency Mismatch

If you encounter test payment failures, this may be due to a currency mismatch, between your Checkfront account and the test account.

The test account Coffee & Toffee Toronto uses CAD as it's currency.
If you encounter errors, please make sure you are using CAD as your Checkfront Base Currency (Manage > Setup > Locale > Base Currency) while testing.
---
Square provides their own hardware for in-person payments. You can use any Square reader available in your region to swipe card-present transactions for your bookings.
---
iOS & Android App Booking Flow
The payment flow for Square in our iOS and Android mobile apps is as follows:
1. Ensure that you have both the Checkfront and Square Point of Sale apps installed on your device.
2. Make sure you're logged into the Square app, and specifically the location matching your Checkfront configuration.
3. Find and view the booking in Checkfront mobile app.
4. Select Payments.
5. Select Take Payment.
6. Set the amount to be processed if it differs from the total balance owing. This will not be editable once you're in Square, other than to split that amount across multiple cards, add any notes, then click the 'Pay $999.99 on credit' button.
7. Checkfront sends a request that opens the Square app, and you'll be presented with an option to pay by Credit Card. If you have a contactless reader connected, you will also see the option to take a Contactless payment.
Note: Gift Certificates purchased through Checkfront cannot be redeemed through Square or Gift Certificates purchased through Square redeemed through Checkfront.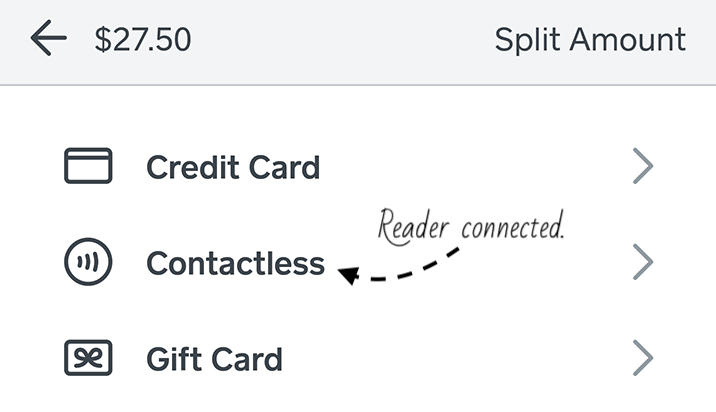 You should select this option if you wish to make the payment via the tap method, rather than swiping. If you don't select this option, tap will still work, but the payment will not be recorded in Checkfront. In that case, you will need to go into the Checkfront Booking Manager and process a manual POS payment to record the transaction.
8. Either swipe, tap (if applicable) or key in credit card information. Note: if possible, we suggest swiping/tapping over keying in the card number as Square provides a lower rate on card-present transactions.
9. [Optional] A split payment can also be created in Square, allowing you to split the amount previously noted (eg. $999.99) for payment across multiple credit cards.
10. Click Charge
11. Both failed and successful payments redirect back to the CF app (with an error message, if applicable).
12. Booking is be updated with transaction details.
---