---
Learn more about Square, including understanding supported features, setting up in Checkfront, managing add-on setup, configuring your Square location, enabling and requiring country fields, including billing information for Address Verification, connecting to Square in sandbox mode, card swiping via mobile apps, understanding the mobile app booking flow, and finding answers frequently asked questions.
---
Which plans include this feature?
Legacy:  Soho, Pro, Plus, Enterprise
New:  Available with the Growth (Subscription) or Managed plans only. 
This payment provider is unavailable to accounts on the Starter or Growth (Per Booking) plan. 
→ Learn more about our new plans or how to change your plan.

Where can I find this feature using the top menu?
Manage > Ecommerce Setup > Payment


What more do I need to use this feature?
---
About Square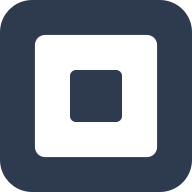 Square is a very popular Payment Provider, highly recommended by Checkfront for use with your business. 
Customers can make payments through Square online. Alternatively, our Checkfront iOS/Android apps support in-person payments through Square readers.
Square is available through Checkfront in the United States, Canada, United Kingdom, Australia, Japan, and Ireland.
| | |
| --- | --- |
| | Google reCAPTCHA is now supported by Checkfront with Square. Learn more here: |
 

PSD2 and SCA compliant 

This integration is Payment Services Directive 2 (PSD2) compliant, including Strong Customer Authentication (SCA). 

Checkfront is prepared to handle any transactions that the Payment Provider deems applicable. 

These measures help reduce fraud and make online payments more secure! 

Learn more about PSD2 and SCA here:
| | |
| --- | --- |
| | Square is the supported Payment Provider for our mobile apps. Learn more about our Android and iOS apps here: |
| | |
| --- | --- |
| | Learn more about the benefits of the Checkfront and Square integration here: |
| | |
| --- | --- |
| | Check the status of Square's services here: |
---
The following is a list of standard Payment Provider features. Those available with the Square and Checkfront integration are marked as supported (✓).
Feature
Supported
More Info

Live Payments

✓
The ability to process payments in real time.

Rebilling

✓

The ability to re-charge using previously provided payment information (tokens).

Refunds

✓

The ability to return a paid amount directly to the original payment method.

Integrated Checkout 

X

Customers remain on the Checkfront domain to input details. These details are sent to the provider to process the transaction without redirecting the Customer.

Redirect Checkout

✓

Customers are redirected to the Payment Provider's domain to input details and process the transaction.

Staff-side Payments

✓

Staff can take payment through the Booking Details page using new payment information.

Terminals

X

Square Terminal is not available to Operators at this time.

Hold Payments

X

The provider holds the payment for a specific time without charging the card.

Square does not hold payments.

Test Mode

✓

The ability to process test payments using your Checkfront account and Square before going live.

Multiple Currencies

X

The ability to offer payments in more than one currency.

Checkfront does not support accounts with more than one currency. While Square can handle multiple currencies on their end, we can only send invoices to them in one currency.

PSD2 Compliant / 3DSecure 


✓

Payment Services Directive 2 (PSD2) compliant, including Strong Customer Authentication (SCA).

Our integration is PSD2 compliant and uses 3DSecure security.

Can be a secondary Provider?

✓

The ability to configure a primary provider for online payments and a secondary provider for Staff-side payments through the Booking Details page.

Square can be made a secondary provider for mobile app payment functionality only.

Additional payment methods

X

The following additional payment methods are only supported through Checkfront Payments and Stripe.

Alipay
iDEAL
Apple Pay, Google Pay, and browser-saved cards (Google Chrome, Microsoft Edge)

Buy Now, Pay Later powered by Uplift

X

Buy Now, Pay Later powered by Uplift is an additional payment method exclusively supported by Checkfront Payments.

Capture and Send Zip / Postal Code and Address for Address Verification (AVS)

✓

Capture Zip / Postal Code and Address to send to Square for Address Verification (AVS) to help prevent disputes and fraud.

Google reCAPTCHA

✓

Google reCAPTCHA is an add-on which helps protect your business against fraudulent activity. See the Google reCAPTCHA article for the full list of supported Payment Providers.

Supported Countries

✓

Square is available to Operators in the following business locations:

United States
Canada
Australia
Japan
United Kingdom
Republic of Ireland
France

The list of countries with card payment acceptance support through Square can be found here:

*Spain is not currently supported in Checkfront.

Minimum Transaction Payment Amount

✓

The minimum payment amount for Square (1.00) applies to test and live transactions. Please check with Square for more information.
---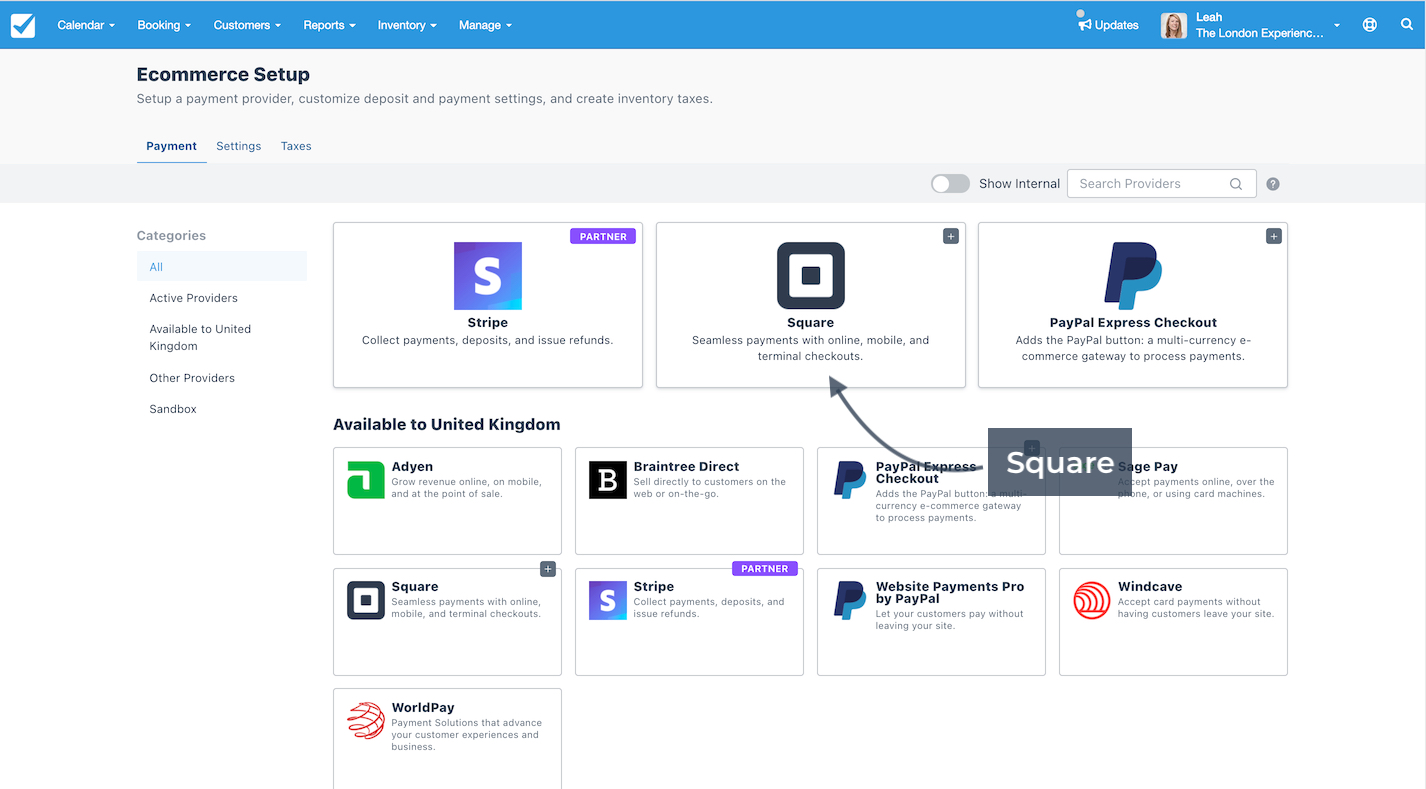 To enable Square, log in to your Checkfront account and navigate to Ecommerce Setup and Payment tab under the Manage menu. Locate and click on the Square tile within the list of featured providers.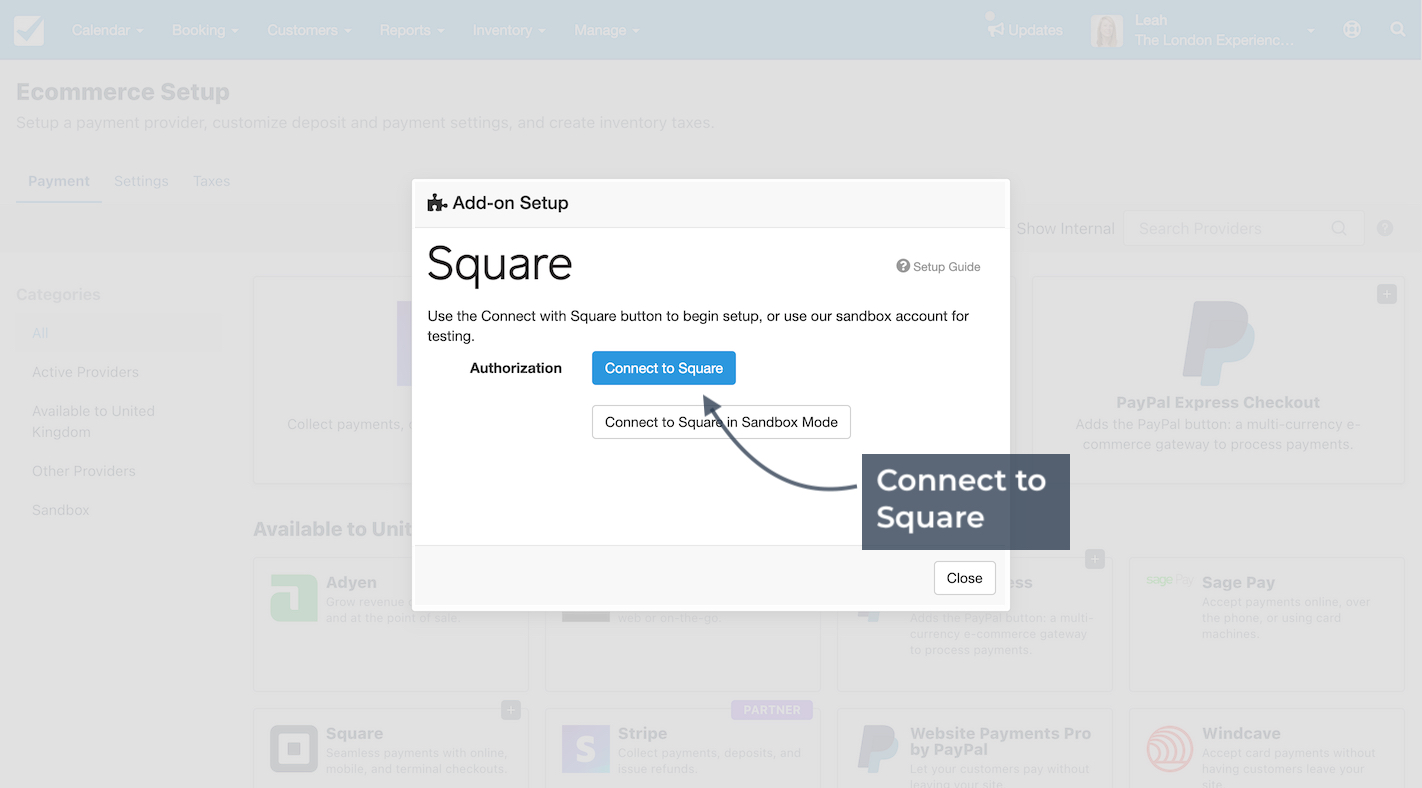 From the Add-on Setup modal, click the option to Connect to Square.
This starts the authorization process, where you authorize Square to connect your Checkfront account for payment processing.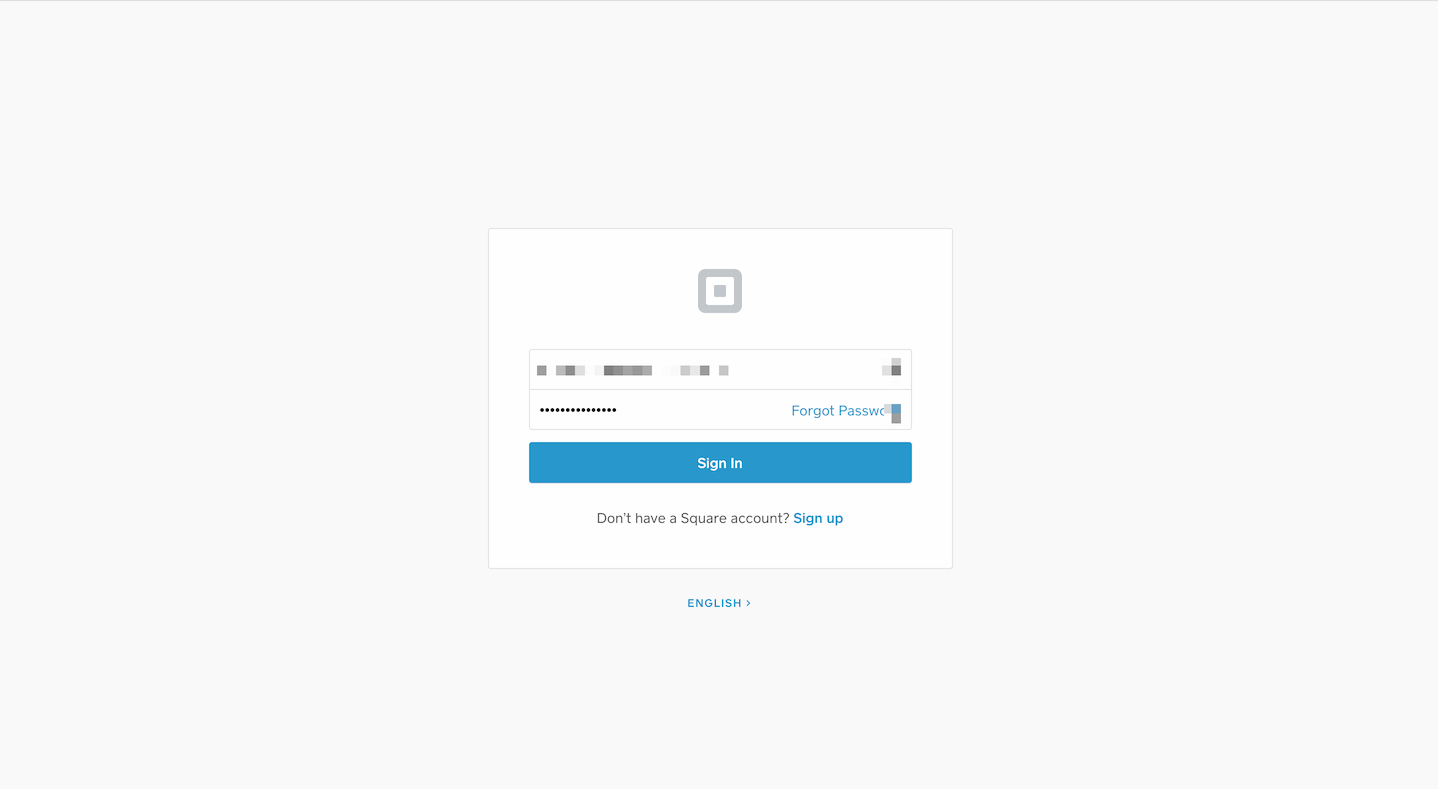 If you are not already logged in to your Square account, a login screen appears for authentication. Enter your Email Address and Password, then click Sign In.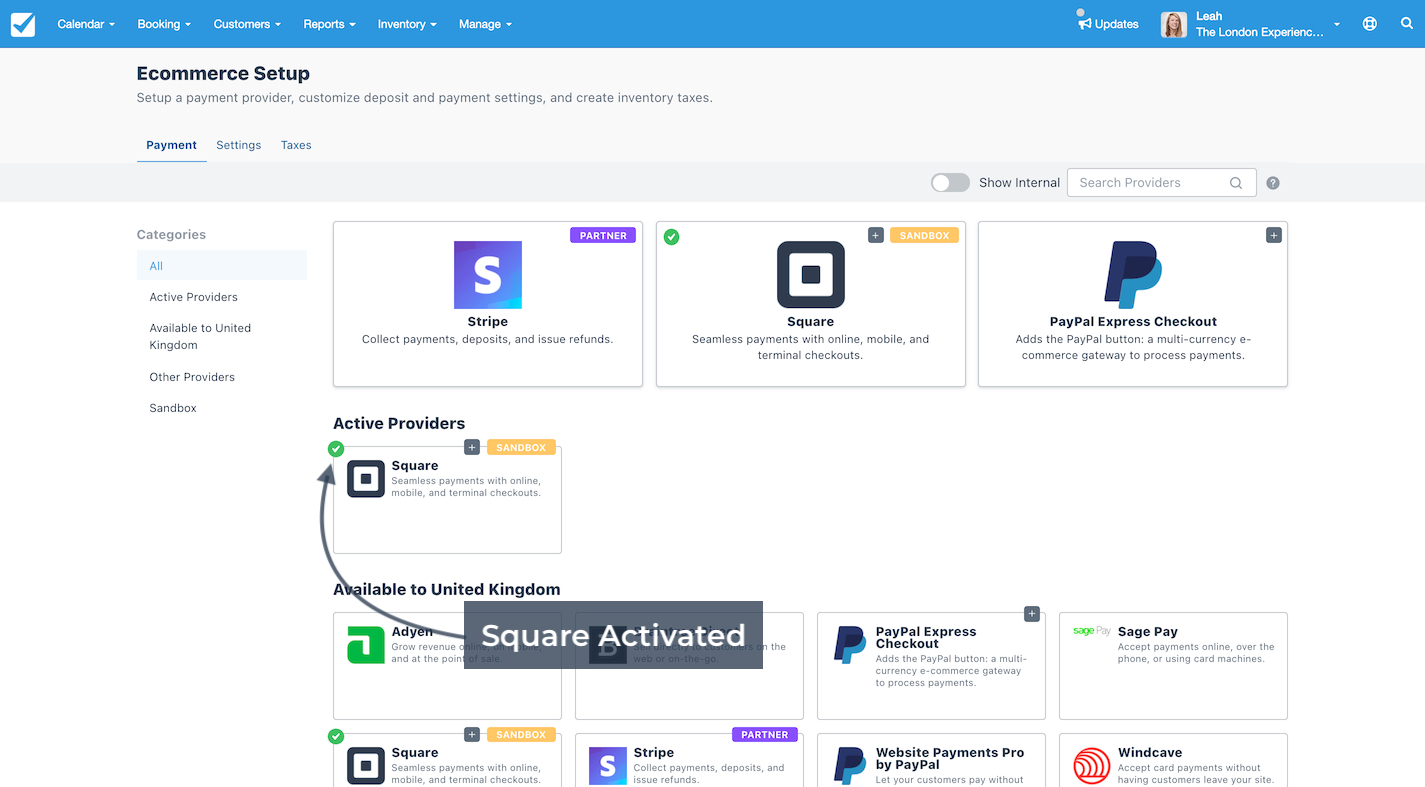 Once you've successfully logged in, the connection is established with Square, and you are redirected back to Checkfront where Square is now marked as an Active Provider. 
| | |
| --- | --- |
| | The example in the screenshot above uses the test environment (Sandbox). When you go live with your Square account integrated, the provider should not be labelled as Sandbox. |
Next, click on Setup to configure your location setting.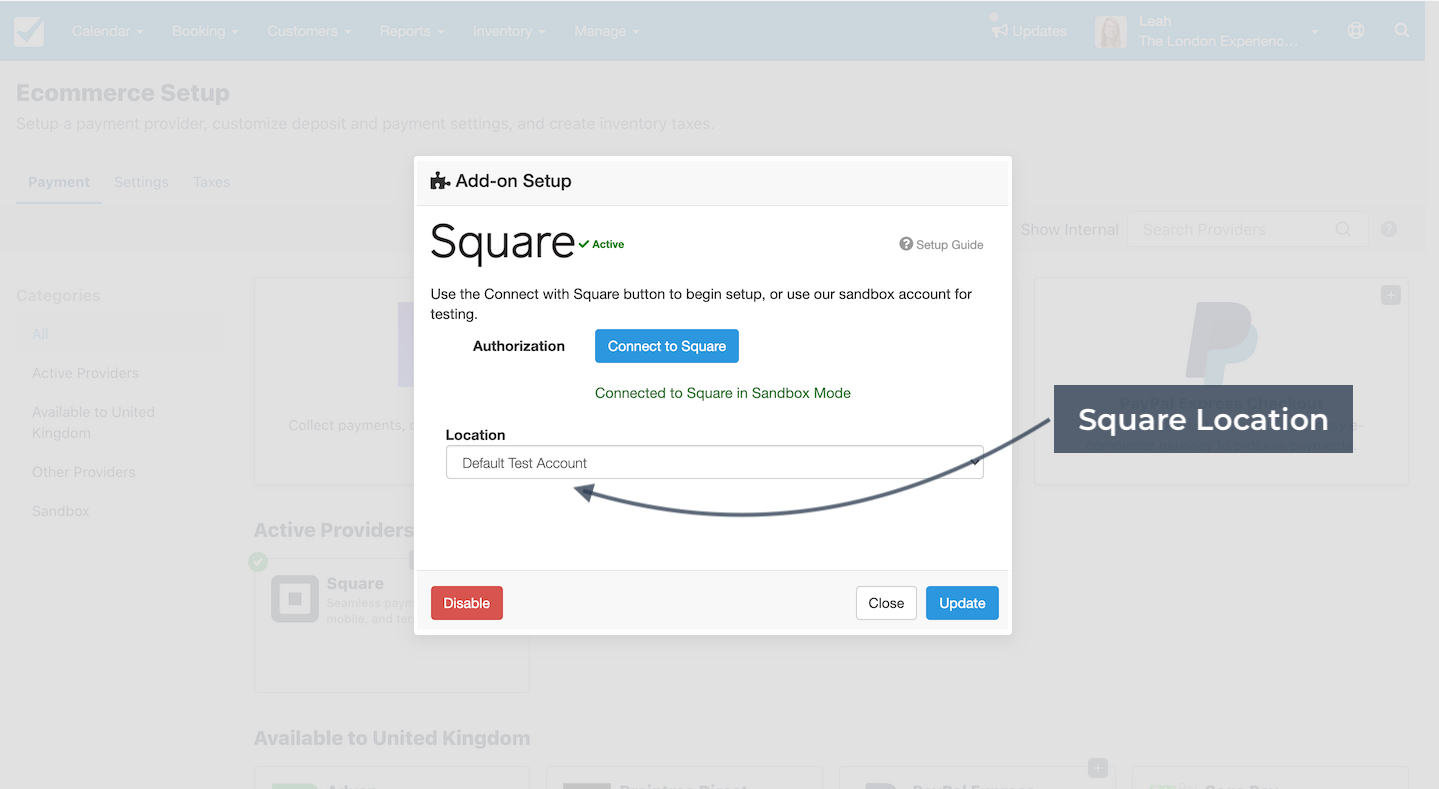 From Add-on Setup, verify the connected Square business location. You can change the connected location by selecting from the drop-down menu displayed.
Click Update to save your selection.
| | |
| --- | --- |
| | This step requires that you have one or more locations created within Square. Learn more about Location Management in Square here: |
No Locations Found

If you encounter this error message, then it means that your Authorization token for the Square Integration has expired due to inactivity, as you haven't processed a transaction in recent days.

Tokens expire after 30 days and can be renewed up to 15 days after the last expiry.

Resolve this issue by disabling and then re-activating the Square Integration within Checkfront. 
---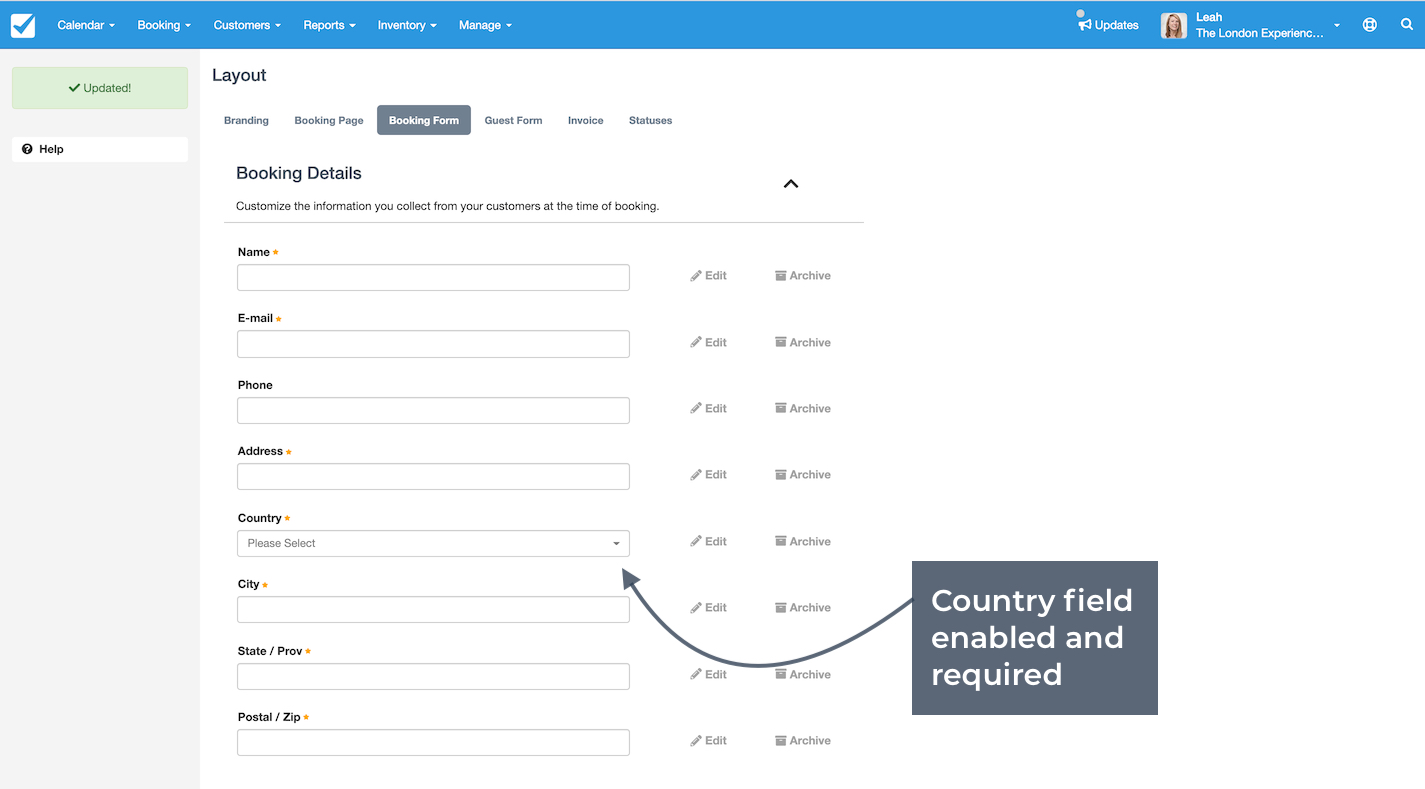 Ensure the Country field is enabled and required in the booking form (Manage > Layout > Booking Form) when using Square. Otherwise, payments may fail.
---
The billing address and postal / zip code information can be captured and sent to Square, where Address Verification (AVS) checks can be applied to help protect against disputes and fraud.
This is true for Customer-facing (Payment page) and Staff-side (add payment form) payments.
Ensure that your booking form (Manage > Layout > Booking Form tab) includes the fields you require - Address and/or Postal / Zip code and that the fields are marked as required.

The payment page's billing address and postal / zip code fields are prefilled with the values entered in the corresponding Booking fields.

The Staff-side add payment form includes these fields by default - no additional configuration is required.
| | |
| --- | --- |
| | Learn more about Address Verification (AVS) with Square here... |
---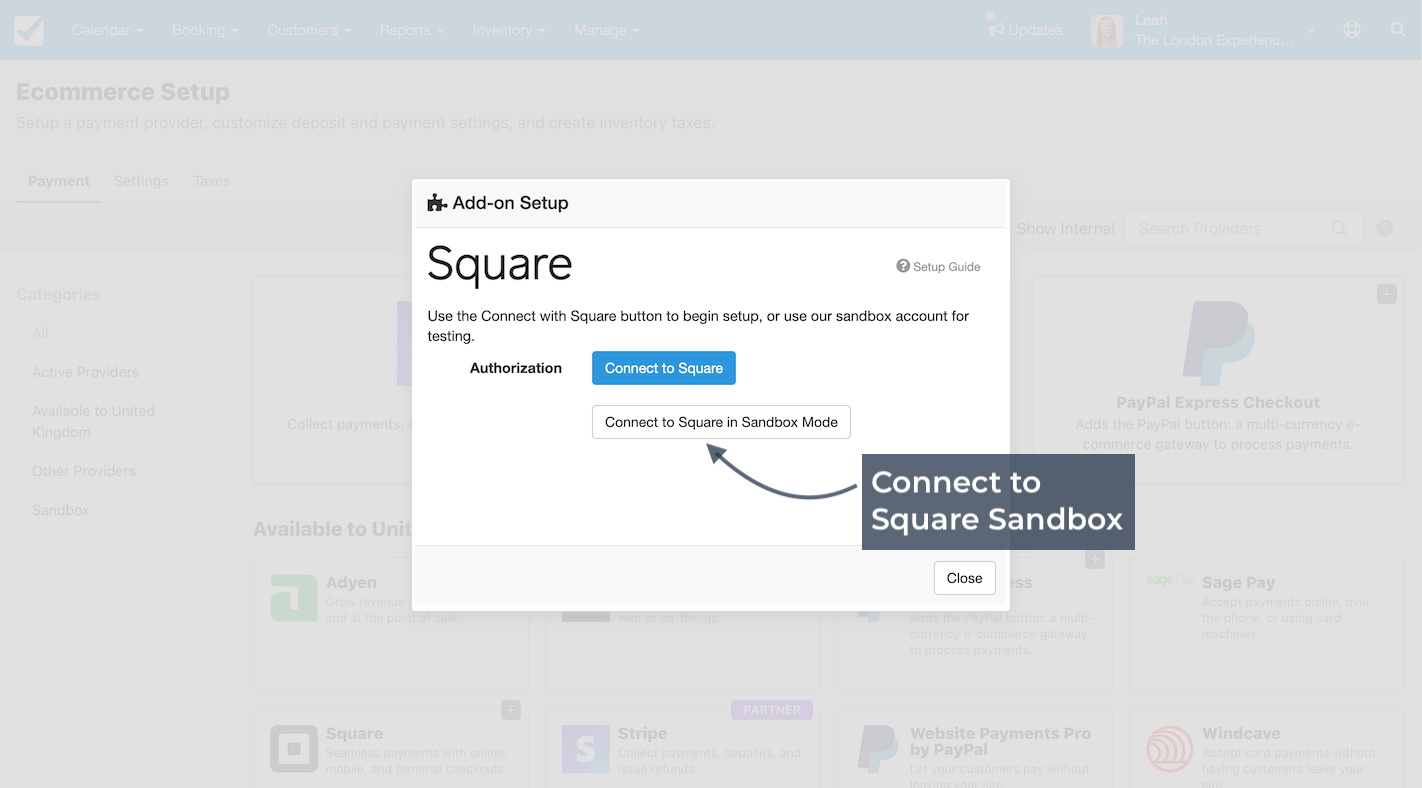 We highly recommend you test the integration with Square before processing any live payments through your account. 
To use Sandbox Mode, the testing environment, ensure the Square live integration is disabled (Setup > Disable), and then follow the steps above, choosing to Connect to Square in Sandbox Mode. A test location is preselected for you to match your account's currency, for example, CAD Test Location.
| | |
| --- | --- |
| | Don't forget to deactivate the Sandbox connection and Connect to Square with your live account when you have completed your testing and are ready to take live payments! |
---
Square provides its hardware for in-person payments. You can use any Square reader available in your region to swipe card-present transactions for your bookings through our mobile apps.
iOS & Android App Booking Flow
The payment flow for Square in our iOS and Android mobile apps is as follows:
1. Ensure you have the Checkfront and Square Point of Sale apps installed on your device.
2. Make sure you're logged into the Square app, specifically, the location matching your Checkfront configuration.
3. Find and view the booking in Checkfront mobile app.
4. Select Payments.
5. Select Take Payment.
6. Set the amount to be processed if it differs from the total balance owed. This is not editable once you're in Square, other than to split that amount across multiple cards
7. Add any notes.
8. Click the  'Pay $999.99 on credit' button.
9. Checkfront sends a request that opens the Square app, and you are given the option to pay by Credit Card or Gift Card.
Only gift cards purchased through Square can be redeemed through the Square Point of Sale app, not Gift Certificates purchased through Checkfront.

If you have a contactless reader connected, you also see the option to take a Contactless payment.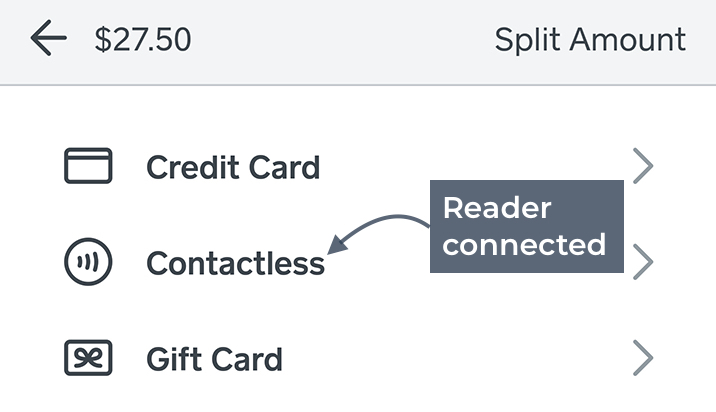 You should select this option to pay via tap instead of swiping. If you don't select this option, the tap option still works, but the payment is not recorded in Checkfront. You must go into the Checkfront Booking Manager and process a manual POS payment to record the transaction.
8. Either swipe, tap (if applicable) or key in credit card information. If possible, we suggest swiping/tapping over keying in the card number, as Square provides a lower rate on card-present transactions.
9. [Optional] A split payment can also be created in Square, allowing you to split the amount previously noted (e.g. $999.99) for payment across multiple credit cards.
10. Click Charge.
11. Both failed, and successful payments redirect back to the CF app (with an error message, if applicable).
12. Booking is updated with transaction details.
To facilitate payments processed through the Square mobile app, Checkfront uses the custom amount feature in Square.


It is possible to add taxes to custom amounts within the Sales Taxes section of your Square Dashboard.

However, if you add taxes to custom amounts in Square, Square adds those amounts on top of whatever value Checkfront sends for the transaction.

For example, if the item in Square has a 15% tax applied, you try to collect the $100 outstanding balance from a booking. The payment amount is $100 in Checkfront, but the transaction amount is $115 in Square!

To avoid this conflict, please ensure no taxes have been applied to the custom amount item in Square.
| | |
| --- | --- |
| | Staff can also create payments through mobile browsers using the Square Point of Sale app. Find out more here: |
---
Can I use Square and Stripe at the same time?
Yes, if both are enabled, Stripe is the default provider for your web-based payments, and Square can then be used simultaneously for in-person payments via our mobile app.
The Square integration may also be your eCommerce and mobile payments solution.
How far back in the past can I process refunds with Square?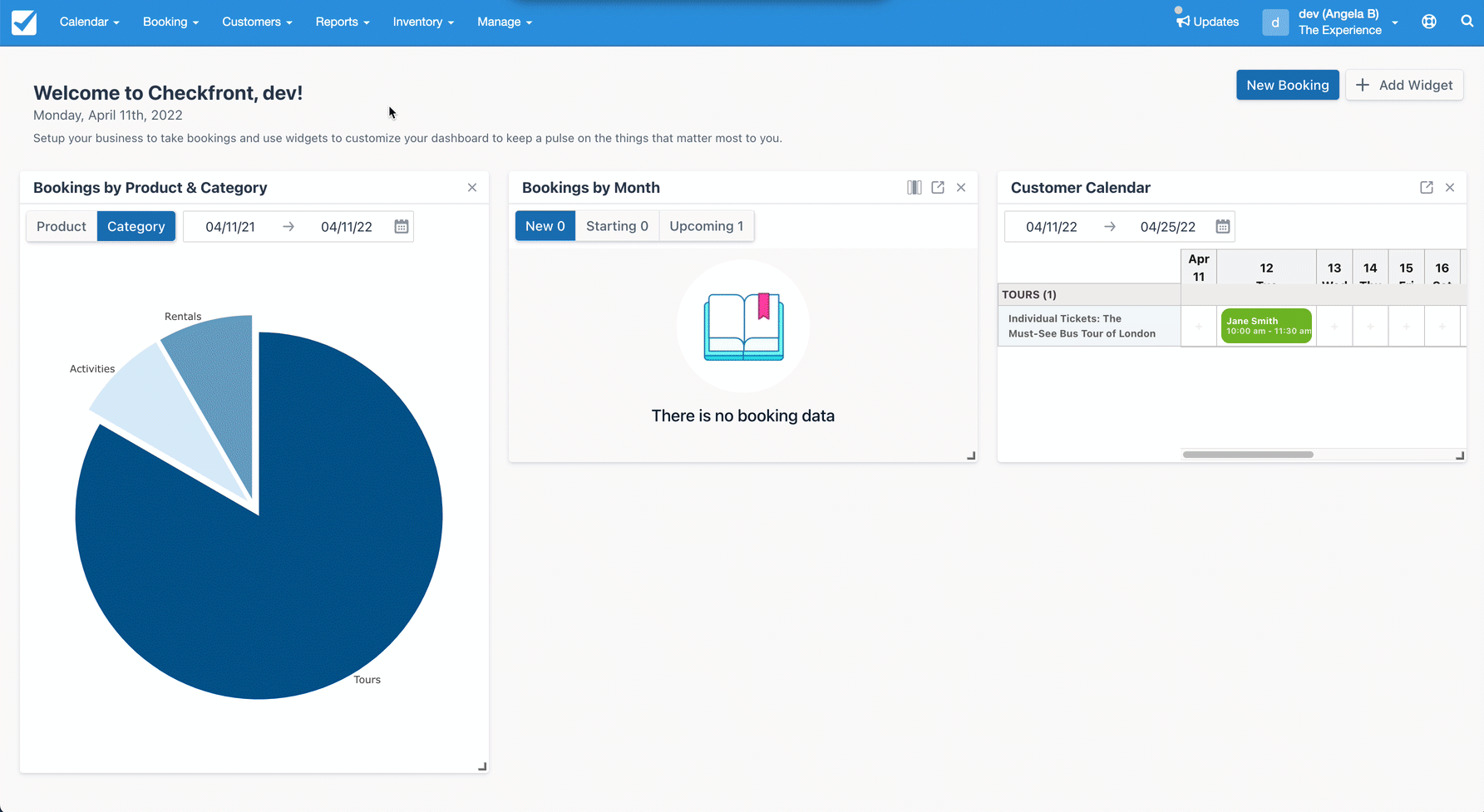 Square allows rebilling and refunds. These processes are done using tokenized payment information.
The time that refunds are allowed to be processed after the original payment date can be found on the Square website. After this window, you need to refund your Customer outside of Square.
Once you have refunded your Customer outside of Checkfront and Square, log the refund on the Customer's Checkfront booking Transactions tab using a POS transaction type, as in our example above.
Does Checkfront support Square gift cards as payment?
Square gift cards are only supported as payment through our mobile apps, as the mobile apps redirect to the Square Point of Sale app. See the Paying through mobile apps section above for more information.
What Square hardware can I use for in-person bookings?
We recommend the Square Stand (iPad-based) device for in-person bookings/rentals through Checkfront.
The Square Register is not recommended, as the Register only allows Square programs to run.