---
Prerequisites:
Your account must have access to items (Inventory > Items), which is a key feature of our classic version of

Checkfront.
A Staff user account, as Partner account login is not supported.
Important:

Only the QR Code Scanner feature of the app, used to check-in Guests via

QR Barcodes

on invoices, is supported with products (Inventory > Products) at this time.
New to Checkfront - Products ✨

Products (Inventory > Products) is the successor feature to (Inventory > Items) and is available in our newest version of Checkfront.

Not yet on our newest version and interested in upgrading? Please contact our Technical Support team for more information.

Discover more product-related help articles here: Products (New).
---
Android Mobile Booking App Settings
Customize your Android Mobile Booking App experience to further streamline your use a create a more personalized experience.
---
There are a couple of configurable settings available through the Android Mobile Booking App. These can be accessed via the settings button at the bottom right corner of the app home screen.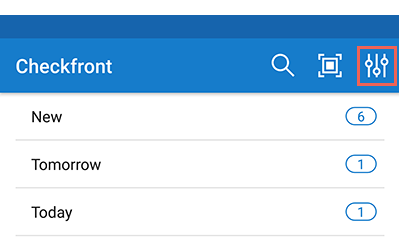 Auto Check-in
Auto check-in is a feature that enables a customer to be automatically checked in when the QR code on their booking invoice is scanned by the app. This further speeds up the process for checking customers in, especially if you are using Checkfront for tours and have a lot of people arriving at the same time to redeem their reservations. Simply point the device camera at the QR code and that's it. The booking appears on the screen and the check-in switch is active.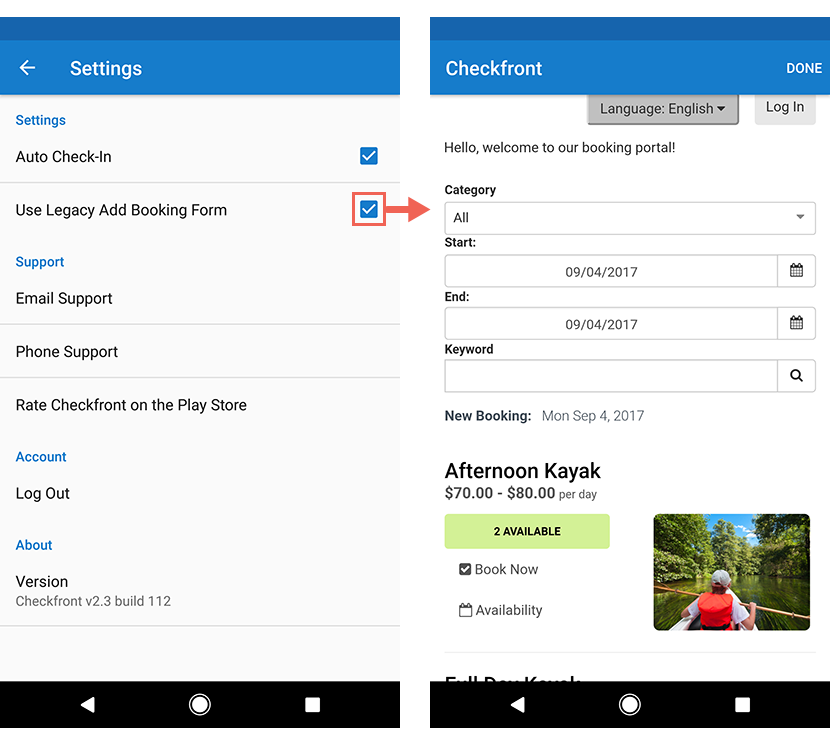 Use Legacy Add Booking Form
In a previous version of the Checkfront Mobile App, the booking form was actually displayed through an iframe to the hosted booking form online (above right). Now, the booking form is built into the app by default. If you prefer the old method though, you can turn on this switch to activate it.
Email Support
Tap this link to create a new email to our support team. This is an in-app email and so you are redirected to your device's default email program.
Phone Support
Tap here on your iPhone to connect with our support team via telephone. Support hours of operation can be found here.
Logout
When you're finished working within the app, click on this link to log yourself out.
---
---