---
Learn about the various settings within the Description step of the Gift Certificate Template Builder, including categorizing, tagging, naming, and summarizing your gift certificates.
New to Gift Certificates? Read the first article in this series for an introduction to the Gift Certificates feature.
---
Which plans include this feature?
Legacy:  Pro, Plus, Enterprise, Flex
New:  Available with Growth (Subscription), Growth (Per Booking), and Managed plans only. Not available with Starter plans.
→ Learn more about our new plans or how to change your plan.

Where can I find this feature using the top menu?
Inventory > Gift Certificates > Create Gift Certificate


What more do I need to use this feature?
The Gift Certificates feature is activated within your account (Manage > Integrations).
Admin or restricted permissions to Manage Gift Certificates and Manage Gift Certificate Templates.


Which Checkfront version supports this feature - classic, new or both?
This feature is available in both our classic version using items (Inventory > Items) and our newest version using products (Inventory > Products).  → Learn more about products
---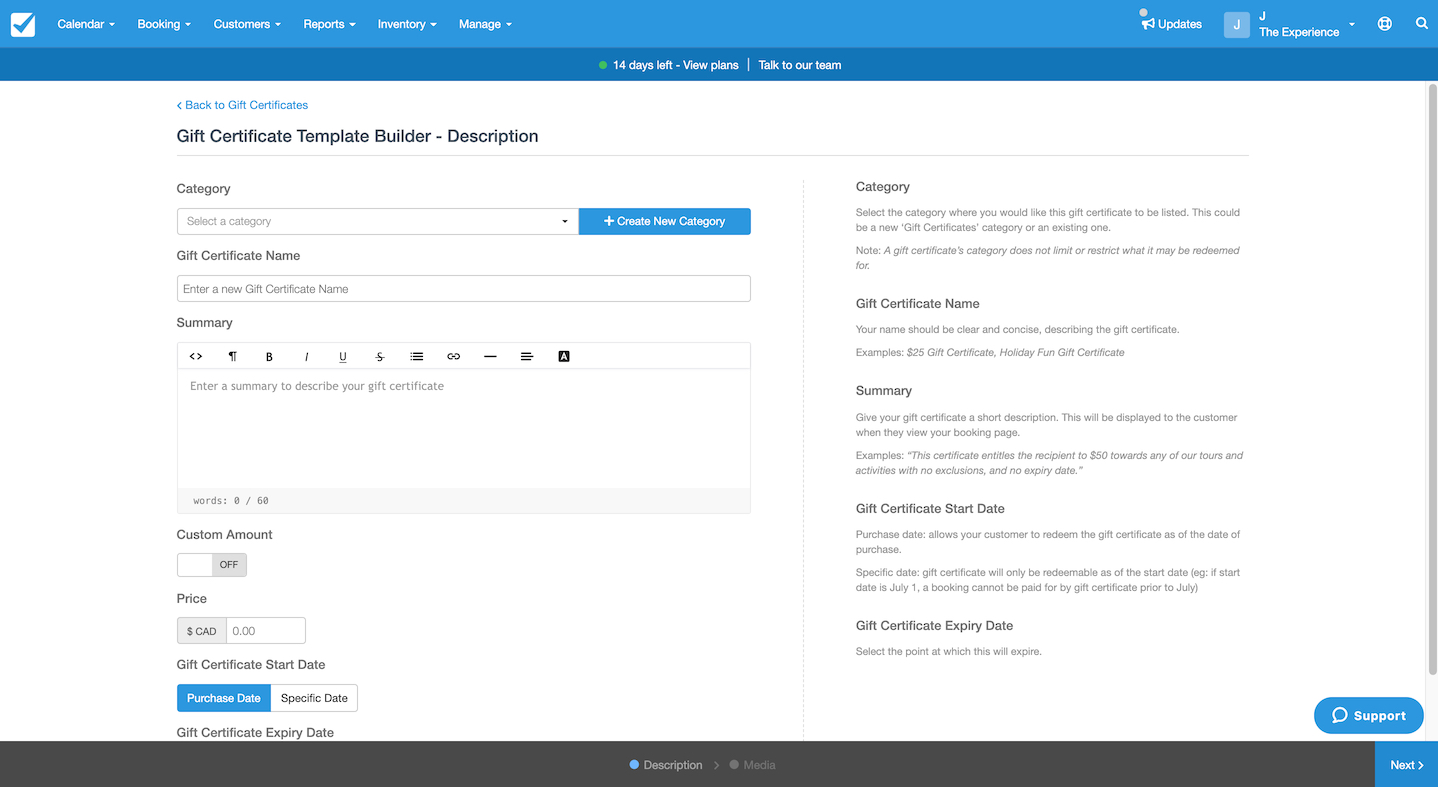 Once inside the Gift Certificate Template Builder, choose a Category for your gift certificate. Then, work your way through the settings as described below.
Choose a Category from the drop-down menu. The most commonly used category would - not surprisingly be - Gift Certificates!
Do you need to create a new category for your gift certificates? Click on the +Create New Category button.
Enter a name for the new Category, then click the blue check-mark button (✔) to save your addition. Once added, a green New Category label is temporarily appended to your new category.
| | |
| --- | --- |
| | The category you choose does not restrict the items/products to which the gift certificates can be applied. For example, if you assign the gift certificate template to Gift Certificates, it is still redeemable for items or products in categories such as Tours or Rentals. |
 

Are tags not visible within your account? This feature is being gradually rolled out. Feel free to reach out to Customer Support to have the feature enabled on your account or with any questions!

Learn more about tags here: Introduction to Inventory Tags

Tags are only supported with our classic items feature, not our new products feature, at this time.
Enter the Gift Certificate Name in the field provided. An Item SKU is generated automatically based on the Gift Certificate Name you enter.  
If you'd like to change this, click the Edit link, enter the preferred Item SKU, and click the blue checkmark button (✔) to complete your update.  
The Summary field lets you provide a short description visible to the Customer on your booking page.
Use our editor to format the description for display. Format the text using the options provided (format, bold, italic, underline, strikethrough, lists, link, line, align, size, text colour) or work with HTML code (<>).
The formatting is sometimes carried over when pasting existing text into the text editor.

There are two ways to remedy this if the behaviour is not wanted:

When you copy text from a different document, paste it into an external text editor and then paste this "plain text" into the Checkfront editor. This removes any of the font types or size styles attached.
You can remove carried-over text styles from within your current editor by directly editing the HTML as needed from the editor's <> menu button.
In the next article of this series, we look further at gift certificate settings, from configuring a custom amount to specifying the expiry date.
---
< Creating gift certificates for purchase     |   Configuration description settings (custom amount to expiry date) >
---