---
Plan Availability: ✓ Soho | ✓ Pro | ✓ Plus | ✓ Enterprise | ✓ Flex |
Locate: Reports > Booking Index > Import
Prerequisites:
The Import Bookings feature is available to those using items (Inventory > Items), a feature of our classic version of Checkfront.
Interested in using the Import Bookings feature with products (Inventory > Products)? Your account must be a member of our

Early Access Program. Please reach out to

Checkfront Technical Support

to learn more.
---
When the spreadsheet has been uploaded, you need to map the data columns to the corresponding fields in your system. You only need to map the fields you wish to be imported. If there's a particular column you don't wish to import, then just leave it alone and don't select anything from its dropdown menu.
Once you've selected all the fields, click
Import
. You are asked to confirm the action. To continue, click the
Import Now
button. If you'd like to make changes, then click on the
No, I need to fix something!
button instead.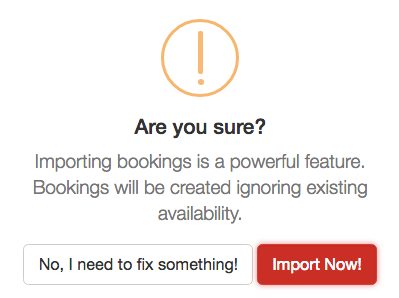 If everything went according to plan, then you receive a success message. Click OK to continue.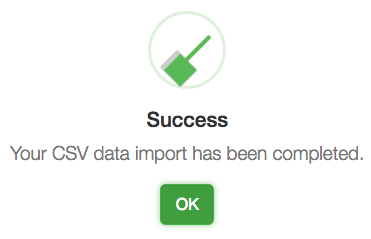 ---
< Import Bookings: Spreadsheet Import | Import Bookings: Viewing the Bookings >
---