---
Prerequisites:
Discount Codes and Vouchers are available to those using items (Inventory > Items), a feature of our classic version of Checkfront.
Interested in using Discount Codes and Vouchers with products (Inventory > Products)? Your account must be a member of our

Early Access Program. Please reach out to

Checkfront Technical Support

to learn more.
Early Access Program

The new product feature mentioned in this article is currently part of our Early Access Program, which means it is available to select Customers to try out and provide us with feedback.

To learn more about becoming part of our Early Access Program check out our related blog post or contact our Technical Support team.

Find our complete set of help articles related to the Early Access Program here: Early Access Program.
---
Overview of Discount Codes including uploading Bulk Voucher Code for items.
---
To create a new discount when using items or products, click on + New Discount from the main discount page (Inventory > Discounts).
Options vary slightly if you are using items versus products, as illustrated below.
If using items, you see the following options: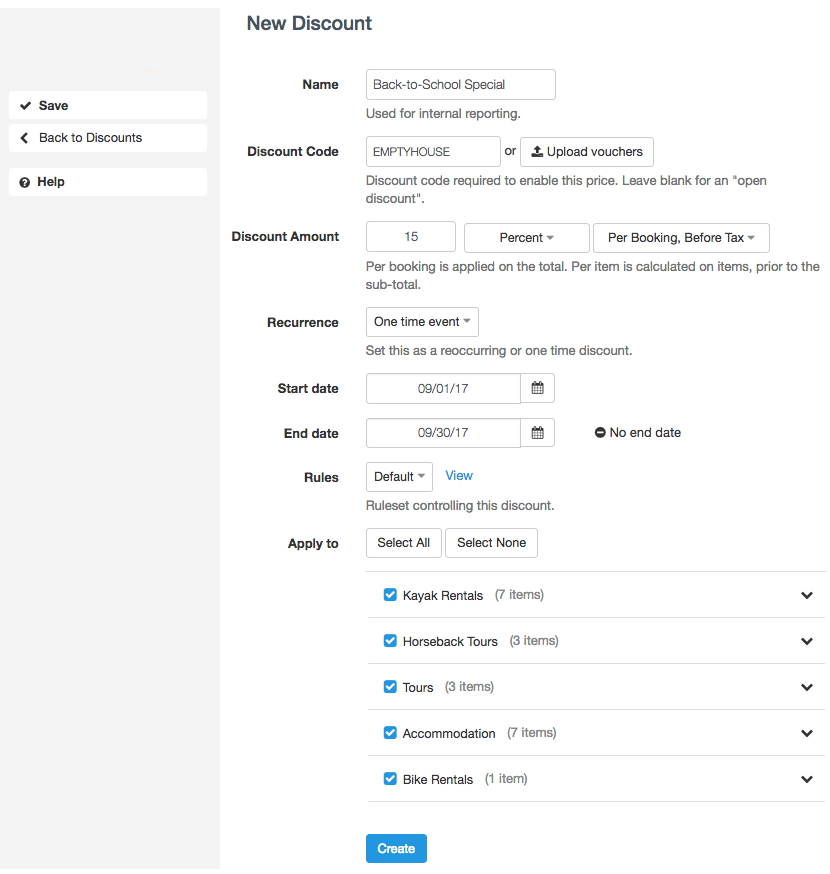 A descriptive name for the discount (e.g: June Special). This is used internally for reporting and is seen by the customer on their invoice.
| | |
| --- | --- |
| | Be sure to give your Vouchers and all Discounts descriptive names to help you find them in internal reports, for example, Summer Promo 10% Per Booking, After Tax. |
A short, unique discount code to be used at the time of booking.
The discount code should be alpha-numeric and not contain any spaces.
The customer must enter this code, which is not case-sensitive, in order to receive the discount.
If this field is left empty, then an open discount for items is created. This means the discount is given to everyone automatically, during the period specified further down the page.
| | |
| --- | --- |
| | Note that products do not support applying an open discount at this time. |
Instead of supplying a single discount code, you may wish to upload a list of pre-defined voucher codes.
To prepare your file for upload...
Open your favourite spreadsheet program, such as Numbers or Excel.
List your voucher codes in column A, one code per row.
Save as a CSV or TXT file to your computer.
The voucher list should be in CSV or TXT format and each code needs to be unique. The codes should consist of letters, numbers, and dashes only. The use of any other characters may prevent the discounts from being applied properly.

Example: SALE-123

You can use a third-party solution such as randomcodegenerator.com to quickly compile an extensive list of voucher codes, or, see below for details on how to use Google Sheets for this purpose.
Uploading Vouchers for use with Items
If using items, then once you have your list of vouchers, you can upload it to the system by clicking on the Upload Vouchers button (1) and then the Choose File button (2), when it appears.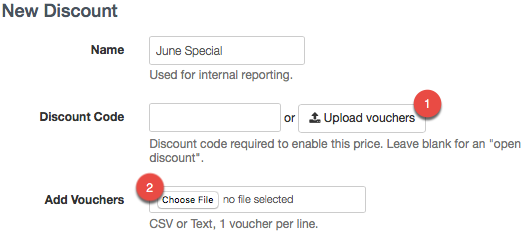 After selecting the file from your computer, you now see it attached to the upload field, as in the screenshot below:

Uploading Vouchers for use with Products
For products, you can upload the list by activating the Vouchers switch under Enable single-use vouchers so that it shows blue and then clicking in the Select a file box that displays to choose the file you want to upload.
| | |
| --- | --- |
| | Once uploaded, you can see a list of your available vouchers by visiting the Promotions report (Reports > Other Reports). Learn more here: |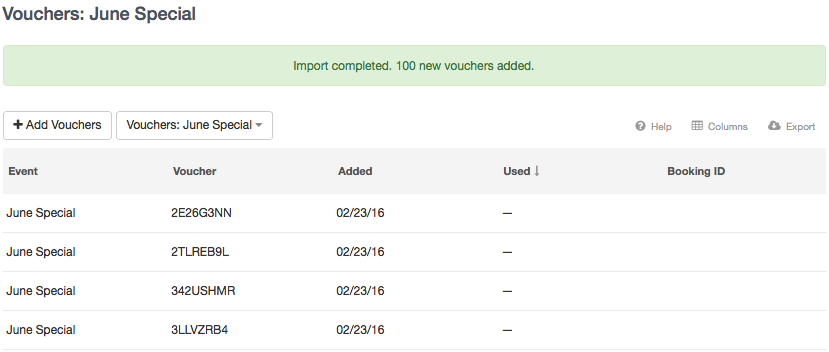 You can come back to add more voucher codes at a later date. Just upload another CSV or TXT file as before.
| | |
| --- | --- |
| | When uploading a list of vouchers for items, you should leave the Discount Code field blank. Do not enter anything here or the vouchers will not work properly! |
---
If you're familiar with Google Sheets, then you can use a free add-on called Random Generator to create a list of random voucher codes for use with Checkfront.

Create a new sheet and click on the Add-ons menu at the top. Select Get add-ons...

Use the search box to find the Random Generator app and install it.

Returning to the Add-ons menu, you are now able to launch the Random Generator app.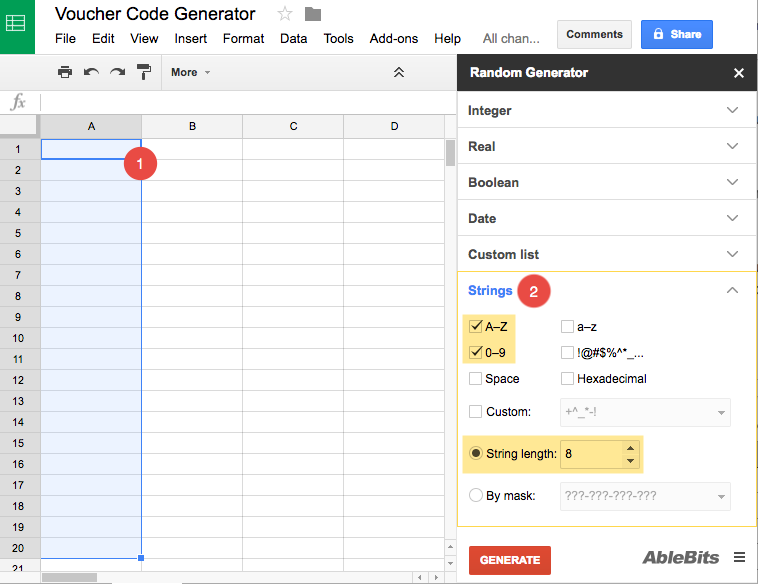 After launching, select the required number of cells in column A (1). Each cell represents one random voucher code.
From the Random Generator menu, select Strings (2) and check the capital letters and number strings, as well as setting a string length of 8.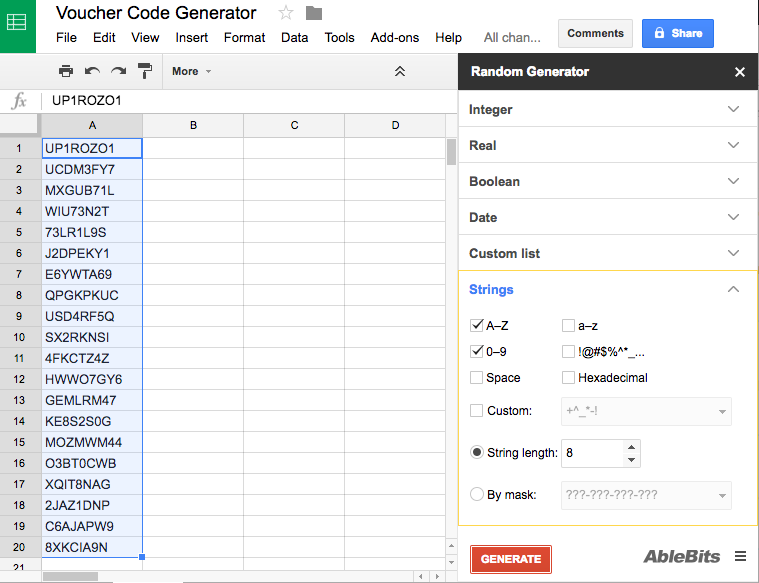 When ready, click the red Generate button at the bottom. You should now see your voucher codes on the sheet.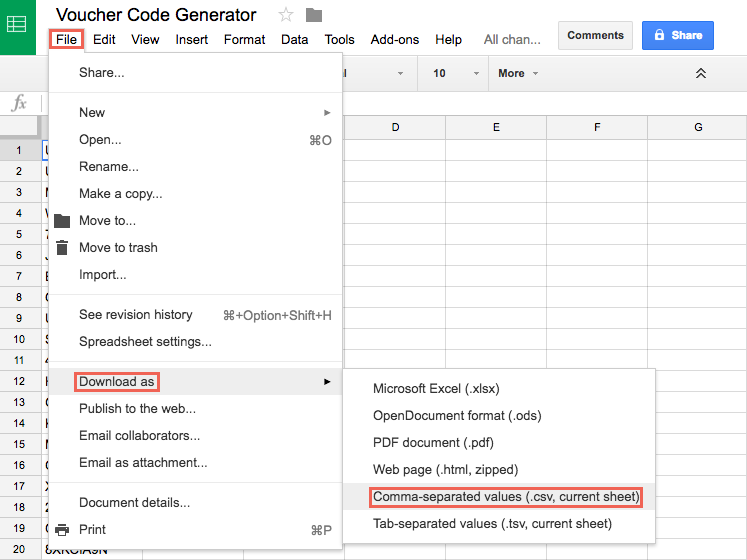 </p
From there, all you need to do is download the sheet and upload it to Checkfront.
The discount value you wish to apply to the booking. This can either be a percentage or a fixed amount. You may also apply the discount based on the individual items/products in the booking or the booking total, either before or after tax.

• Per Item or Product
Calculates the discount based on the current price and quantity of each (applicable) item or product booked. For example, a discount of $5.00 totals $15.00 when 3 applicable items are booked at once.
• Per Booking, After Tax
Calculates the discount based on the order total, including any applicable taxes. For example, ($100 + 5% tax) - $10 discount = $95.00
• Per Booking, Before Tax
Calculates the discount based on the order subtotal, excluding any applicable taxes. For example, ($100 - $10 discount) + 5% tax = $94.50
| | |
| --- | --- |
| | If offering a 100% discount, for example, then the customer is still responsible for the taxes if the discount is set to per booking, after tax. If set to per item or per product, then the customer does not owe anything upon checkout. |
You can configure discounts to be applicable on certain days only, and to specific items or products and categories.
• One Time Event:
A one-time event for items that is active for the date range defined in the date drop-down fields.

For products, the equivalent setting is to deselect the Always Valid switch and to choose a start and end date from the displayed fields.
• Weekly (by day of week):
A recurring item discount based on the day of the week, active for the dates defined. In this example, the item discount only works on Tuesdays and Thursdays between September 7th and October 7th, 2017.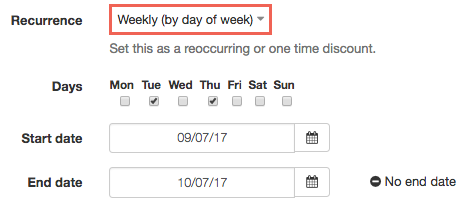 For products, the equivalent option is to deselect the Always Valid switch and to checkmark the desired weekdays under Applicable Days.
• Always (don't expire):
A permanent discount that is not defined by date. For products, this option is named Always Valid.

Attach a rule set to the item discount. By combining rule sets with discounts, you can create powerful inventory adjustments and enforce booking policies.
Note that products do not support applying rule sets.
By default, item discounts are applied globally to all items in your inventory.
If you need only to adjust a certain category or item, then click Select None and choose your items/categories individually.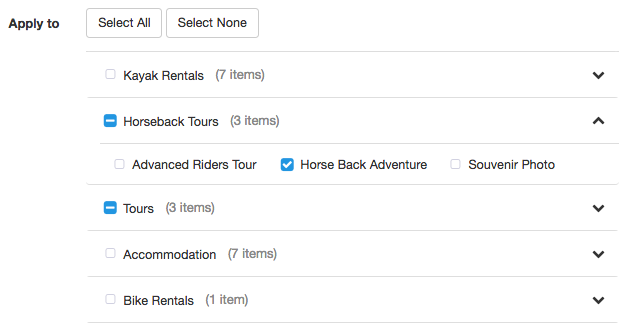 Product discounts are not applied by default to your inventory, requiring you to Select All or choose individual categories/products you want the discount to apply to.
---
< Discount Codes & Vouchers: Introduction | Discount Codes & Vouchers: Sorting Filters >
---