---
Learn how to access and configure the Locale tab within the Setup page, including choosing the timezone, currency, language, locale, and date and time.
New to Setup? Read the first article in this series for an introduction to Setup.
---
Which plans include this feature?
Legacy:  Soho, Pro, Plus, Enterprise, Flex
New:  Starter, Growth (Subscription), Growth (Per Booking), Managed
→ Learn more about our new plans or how to change your plan.

Where can I find this feature using the top menu?
Manage > Setup > Locale


What more do I need to use this feature?
An Admin account is required to view and access the Setup menu option.


Which Checkfront version supports this feature - classic, new or both?
This feature is available in both our classic version using items (Inventory > Items) and our newest version using products (Inventory > Products).  → Learn more about products
---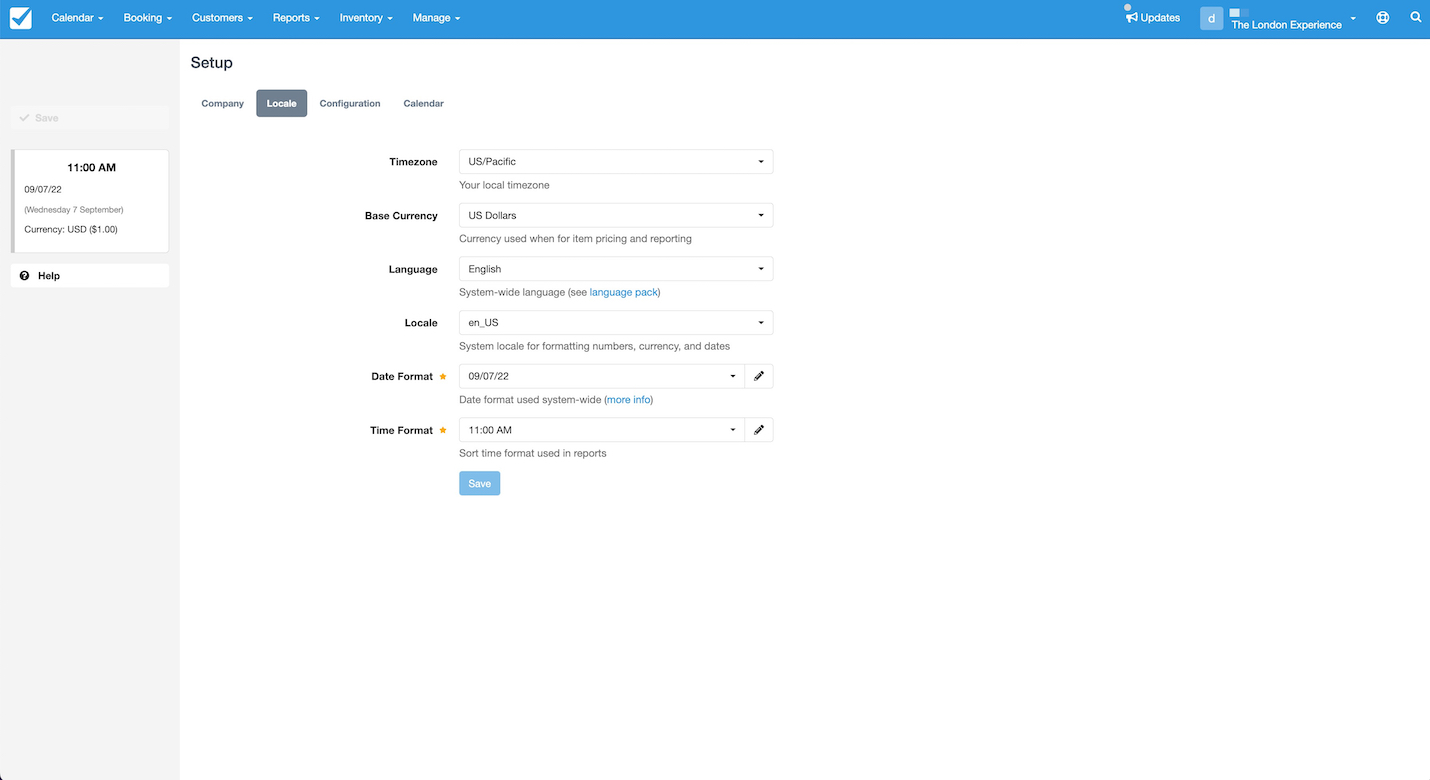 The Locale tab is where you set your timezone, base currency, and system-wide language.
Select the time zone in which your business is located. This is important because it can affect notification schedules and other time-based features like event rulesets.
This is the global operating currency for your Checkfront account. It's currently only possible to offer pricing to your Customers in one currency, so choose wisely when you select your currency, especially if you have multiple business locations and global clientele.
The default system-wide language for your account is configured here by selecting the language entry you want from the Language dropdown menu. 
| | |
| --- | --- |
| | Learn more about activating and setting up custom Checkfront Translations through the provided language pack link here: |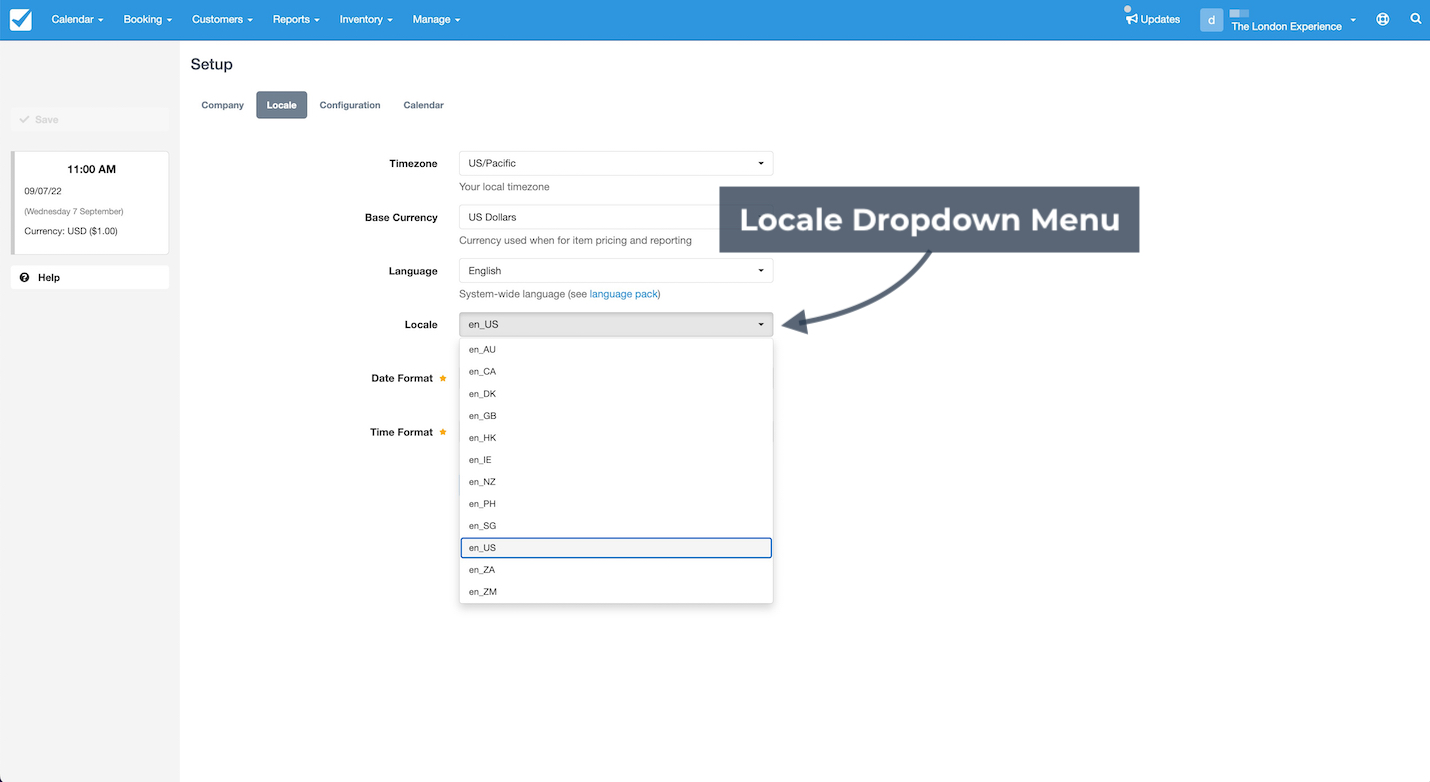 You may see multiple locale options in the locale dropdown field based on the language you select in the previous step. Many countries worldwide speak the same languages but sometimes follow different formats for numbers, currency, and dates.
The locale field allows you to choose the most appropriate number and currency formats for your location.
As shown in the example above, when selecting the English language, you see multiple locale options ranging from Great Britain and the United States to Australia and Hong Kong.
Please choose the one that works best for your needs, and if necessary, customize the date and time formats in the next step.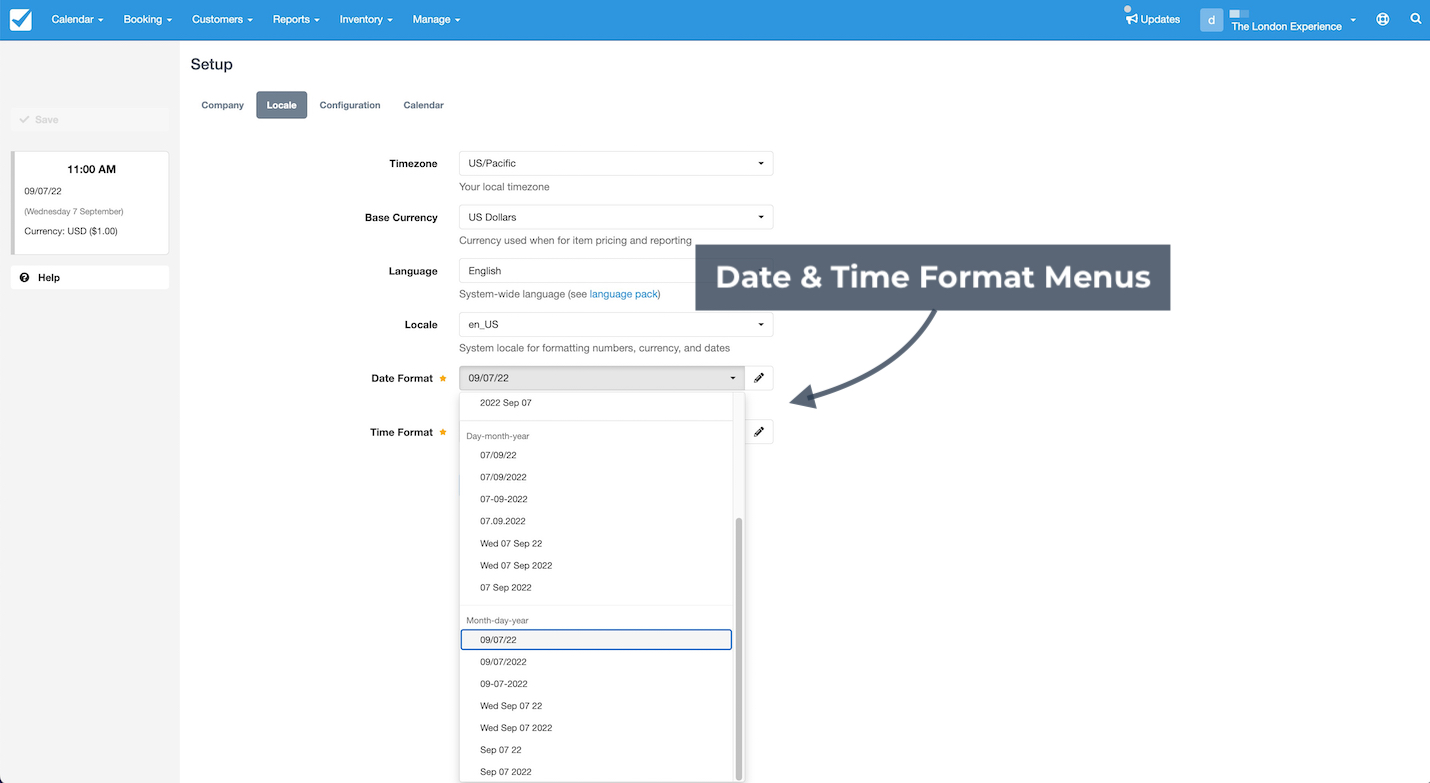 The format for which your date and time display is set by the locale you chose in the previous step.
We realize that only some operating in the same locale wish to format their dates and times similarly, so we allow you to override these settings to something you feel is more appropriate.
As shown above, you can perform this override by changing the formatting via the dropdown menus.
In the following article, we look at the options located in the Configuration tab.
---
< Setting up your account company    |     Setting up your account configuration >
---