---
Learn how to apply a refund to a Gift Certificate.
---
Which plan do I need to use this feature?
X Soho | ✓ Pro | ✓ Plus | ✓ Enterprise | ✓ Flex |


Where can I find this feature using the top menu?
Reports > Booking Index


What more do I need to use this feature?
Plan that includes Gift Certificates.
The Gift Certificates feature activated and configured within your account.
Admin permissions or restricted permissions to Process Refunds.


Which Checkfront version supports this feature - classic, new or both?
The Gift Certificate feature is available to both those using items (Inventory > Items), a key feature of our classic version of

Checkfront, and those using products (Inventory > Products), a key feature of our newest version

of

Checkfront.

New to Checkfront - Products ✨

Products (Inventory > Products) is the successor feature to (Inventory > Items) and is available in our newest version of Checkfront.

Not yet on our newest version and interested in upgrading? Please reach out to our Technical Support team for more information.

Discover more product-related help articles here: Products (New).
---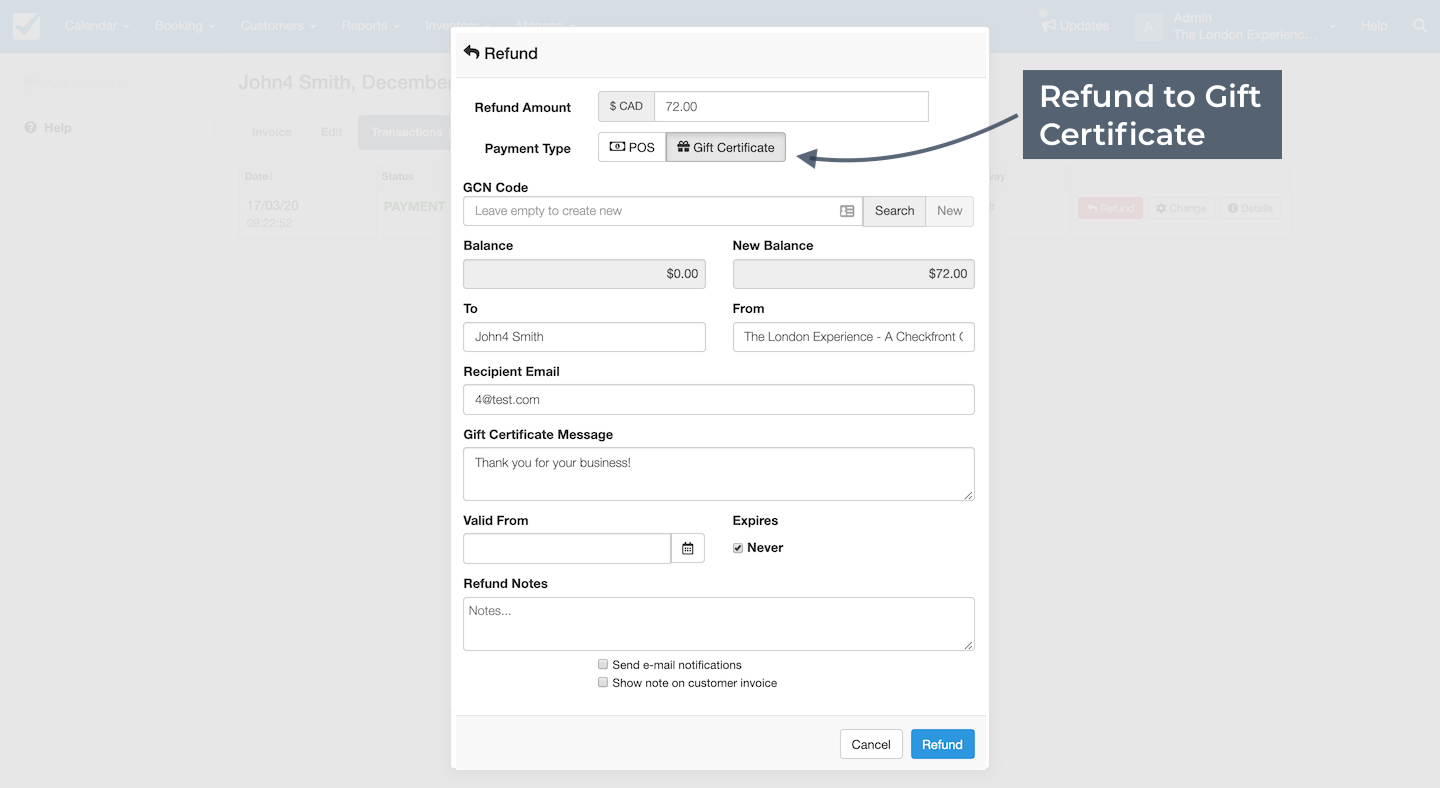 Follow these steps to refund an amount to a gift certificate. This is a great way to retain revenue in the case of cancellation!
Click on an active invoice ID link anywhere in the system. We use the Booking Index (Reports > Booking Index) in this example.
Find and click on the booking that you want to refund.
Next, select the Transactions tab from the Booking Invoice to access associated payments.
For each transaction, you need to refund, click on the Refund button at the far right of the record. This opens the Refund modal.
From the refund modal, specify the Refund Amount. You can enter a partial amount here to process a partial refund.
Select Gift Certificate as the Payment Type.
Enter the gift certificate code to Search for an existing gift certificate automatically. Leave the GCN Code field blank to generate a new gift certificate. The Balance, New Balance (factoring in the refund amount), Recipient Email, Valid From date, and Expiry Date (where applicable) populate once the gift certificate is loaded.
Any text you enter in the Gift Certificate Message displays within the actual PDF gift certificate.
Enter any Refund Notes you need to associate with the transaction. These only display to Customers if you choose to Show note on customer invoice.
Finally, select Send e-mail notifications if you want to notify the Customer by email of the refund. The notification includes an updated PDF of the gift certificate. Note that the booking status changes when the refund is processed - to either Cancelled if the booking is 100% refunded or Deposit if the booking is partially refunded. Email notifications reflect this status change.
Click Refund to begin the refund process.
A PDF of the gift certificate sends to the Customer within minutes!
Finally, the Transactions log updates to reflect the refund to the gift certificate.
For a detailed look at the refund process and gift certificates, check out the following articles:

Also, see: