---
Plan Availability: ✓ Soho | ✓ Pro | ✓ Plus | ✓ Enterprise | ✓ Flex |
Industries: ✓ Accommodations | X Activities | X Tours | X Rentals | X Adventures | X Escape Rooms | Learn More
Locate: Manage > Integrations > Channels > Myallocator
Prerequisites:
Admin permissions to manage Integrations.
The myallocator integration is available to both those using items (Inventory > Items), a key feature of our classic version of

Checkfront, and those using products (Inventory > Products), a key feature of our newest version

of

Checkfront.


New to Checkfront - Products ✨

Products (Inventory > Products) is the successor feature to Items (Inventory > Items) and is available in our newest version of Checkfront.

Not yet on our newest version and interested in upgrading? Please contact our Technical Support team for more information.

Discover more product-related help articles here: Products (New).
In this article, we look at how to set up the integration from your myallocator account.
New to the myallocator integration? Read the first article in this series for an introduction!
Please read the full series of articles, accessed at the side and bottom of this page, to learn more about the myallocator integration.
---
Before configuring the integration with Checkfront, there are a few things you need to set up within your myallocator account:
| | |
| --- | --- |
| | For further information on setting up myallocator, please see the myallocator Knowledge Base. |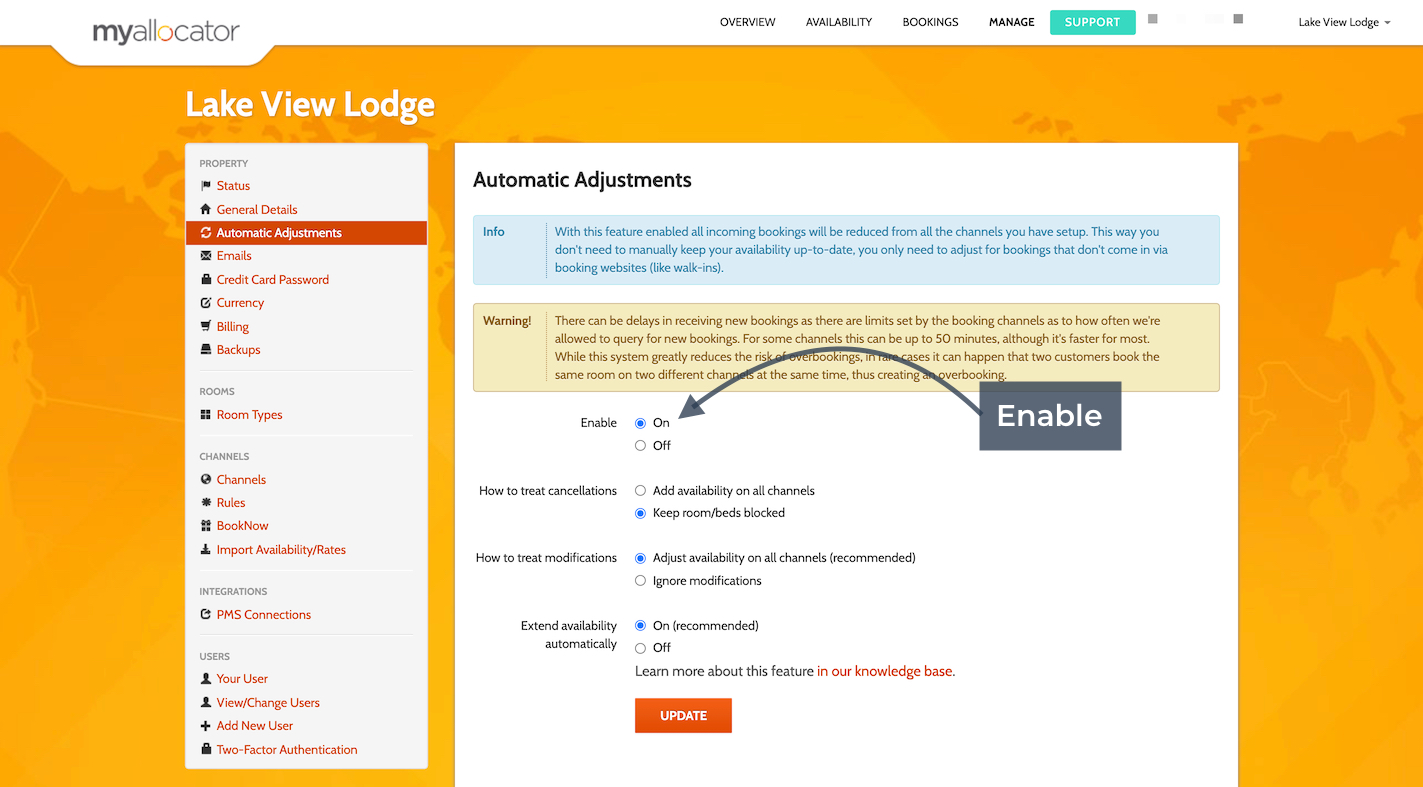 Go to Automatic Adjustments from the home page. Alternatively, you can click on the Automatic Adjustments link in the left sidebar of the Manage page. From there, set the Enable option to On, to keep your inventory up-to-date across your booking channels and within Checkfront. Without Automatic Adjustments enabled, the system does not recognize when a booking has been made or update inventory accordingly.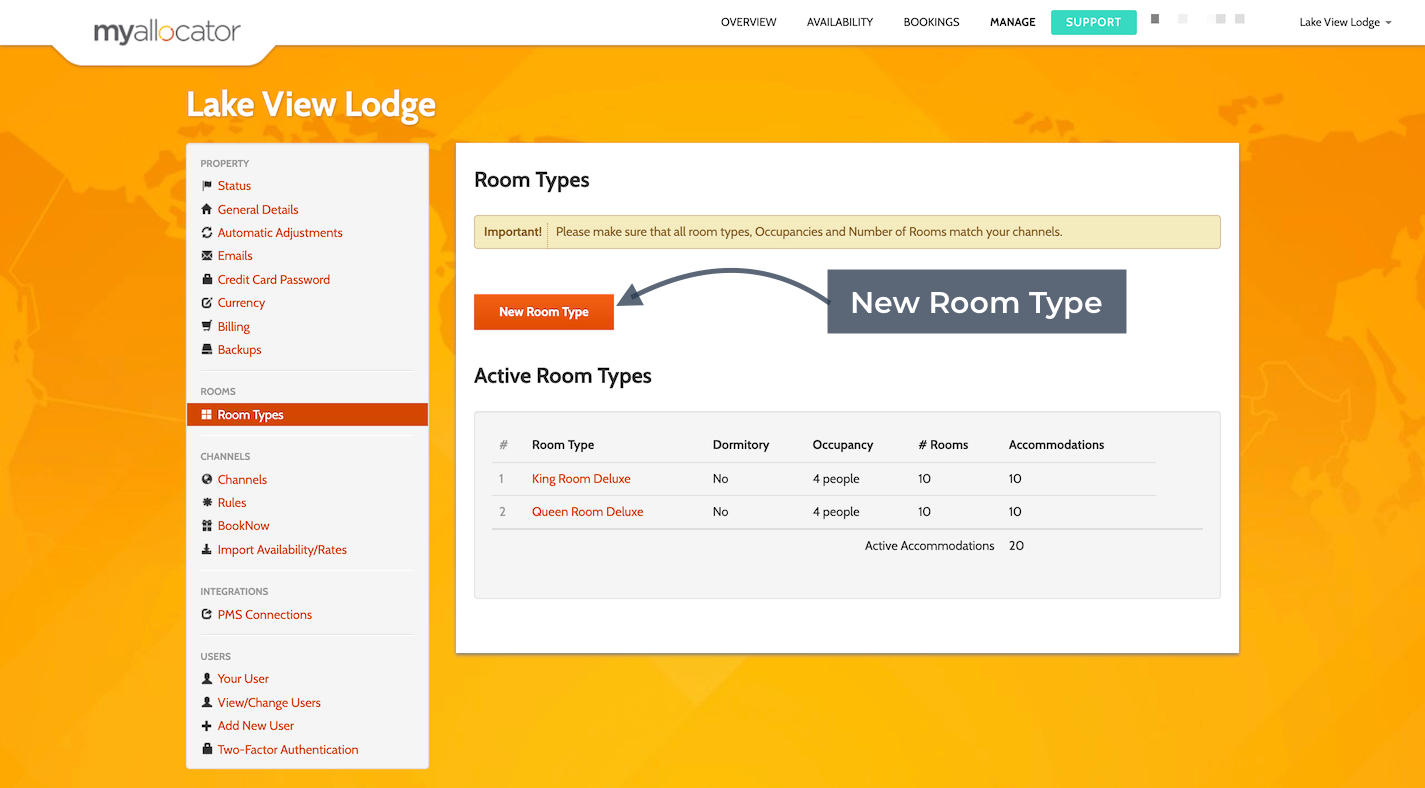 Set up your Room Types in myallocator so that they can be mapped to your offerings in Checkfront. We look at how to do the mapping part later, but for now, you need to configure the different types of rooms.
Click on the Room Types link in the left sidebar. From there, click the New Room Type button. Fill out the required details and add a label so you can identify the room type in Checkfront. Repeat this process for all the different Room Types you have on offer.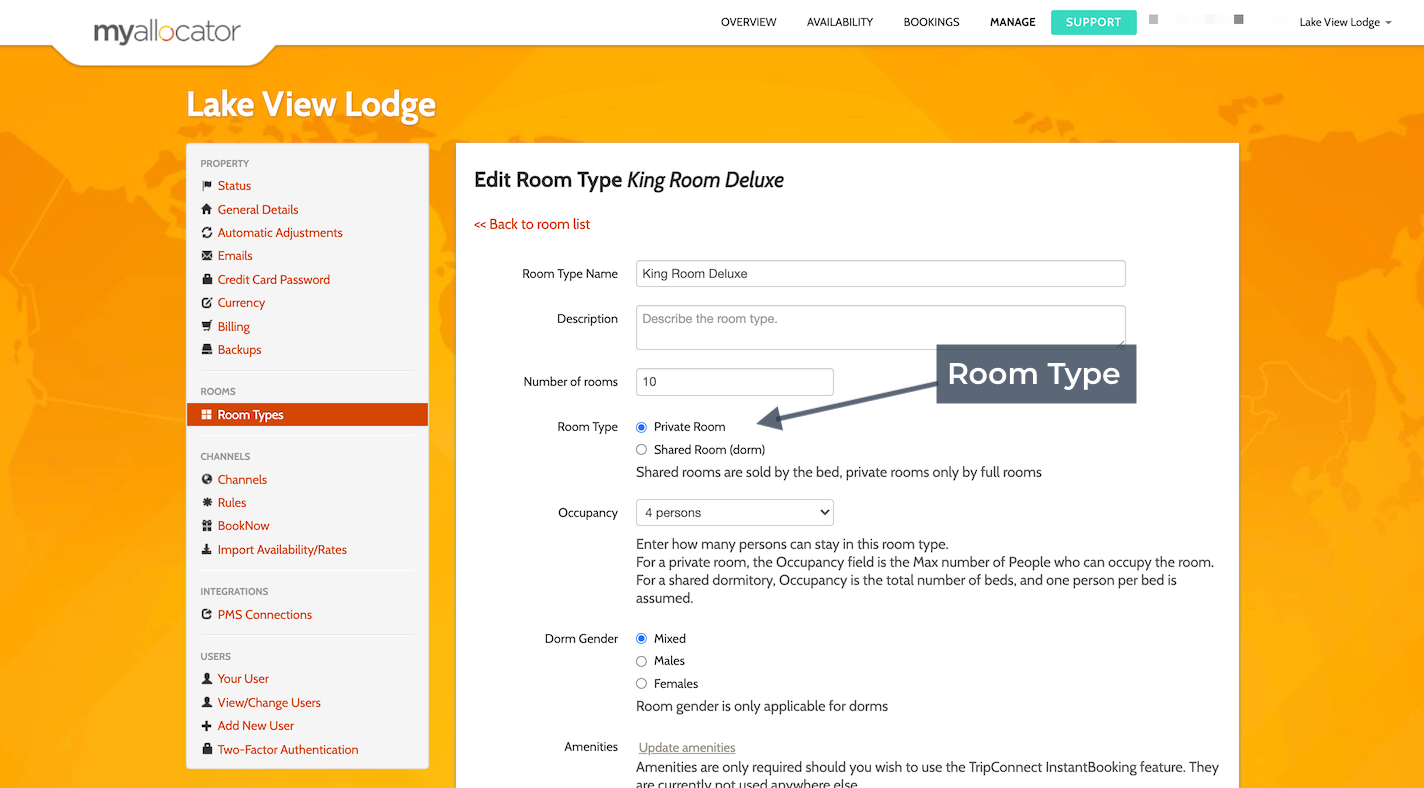 While you are looking at room types, you need to determine whether your room types are priced per room or on a per-person basis. You need to edit each room type and configure the room type setting.
Choose Private Room to price per room and Shared Room to price per person.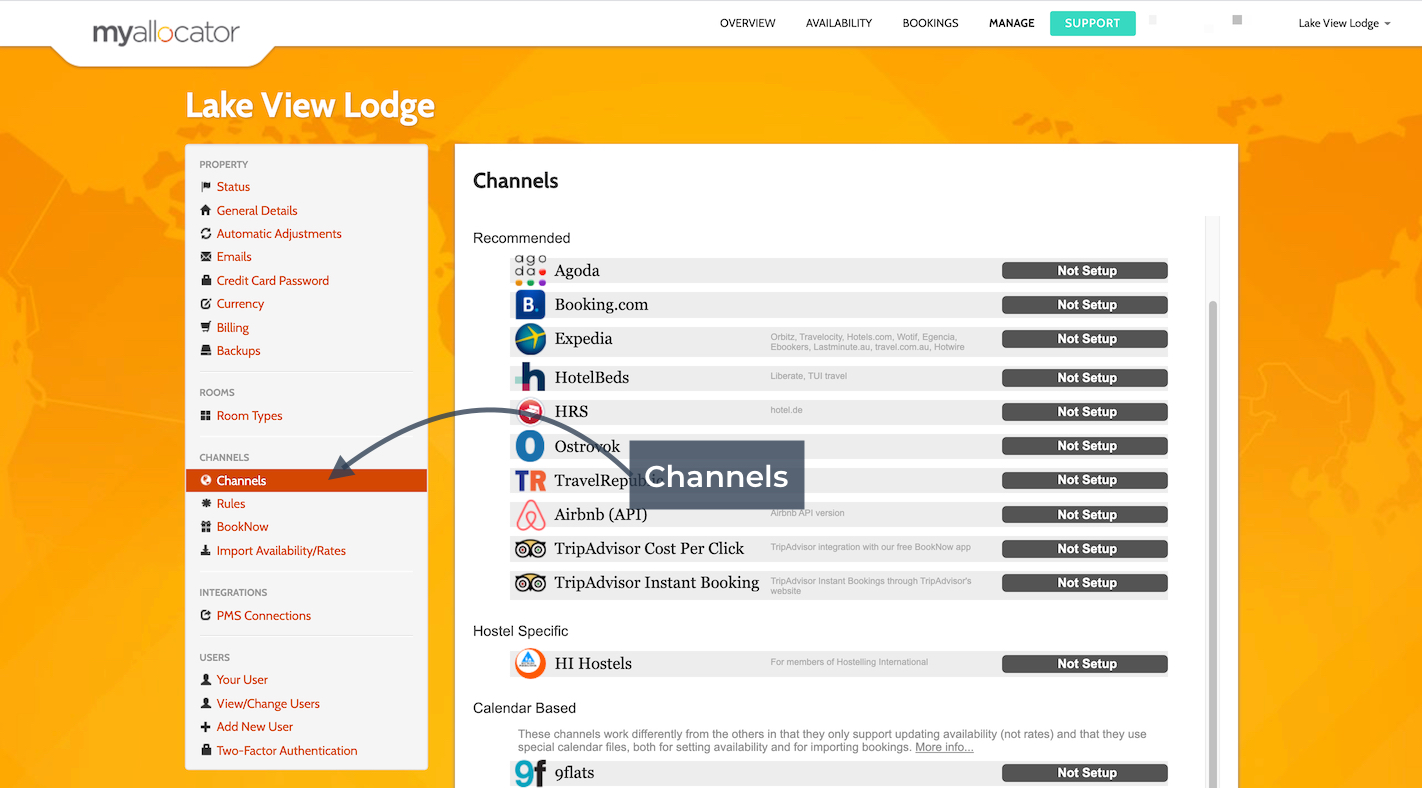 Next, set up the channels you would like to be linked to myallocator.
| | |
| --- | --- |
| | An account with myallocator does not automatically sign you up with all the supported channels. You must sign up for accounts with each channel on your own. |
To configure a channel...
Click on the Channels menu item within the left side menu under the Channels section.
Click on the Add Channel button.
Click on the Not Setup button next to the channel you wish to activate.
Provide your credentials to connect your OTA account to myallocator.
Repeat these steps for every account you need to connect.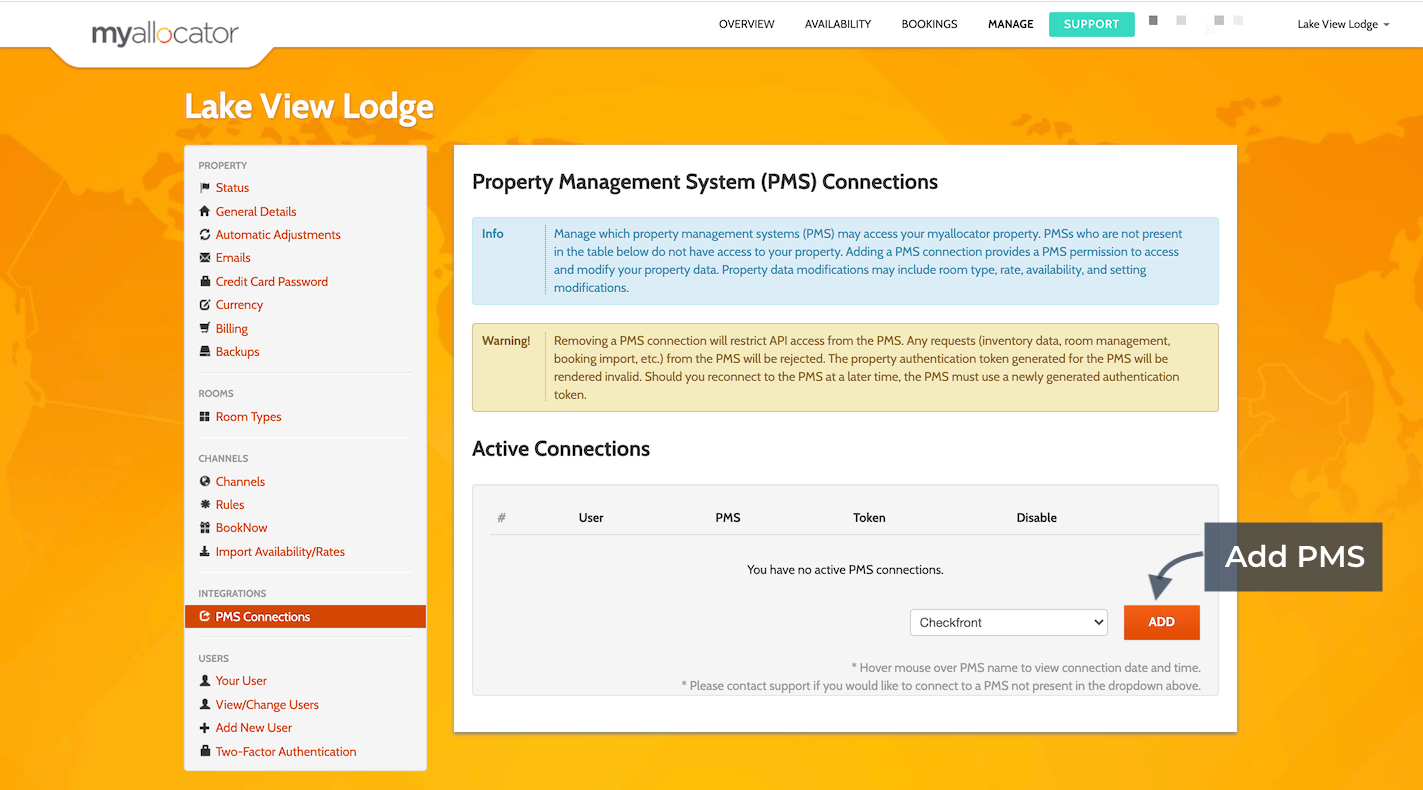 The final step is to set up your PMS (Property Management System) connections within myallocator. This enables you to define which third-party vendors (in this case, Checkfront) have access to your property via the PMS-facing API.
Click on the PMS Connections link under Integrations in the left sidebar.
Select Checkfront from the (Connect to a PMS) drop-down menu.
Click the Add button.


Checkfront has now been added to the list of Active Connections with its own unique authentication token. You do not need to note this token as it is used by the app behind the scenes.
In the next article in this series, we look at setting up the myallocator integration in Checkfront.
---
< Introduction to myallocator | Setting up the integration in Checkfront >
---