---
Allow your Customers to buy now and pay later via the Uplift additional payment method through Checkfront Payments.
---
Which plan do I need to use this feature?
✓ Soho | ✓ Pro | ✓ Plus | ✓ Enterprise |


Where can I find this feature using the top menu?
Manage > Ecommerce Setup > Payment tab > Checkfront Payments > Additional Payment Methods


What more do I need to know to use this feature?
Account eligibility

Uplift is only available to Canadian and US accounts at this time.
You must have Checkfront Payments as your Payment Provider.
Your merchant account must use one of the supported Merchant Category Codes. Learn more below.

User access

You require Admin permissions to manage payments.

Booking criteria

Uplift only appears as a payment option

for bookings above $150 USD or $300 CAD.

Financing through Uplift is not available for bookings made on the same day as the booking start date.
For accounts that have deposits enabled, Uplift only appears if the Customer chooses to pay the full amount instead of the deposit for their booking.
Gift certificates are currently not compatible with Uplift.
---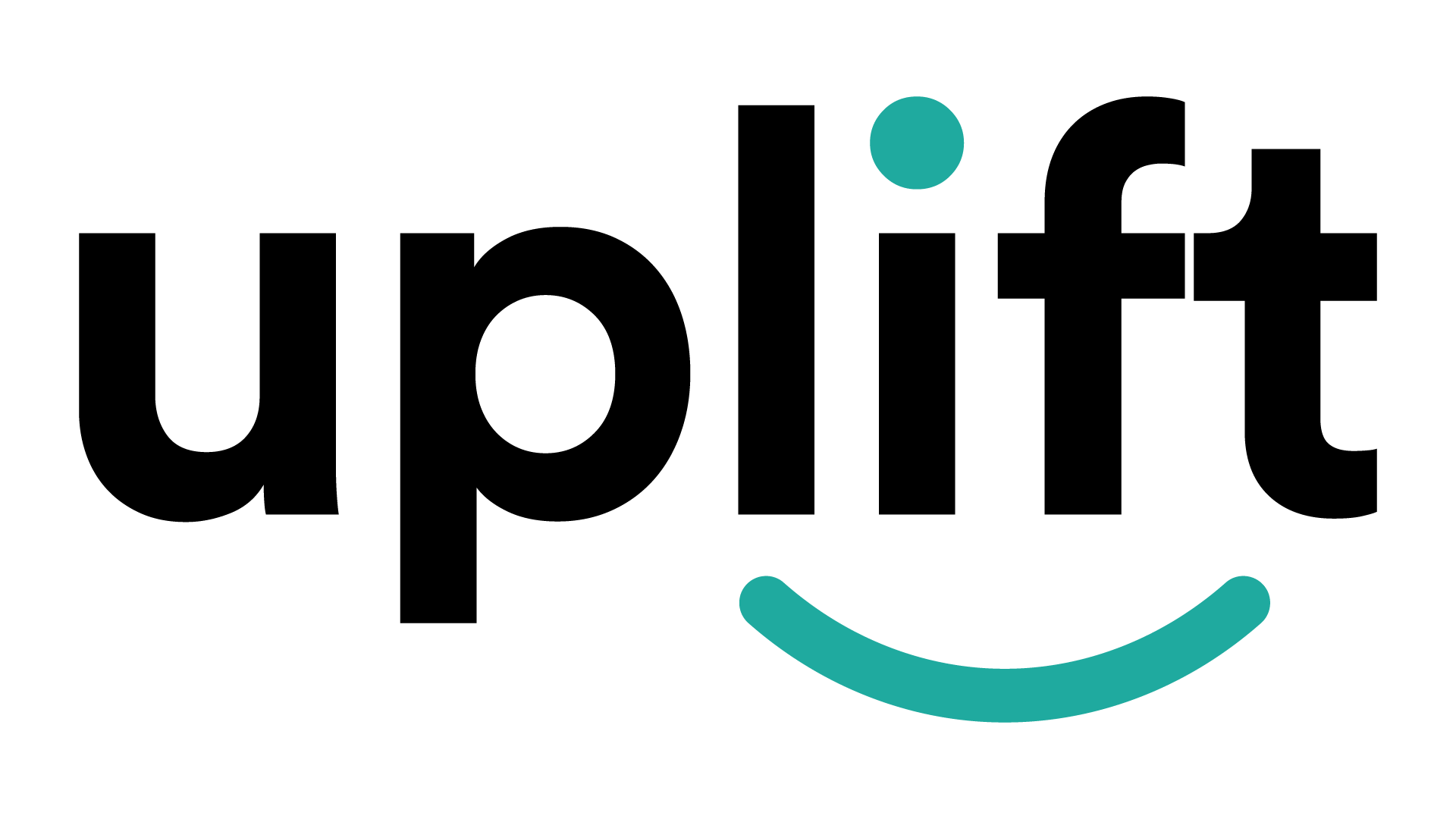 "Feel good about what you buy and how you pay for it with Uplift. Simple, no-surprise payments let you buy now and pay later. With Uplift, you can make thoughtful purchases now and pay over time in bite-sized installments." ~ Uplift
Buy Now, Pay Later powered by Uplift allows Customers to buy your offering and pay in monthly, interest-free installments. Uplift is an additional payment method just like Apple Pay and Google Pay, which are already enabled on your account.
Why choose to offer Buy Now, Pay Later powered by Uplift?
Your Customers can buy now and pay back their loan to Uplift in monthly installments.
You get the full payment immediately if a Customer pays with Uplift. It behaves and costs the same as a credit card transaction.
Uplift services and manages the loan. You are not involved with the loan, payment terms, or loan payments.
| | |
| --- | --- |
| | Learn more about activating Checkfront Payments here: |
---
Uplift enabled by default as an additional payment method
Back to top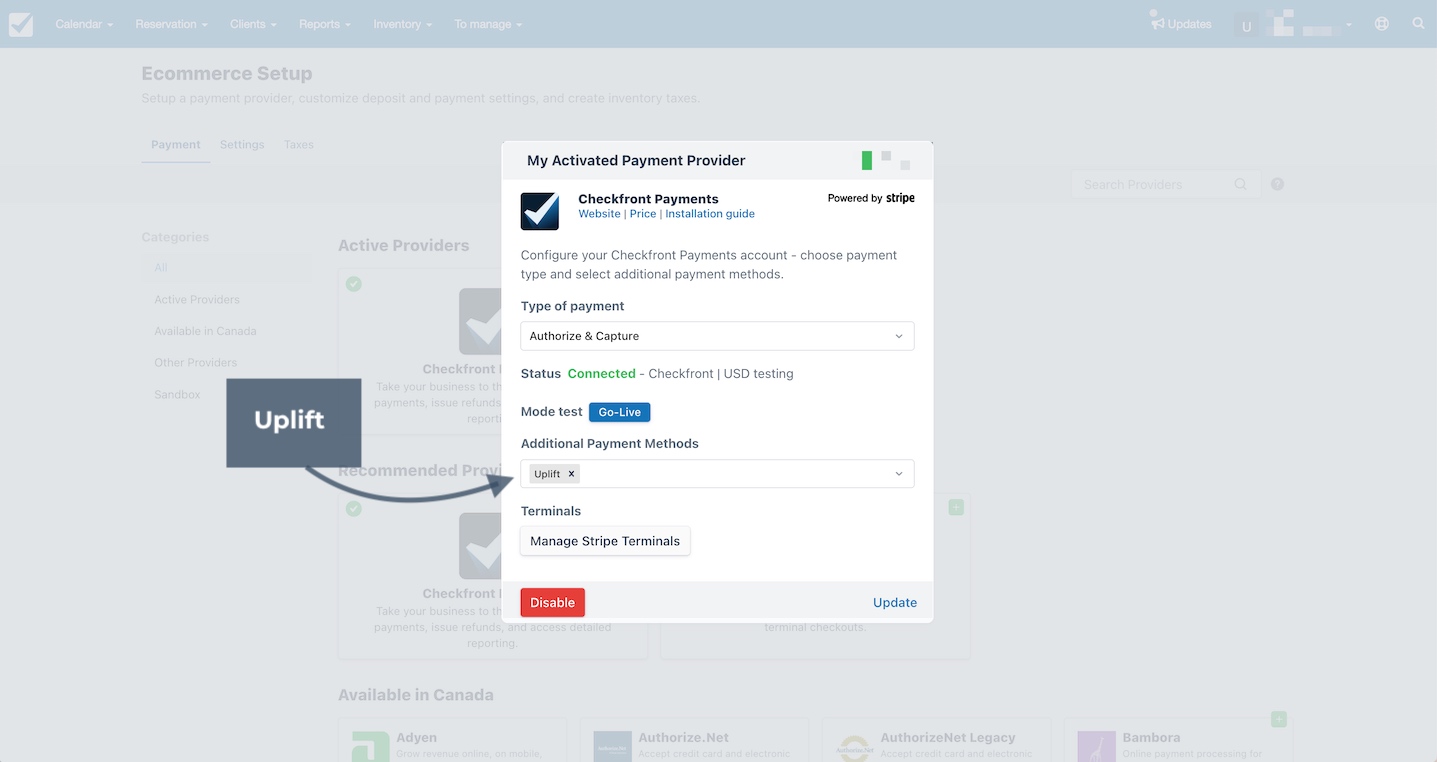 Uplift is enabled by default for eligible accounts with Checkfront Payments. You can follow these steps to access the setting.
From the Manage menu at the top of the page, select Ecommerce Setup.
Click on Checkfront Payments to open the setup modal.
Uplift is automatically selected by default under the Additional Payment Methods setting.
To disable Uplift, click on the remove icon (x) next to the Uplift label and then click Update to save your changes.
---
Ensuring deposit settings are configured to charge the full amount
Back to top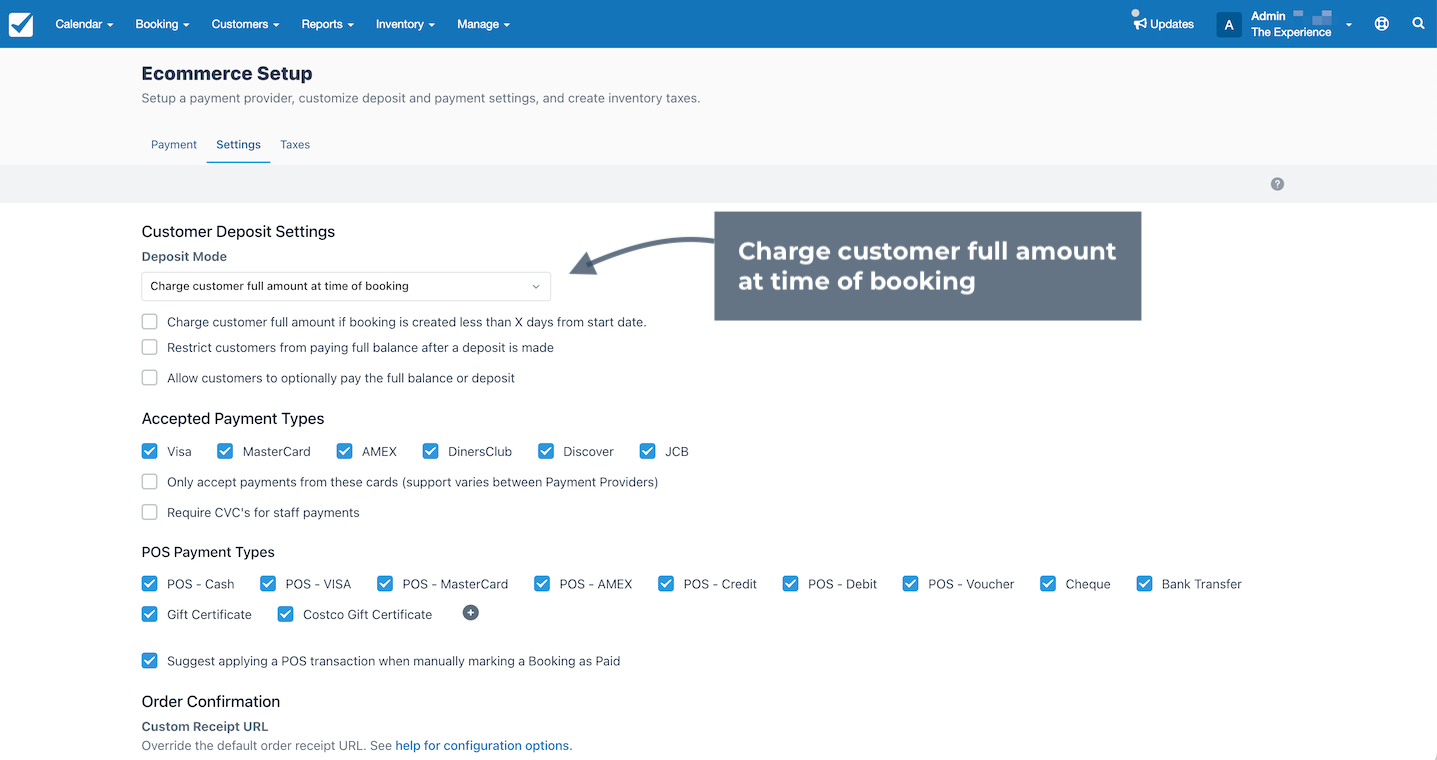 Uplift only displays as a payment option if the Customer pays the full amount of the invoice.
Please follow these steps to ensure deposit settings are set to charge the full amount.
Go to Ecommerce Setup (Manage > Ecommerce Setup)
Under Customer Deposit Settings, choose to Charge customer full amount at time of booking.
Click Save to apply your changes.
| | |
| --- | --- |
| | With the option to Allow customer to optionally pay the full balance or deposit configured, Uplift only displays once your Customer chooses to pay in full. We recommend you disable this setting to ensure that Uplift is displayed prominently. |
| | |
| --- | --- |
| | Learn more about configuring Ecommerce settings here: |
---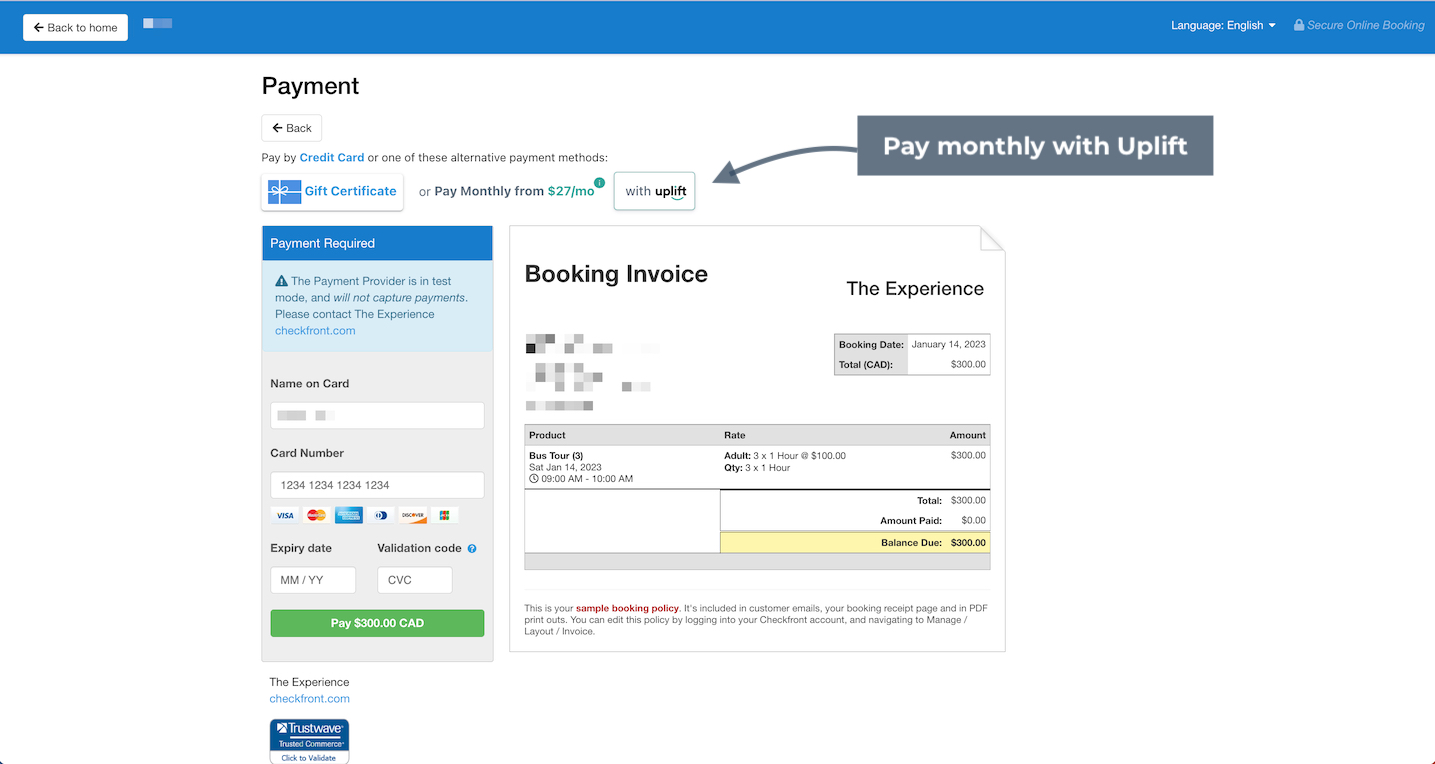 You can follow these steps to pay with Uplift from the Customer Booking pages.
Create your Checkfront booking.
Choose to pay in full with Uplift.
Provide your Mobile Number, Date of Birth, and Social Security Number (if you are a US resident) within the Uplift pop-up modal.
Click Let's Get Started to submit the information and start the application process.
Enter the verification code sent to your phone by SMS when prompted.
Review the Uplift offers presented.
Select an offer.
Read and agree to the loan and payment term agreements.
Choose to complete the booking.
The booking is then paid in full to the Operator by Uplift. The Customer then makes monthly installments to Uplift until their loan is paid.
Your Customers can manage and get support for their loans through the Uplift Borrower Portal.

Answers to Customers' questions can be found here:
| | |
| --- | --- |
| | Uplift will auto-decline Customers outside of the United States and Canada as they can only do loans in those countries. |
---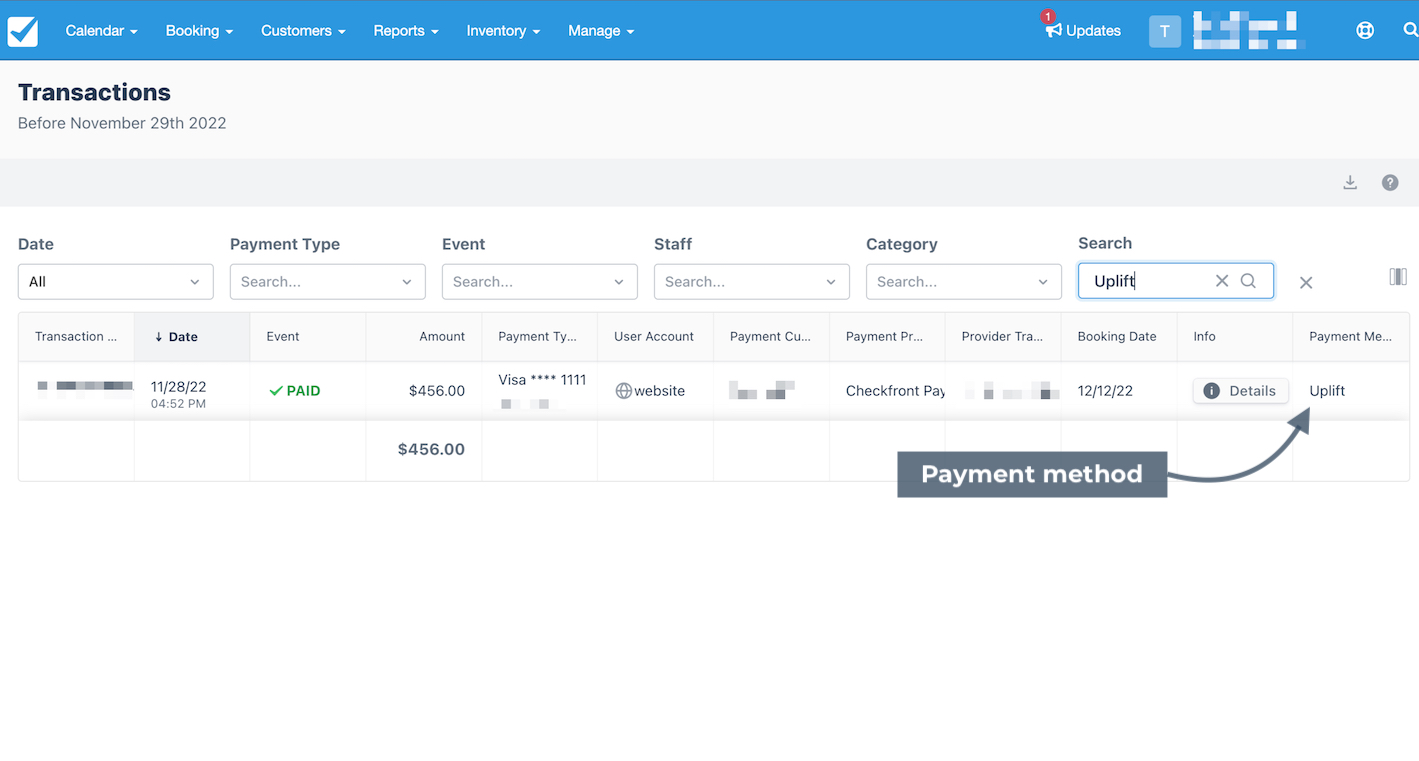 You can report on transactions paid using Uplift and Checkfront Payments via the Transaction report.
| | |
| --- | --- |
| | Learn more about the Transaction report here: |
Reporting on transactions via the booking invoice
Back to top
You can find the Checkfront Payments transaction associated with a booking via the Transactions tab of the Booking Invoice.
| | |
| --- | --- |
| | Learn more about the Transactions tab here: |
The Uplift payment event is logged within the Log tab of the Booking Invoice and the Activity report.
| | |
| --- | --- |
| | Learn more about the logs here: |
---
Refunds work as they do today. You are paid in full and can refund any part of that payment. Full and partial refunds are supported.
When a Customer requests a refund, you need to process the refund through Checkfront. That amount automatically goes back to Uplift.
Uplift credits the Customer's loan account accordingly within ten days.
The refund transaction is listed as an Uplift-related refund.
| | |
| --- | --- |
| | It's important to communicate timeline expectations with your Customers. |
| | |
| --- | --- |
| | Learn more about refunding payments here: |
---
How do I get paid?

You receive the full payment immediately if a Customer pays with Uplift. It behaves and costs the same as a credit card transaction.



Are there fees associated with Uplift?

No, the Operator does not incur additional fees for using Uplift.
.

Do I have to sign an agreement/contract with Uplift?

You do not have to sign a contract with Uplift. However, to access the additional payment method, you must use Checkfront Payments as your payment processor. Checkfront Payments requires that you sign an agreement.



Can Customers pay partially with a Gift Certificate and Uplift?

Uplift can only be used for full payments at this time. Gift certificates are not supported currently.



Who are Uplift's lending partners?

Uplift's lending partners are listed on their website.



Uplift is not displaying on our bookings. What am I missing?

Ensure that the booking meets the purchase amount prerequisites and that browser ad blockers are disabled.

What is a Merchant Category Code?

A Merchant Category Code (MCC) is a four-digit number used to classify a business by the types of goods or services it provides. The MCC is set when you create your merchant account based on the information you provide during payment provider onboarding.

The following is a list of MCC supported by the Uplift integration through Checkfront Payments.


| | |
| --- | --- |
| MCC | Description |
| 5511 | Automobile and Truck Dealers–Sales, Service, Repairs, Parts and Leasing |
| 7929 | Bands, Orchestras, and Miscellaneous Entertainers |
| 5940 | Bicycle Shop |
| 4457 | Boat Rentals |
| 4131 | Bus Lines |
| 5946 | Camera and Photographic Supply Stores |
| 7033 | Campgrounds and Trailer Parks |
| 7997 | Clubs- Country Clubs, Membership (Athletic, Recreation, Sports), Private Golf Courses |
| 7333 | Commercial Art, Graphics, Photography |
| 4411 | Cruise Lines |
| 7911 | Dance Halls, Schools, and Studios |
| 5815 | Digital Goods-Audiovisual Media Including Books, Movies, and Music |
| 5812 | Eating Places, Restaurants |
| 7394 | Equipment Rental and Leasing Services, Furniture Rental, Tool Rental |
| 7992 | Golf Courses, Public |
| 7298 | Health and Beauty Spas |
| 4121 | Limousines and Taxicabs |
| 7011 | Logding-Hotels, Motels, Resorts |
| 6513 | Real Estate Agents and Managers |
| 7999 | Recreation Services-not elsewhere classified |
| 7032 | Recreational and Sporting Camps |
| 8299 | Schools and Educational Services |
| 7991 | Tourist Attractions and Exhibits |
| 4789 | Transportation Services |
| 4722 | Travel Agencies and Tour Operators |