---
Plan Availability: ✓ Soho | ✓ Pro | ✓ Plus | ✓ Enterprise | ✓ Flex |
Locate: Inventory > Discounts
Prerequisites:
Admin permissions or restricted permissions to Manage Discounts.
Discount and voucher codes are available to both those using items (Inventory > Items), a key feature of our classic version of Checkfront, and those using products (Inventory > Products), a key feature of our newest version of Checkfront. NOTE: Some features are not yet available with products including the Active Discounts report, discount rules, open discounts, edit columns, and the option to export your list of discounts.
New to Checkfront - Products ✨

Products (Inventory > Products) is the successor feature to (Inventory > Items) and is available in our newest version of Checkfront.

Not yet on our newest version and interested in upgrading? Please contact our Technical Support team for more information.

Discover more product-related help articles here: Products (New).
This article is a brief introduction to discounts and voucher codes.
Please read the full series of articles, accessed at the side of the page and below, to learn more about the full capabilities of the discounts feature and for guided help on getting your discounts configured and optimized!
---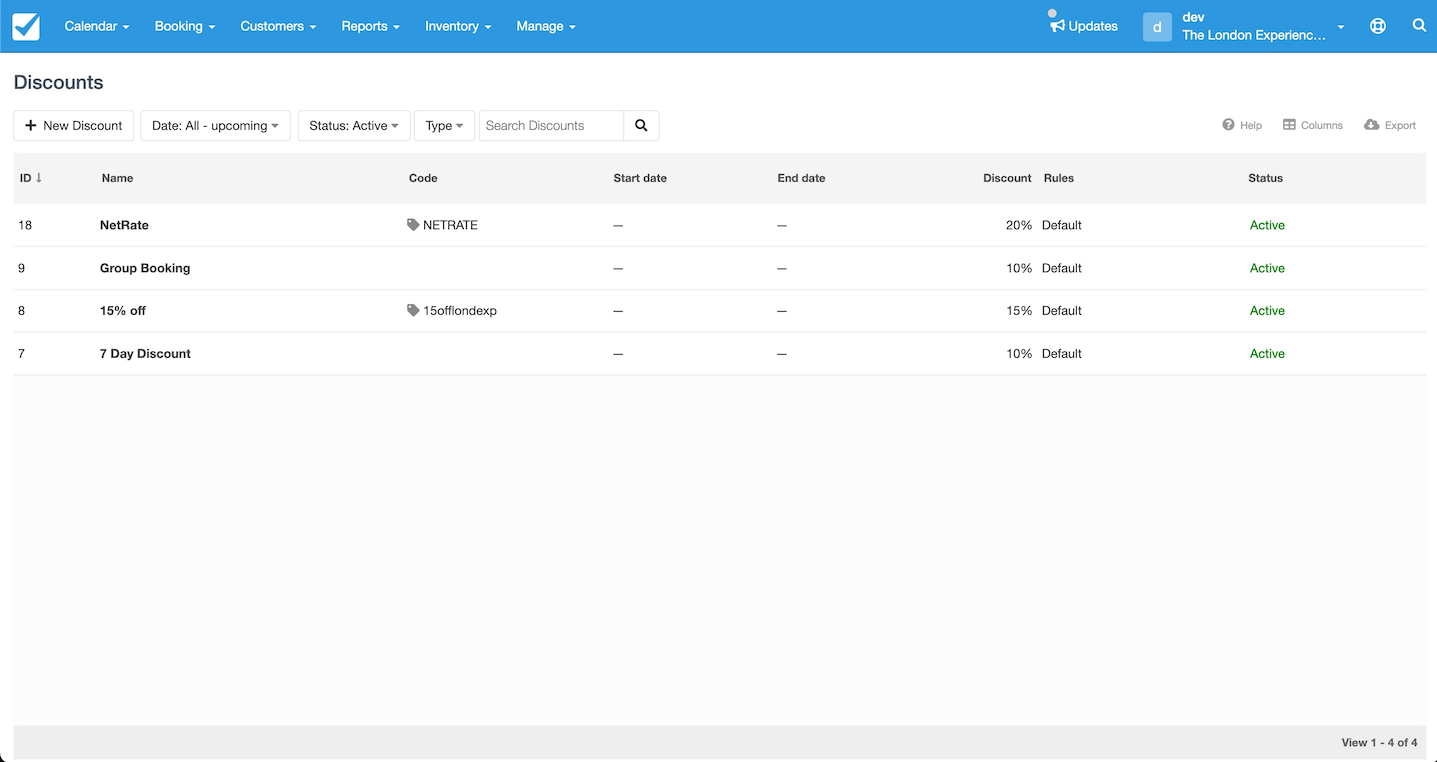 View of the Discounts list for those using Items.
| | |
| --- | --- |
| | The filter, search, export, and edit column features shown in the screenshot above are only available with items (Inventory > Items), in our classic version of Checkfront, at this time. |
From time to time, you may wish to offer discounts to your Customers. That might be in the form of a public discount code that is displayed in your advertising. When the Customer enters that code at checkout, the relevant discount is applied to their total.
Alternatively, you may wish to create a one-time use voucher code for a particular Customer.
Either way, you can achieve this with Checkfront!
This feature allows you to reduce the price of a product/item at the time of booking by supplying a unique discount or voucher code.
You may use a discount code for general promotions or to track campaigns and referrals. They are also used for creating general date discounts such as weekend specials. Discount codes may be used in your advertising and redeemed multiple times by multiple Customers.
Vouchers are used to redeem purchased deals from syndication sites such as Groupon and Living Social (see Using Groupon vouchers with Checkfront). These codes are added to the system via an imported CSV file and are only redeemed once. You may also use a voucher code to reward preferred Customers with a one-time use special discount.
| | |
| --- | --- |
| | You can learn how your discounts and vouchers are performing with the following available reports: |
---
---