---
Plan Availability: ✓ Soho | ✓ Pro | ✓ Plus | ✓ Enterprise | ✓ Flex |
Locate: Manage > User Accounts > Partner Accounts
Prerequisites:
Admin permissions to manage User Accounts.
The Partner Accounts feature is available to both those using items (Inventory > Items), a key feature of our classic version of

Checkfront, and those using products (Inventory > Products), a key feature of our newest version

of

Checkfront.
New to Checkfront - Products ✨

Products (Inventory > Products) is the successor feature to (Inventory > Items) and is available in our newest version of Checkfront.

Not yet on our newest version and interested in upgrading? Please contact our Technical Support team for more information.

Discover more product-related help articles here: Products (New).
| | |
| --- | --- |
| | Looking for information on Staff or Customer accounts? Check out the following articles: |
---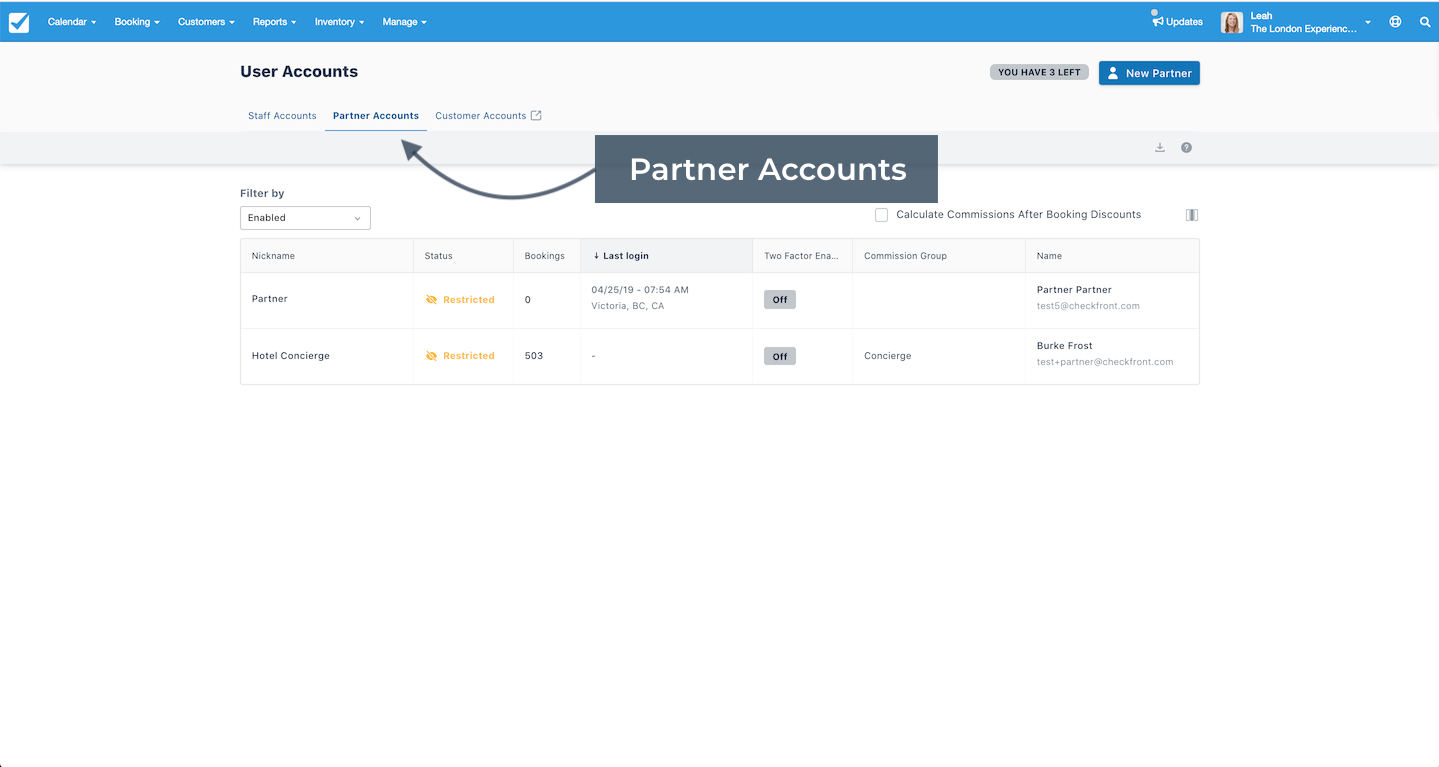 The User Accounts page (Manage > User Accounts) is a central hub for managing your User Accounts - Staff, Partner, and Customer.
You may need to offer third-party agents or Partners the functionality to make bookings on behalf of your business. In this case, Commissions are paid for these bookings and the Partner must have access to their own reporting console, without having access to the main business back-end. This is where Partner accounts come into play.
When a Partner account is created, that Partner has access to their own private dashboard. This provides Partners with the tools they need to embed a booking portal on their website and track commissions earned on their referrals. They do not have access to your inventory or company reporting and are unable to make any changes to your account.
From the Partner Accounts tab, you can view pertinent information about each Partner such as the number of Bookings they have made, whether they have Two Factor Authentication enabled or not, and when they last logged in.
You can also access the Partner's account details for editing purposes and export Partner Accounts.
---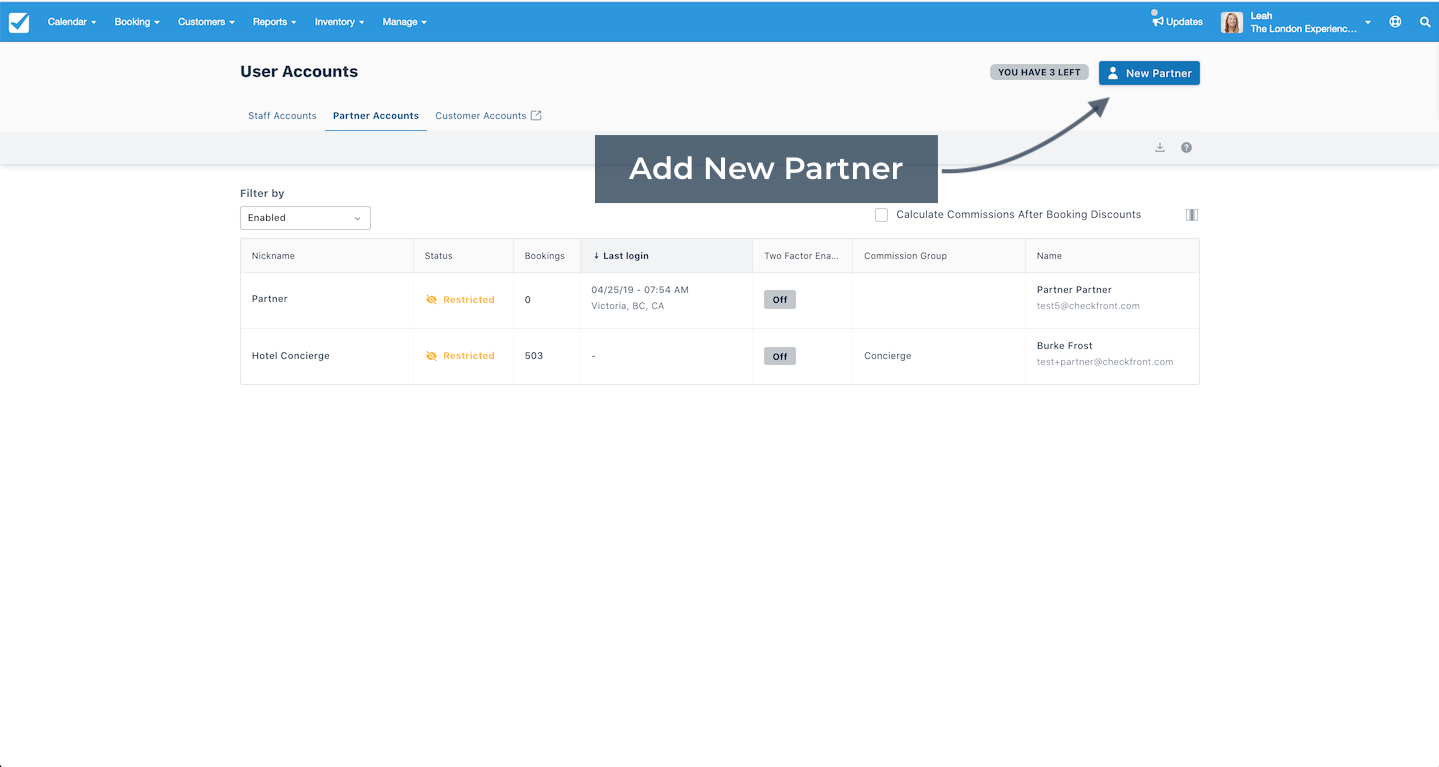 To start creating a new Partner Account, click on the New Partner button at the top-left of the page.
| | |
| --- | --- |
| | Learn more about Partner Account - Profiles and Permissions with the following articles. |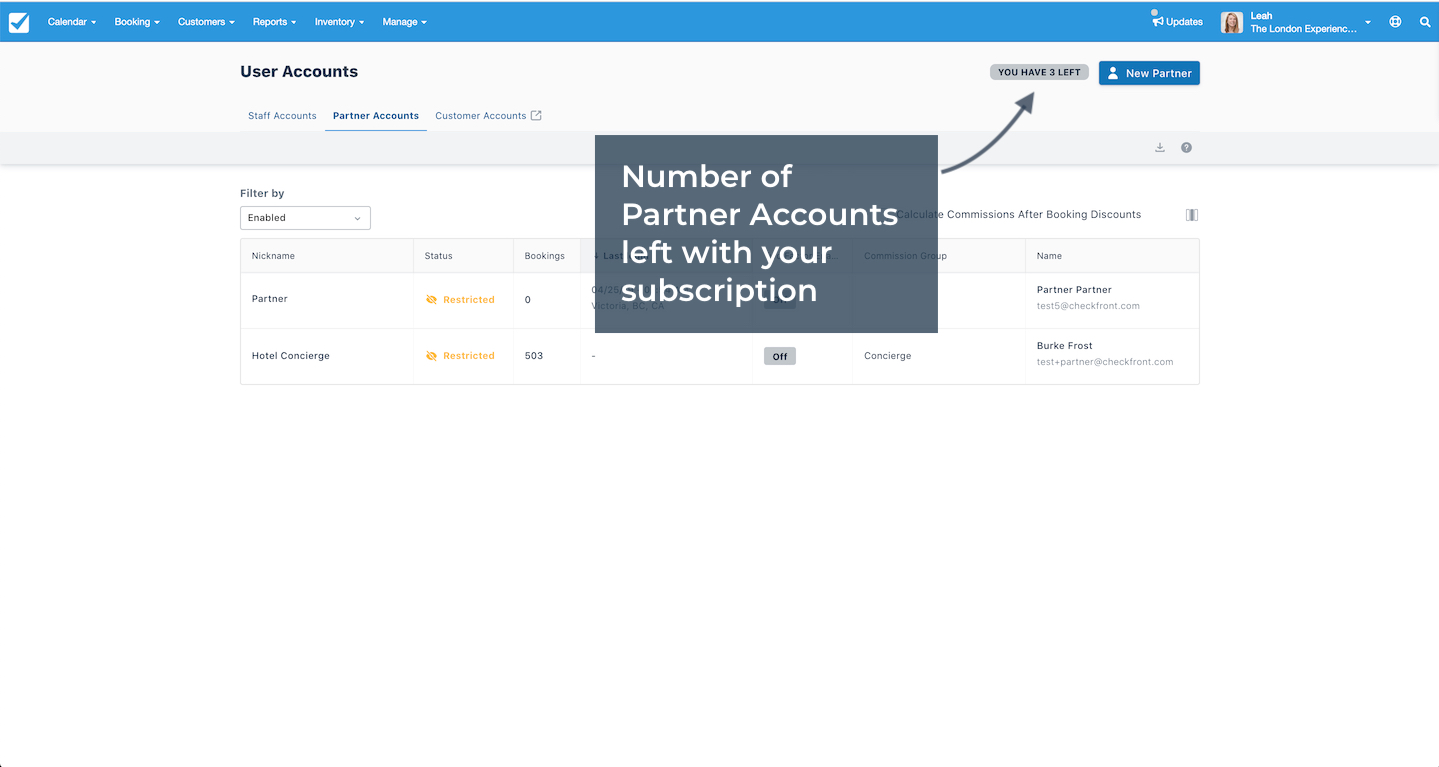 With some of our plans (Trial, Soho, Pro), there are limits to the number of Partner Accounts you can add to your Checkfront accounts.
The number of Partner Accounts you have left is displayed next to the New Partner button with the YOU HAVE # LEFT label, for example, YOU HAVE 1 LEFT.
A banner appears at the top of the page when you have reached your plan limit and you are prompted to upgrade your plan.
| | |
| --- | --- |
| | Anytime you change the status of a Partner Account (enable, disable, archive, or unarchive), simply refresh the page to see an updated YOU HAVE # LEFT count. |
| | |
| --- | --- |
| | Learn more about changing your billing plan here: |
---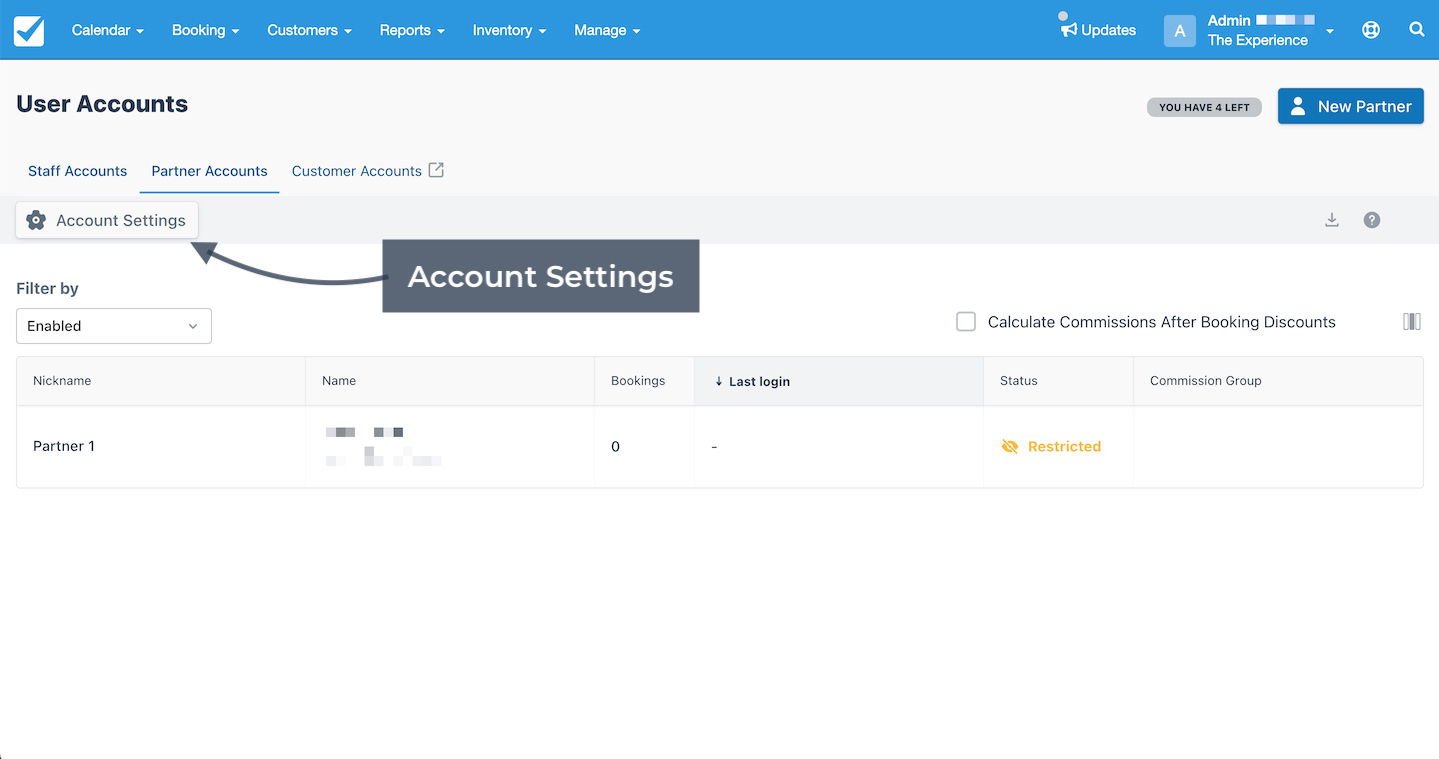 Click on the Account Settings button to access the following account-wide settings.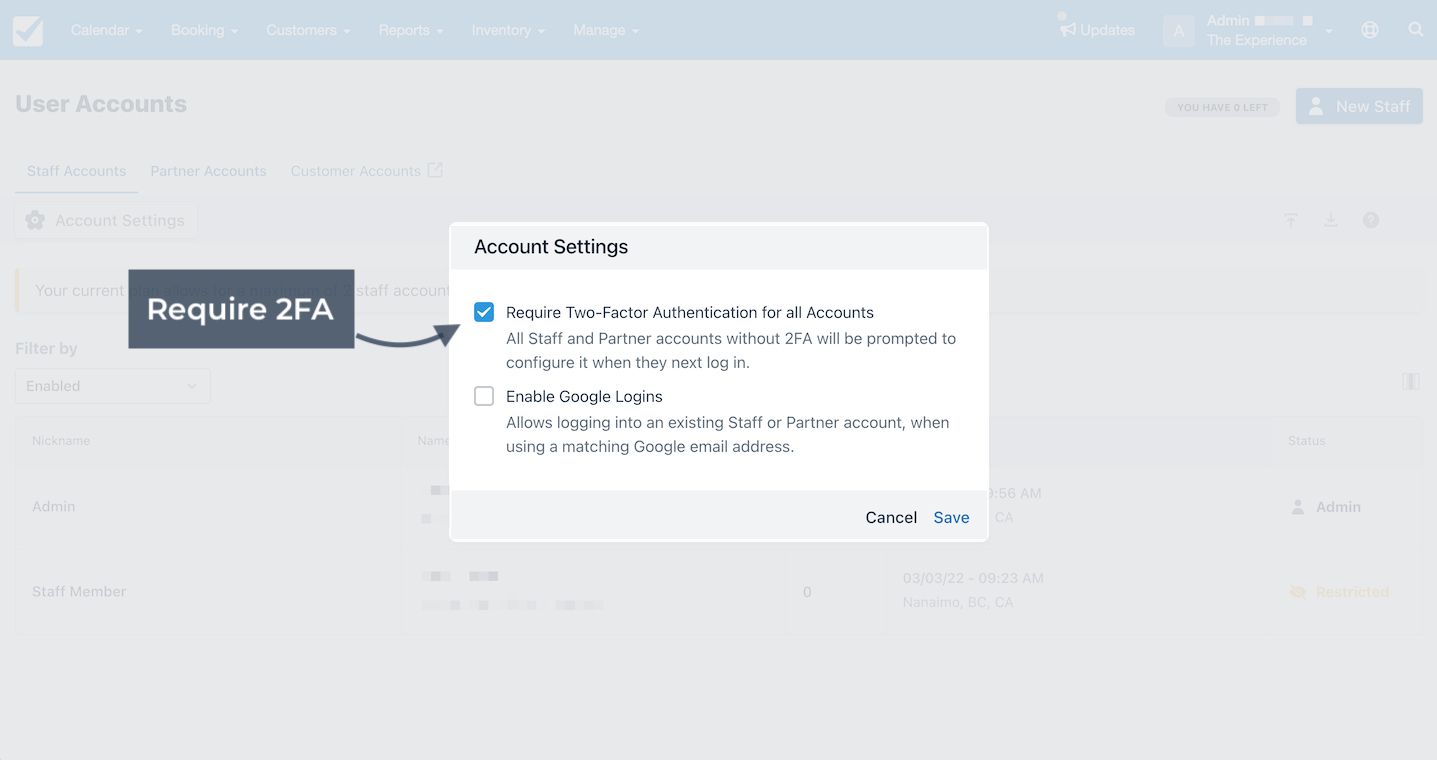 Enable this setting, if you need all Staff and Partner accounts to utilize Two-Factor Authentication.
Those that have not already enabled Two-Factor Authentication within their accounts are prompted to do so when they next log in.
Two-factor Authentication can also be enabled on an individual account by an Admin via Staff and Partner Account settings, or by the Staff or Partner through their account profile.
| | |
| --- | --- |
| | Learn more about enabling Two-factor Authentication here: |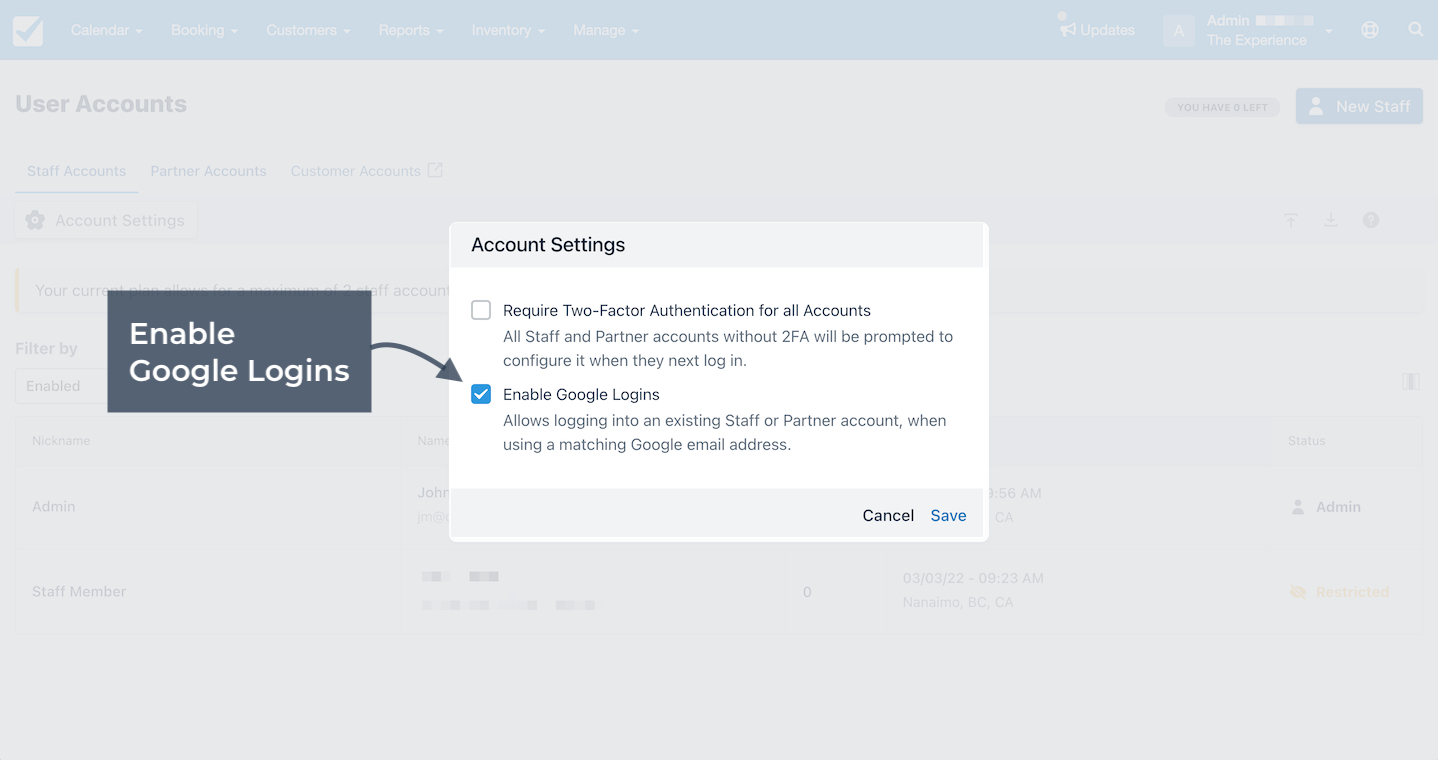 Enable this setting, if you need all Staff and Partner accounts to have the option to log in with their Google account.
Enabling this setting automatically enables the Google SSO integration (Manage > Integrations > Google SSO)
| | |
| --- | --- |
| | Learn more about our integration with Google SSO here: |
---
View the list of created Partner Accounts with options to filter and sort records!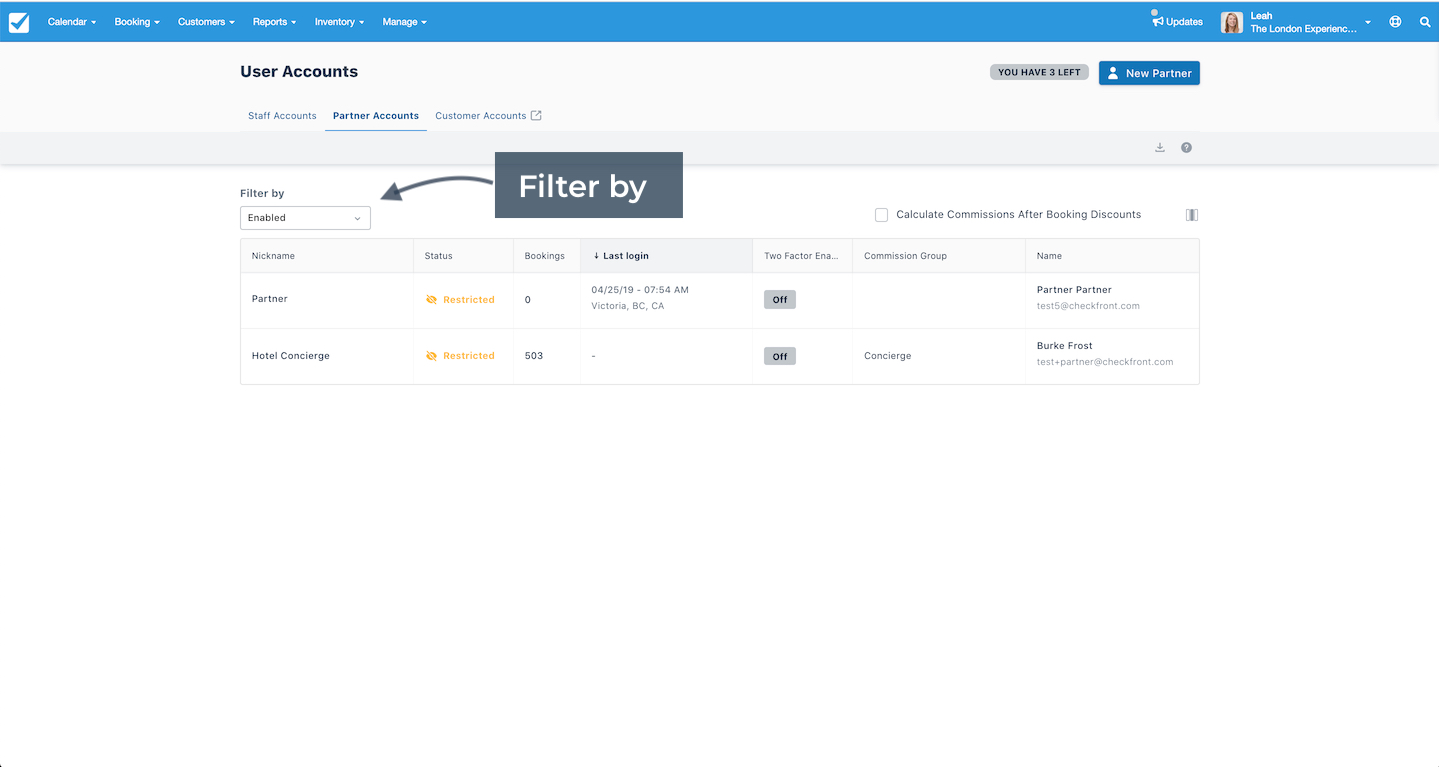 At the top of the Partner Accounts list, there is an option to filter the list of Partner Accounts by account status: Enabled (default), Disabled, Archived, or view All.
By default the following data columns display for each Partner Account record.
-- Nickname
A short, unique name used in reports and notes.
-- Status
The status of the account. Accounts are either Enabled, Disabled, or Archived.
Enabled accounts either have all permissions (Admin) or are Restricted to select permissions.
Partner Accounts can be Disabled if you want to temporarily remove a Partner's access.
-- Bookings
The Number of bookings processed by the Partner. Click on this number to access a list of associated bookings within the Booking Index.
-- Last login
Displays the last date and time the Partner logged into their account including the location from which they logged in.
-- Commission Group
Commission Group with which the Partner is associated, for Commission report filtering purposes.
-- Name
Displays the Partner's First and Last Name followed by the Partner's email address. Used for notifications and internal communications.
Click on the Partner's Name to access the Edit Account panel with the Partner's Profile and Permissions.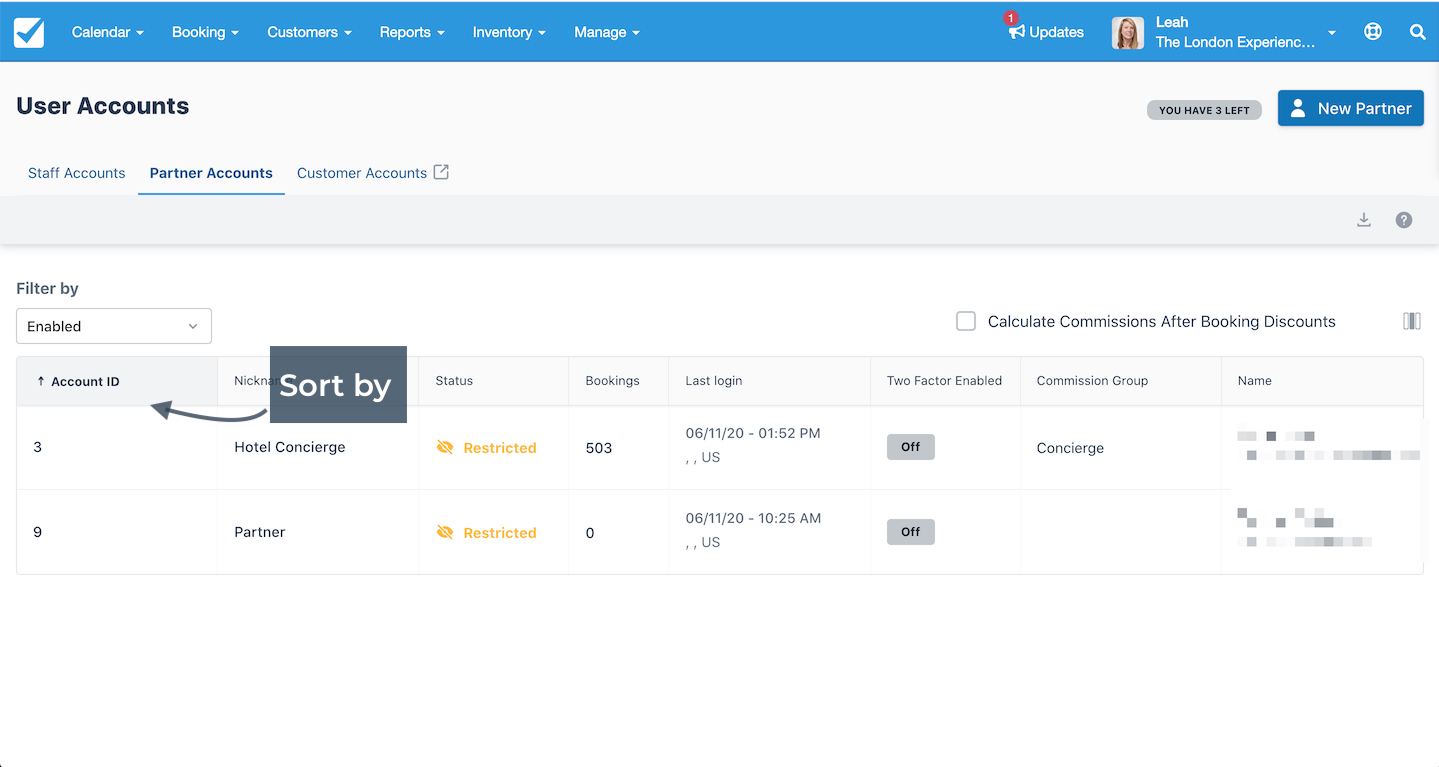 Sort records by any of the columns within the Partner Account list (ascending or descending) by simply clicking on the data column header. By default, Partner Accounts are listed in alphabetical order by nickname.
---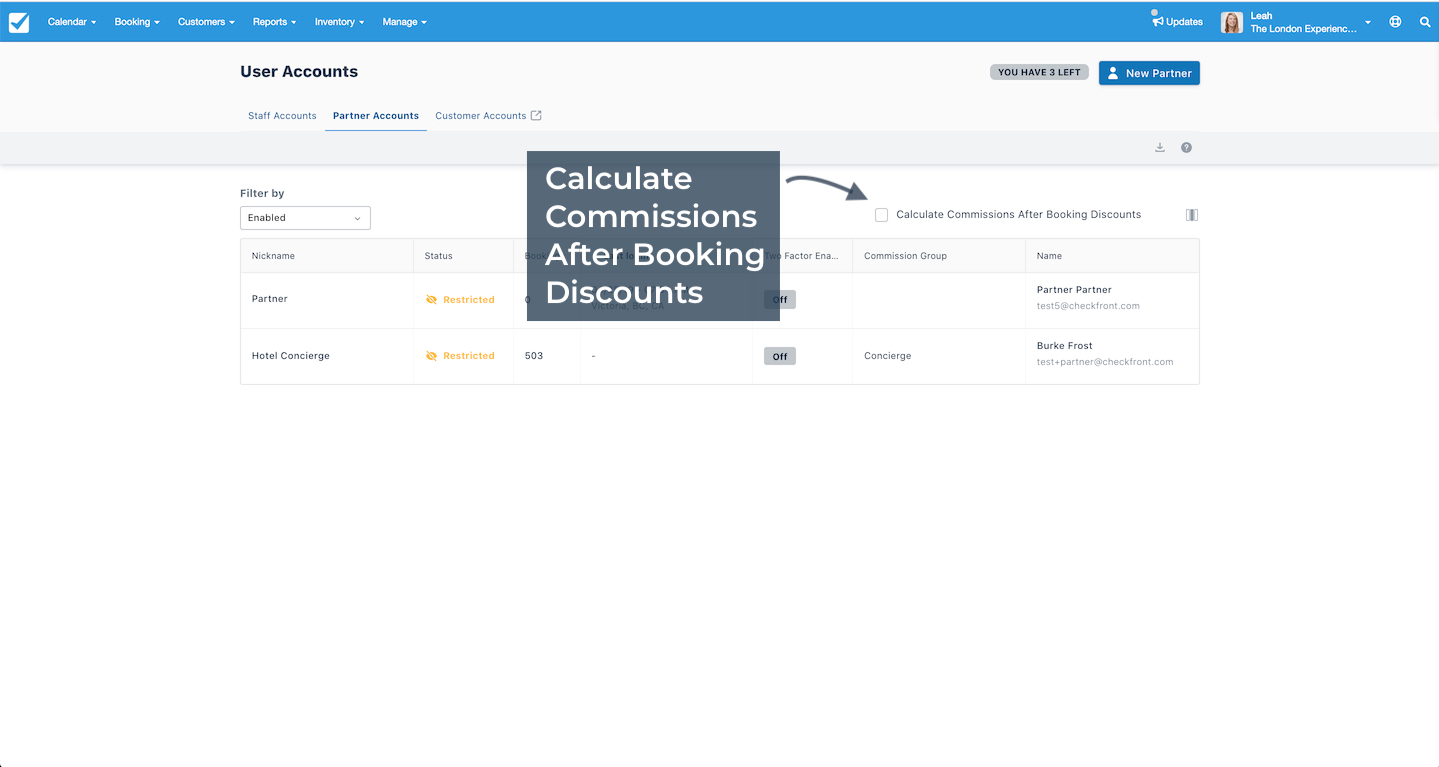 Determines whether Commissions are calculated before or after Booking Discounts are applied.
---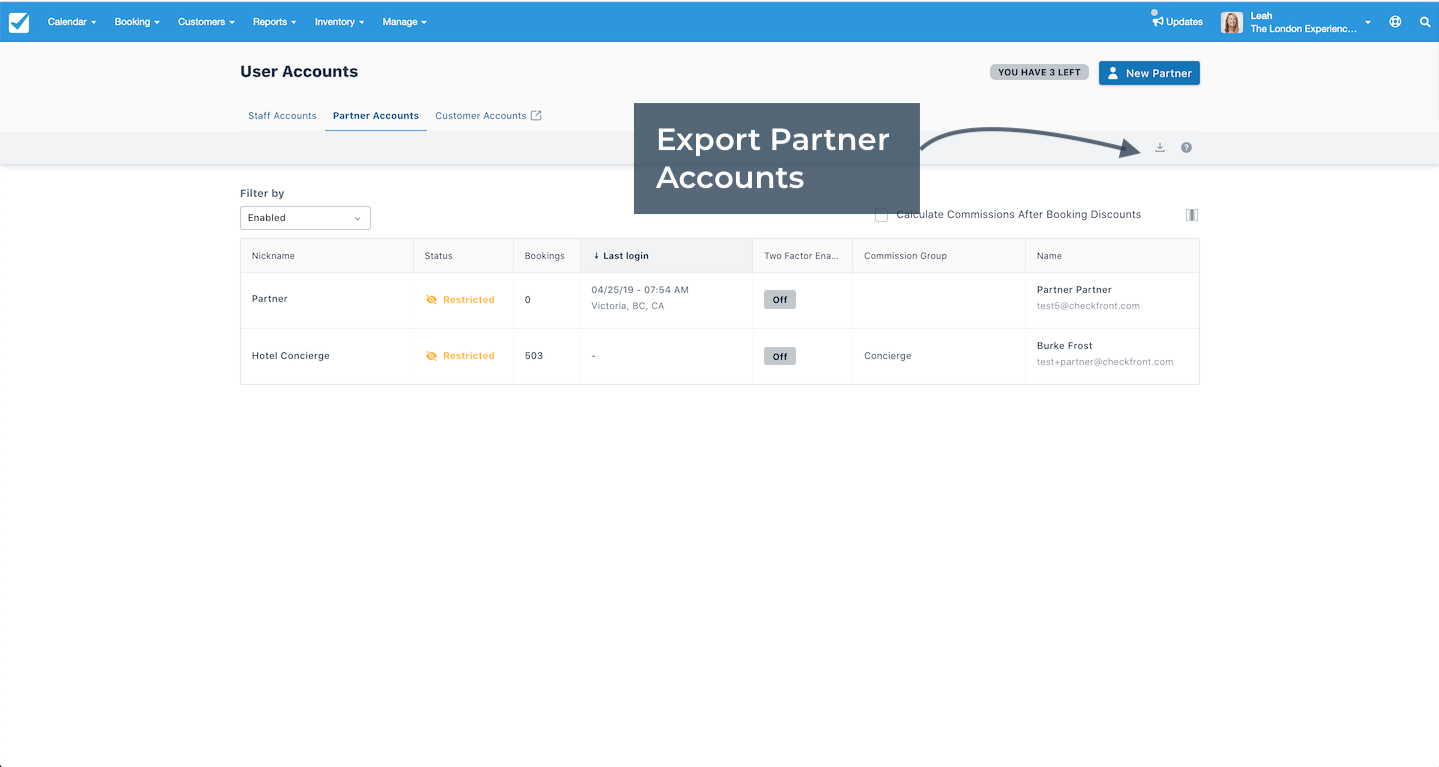 Start the Export process from the icon at the top-right of the page.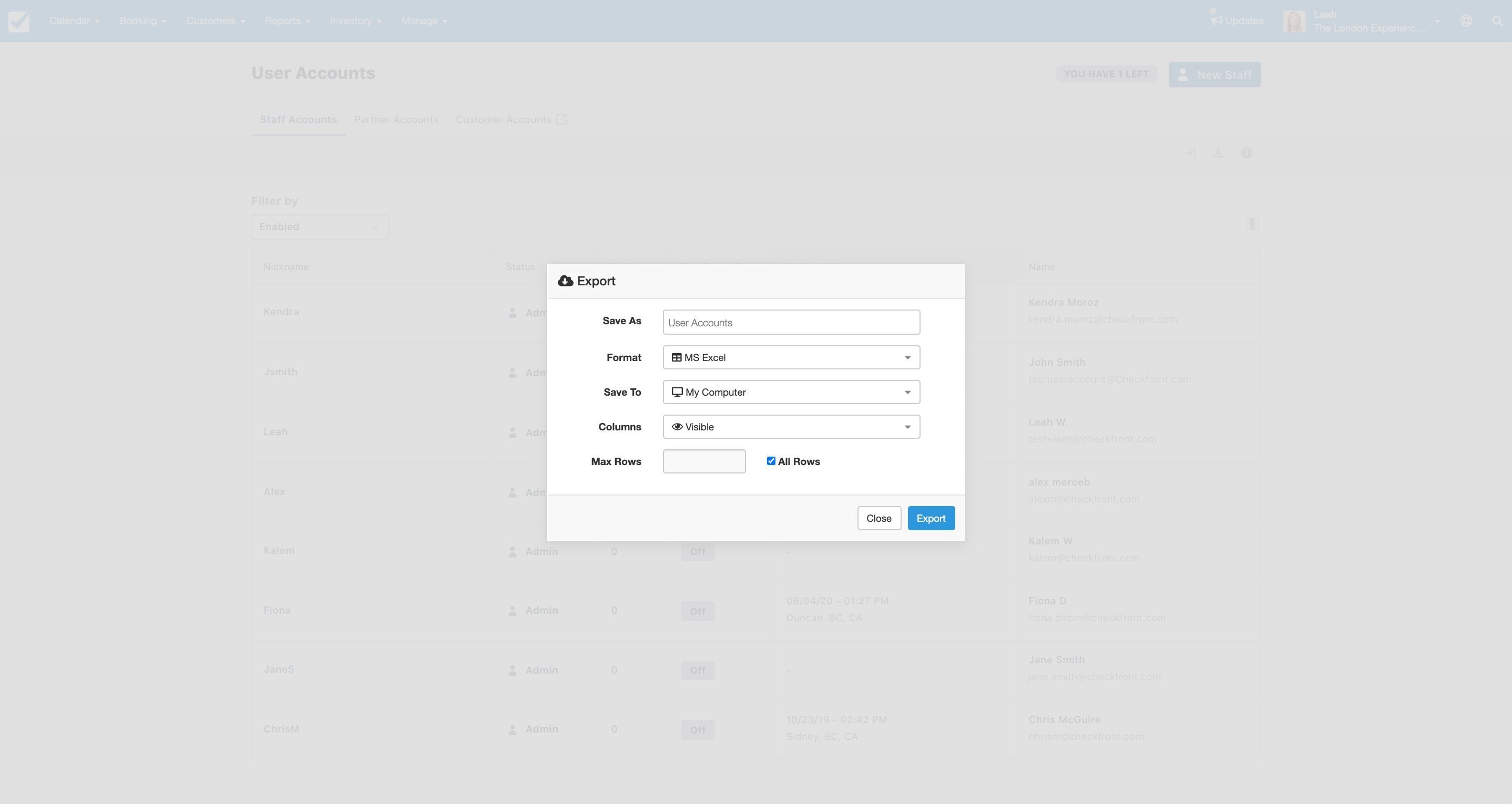 The Export modal allows you to choose your export preferences for the file.
- Save As
Specify the name of the Export file. By default, the file name includes the name of the report, plus the applicable date range. You can edit the name of the file if needed by placing focus on the Save as field and entering the desired name.
- Format
Export report to MS Excel (XLSX), CSV (Comma-separated Value), PDF (Portable Document Format) or XML (eXtensible Markup Language).
- Save To
The report can be saved to your My Computer, Email, or Google Drive.
| | |
| --- | --- |
| | Emailed exports are sent as links to the files securely hosted in Google Cloud Storage. |
| | |
| --- | --- |
| | Learn more about exporting to Google Drive here: |
- Columns
Choose to Export Visible columns or All columns (if there are columns that you have chosen to hide in the online report view.
- Max Rows
Choose to limit the maximum number of rows to Export (Max Rows) or choose to Export All Rows.
Access the Columns modal from the top-right of the Partner Account list to choose which columns you wish to display.
- Formatting
Use ISO Dates allows you to choose the format of dates within the export.
When selected, you see the format YYYY-DD-MM, for example, 2020-06-09.

When not selected, you see the format as configured with the Date Format setting (Manage > Setup > Locale).
---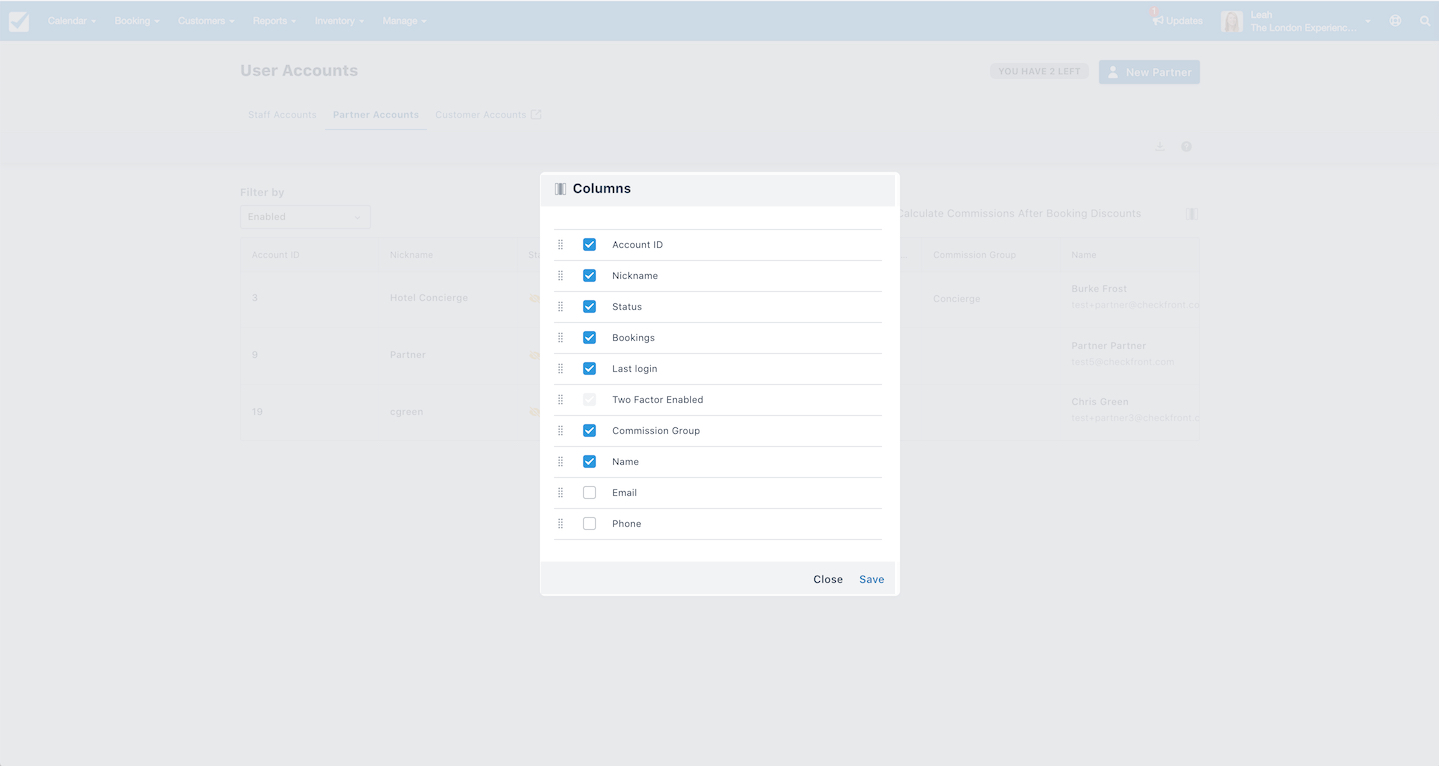 By default, the Nickname, Status, Bookings, Last Login, Commission Group, and Name display.
Email address and Phone number can be optionally displayed within the Partner Account list.
Account ID does not display by default, but this is the Partner ID that your Partners need to make bookings attributed to their Partner account.

Learn more about Partner Account IDs here:
---
Configuring Partner account profile settings >
---