---
Prerequisites:
Your account must have access to items (Inventory > Items), which is a key feature of our classic version of

Checkfront.
A Staff user account, as Partner account login is not supported.
Important:

Only the QR Code Scanner feature of the app, used to check-in Guests via

QR Barcodes

on invoices, is supported with products (Inventory > Products) at this time.
New to Checkfront - Products ✨

Products (Inventory > Products) is the successor feature to (Inventory > Items) and is available in our newest version of Checkfront.

Not yet on our newest version and interested in upgrading? Please contact our Technical Support team for more information.

Discover more product-related help articles here: Products (New).
---
Bookmarking a Reservation in the Android Mobile Booking App
You can bookmark a reservation in the Android Mobile Booking App to save at hand an invoice for quick access later on. Maybe you've been talking back and forth with the customer about some potential changes to their booking and wish to keep the invoice easily accessible for updates once you hear back from them.
---
If you'd like to be able to quickly access a booking again, without needing to search through the app for it, you can tap the Bookmark button which is depicted by the outline of a star and located next to the Contact button. Tap the star to bookmark the booking you are currently viewing.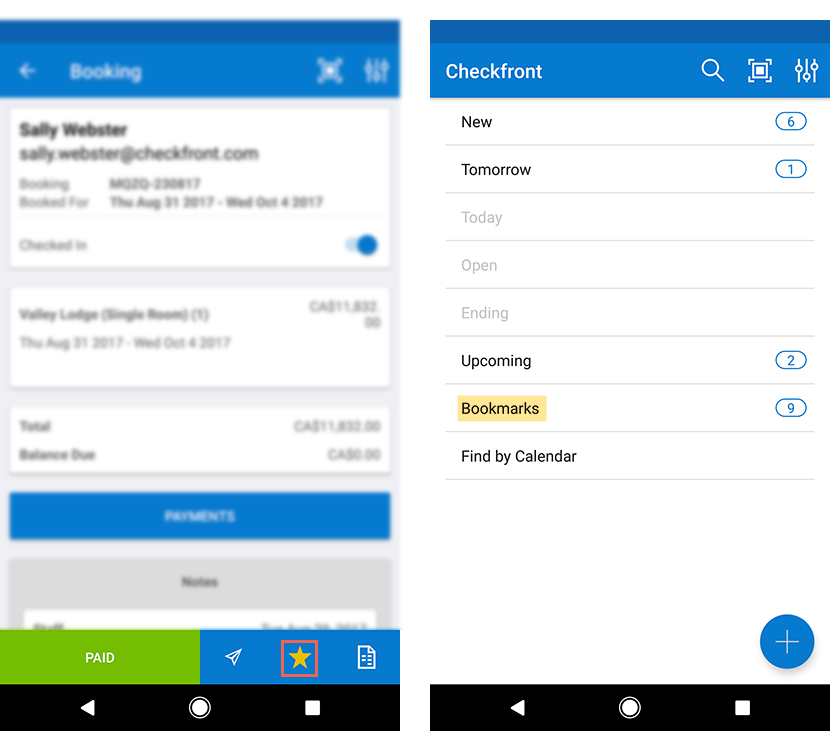 When the star is solid yellow, it is bookmarked. Once you're finished with the booking, you can tap the star again to return it to its original state. This also removes the reservation from your bookmarks list. The bookmarks list can be accessed through the app's home screen, as seen above right. For more information on bookmarked bookings please click here.
---
< Android App: Contacting the Customer | Android App: Viewing & Creating an Invoice PDF >
---