---
Learn how to configure your gift certificate theme options - blank, default, and custom themes, including how to name themes, crop a theme image, and delete a theme.
New to Gift Certificates? Read the first article in this series for an introduction to the Gift Certificates feature.
---
Which plans include this feature?
Legacy:  Pro, Plus, Enterprise, Flex
New:  Growth, Managed  |  Learn more about our new plans or how to change your plan.
*Gift Certificates are not available with the Starter plan.

Where can I find this feature using the top menu?
Inventory > Gift Certificates > Create Gift Certificate (button) > Details > Media


What prerequisites are there?
The Gift Certificates feature must be activated within your account (Manage > Integrations).
Admin or restricted permissions to Manage Gift Certificates and Manage Gift Certificate Templates.


Which Checkfront version supports this feature - classic, new, or both?
The Gift Certificates feature is available to both those using items (Inventory > Items), a key feature of our classic version of

 

Checkfront, and those using products (Inventory > Products), a key feature of our newest version

 

of

 

Checkfront.  
New to Checkfront - Products ✨

With our newest version of Checkfront, we have added Products (Inventory > Products) as the successor to items (Inventory > Items).

Are you interested in migrating to our newest version? Please reach out to our Technical Support team for more information.
---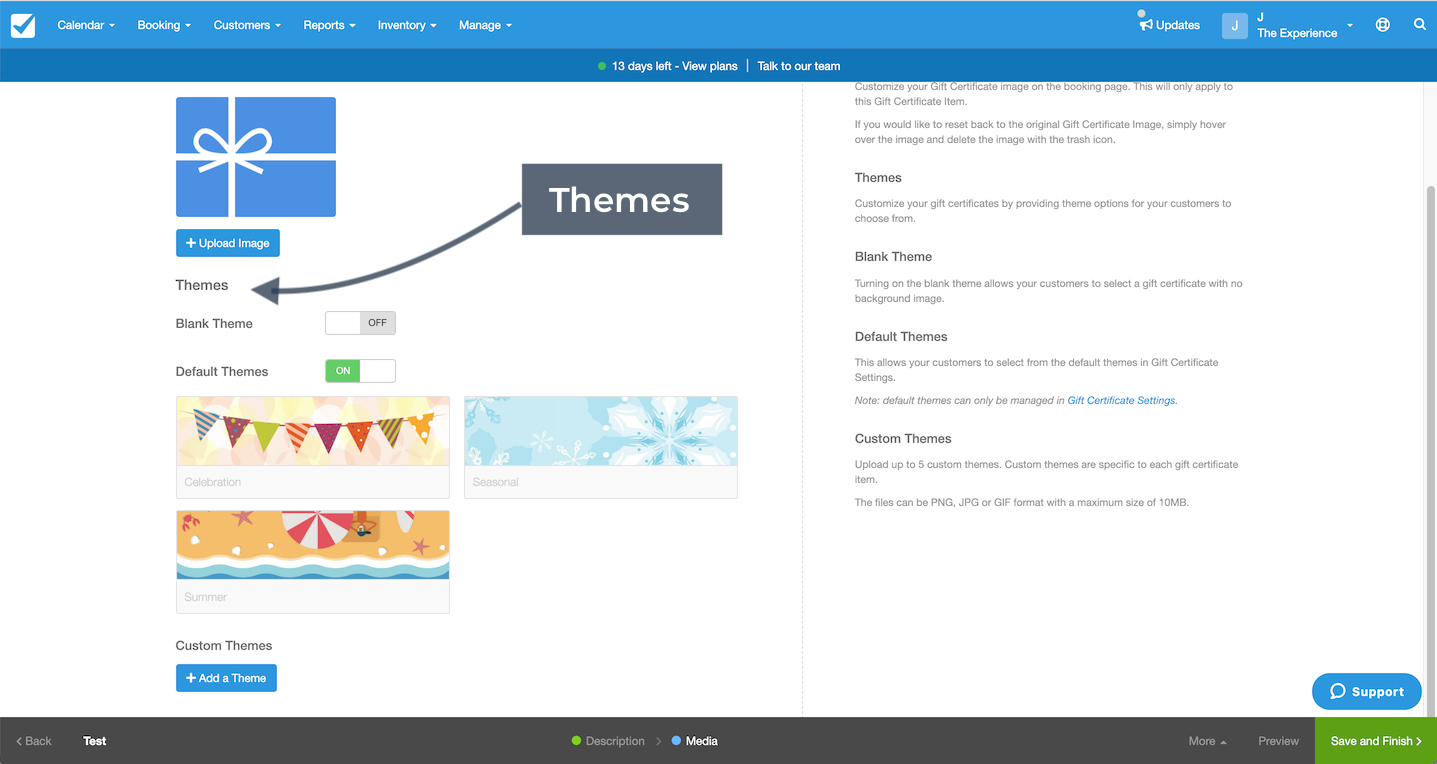 Turn ON the Blank Theme if you prefer not to use a theme.  No image is displayed at the top of the gift certificate if selected.
You can offer themed gift certificates to your Customers. By default, Checkfront comes with a set of three themes - Celebration, Seasonal, and Summer.
Customers can choose one of these three themes to apply to the Gift Certificate they are purchasing if the default theme setting is enabled.
| | |
| --- | --- |
| | If you don't wish to use the default themes for your Gift Certificates, you can replace them with a set of your images under Gift Certificate Settings. Click here for more information. |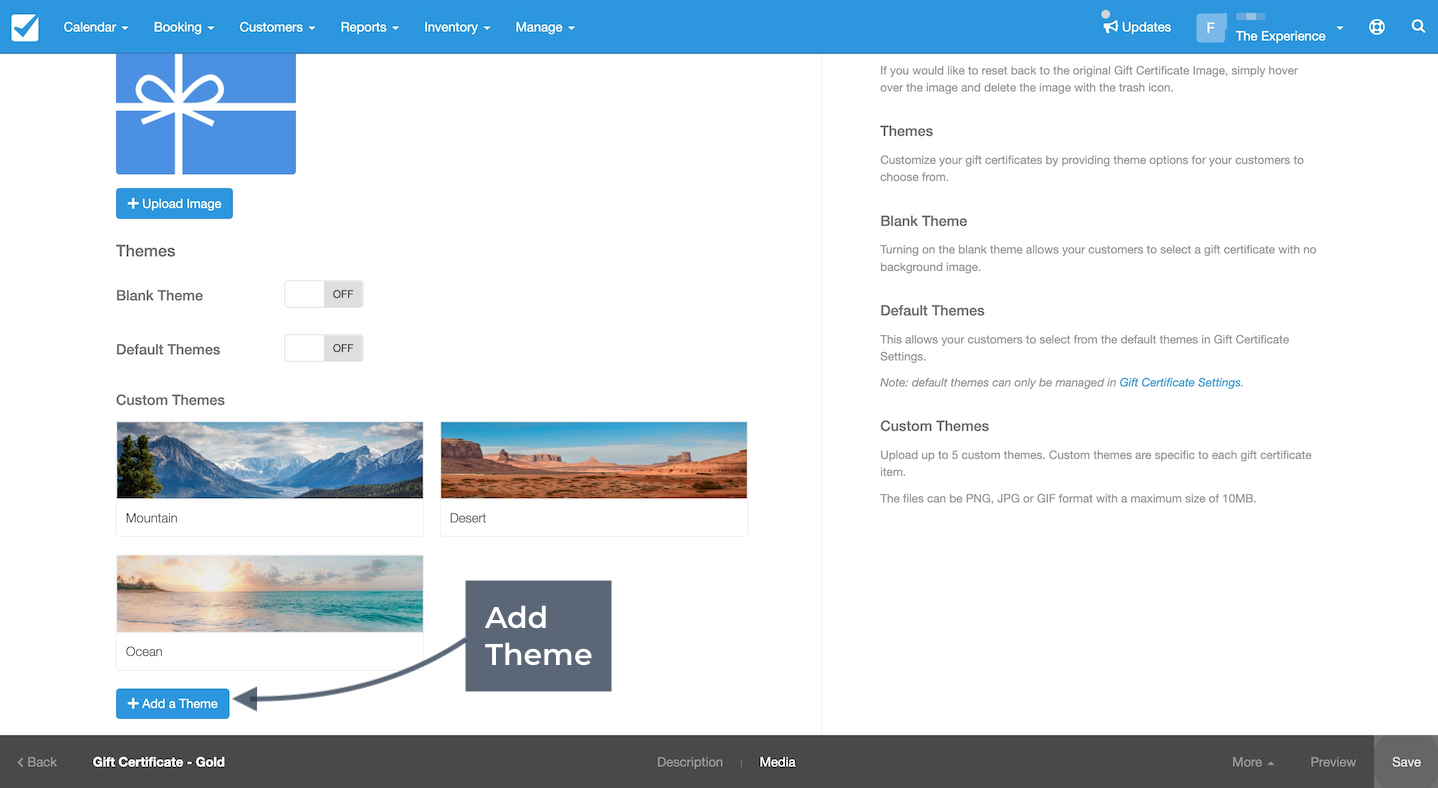 You can also upload custom themes specifically for the gift certificate in focus. Click on the + Add a Theme button. You are then prompted to upload an image from your computer. You can upload up to 5 custom themes.
| | |
| --- | --- |
| | The image size must be 120px (height) by 480px (width), or the image is resized to fit. |

Naming your theme
Type directly into the field provided to provide a name for the theme.
Cropping an image
To crop the image you have uploaded, hover over the image and click on Edit Image. You can select the area to crop from the Image Thumbnail Editor, then click Save to save your changes. The custom theme is now added to your library under Custom Themes.
Deleting a theme
Click the trash can icon to remove the theme.
Click Save and Finish to proceed to the final step of creating the gift certificate.
In the next article in this series, we do the final preview of your gift certificate with the option to edit or copy the gift certificate. You are almost finished!
---
< Working with thumbnail images      |    More options for translating, copying, and archiving your gift certificates >
---