---
Learn how to attribute a document to a Customer's booking, as well as how to fill out a document from an invoice.
New to Waivers & Documents? Read the first article in this series for an introduction to Waivers & Documents.
---
Which plan do I need to use this feature?
X Soho | X Pro | ✓ Plus | ✓ Enterprise | ✓ Flex |


Where can I find this feature using the top menu?
Manage > Integrations > Popular > Waivers


What more do I need to use this feature?
A subscription to the appropriate plan (see plan availability above).
Admin permissions or restricted permissions for Waivers & Documents.


Which Checkfront version supports this feature - classic, new, or both?
The Waivers & Documents feature is available to both those using items (Inventory > Items), a key feature of our classic version of

Checkfront, and those using products (Inventory > Products), a key feature of our newest version

of

Checkfront.
New to Checkfront - Products ✨

Products (Inventory > Products) is the successor feature to (Inventory > Items) and is available in our newest version of Checkfront.

Not yet on our newest version and interested in upgrading? Please get in touch with our Technical Support team for more information.

Discover more product-related help articles here: Products (New).
---
Do you have a booking, but the Customer has not yet signed the required waiver document, and they have arrived for their big adventure? Then, you can ask them to fill it out in the Public Directory.
Once they've done that, you can pull up the booking in your system and assign the waiver they just signed to the reservation.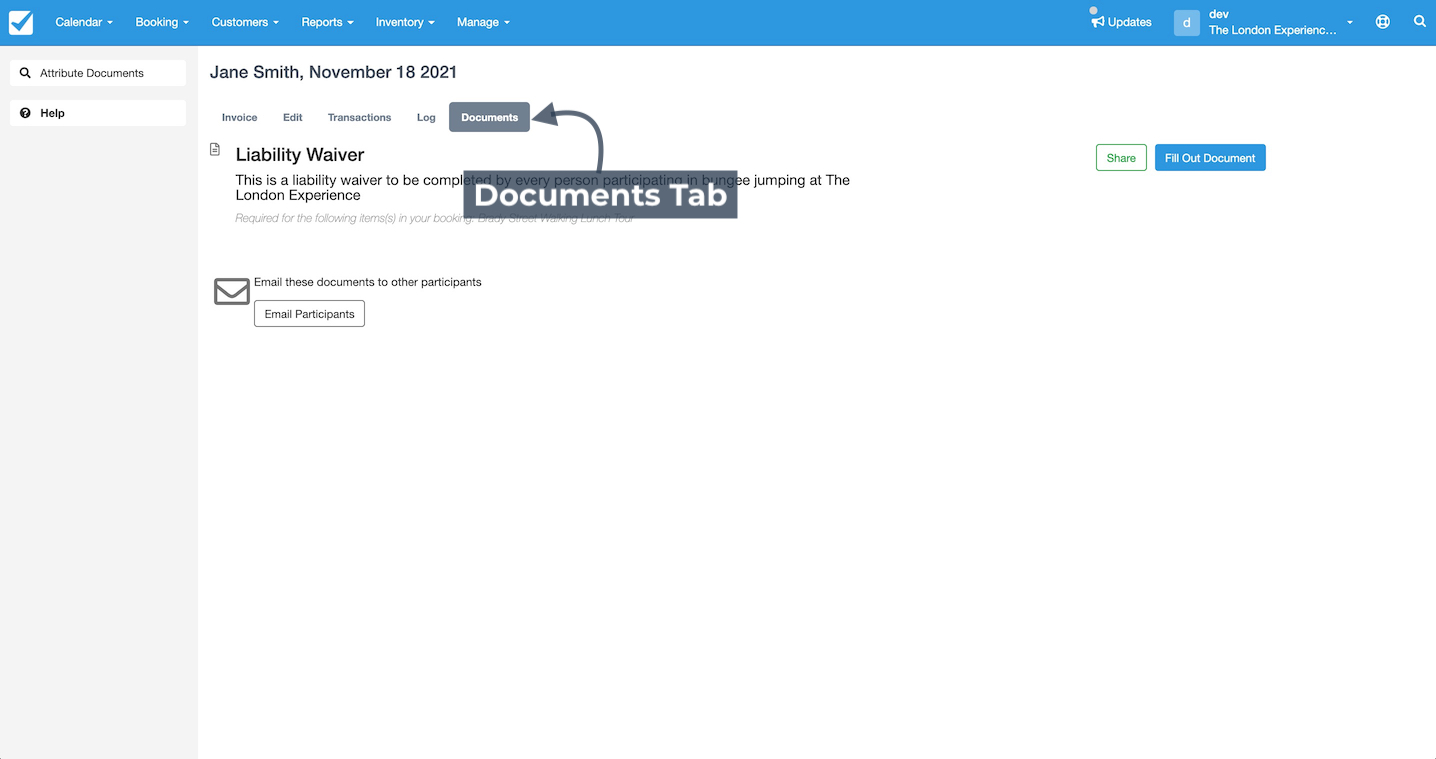 When you pull up the booking, you see a Documents tab at the top. Click on this to get started.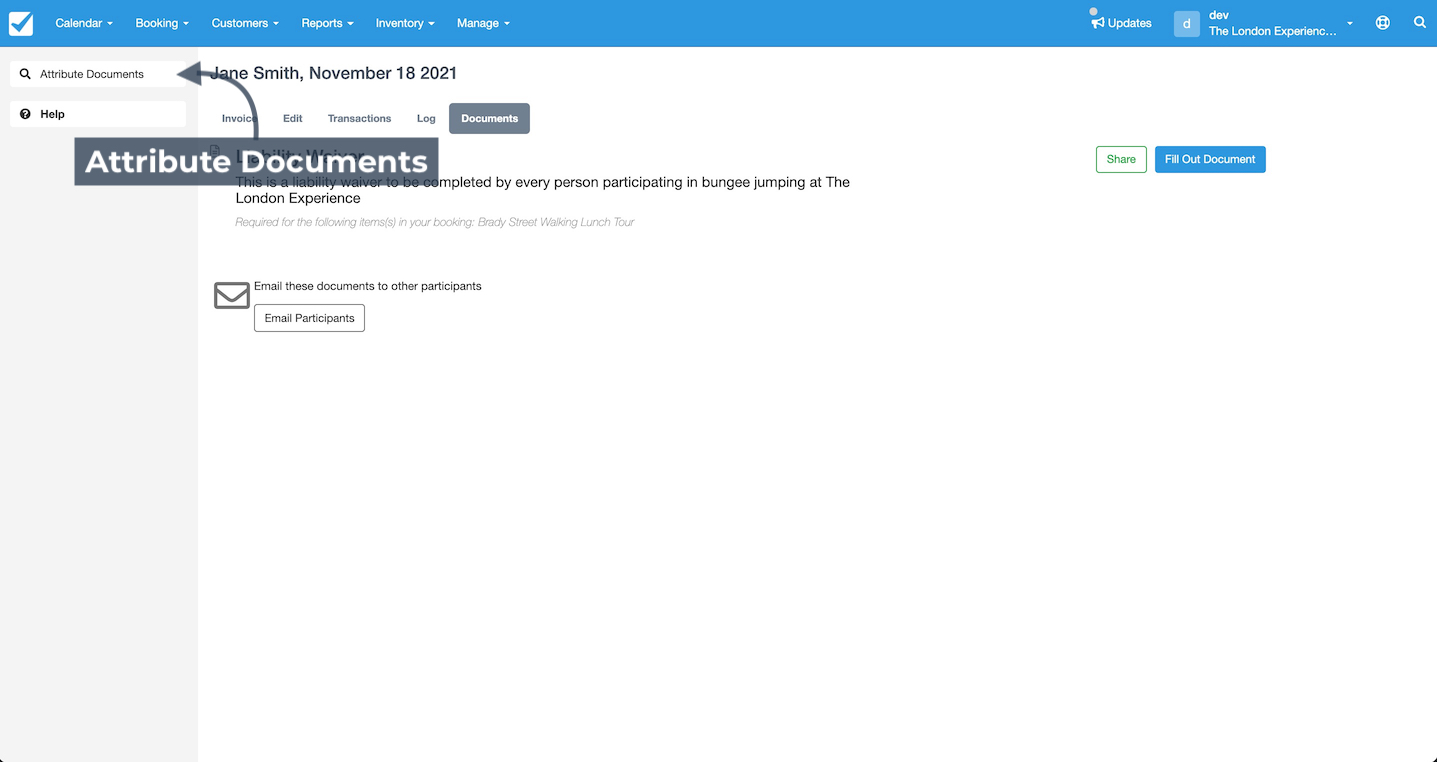 Over in the left sidebar, you see a button labelled Attribute Documents. Click on this to open the attribution window.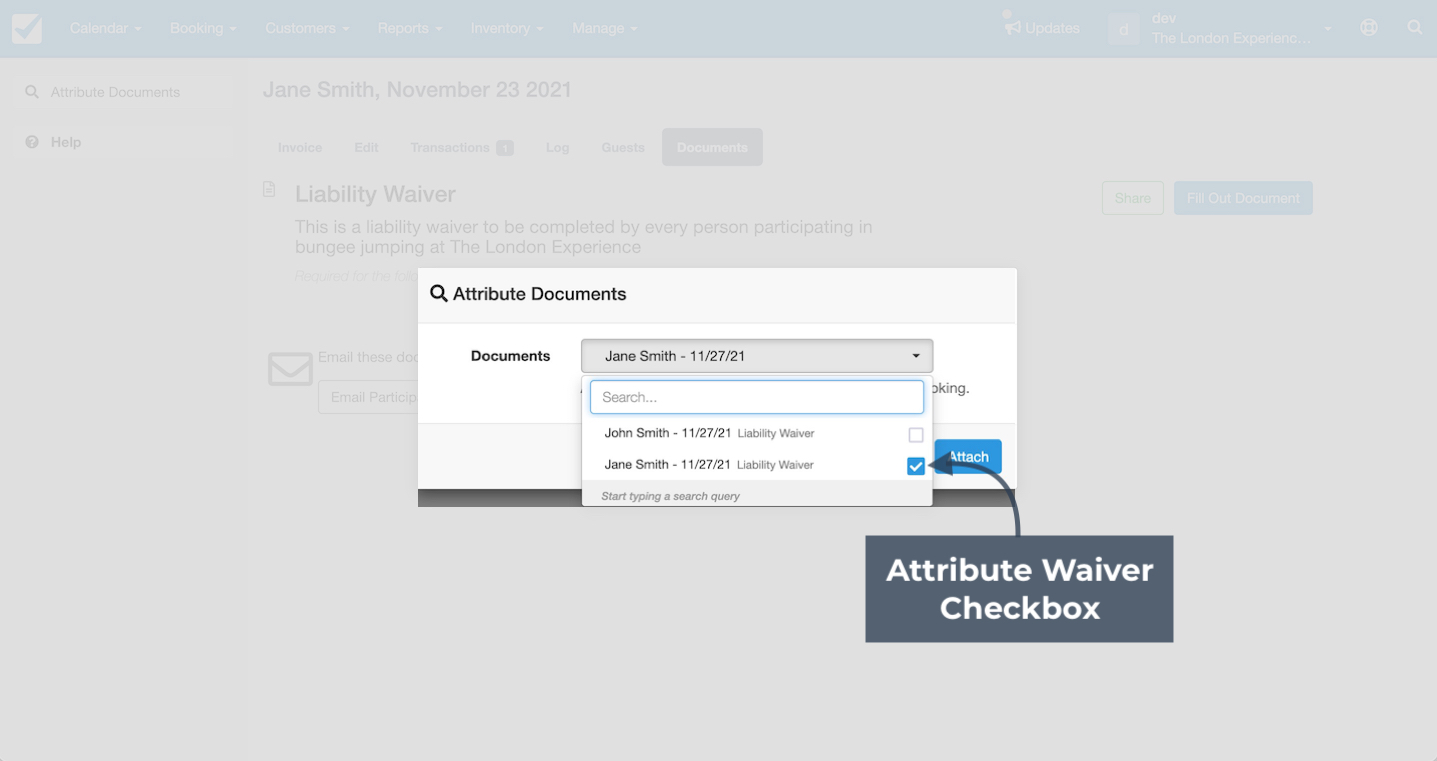 The name of the primary booking holder appears next to the name of the waiver and the date it was signed. Click on the checkbox to include the waiver in the booking. You can select more than one if this is necessary.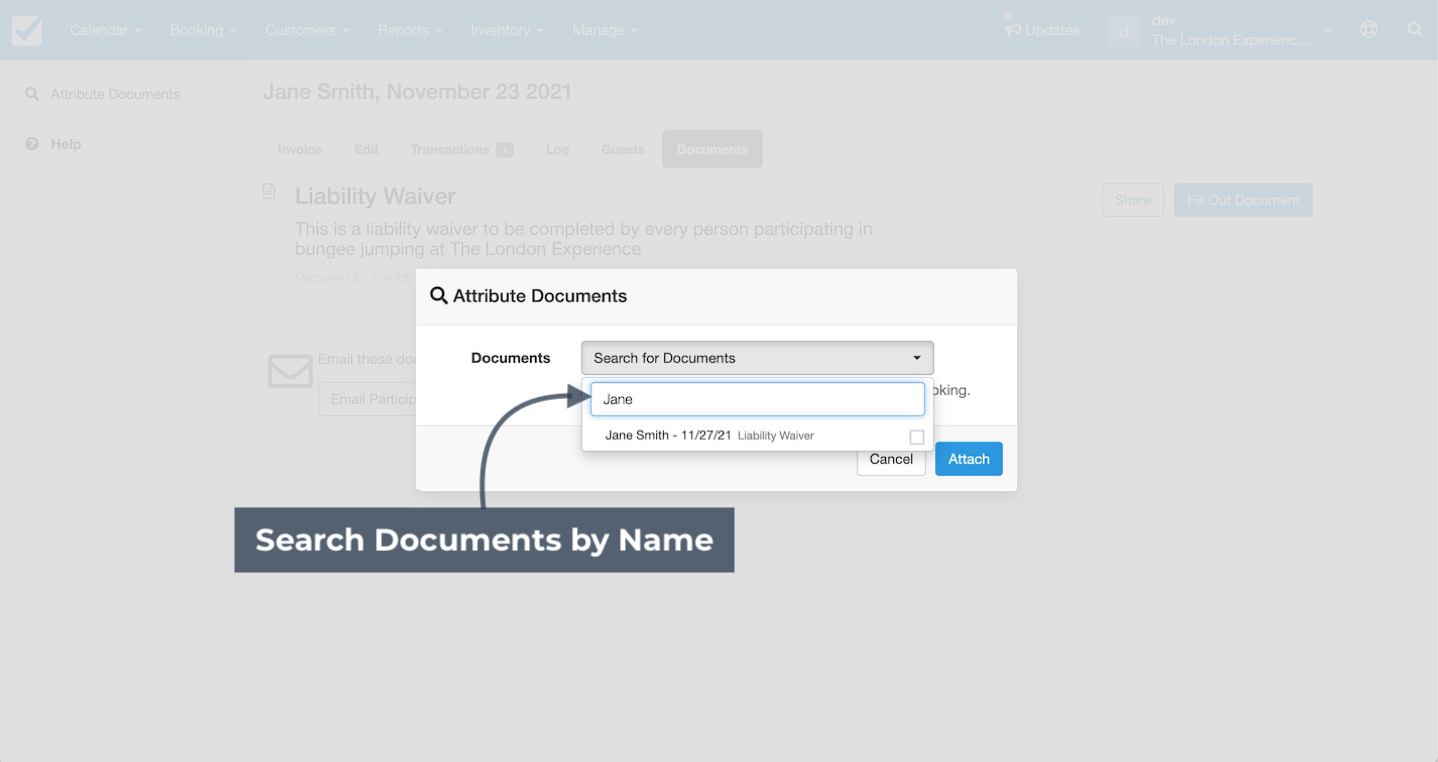 Also, you can search for a specific waiver by Customer name. This filters out any other waivers in the list to make location easier.
When you're ready, click the blue Attach button to assign the document(s) to the booking.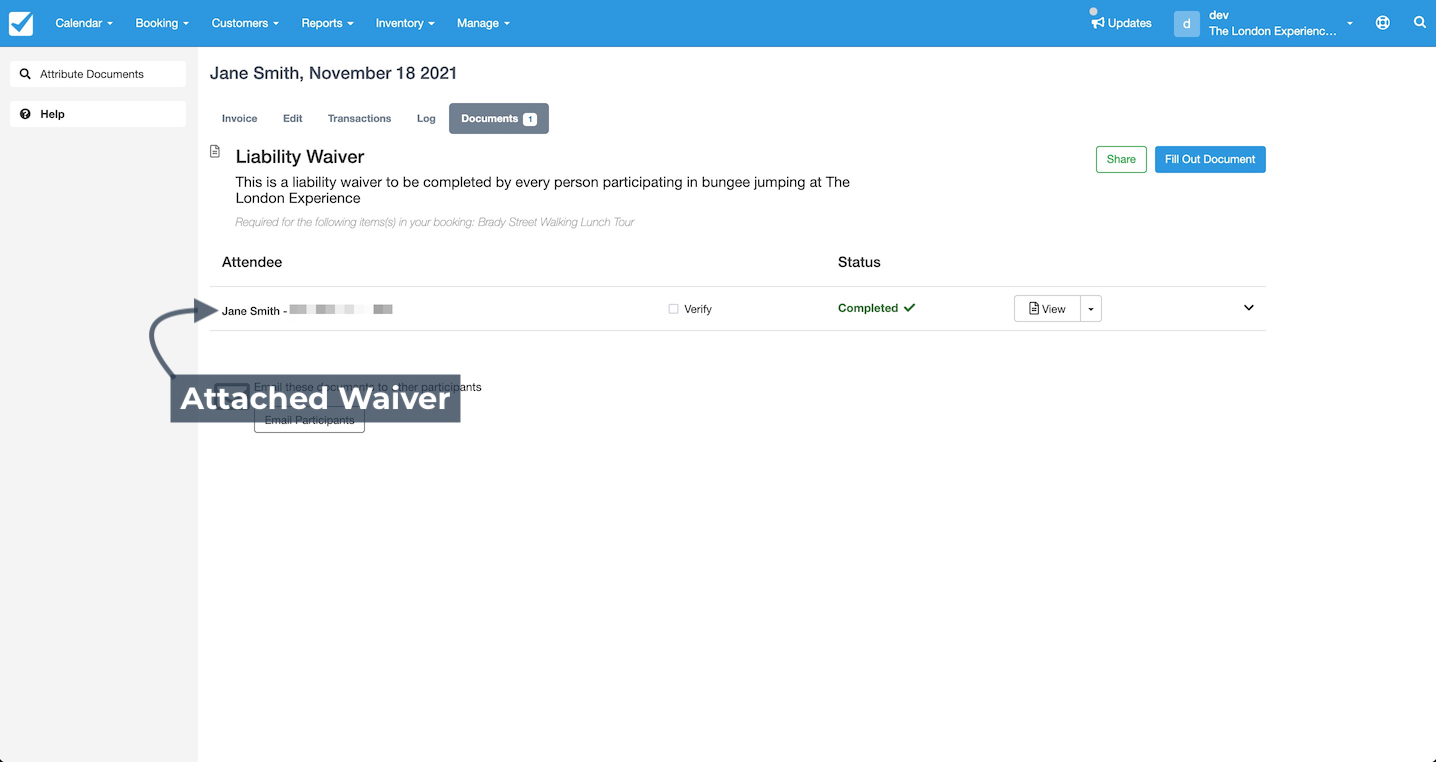 The document is attached and visible in the booking's Documents tab.
---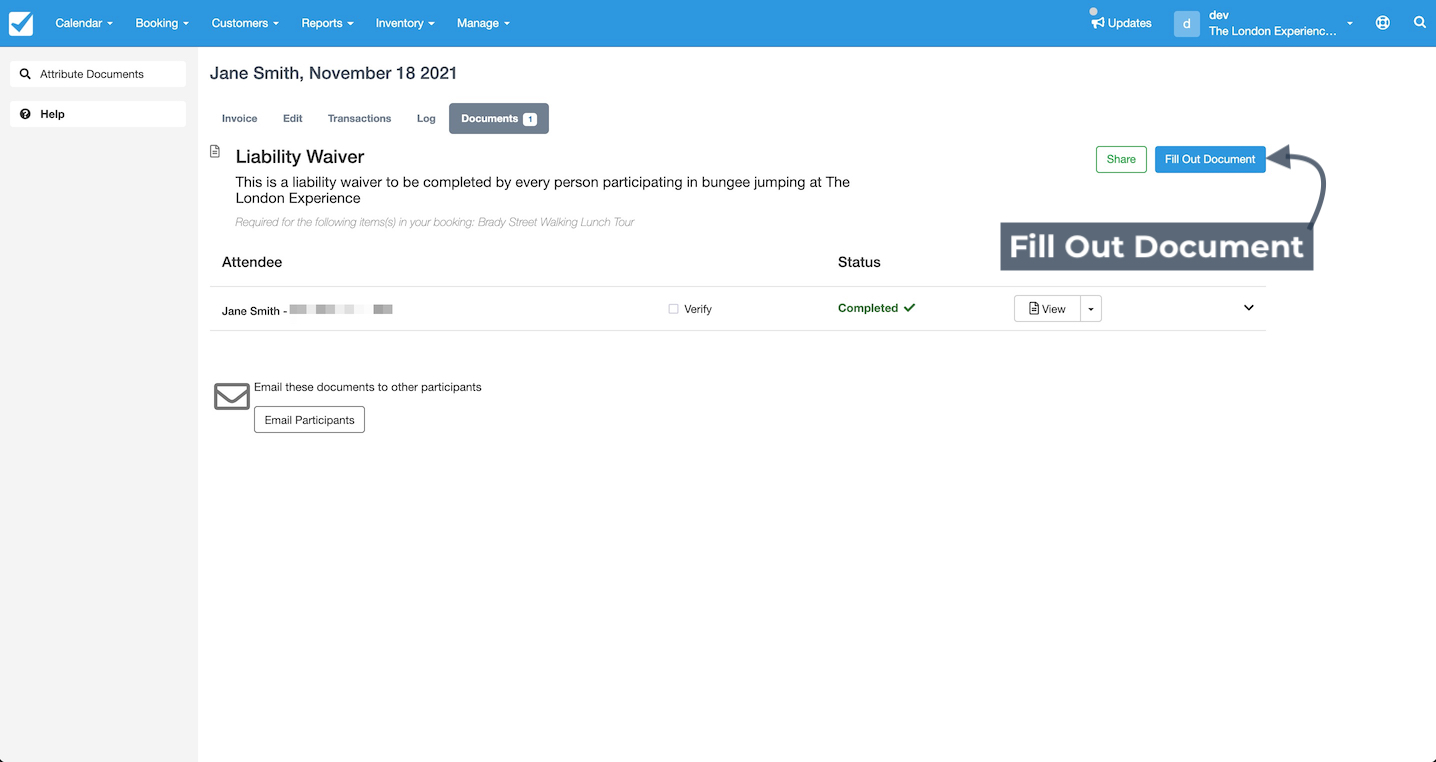 Rather than have the Customer fill out the document from the public document library, you can also pull up the invoice in your system. First, click on the Documents tab, and then click the Fill Out Document button, as shown above.
You can then direct the Customer to fill out, sign, and complete the document. If this method is used, the document is automatically assigned to the booking, so no attribution is required.
---
< Working with sent and submitted documents | Sharing waivers & documents with Customers >
---