---
Plan Availability: X Soho | X Pro | X Plus | X Enterprise | ✓ Flex |
Locate: Manage > ECommerce > Taxes > Booking Fee
Prerequisites: Stripe as your Payment Provider
---
In this article, we will review the Flex plan Booking Fee setting and where the Flex plan Booking Fee applies in the Customer workflow as well as how to report on and refund transactions with Flex plan Booking Fees.
This feature is available to those on the Flex plan only.


---
Booking Fees are Checkfront service fees charged to Guests for each payment transaction through accounts on the Flex plan.
The Flex plan...

is only available to accounts with Stripe as their Payment Provider

The Flex plan Booking Fee...

is applied to Payment transactions, not Refunds at this time.
is applied to payments initiated by Guests,

not

Staff-side payments.
is calculated based on the Booking Subtotal (before taxes).
is applied in your account's Base Currency
is applied to Items and Gift Certificates.
is not supported for Site Builder at this time.
is not applicable to bookings sourced from Online Travel Agents (OTAs)
is deducted automatically by Stripe from the payment collected and remitted to Checkfront.
| | |
| --- | --- |
| | The Flex plan is not available to accounts within Malaysia and Mexico due to a restriction with Stripe and those locales. |
---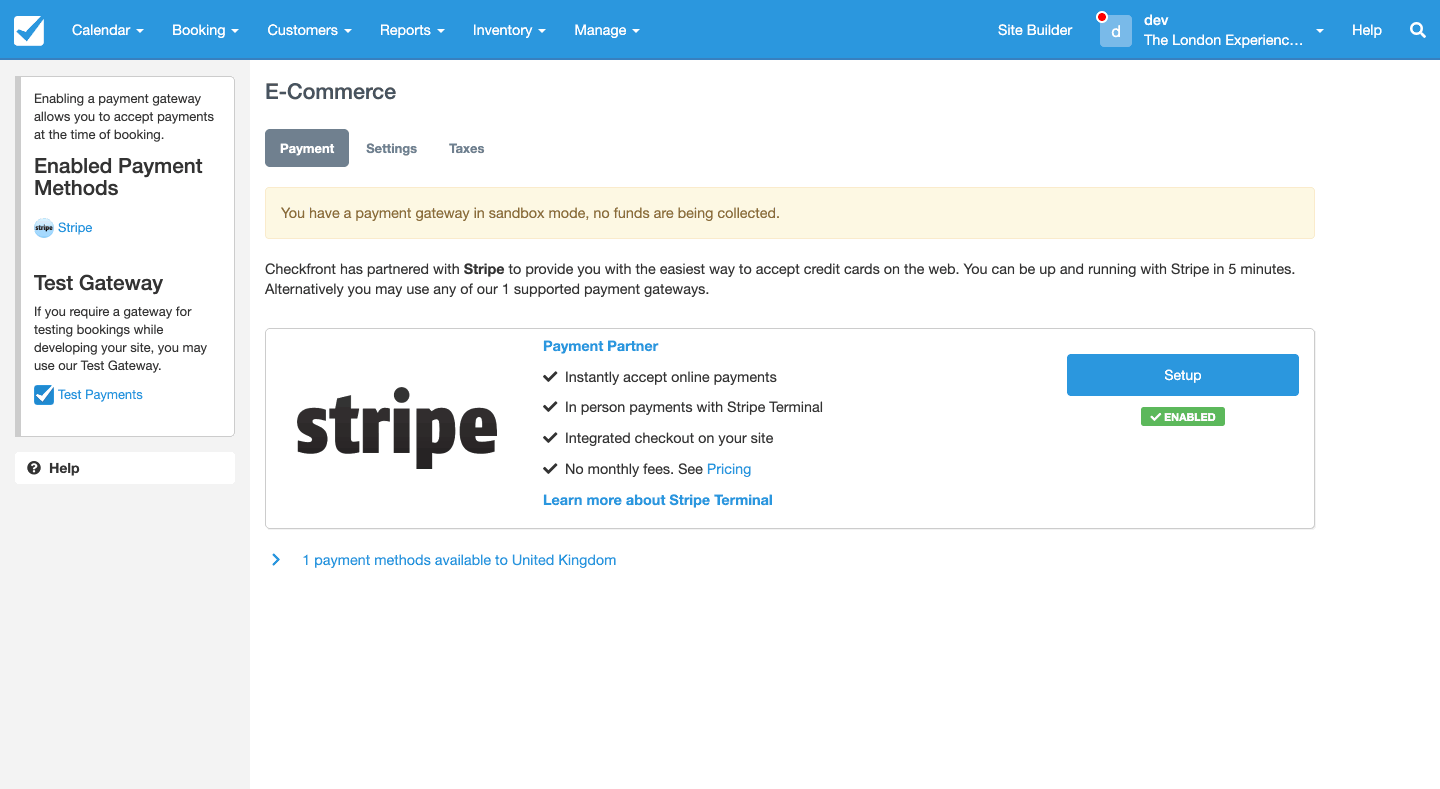 If your account is on the Flex plan, you can view and set up the Booking Fee by following these steps...
Go to Manage > E-Commerce > Taxes
Note, the Booking Fee is listed.
Click on the name of the Booking Fee to access Tax Setup.
Note, the name is editable, but the amount and type of fee (percentage vs amount) is not.
Click update to save any changes.
---
Booking Fee and the Customer Booking Workflow
Back to top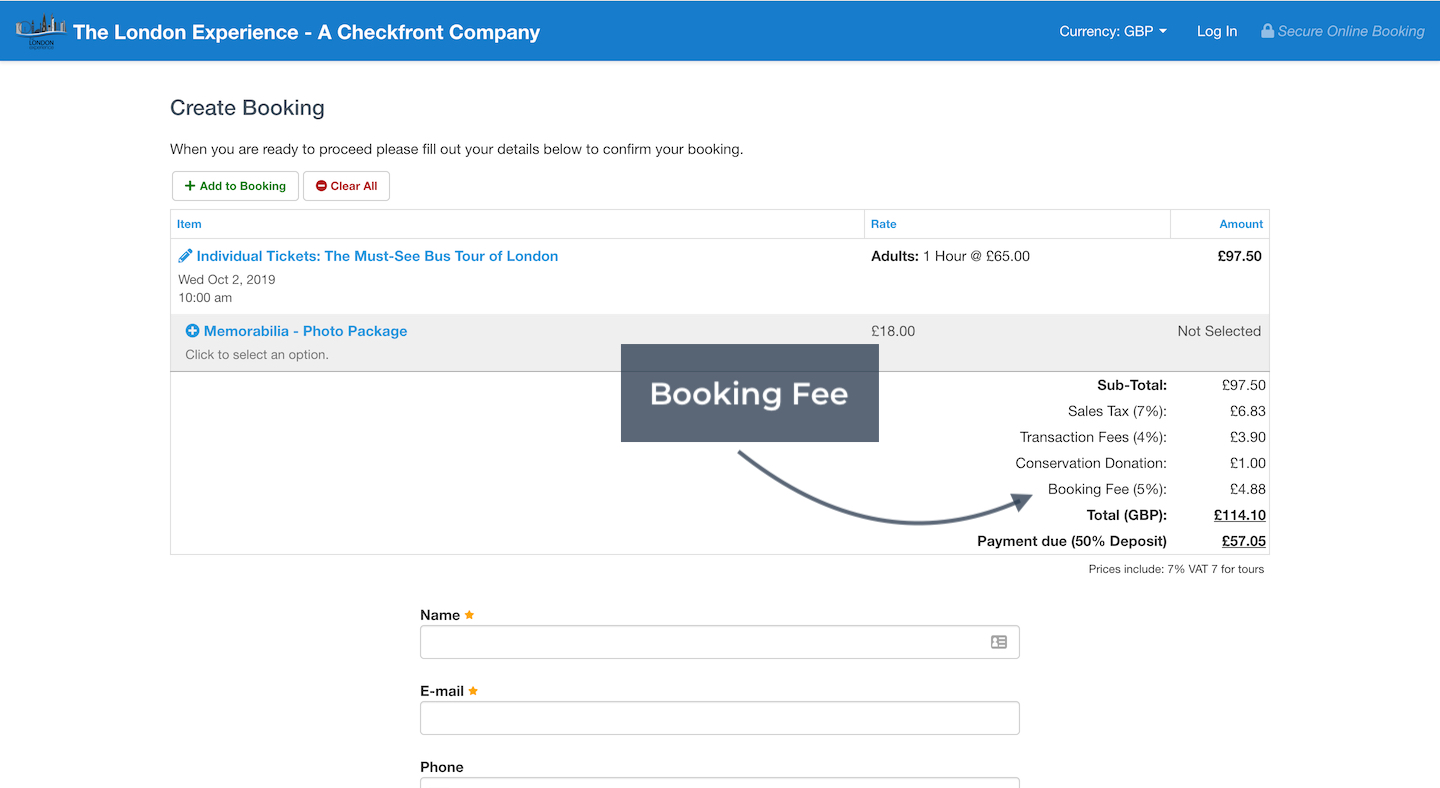 The Booking Fee is applicable to payments processed through the Customer booking workflow, for example, the Customer Booking Page (/reserve). The Booking Fee (percentage and amount) displays before the booking Total within Create Booking, Payment, the Booking Summary, and Invoice pages.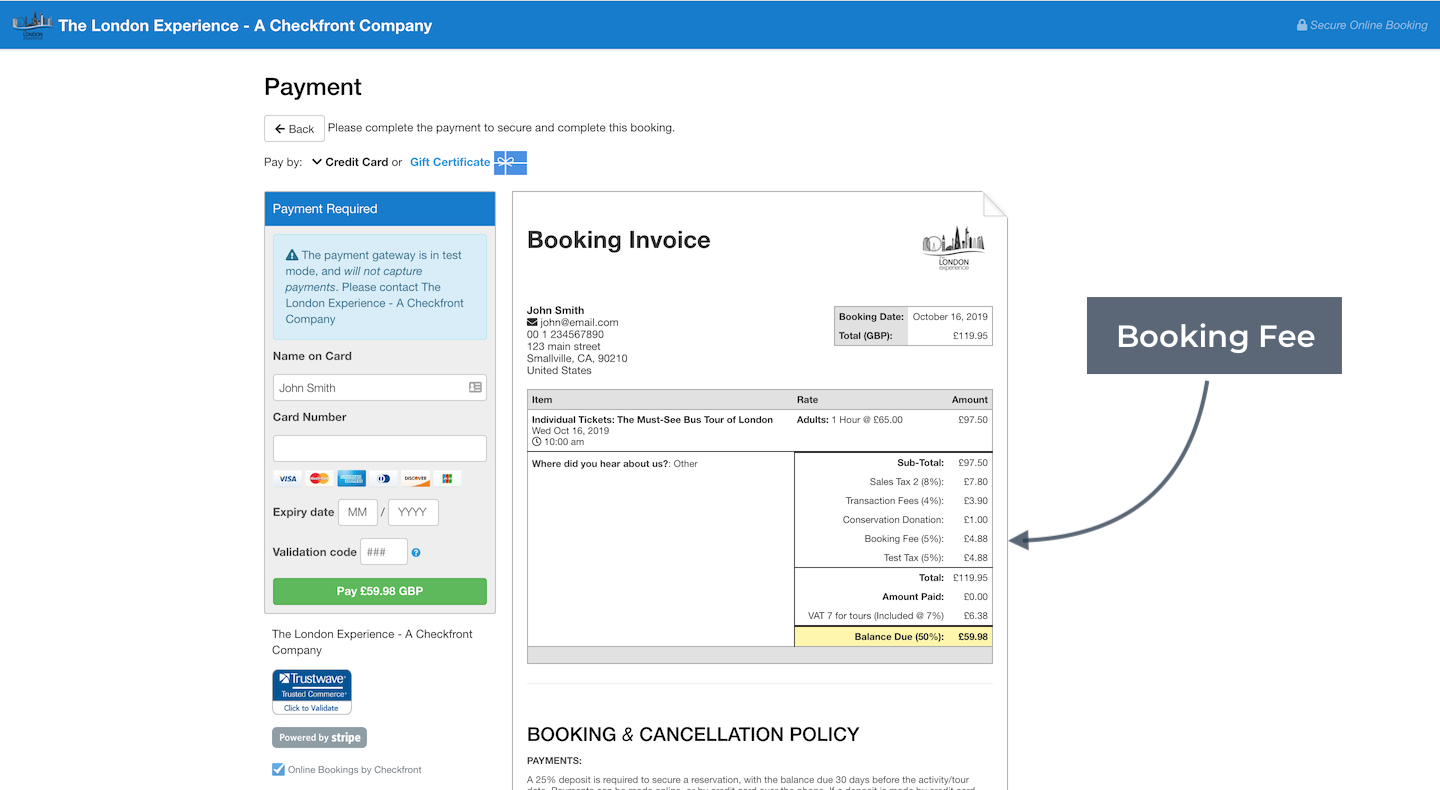 The Booking Fee is calculated on the Sub-Total, the amount before taxes.
---
Booking Fee Not Applicable to Staff-side Bookings
Back to top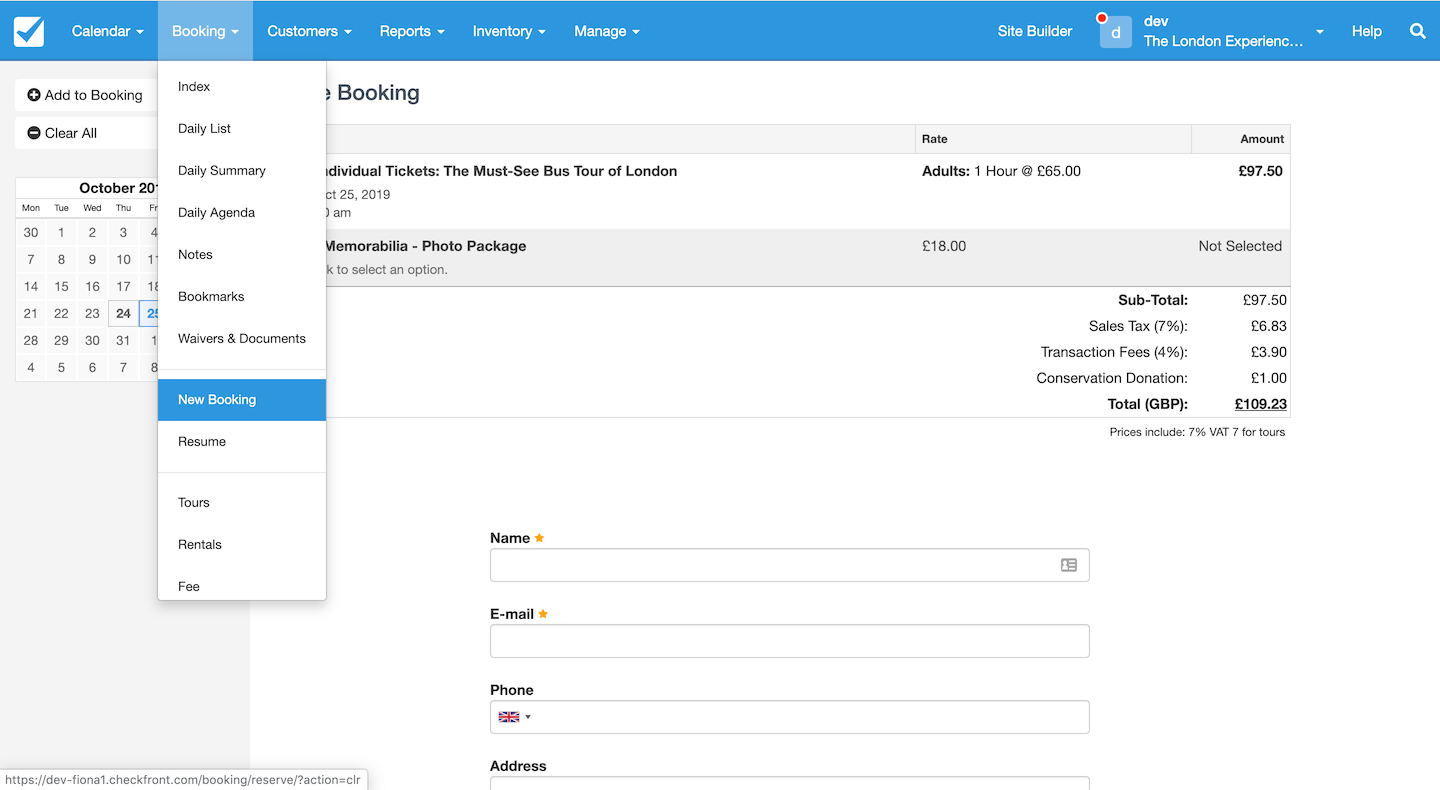 The Booking Fee is not applicable to Staff-side transactions (Booking > New Booking).
---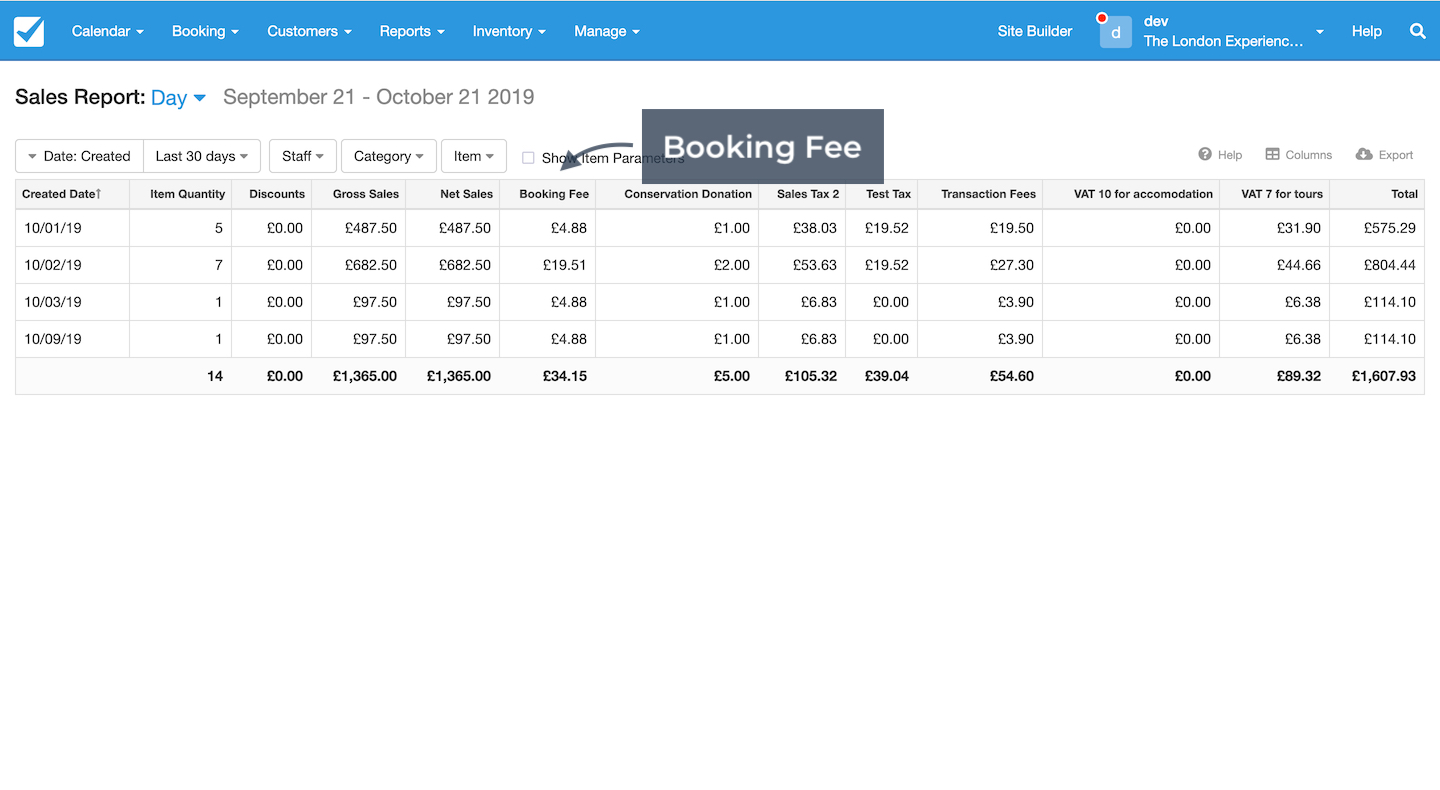 The Booking Fee is included in the Sales Report (Reports > Sales).
---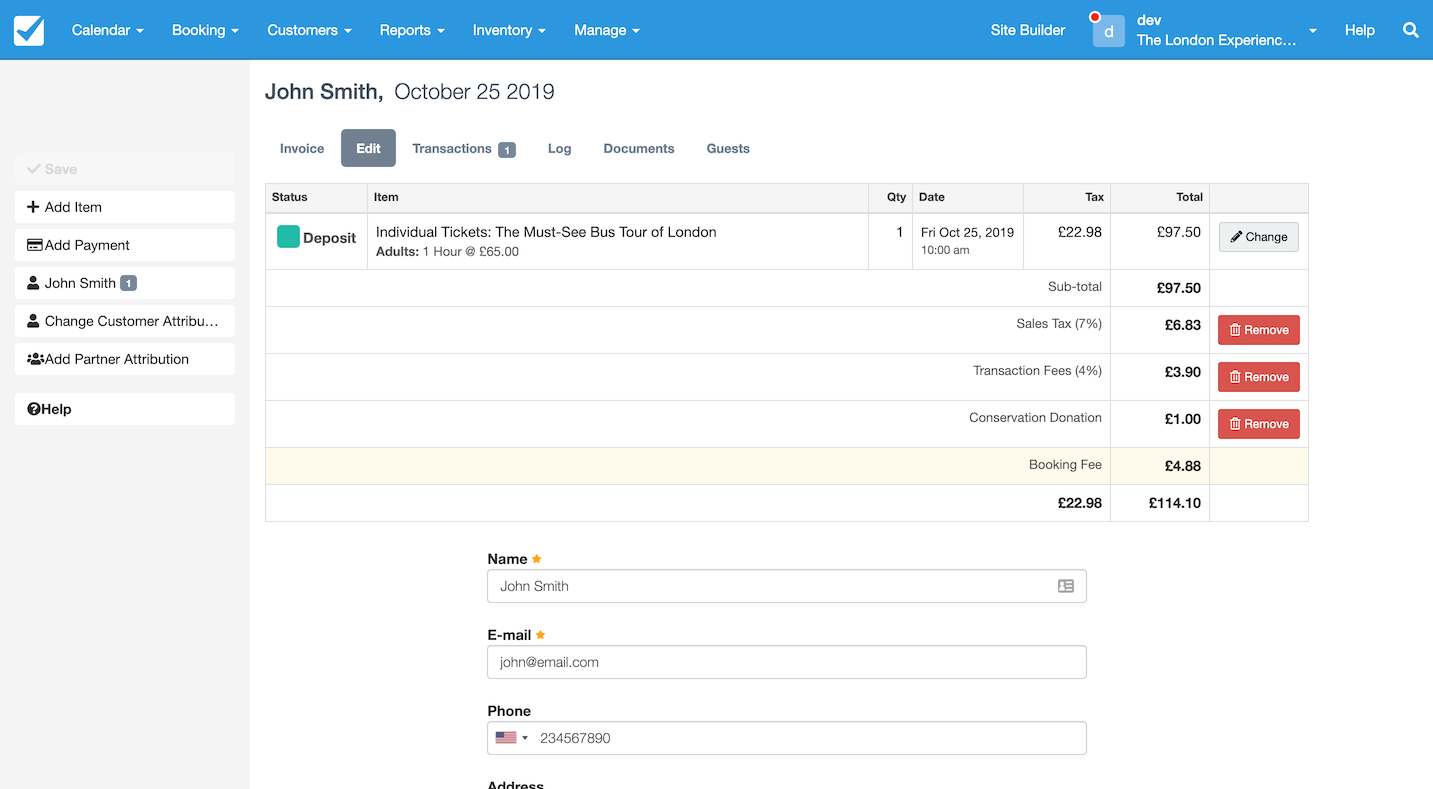 Editing the booking (adding or changing the items) does not recalculate or change the paid status of the Booking Fee. The Booking Fee cannot be removed from the booking by editing the transaction or excluded from the payment when adding a new item to the invoice.
Removing an Item from the booking will leave a credit on the booking.
---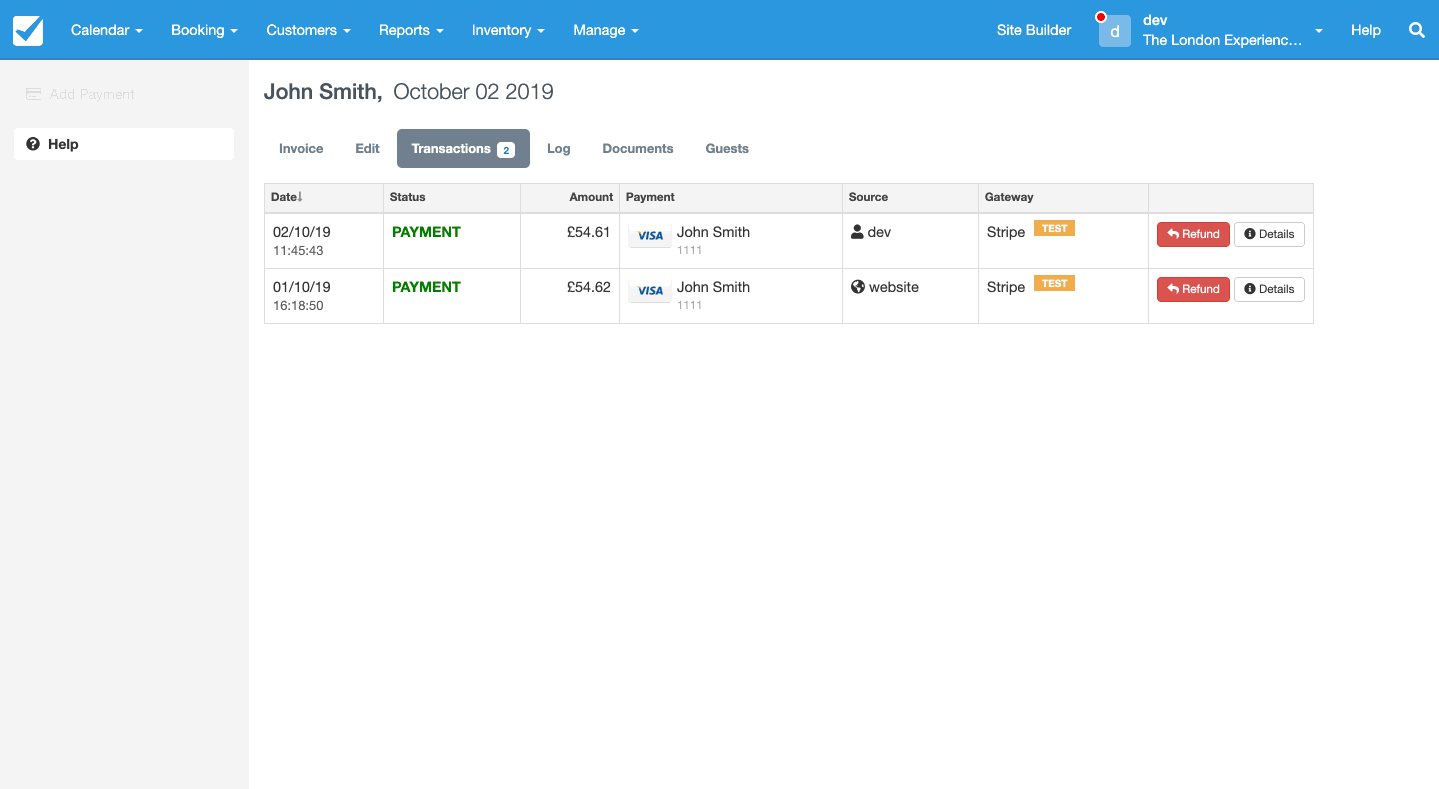 At this time, the Booking Fee cannot be refunded (Reports > Booking Index > Booking Details > Transactions). Refunded amounts will exclude the Booking Fee.
After the refund is processed a refund record will be listed with access to transaction Details including the amount refunded (excluding the Booking Fee).
At this time, there is NO fee for processing a refund.