---
Plan Availability: ✓ Soho | ✓ Pro | ✓ Plus | ✓ Enterprise | ✓ Flex |
Locate: Inventory > Product Closures > Create Closure
Prerequisites:
Admin permissions to manage inventory or restricted permissions

to

View products and assets with Manage products and assets, and View events and rules with Manage events and rules.
Your account must have access to products (Inventory > Products), a key feature of our newest version of Checkfront.
New to product closures? Be sure to start with the first article in this series: Introduction to product closures
New to Checkfront - Products ✨

Products (Inventory > Products) is the successor feature to (Inventory > Items) and is available in our newest version of Checkfront.

Not yet on our newest version and interested in upgrading? Please contact our Technical Support team for more information.

Discover more product-related help articles here: Products (New).
| | |
| --- | --- |
| | Product closure events can also be created and edited from within the Product Builder. Learn more here: |
| | |
| --- | --- |
| | Using our classic version of Checkfront which utilizes items (Inventory > Items)? You can find information on item event closures within the following articles: |
---
In this article, we instruct you on how to add a product asset including how to...
name your product closure.
select the date range for your product closure.
specify the applicable days of the week for your product closure.
select the products to apply to your product closure.
---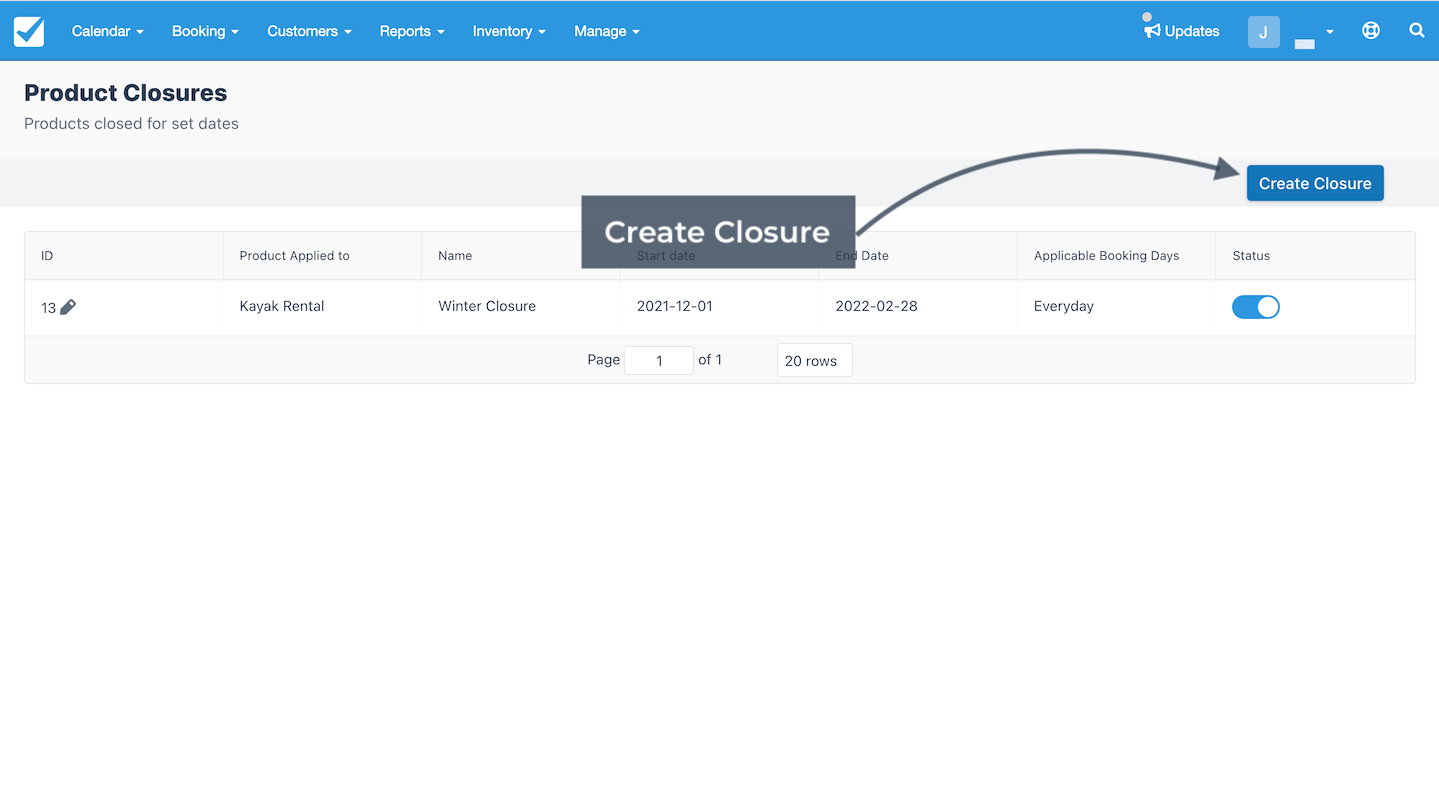 The Create Product Closure modal is accessible from the Product Closures List by clicking on the Create Closure button.
| | |
| --- | --- |
| | You can create product closures from the Product Closures list or from the Availability tab within the Product Builder as described here: |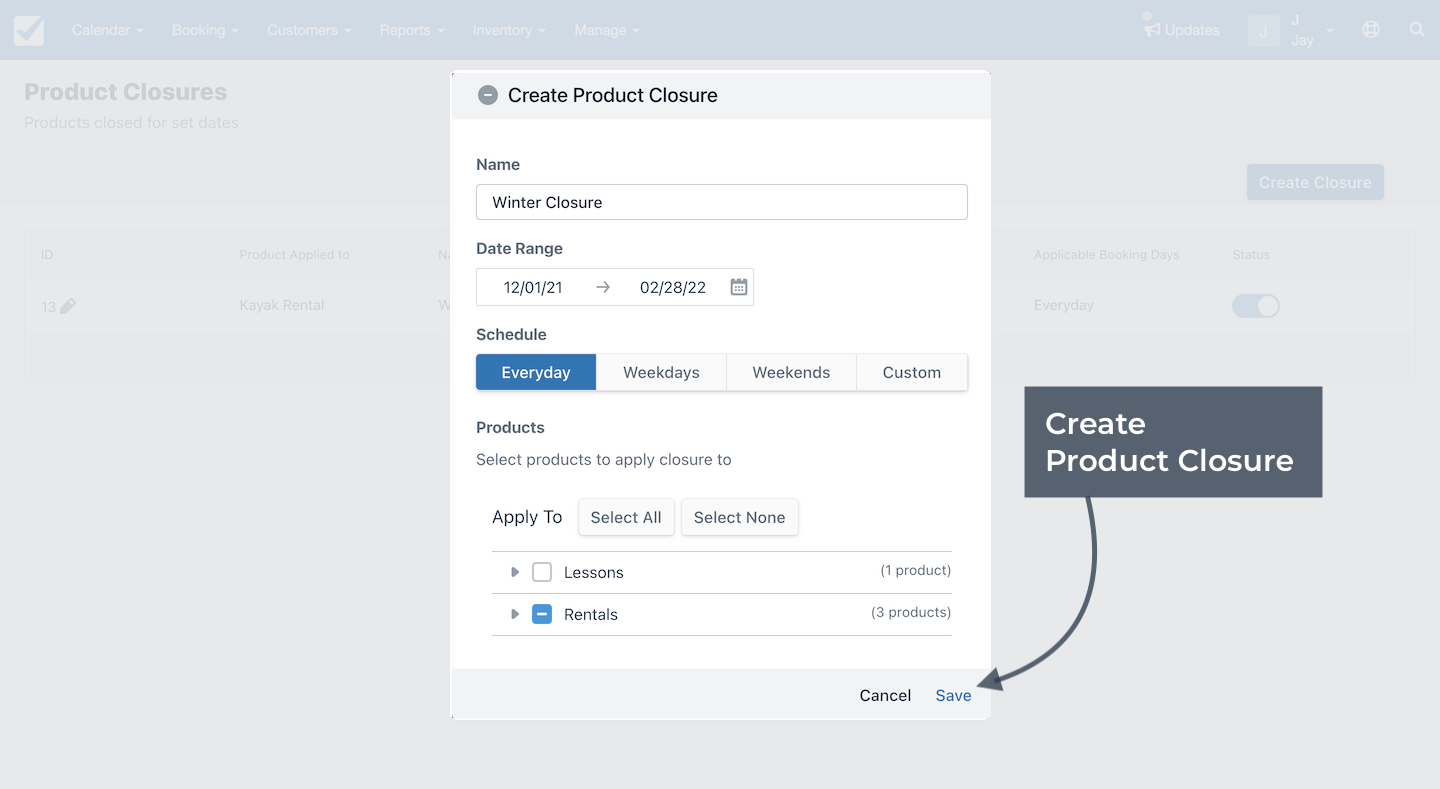 Let's review each component of this modal together...
Specify the name of your product closure, for example, Winter Closure, Weekday Closure, Monday Staff Training. This name can be changed once saved.
Select the date range for the product closure. For example...
Winter Closure: 12/24/21 --> 01/03/22
Weekday Closure: 11/01/21 --> 02/28/22*
Monday Staff Training: 02/01/22 --> 02/01/22*
*Your date range selections are paired with your schedule selections to arrive at the product closure that suits your needs.
Specify the days of the week the closure is applicable. Close availability for your product Everyday, Weekdays, Weekends, or according to your Custom selections e.g. Mondays only during the select period.
Select the products to which the product closure applies. Your options include...
Manually select (a) product(s) by checking the box next to the product category or individual product.
Click the Select All button to have the product closure apply to all your products.
Click the Select None button to save the closure but not have it apply to any products. This is a good option if you need to confirm which products are applicable but don't want to lose what you have configured, or you need to remove a product closure.
---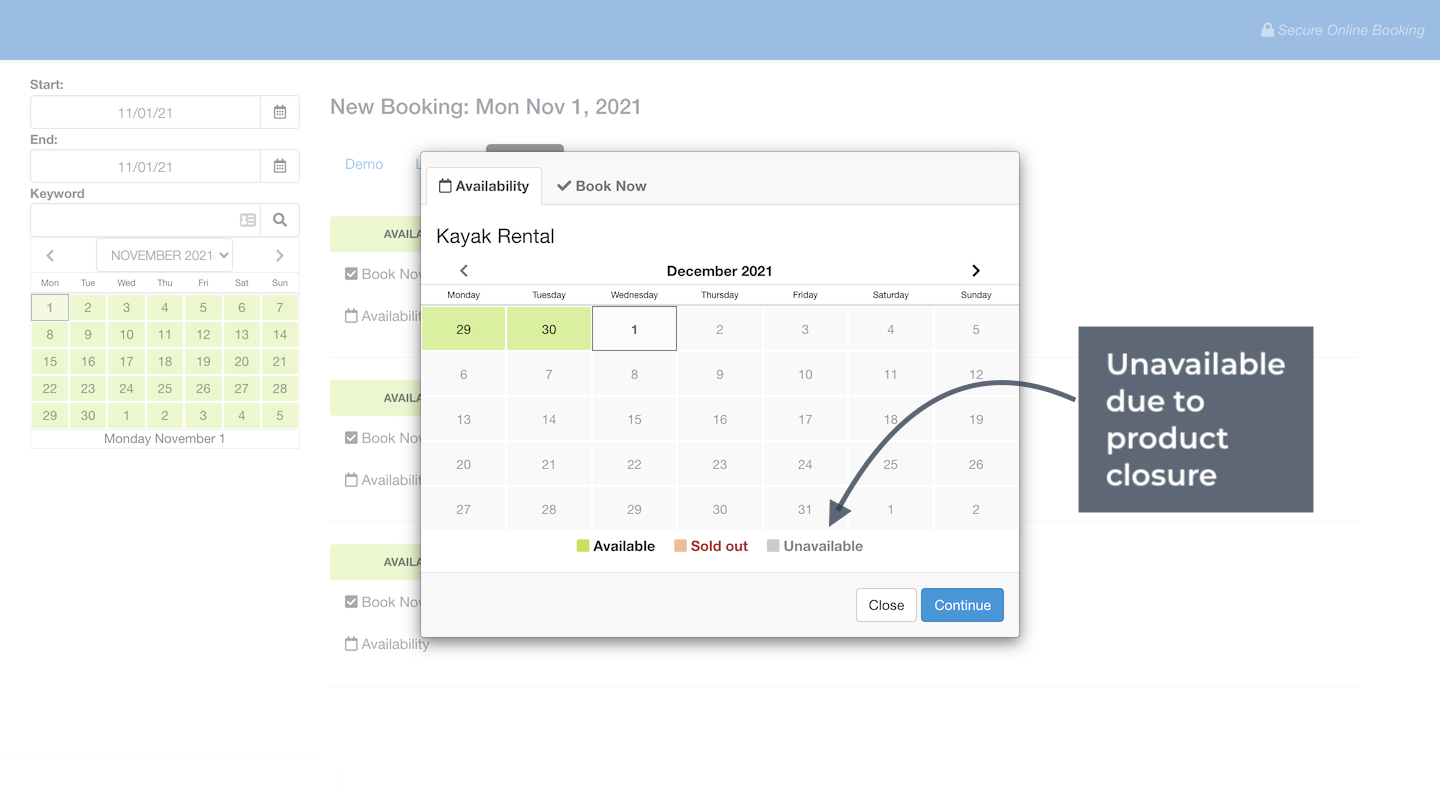 With the product closure enabled, the product is not listed within the Booking Page (Detail or Hero Page layout).
The associated product is also unavailable within the Availability calendar.
---
< Introduction to product closures | Editing product closures >
---