---
Read this introduction to our Customers Directory and Customer Profiles features.


To learn more about the functionality of the Customers Directory, please read the full series of articles, accessed at the side and bottom of this page,
---
Which plan do you need to use this feature?
✓ Soho | ✓ Pro | ✓ Plus | ✓ Enterprise | ✓ Flex |


Where can I find this feature using the top menu?
Customers > Directory


What prerequisites are there?
Admin permissions or restricted permissions to View Customer List and Edit Customers.


Which Checkfront version supports this feature - classic, new, or both?
The Customers Directory feature is available to both those using items (Inventory > Items), a key feature of our classic version of

Checkfront, and those using products (Inventory > Products), a key feature of our newest version

of

Checkfront.

New to Checkfront - Products ✨

Products (Inventory > Products) is the successor feature to (Inventory > Items) and is available in our newest version of Checkfront.

Not yet on our newest version and interested in upgrading? Please get in touch with our Technical Support team for more information.

Discover more product-related help articles here: Products (New).
---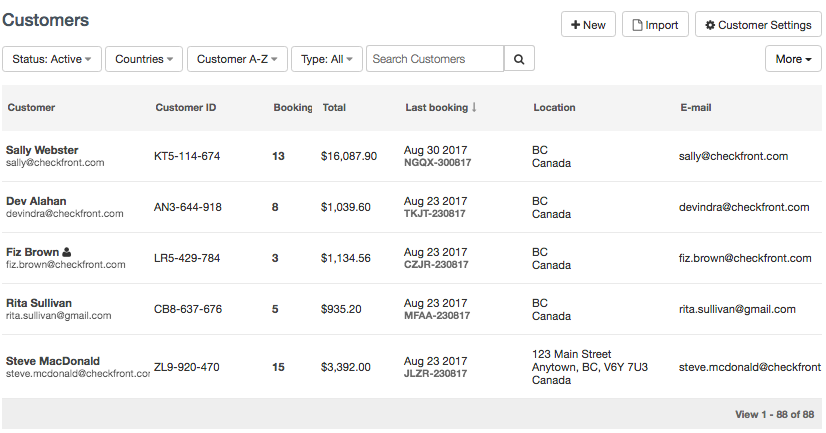 The Customers Directory is your central hub for storing Customer records. A new record is created for a Customer the first time they make a booking with you.
Bookings are attributed based on the information available when the booking is created.
If the email address matches an existing profile, then the booking is attributed to that existing profile.

If the email address matches an existing profile, but not all personal information matches, the booking is attributed to the existing profile as a related booking. You can review the booking at a later time to confirm the association.

If the email address does not match an existing profile, then a new profile is created.
You also can manually add a new Customer to the Customers Directory via the +New button at the top of the page. Any existing bookings with similar information are automatically associated with the new profile.
Customers Directory & Customer Accounts

Do you have Customer accounts enabled within your account? If so, the Customer Profile and bookings are associated with the account once the Customer's email address has been verified and the account created.

Customer accounts provide your clients with the ability to log in and manage their own bookings and contact information. This feature can be enabled in your account but is not active by default. Customer accounts can be required or optional. Learn more here...
If a new Customer creates a booking and the status of that booking is not locked, then the new Customer is not automatically added to your Customer Directory.

Learn more about Booking Statuses here:
In the next article in this series, we take a closer look at the Customers Directory, beginning with the various ways to filter Customer records.
---
Filtering Customer records within the Customers Directory >
---