---
The Customer Directory is your central hub for storing customer records. A new record is created for a customer the first time they make a booking with you. This record is referred to as a customer profile.
The directory also displays customer accounts. Essentially, Checkfront no longer distinguishes between customer profiles and customer accounts, but there is a slight difference:
A customer record is an unclaimed customer account. 
If at some point a customer decides to create an account on your system, they will be required to verify their email address. Once this has been done and the account is created, any past bookings attached to the customer's profile will be pulled into the new account and assigned to them.
So let's take a closer look at how this works, beginning with the various ways to filter the customer records in your database.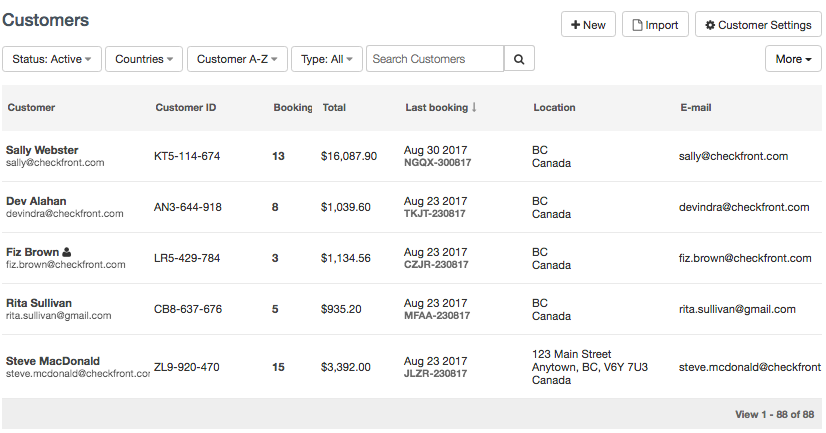 If you'd like to filter your customers based on country, you can do so using the Countries button. Just click on that to reveal a drop-down menu of all the countries from which you have a customer. Make your selection to filter the list of results.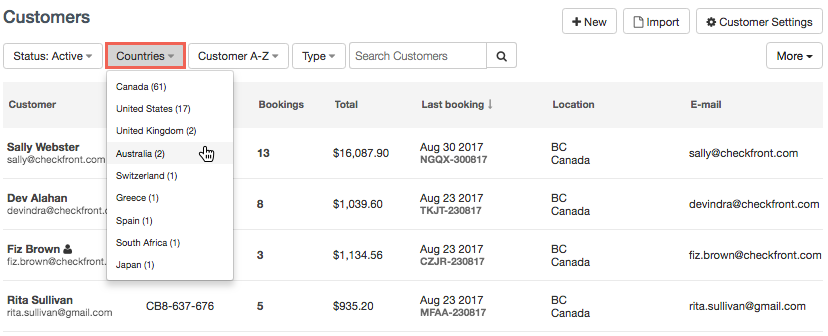 Another way to filter your customer list is by name. Click on the Customer A-Z button to open a drop-down list of the alphabet letters. Any letter you choose corresponds to the first letter of the customer's first name. In the image below, we selected the letter 'D'.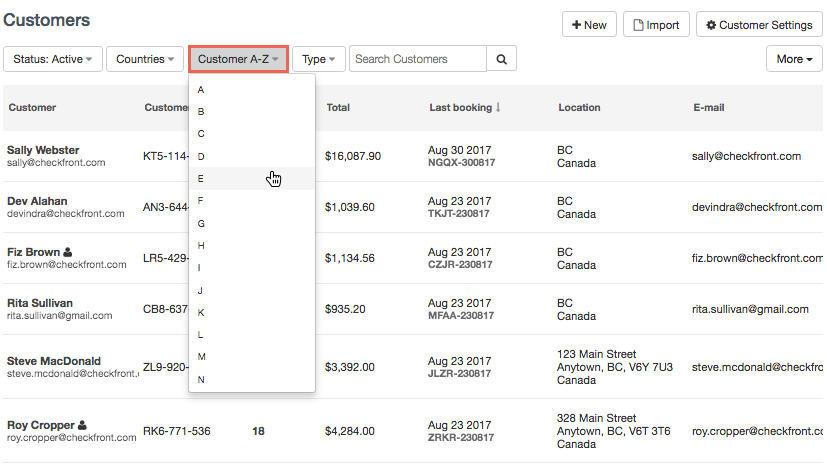 The type drop-down menu enables you to filter your view to display all profile types or just the claimed/unclaimed accounts. Remember, a customer profile is created when the customer makes a booking on your system. If they then choose to create a customer account, that profile becomes claimed. Switching this view enables you to see which customers have the taken the step of creating an account.

The final way to filter your customer list is to search by name. You can enter the first or last name as both will find the result you're looking for. Type in the name, hit 'enter' and the list will be displayed.  

Locked Booking Statuses

If a new customer creates a booking in your system and that booking status is not locked, the new customer will not be added to your Customer Directory. If you are experiencing issues with missing customers in your directory, double check your booking statuses to make sure they are locked as expected.
---
Clicking on a customer's name in your report will open up their personal details in a new screen. From here, you can view all bookings associated with that customer. If a different email address is used, a separate customer record will be created. To view a booking in more detail, simply click on it to open up the invoice view.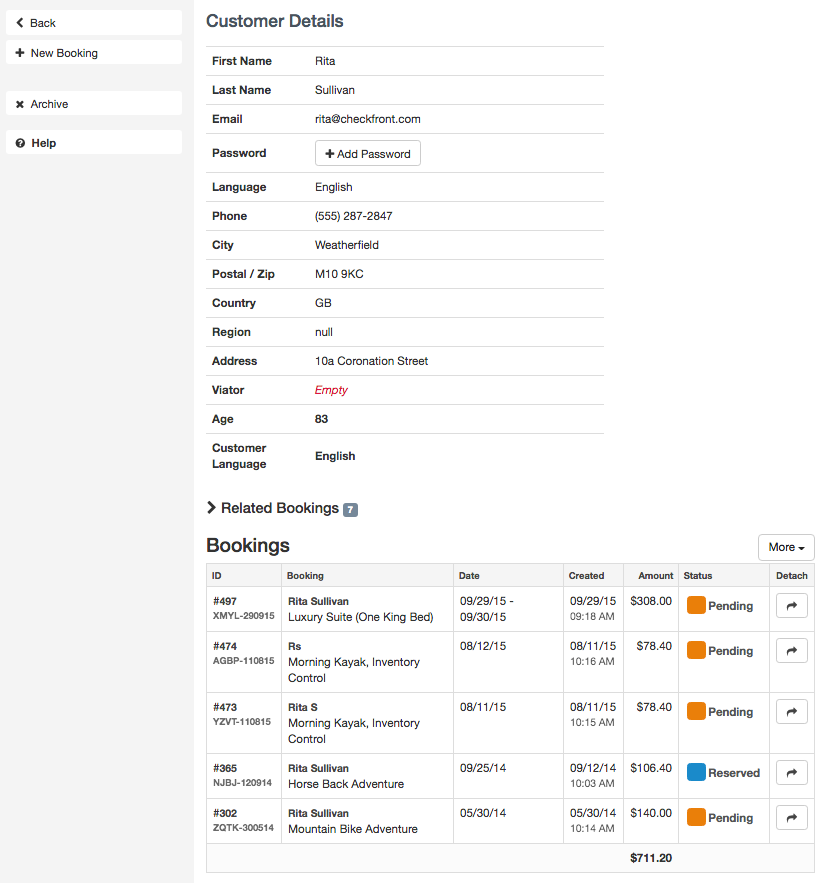 ---
---
From the customer record screen, you can also create a new booking using the customer's previously entered information. To create a new booking, click on the + New Booking button in the left sidebar.  
Editing a Customer Record
Editing the customer record is also very easy. Simply click on the blue pen icon next to the field you wish to edit. This will put that field into edit mode. Make your changes and then click on the checkmark.  
| | |
| --- | --- |
| | Editing the customer record will not update previous bookings by that customer. The address entered for a previous booking will remain the same, unless you pull up that invoice and edit it manually. |
| | |
| --- | --- |
| | It's not currently possible to add a staff note to a customer record. Staff notes may, however, be added to a customer's invoice on a per booking basis. |
You can also find an Archive button in the left page column should you decide to remove this customer from your system. Doing so will not delete previous bookings from the system.  

From time to time, customers may rebook with you under a different name or a variation of their name. They will, however, use the same email address. In such a case, the system will recognize a potential duplicate customer and display a Duplicate Entry link in the customer record.
Click on that link to reveal the potential duplicate. Check the box next to any records that you believe to be a duplicate and click Merge Into Current Profile. The two records (or more) will then be merged together into one.  
If you realize a booking has been added to the wrong customer account or would like to break up a single customer's bookings into separate customer accounts, you can do so via the Detach button, next to each booking in the customer record.  
Once a booking has been detached, a new customer record will be created using the same customer name and email address as before. You can update the rest of the customer details as you wish.  
| | |
| --- | --- |
| | Detaching a booking will create a new duplicate entry in the system. Follow the instructions above to merge the duplicates back together again, if this becomes necessary in the future. |
You can access your customer settings via the button labeled Customer Settings in the top right of your directory.

For details on the customer settings please view the following support document.
The Columns menu allows you to choose exactly which information is and isn't included in the report you are generating. You can choose to display the standard system fields that come with Checkfront, or not. Simply check a column to include it in the report or uncheck it to leave it out. You can change this on a report by report basis if you like.  
To reorder the columns in your report, click and hold your mouse over the "dots" by each column title and drag it to where you'd like it to be. Click save when ready and your report should be updated with the changes you've made.  
---
You can export a report from your customer directory using the link in the top right corner, next to the columns button.
You are able to enter a name for the report and choose the output format.  
Current formats include:
• MS Excel
• CSV
• PDF
• XML
The report can be saved to your computer, an email or Google Drive.