---
Learn how to block Customers from booking based on their email address, including managing blocked Customers, adding notes to blocked Customers, making a Staff booking for blocked Customers, understanding the experience of blocked Customers, unblocking Customers, and finding answers to questions about the Blocklist feature.
New to the Customers Directory? Read the first article in this series for an introduction to the Customers Directory feature.
---
Which plans include this feature?
Legacy:  Plus, Enterprise
New:  Available with Growth (Subscription), Growth (Per Booking), and Managed plans only. Not available with Starter plans.
→ Learn more about our new plans or how to change your plan.

Where can I find this feature using the top menu?
Customers > Directory > Customer Profile > Block


What more do I need to use this feature?
Which Checkfront version supports this feature - classic, new or both?
This feature is available in both our classic version using items (Inventory > Items) and our newest version using products (Inventory > Products).  → Learn more about products
---
You can use the Blocklist feature to stop unwanted bookings from difficult Customers based on their email addresses.
By quickly and easily blocking specific Customers on your booking page, you gain complete control over who can make reservations, ensuring a hassle-free experience for you and your genuine Customers.
Key Benefits
Maintain Your Reputation: Prevent disruptive Customers from tarnishing your business's image and online presence. Protect your hard-earned reputation and safeguard your brand's integrity.



Save Time and Energy: Say goodbye to dealing with rude Customers and the subsequent headaches they bring. Our Blocklist feature allows you to focus your time and energy on serving your valued Customers and growing your business.



Enhance Customer Satisfaction: By filtering out problematic Customers, you can create a more positive environment for your genuine clients. Deliver exceptional experiences and build long-lasting relationships that drive repeat business.



Easy Integration and Seamless Control: Implementing the blocklist feature within your Checkfront account is effortless. Gain complete control over the booking process, ensuring that only desirable Customers can make reservations.
The Automatic Customer Redactor feature skips blocked Customers.

Find out more about redacting Customer information here:
---
You can block specific Customers directly from their Customer Profile by following these steps: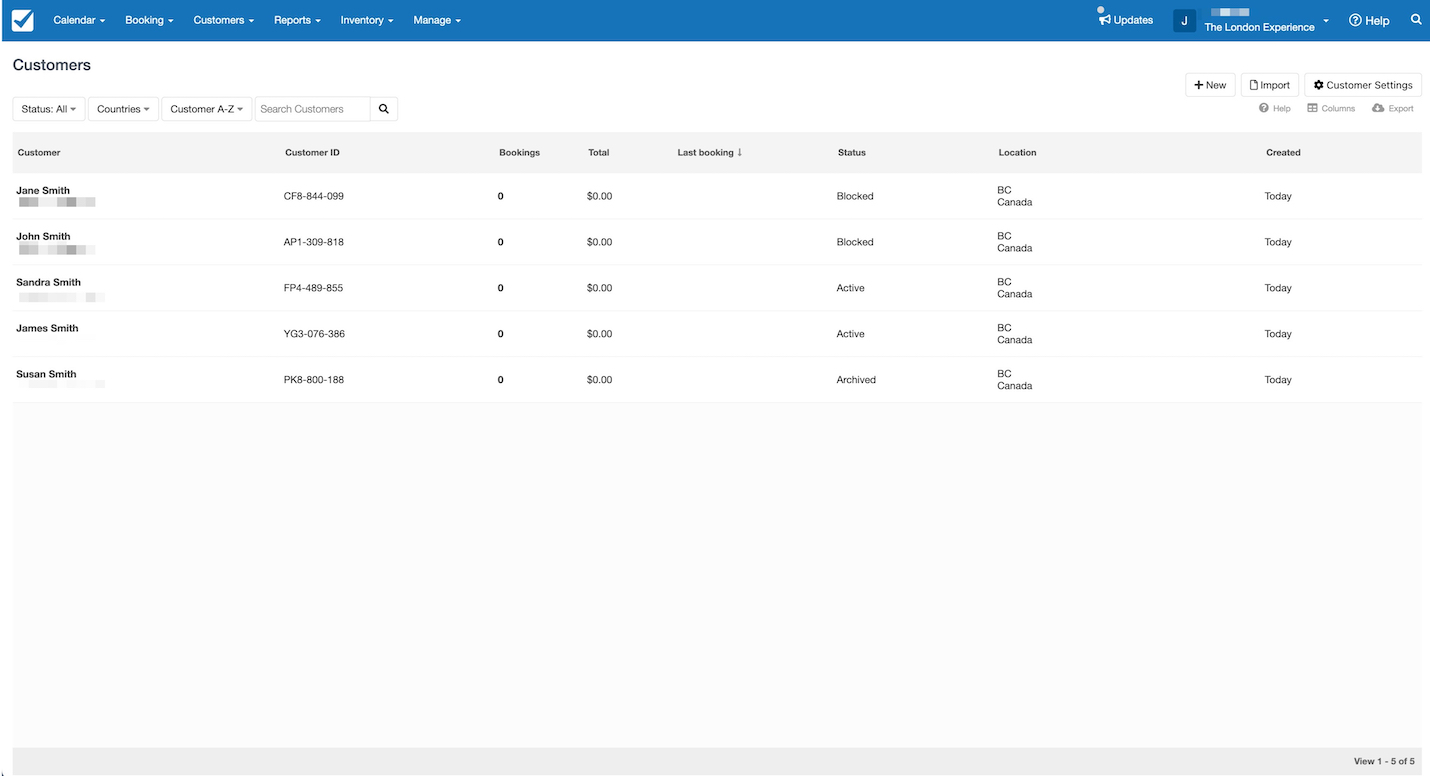 1. Access the active or archived Customer Profile from the Customers Directory (Customers > Directory).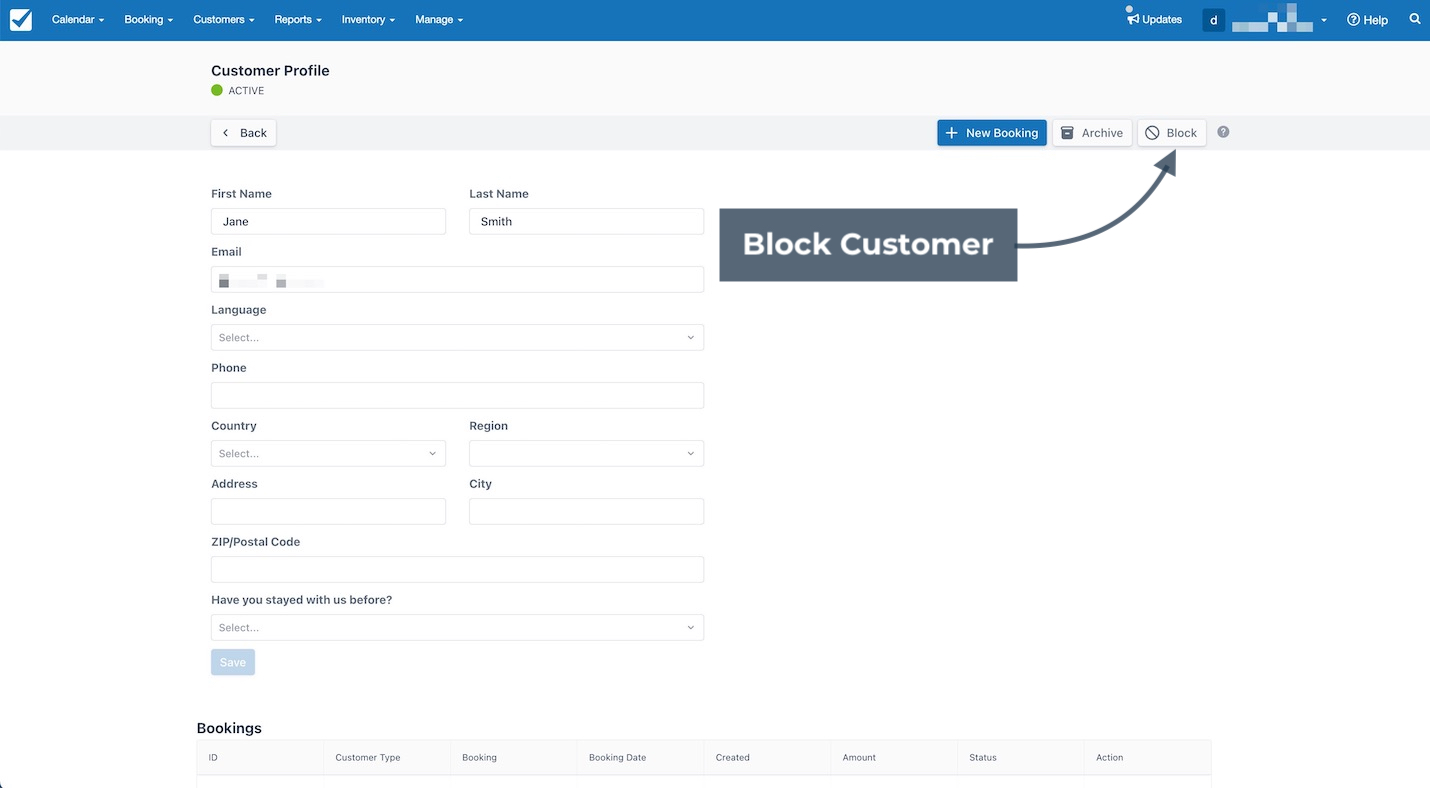 2. Click the Block button at the top right of the page.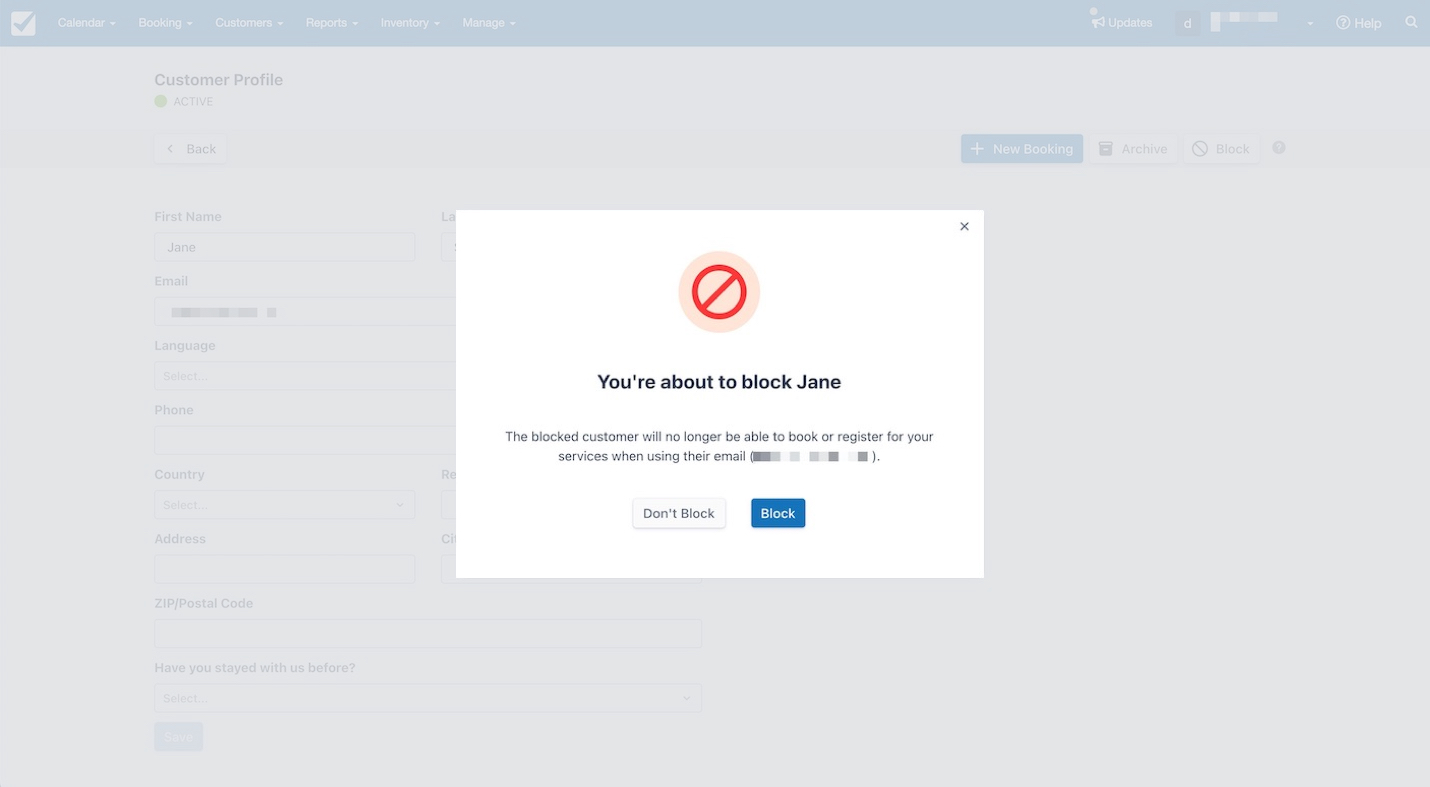 3. Choose the Block button to confirm your choice in the window that shows. Select Don't Block to return to the Profile without blocking the Customer.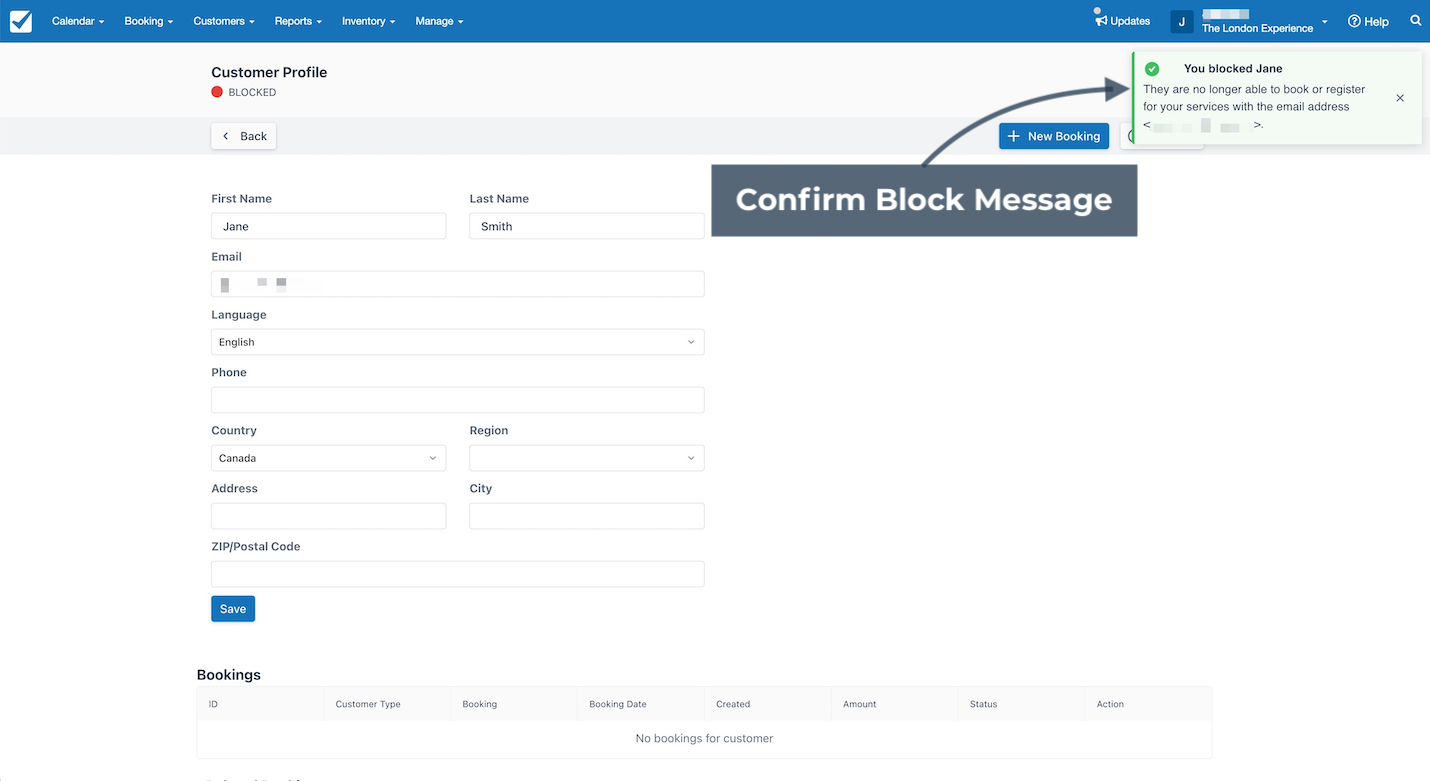 4. Review the confirmation message.

You blocked <name>. They are no longer able to book or register for your services with the email address <...>.

This message confirms that the Customer is blocked from making new bookings. It disappears automatically after 4 seconds, or you can manually close it by clicking the window's X.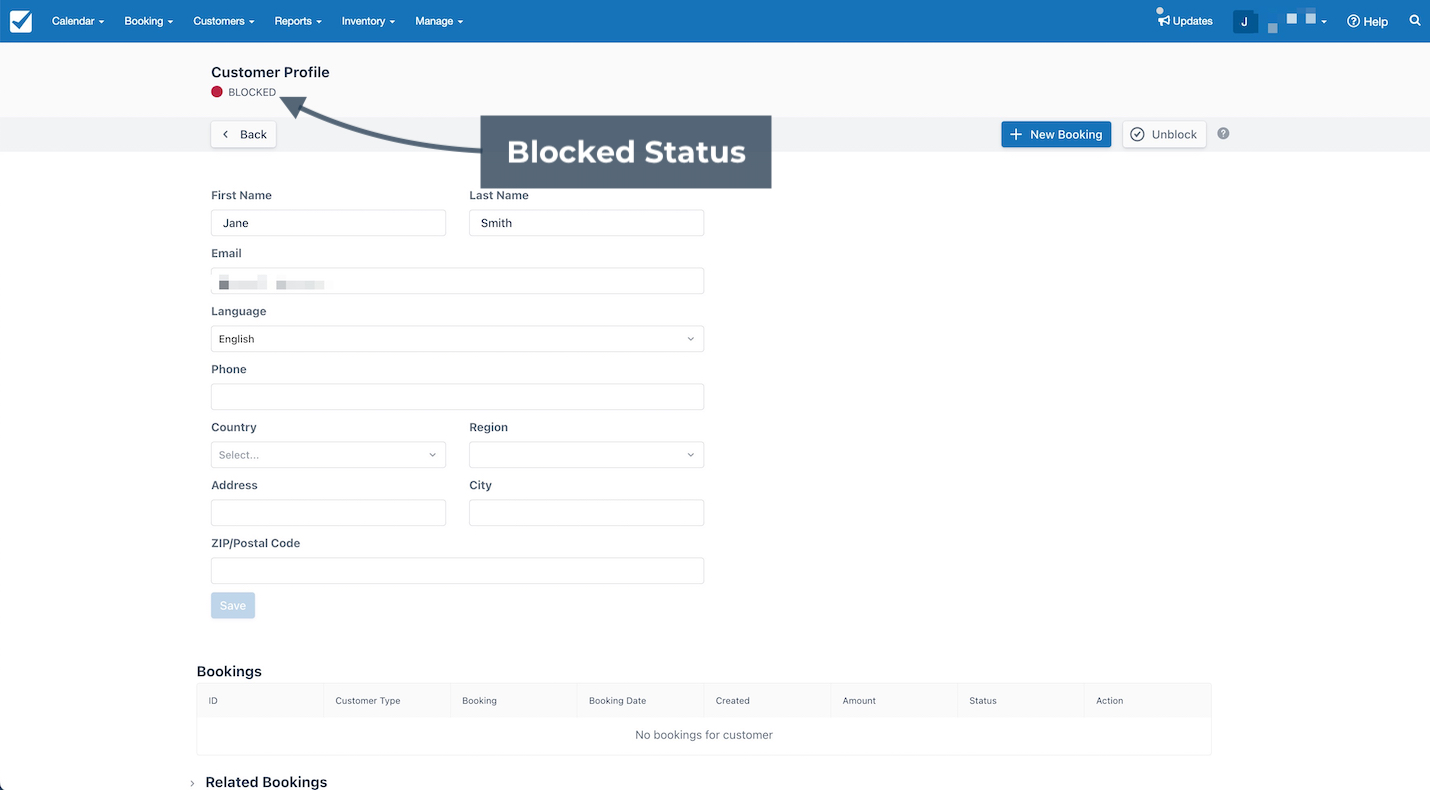 5. View the Customer's status to confirm that the Customer is Blocked.
---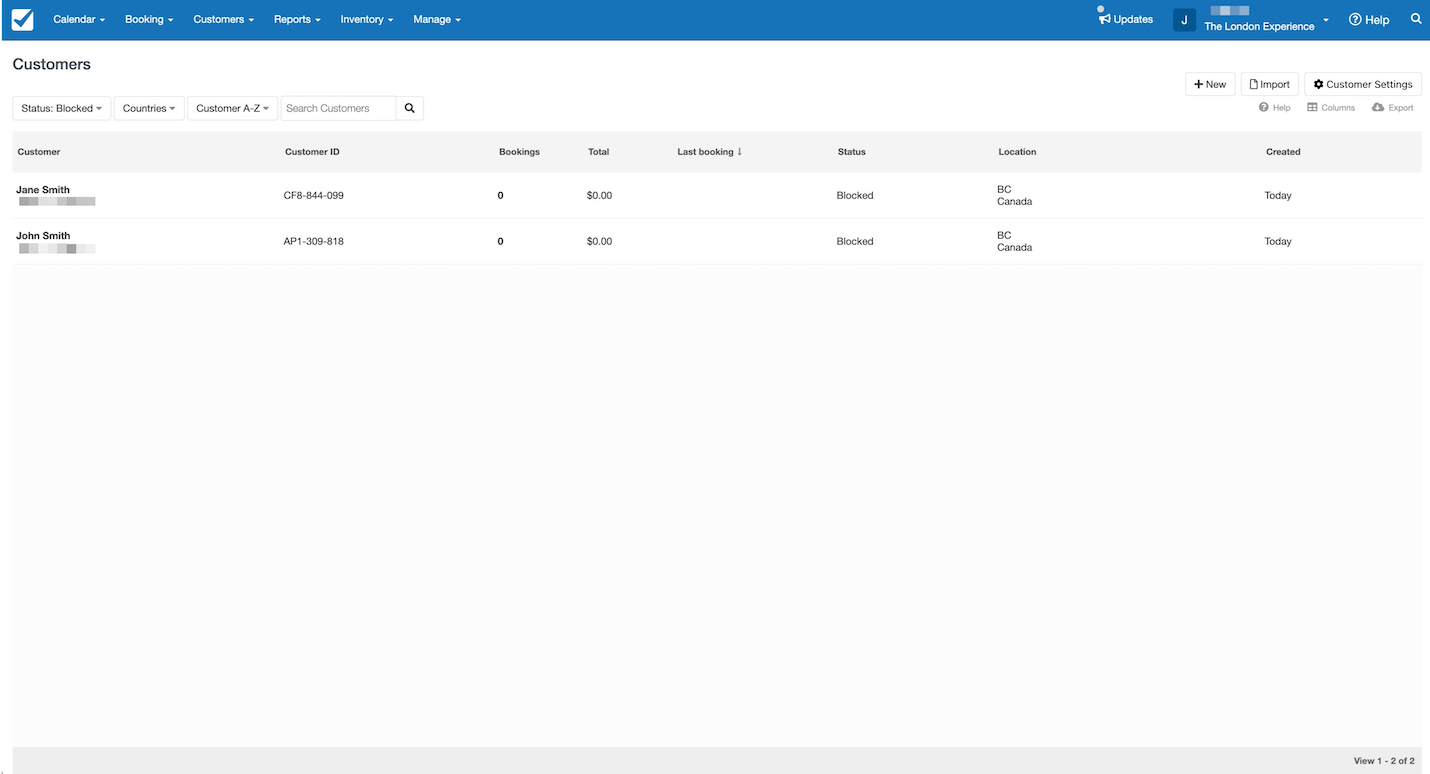 You can find all your blocked Customers within the Customers Directory (Customers > Directory). You can then manage their statuses and add Customer Profile notes.
Choose Blocked from the Status filter dropdown to show all blocked Customers. Select the Customer name to view more details about that record.
| | |
| --- | --- |
| | Learn more about viewing blocked Customers in the Customers Directory here: |
---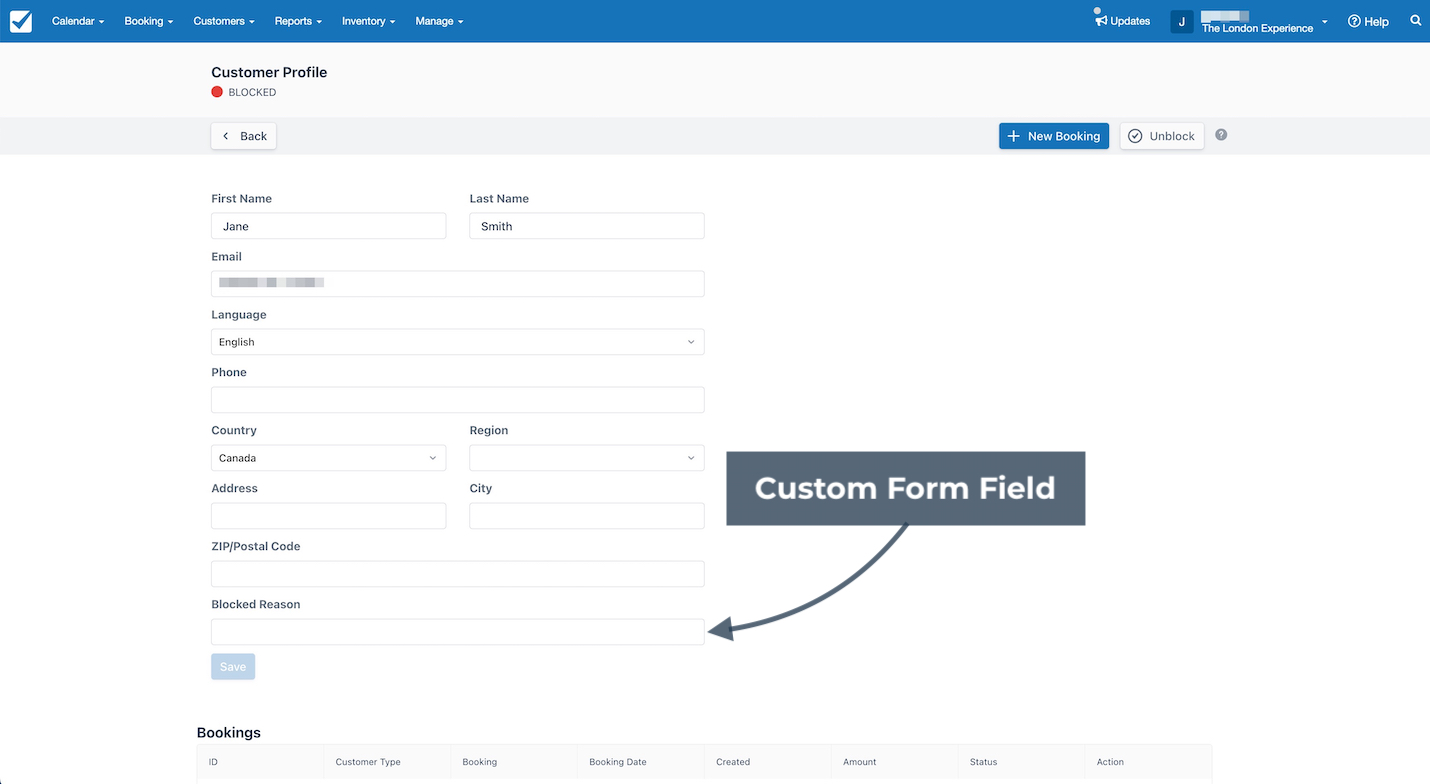 Would you like to capture the reason you have blocked the Customer? By setting up a custom Booking Form field, you can add a note to a Customer Profile that only Staff see. Follow these steps:
Choose Add new field in the Booking Form area (Manage > Layout > Booking Form).
Select the desired Type in the General tab, such as Single Line Text, Paragraph, or Multiple Choice Radio. Fill out the rest of the General tab as needed.
In the Options tab, choose to Show on form and Show on invoice only for Staff. In addition, choose the Attach this field to the customer profile option.
Select Add to save the new form field.
In a Customer Profile, the custom form field shows and can be filled in by Staff.
| | |
| --- | --- |
| | Learn more about the Booking Form here: |
---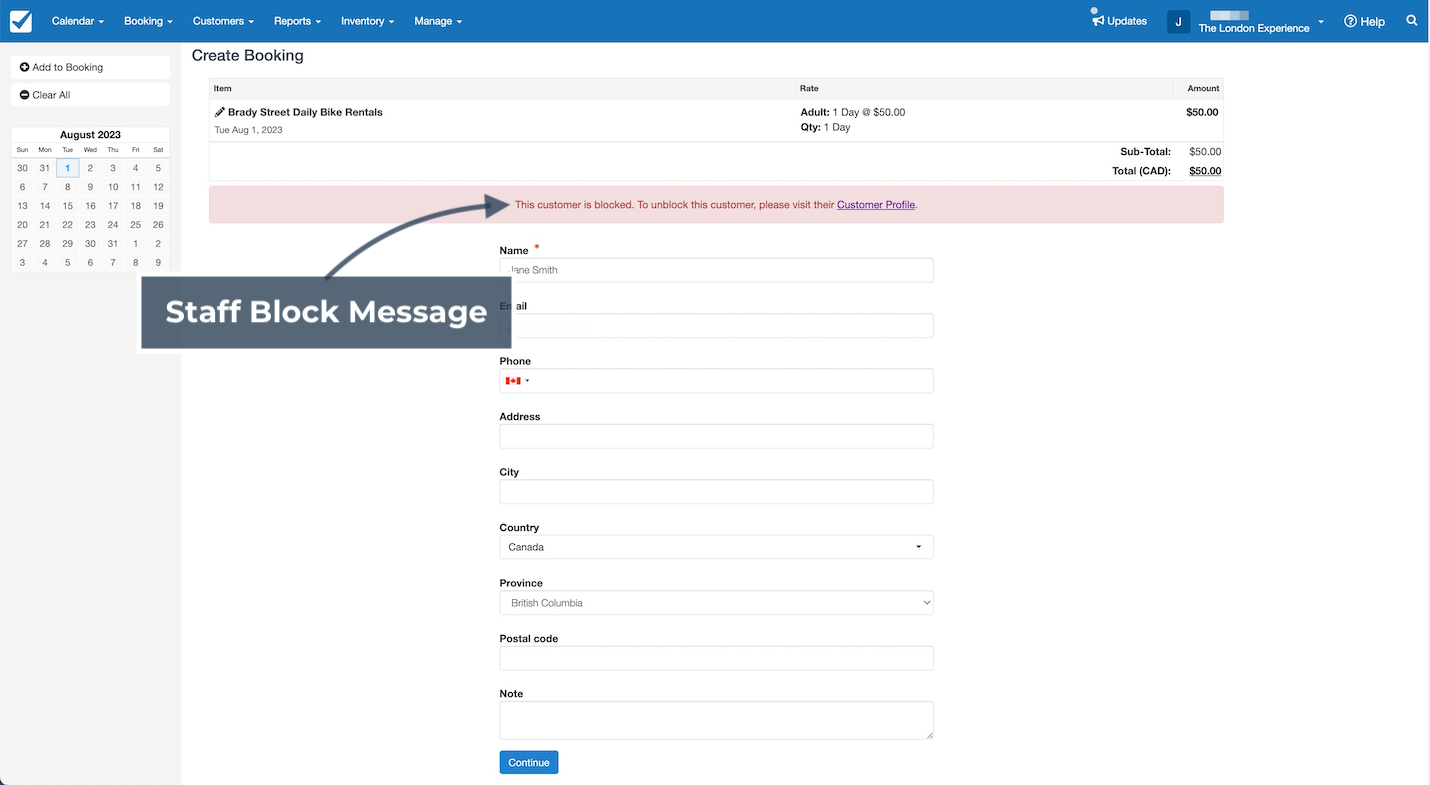 The following message displays when making a Staff booking for a blocked Customer:
This customer is blocked. To unblock this customer, please visit their Customer Profile.
Staff can create a booking for a blocked Customer by unblocking their Profile. After creating the booking, Staff can block the Profile once again. 
| | |
| --- | --- |
| | Find out more about Staff Accounts here: |
---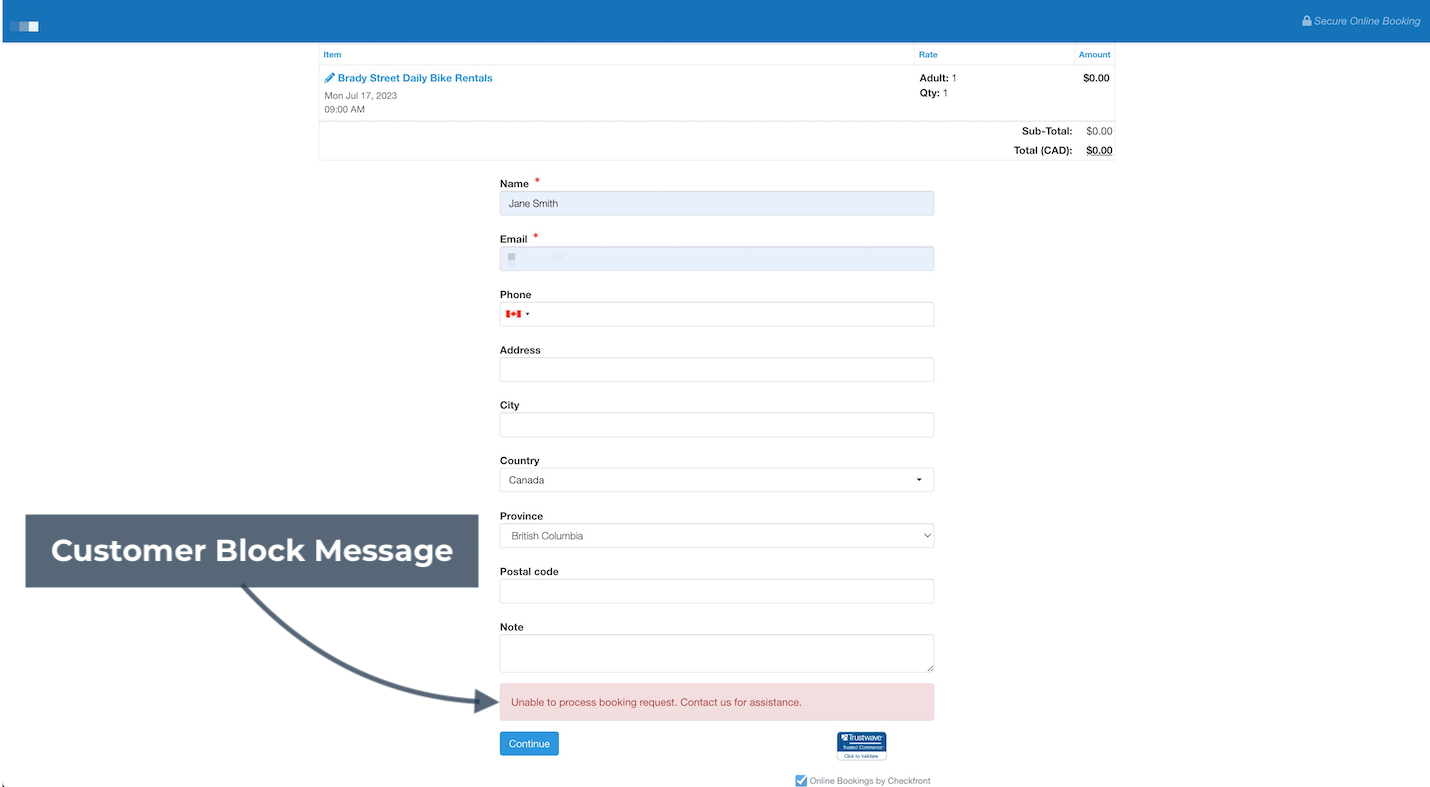 Should a blocked Customer try making a booking from the Customer-facing booking page, the following error message displays:
Unable to process booking request. Contact us for assistance.
The Customer is prevented from completing the booking.
---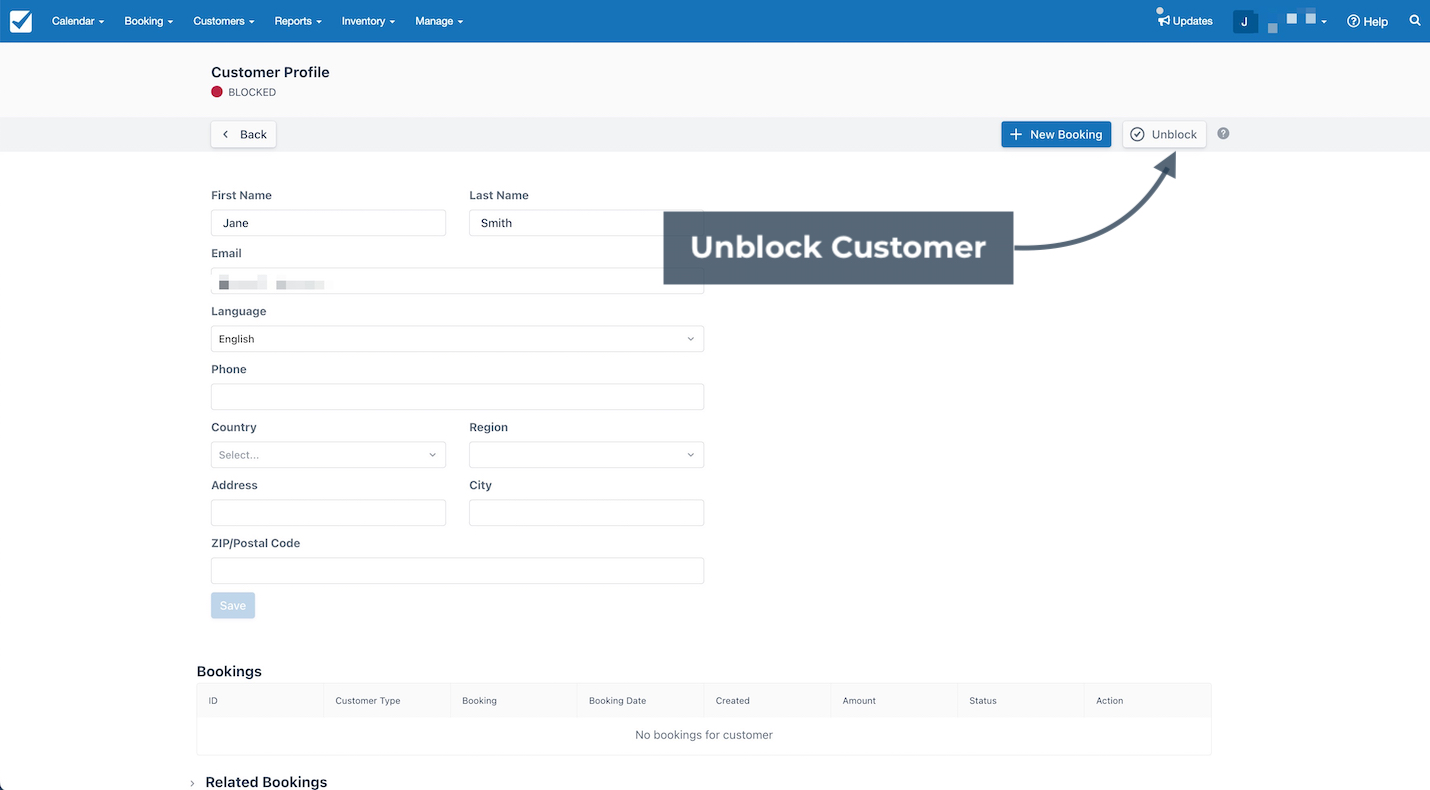 You can allow a previously blocked Customer to create a booking by choosing Unblock in their Customer Profile at Customers > Directory.
The Profile status automatically changes to Active, and the Customer is no longer prevented from booking.
---

The following article within this series looks at how to archive a Customer Profile.
---
< Creating bookings from Customer Profiles      |    Archiving Customer Profiles >
---